Merry Christmas to you! It is that wintery time of year when the wind blows colder and everyone is full of cheer. Maybe that wind is from a fan and by everyone, I mean some people, but you get the idea. This is the treats and goodies month galore. I have the most amazing cake to get your tastebuds in the holiday spirit.
Have you ever looked longingly at the chocolate peppermint bundt cakes from Nothing Bundt Cake. It is beautiful and you just can't go wrong with chocolate and peppermint. It's like peanut butter and jelly but more Elfy. Just so classic. I wanted to make a festive dessert that we could all enjoy and we could even share with others… and they wouldn't know it was gluten free. And oh boy of all my bundt recipes this may be my favorite.
Rich chocolate cake sprinkled with semi-sweet chocolate chips (that get so melty and delicious) also gets a helping of crushed mints for an irresistible cool crunch. Top it off with the BEST Cream Cheese Frosting and a few more crunchy starlights (I just love that name) and it is like a bite of something from Mrs. Clause's bakery. And they are so gluten free in the North Pole.
I hope you have a beautiful holiday season. I know the holidays can be a difficult time to navigate, especially this year. Maybe some bites of cake while cozied up watching your favorite holiday movie will make your day merry and bright. Lots of love!
Let's go make some amazing cake!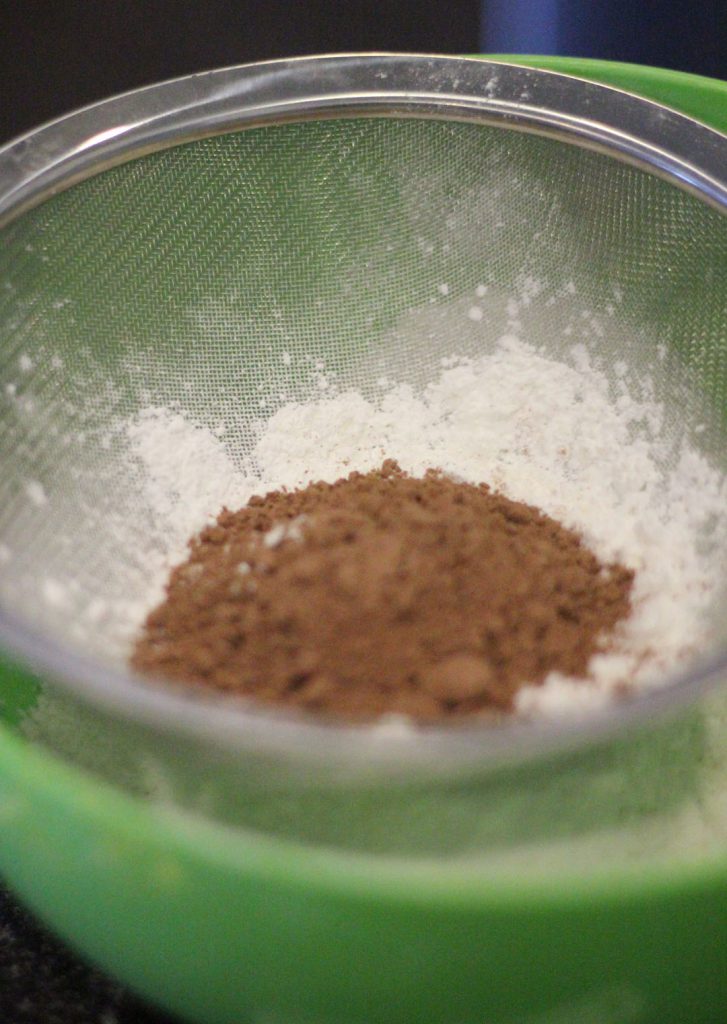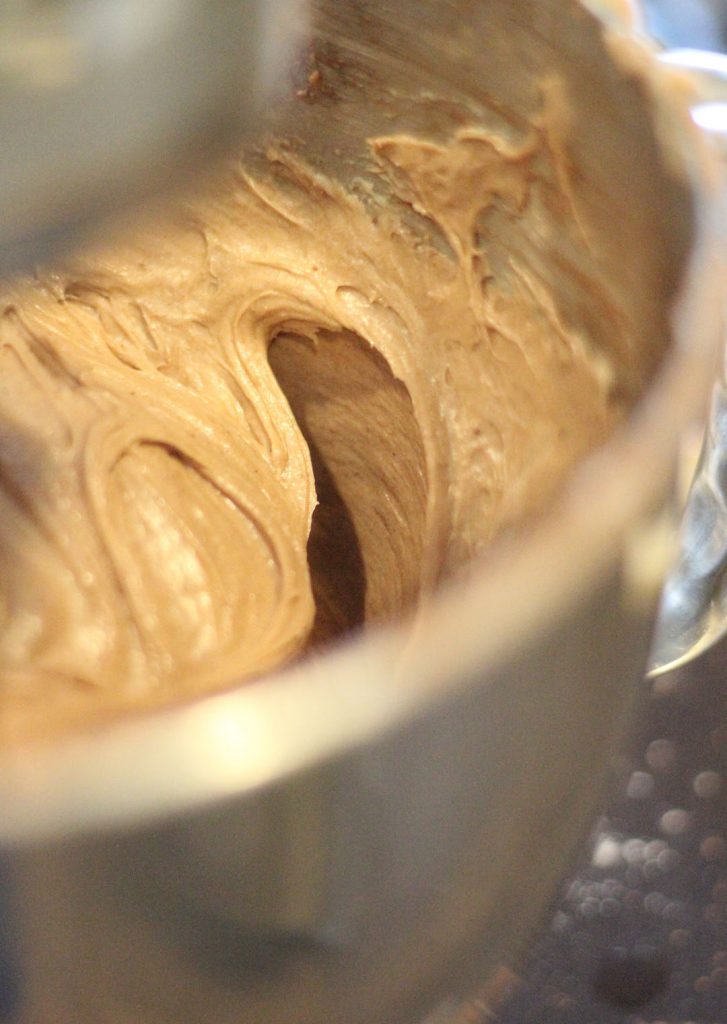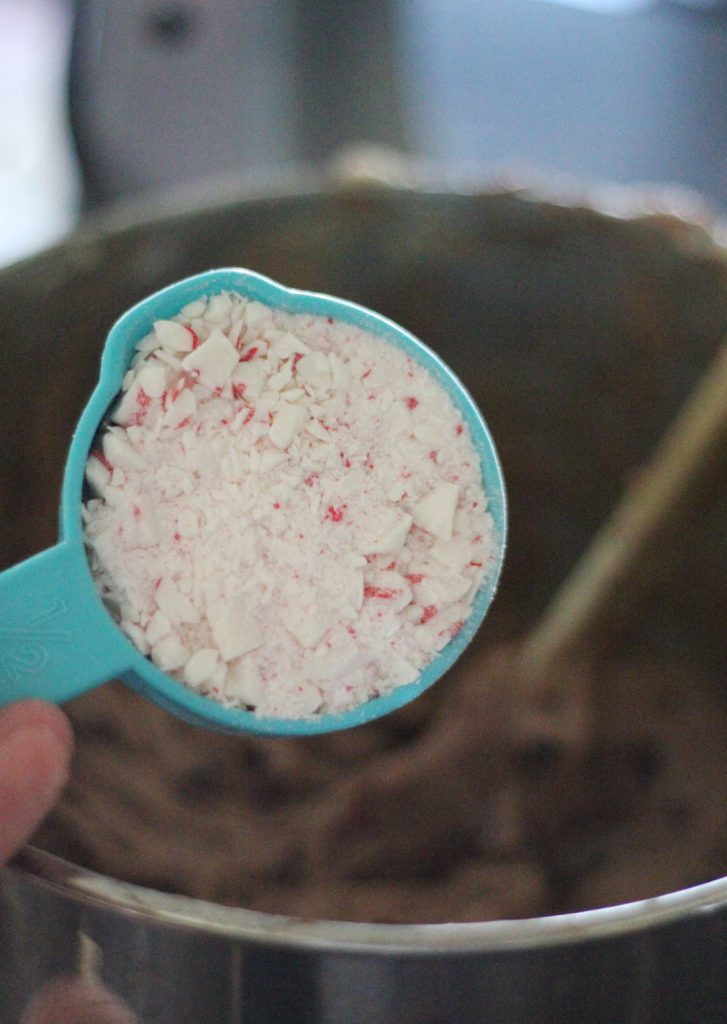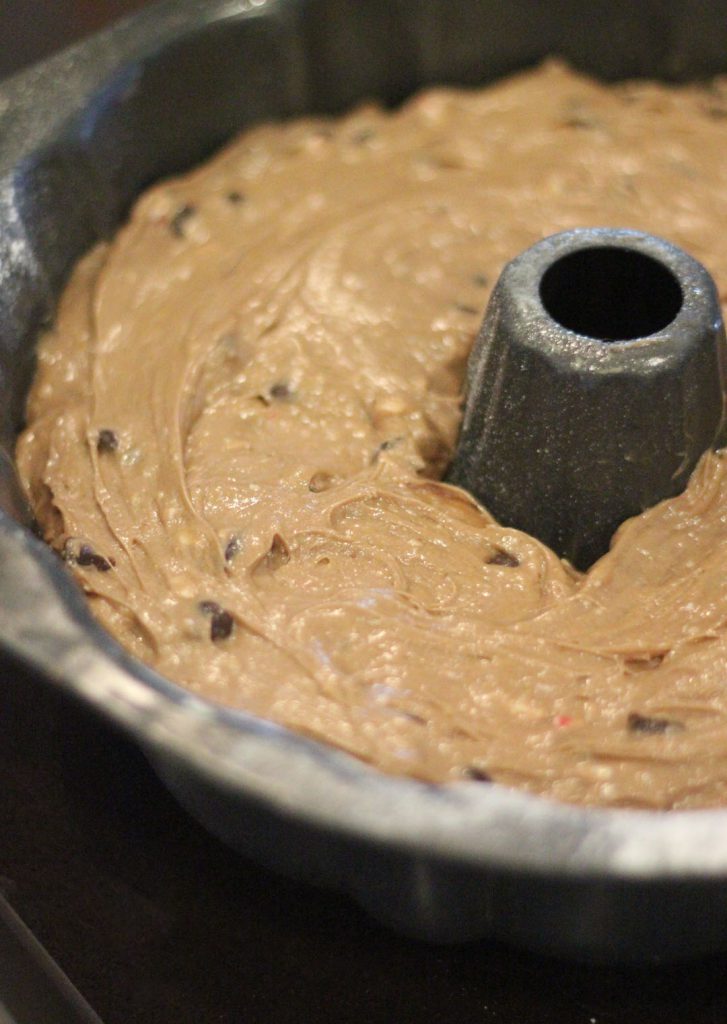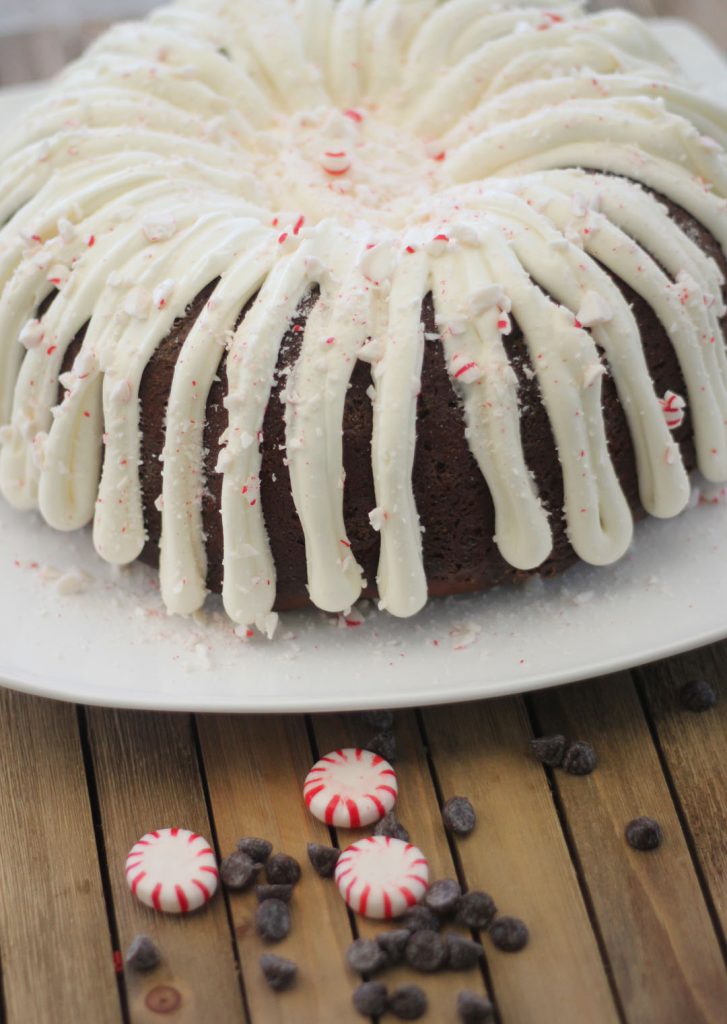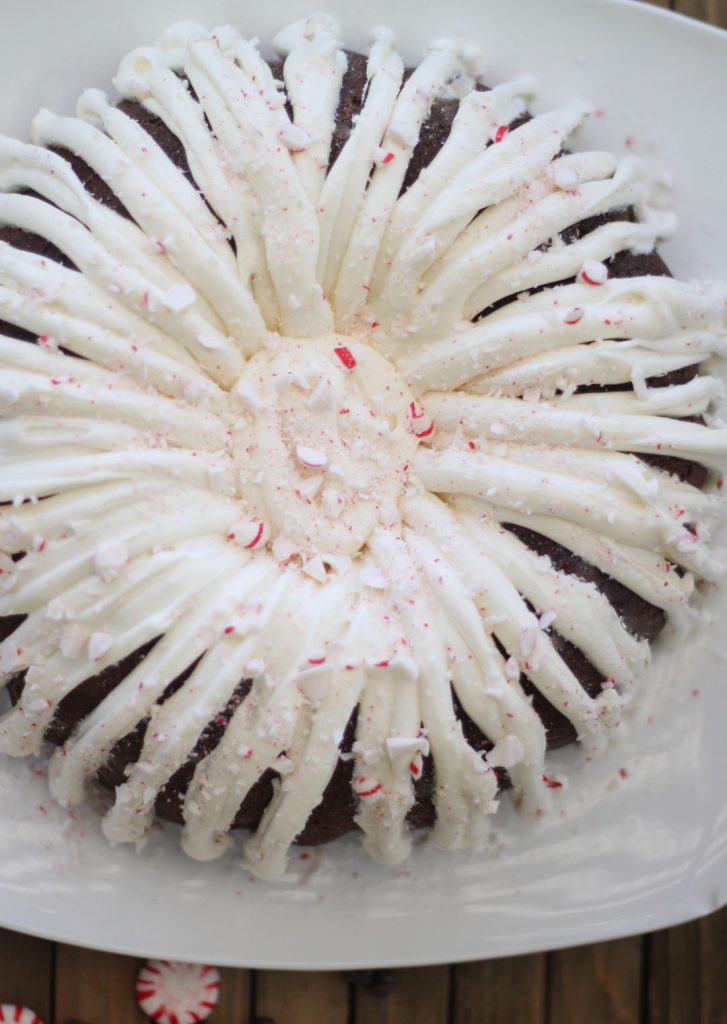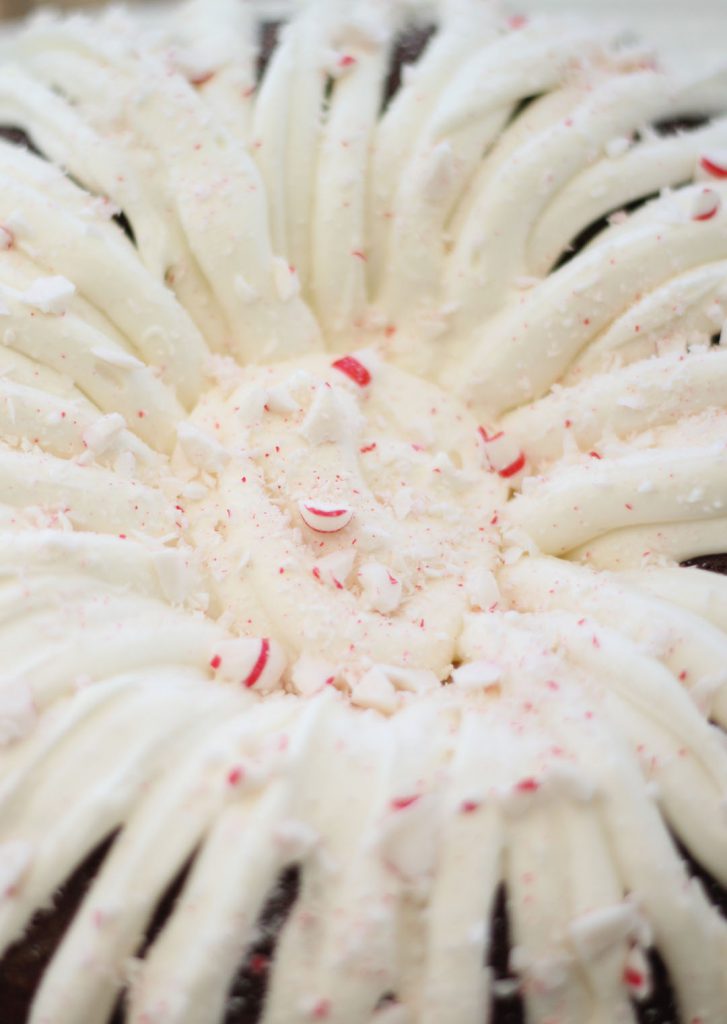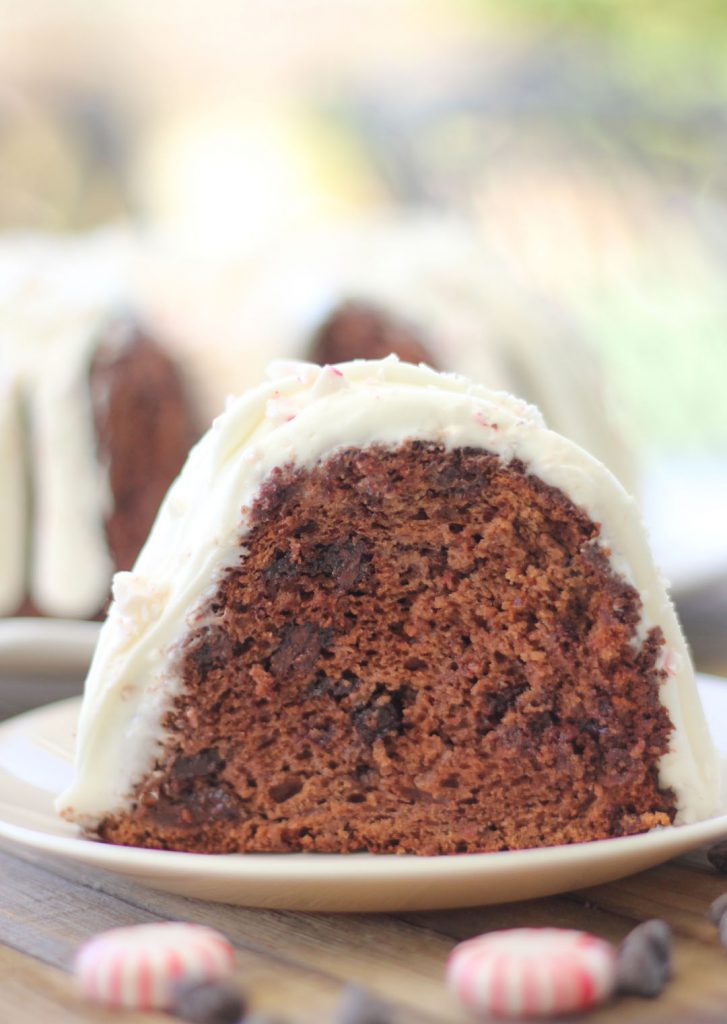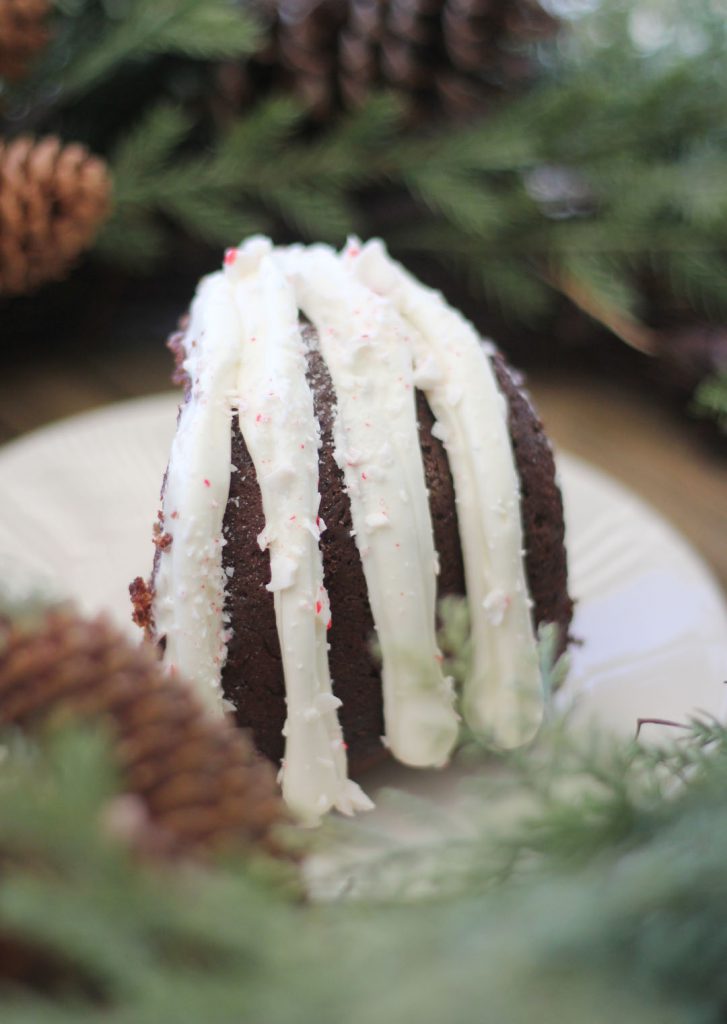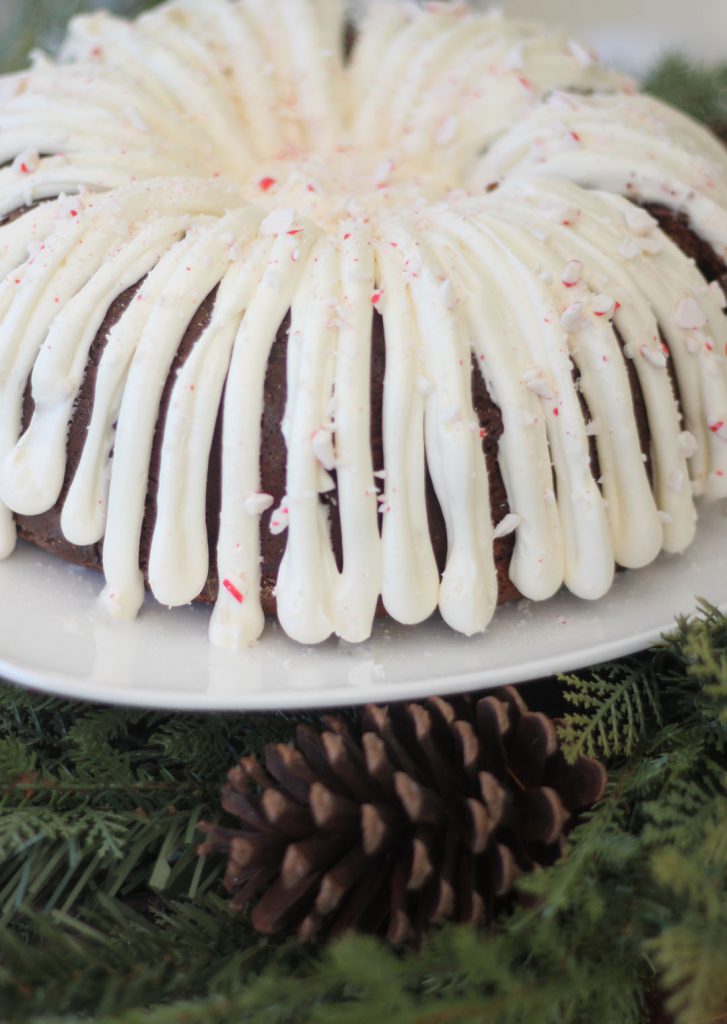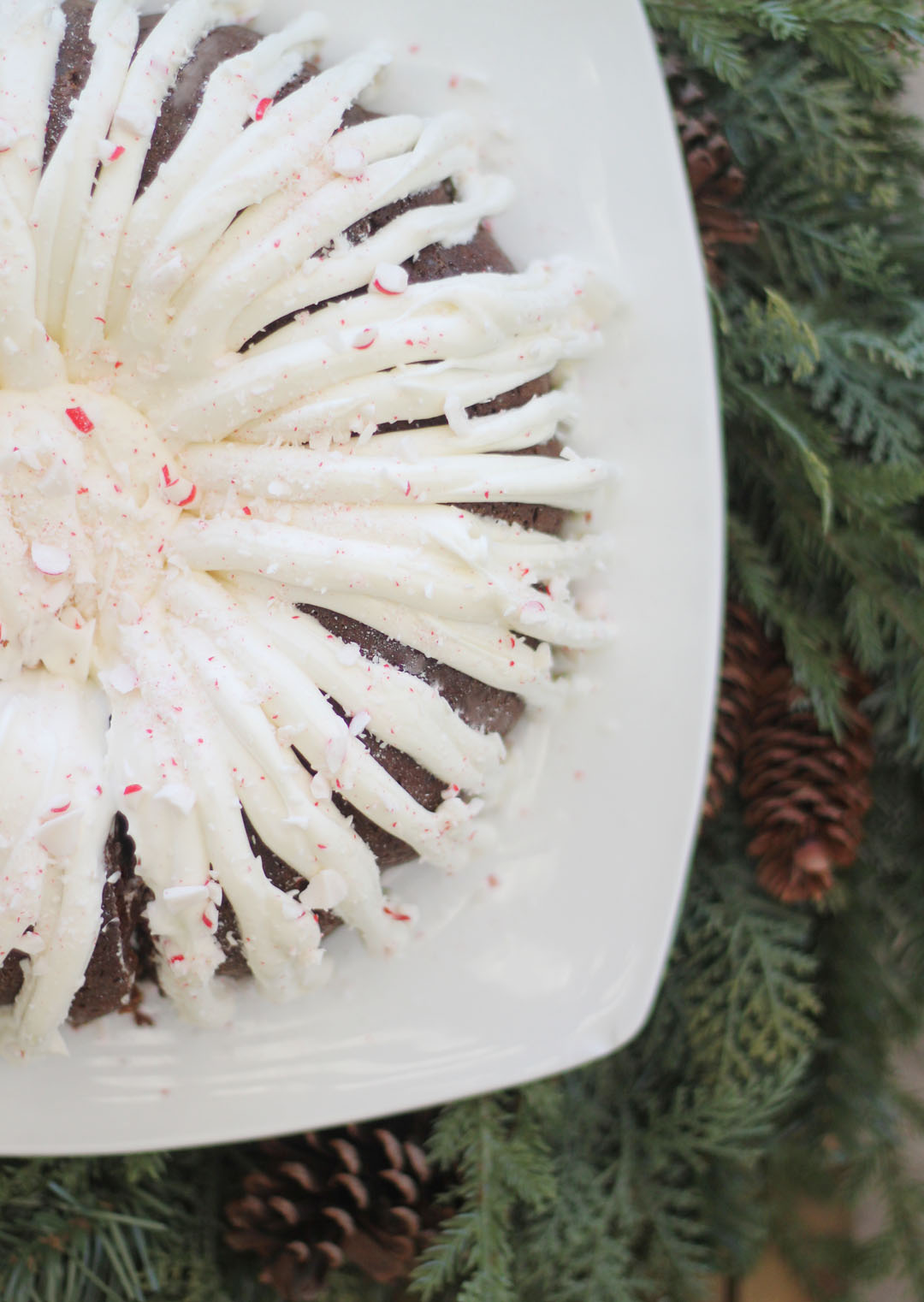 Print Recipe
Chocolate Chip Peppermint Bundt Cake with the Best Cream Cheese Frosting
A delicious delicate chocolate cake bursts with chocolate chips and crunchy bits of peppermint. All covered in the most decadent cream cheese frosting.
Ingredients
For Cake:

1 ½ sticks salted butter (12 tablespoons- softened)

1 3/4 cups granulated sugar

½ cup cocoa powder ( I used Hershey's)

4 large eggs at room temperature (this may sound crazy but I will put them in microwave for 8 seconds to achieve this)

1 ½ teaspoons vanilla extract

1 ¼ cups sour cream (I used Daisy light)

¼ teaspoon xanthan gum

2 teaspoons baking powder

½ teaspoon baking soda

½ teaspoon salt

2 cups all purpose gluten free flour (I used Cup 4 Cup, if yours has xanthan gum, leave the above amount out) *

5 TBS corn starch

1 cup crushed peppermint starlight mints(the traditional red and white hard candies)

12 oz semi sweet chocolate chips(I used Guittard)

For Cream Cheese Frosting:

16 oz softened cream cheese (I used Philadelphia)

5 cups powdered sugar

½ tsp salt

½ tsp vanilla

2 TBS crushed peppermint starlight mints for garnish
Instructions
1
Preheat the oven to 350 degrees. Prepare a 10 inch bundt pan by spraying with non-stick spray or coconut oil and then flouring it.
2
In a bowl whisk together the baking powder, baking soda, salt and xanthan gum. In a sifter add the flour and cornstarch. Sift together. This seems like a pain but you are essentially making gluten free cake flour. You want this to be very fine. Once sifted, whisk all the dry ingredients together. Set aside.
3
In the bowl of mixer with a paddle attachment, cream together the butter and sugar until light and fluffy. About 5 minutes. With the mixer on low, add the eggs one at a time. Making sure they are incorporated into the butter. Next add vanilla and sour cream.
4
With the mixer on low, add the bowl of dry ingredients to the wet ingredients and mix until just combined. You may need to scrape down the sides to make sure it is all mixed together.
5
When batter is all combined add the chocolate chips and crushed mints and gently fold into the batter. When evenly distributed, pour the batter in the prepared bundt pan. Bake for 50-60 minutes. Mine took 55 minutes. But I started checking it at 45 minutes and I recommend you do the same. You do not want to over bake this. A toothpick should come out clean (unless it has melted ooey gooey chocolate on it) when the cake is done but you shouldn't smell a burning or toasted cake smell. This isn't a cooked reindeer.
6
When cake is done, remove from oven and place cake in bundt pan on a wire rack. Let it cool completely before frosting. I let mine sit for about 45 minutes, then took it out of the pan to let it come completely to room temperature. In total it took an hour.
7
When you are ready to frost the cake, add the softened cream cheese and powdered sugar to the bowl of an electric mixer with a paddle attachment and beat until thoroughly combined. About 2 minutes. Next add the vanilla and salt. Mix again until it has come together. When frosting is done, you can put it in a piping bag with a tip, or you can be quick like me and put it in a large Ziploc bag. Cut about a ½ inch off the corner of the bag and pipe frosting onto the cooled cake. I started in the inside of the bundt and would just do lines to the outside of the cake, all the way around. Sprinkle with the 2 TBS crushed mints.
Notes
Note, this cake can be made a day ahead of time but is most ooey gooey the day of baking, tightly covered and store in the refrigerator if making ahead. Just set the cake out to come to room temperature before serving. That could take an hour. I love warm cake too, so zapping a slice of this in the microwave for about 20 seconds gives you melted chocolate goodness .