I was running low on gasoline. Like human gasoline. I needed a nap. But that was not going to happen. So instead of my bed I went to my other happy place. The refrigerator. I scavenged through the shelves moving aside riced cauliflower, chicken thighs and yesterday's salad on a search for something that would hit the spot. I don't drink anything caffeinated so I couldn't perk myself up with real coffee. My heart will explode. I'd rather that not happen. So coffee, although I enjoy the smell and taste, has to be decaf. It has taken me years to even get to this point of toleration. Moving forward, behold in the back of one of the shelves (behind the useless healthy items) I found an almost full jar of Hershey's fudge. I debated just eating the fudge out of the jar. But was craving something a little more substantial. That was when the dangerous train of thought started. First I thought about these delicious cookies I had bought and how good they would taste dipped in fudge. Then my mind started twirling mini chocolate chips on the fudge into my consciousness. Next my eyes caught a glimmer of heavy whipping cream just sitting there waiting to be used. I put all those goodies on the counter in front of the coffee pot. And it was like one of those moments you see in mystery movies where the character puts all the pieces together in a mental clue solving montage, thus cluing in the audience of what was really going on. It all flashed before my eyes. I would make a mocha coffee drink and put cookies in it.
We were out of ice cream but the cookies would give the drink the depth that it needed. And thicken it a bit. I didn't want a shake. Here is a confession. On Monday I swore that I would not eat sugar. On Tuesday I swore I would limit my sugar greatly. On Thursday one of my kids came down with the flu. On Sunday I was making sugary drinks containing almost a jar of fudge. It is what it is. I'm not ashamed. I can always start again. And again. So I didn't want a shake because that just screamed going off the wagon. If I called it a drink, it could be in the same category as a beet and kale smoothie.
So I started adding ingredients to the blender and in ten minutes I had not only one of the best drinks I have ever consumed but the fuel I needed to get through to dinner. It was 3:30. Again, not ashamed. This is not a super thick shake as I said. It is drinkable. Savor those sips and they'll be good to your hips. I just made that up. I may have drunk almost all the servings of the drink. I may never sleep again.
I gave Man Child some as a treat and he went wild for it. Here is the thing about being a Type 1 diabetic celiac…you don't drink things like Starbuck's blended drinks. For whatever reason there is this thing where kids starting at the age 5 drink Starbuck's Frappuccino's now. If I were a child I would rather have the $5 for a toy but I obviously don't understand the mentality of kids these days. So Man Child will see his friends inhaling these beverages and look at them with longing. They are so sugary. They could also contain gluten. If they make a java chip or some cookie containing frap in the same blender as your vanilla frap… yikes. Stomach cramps for days or worse. This mocha drink was really special to him. He got to taste what his peers get to indulge in, and while I wouldn't recommend this sugary drink to be a regular for diabetics, he was so happy to have it. It is amazing how food can provide a social connection to things. So many gluten freers have to do without. Or settle. That is the whole point of my site. To try to limit that. I got you.
To sum up: This is an over the top delicious coffee, chocolate, cookie and cream drink. It is on the same level as carrot juice health wise. It will make you smile. It will make you remember the days before gluten free.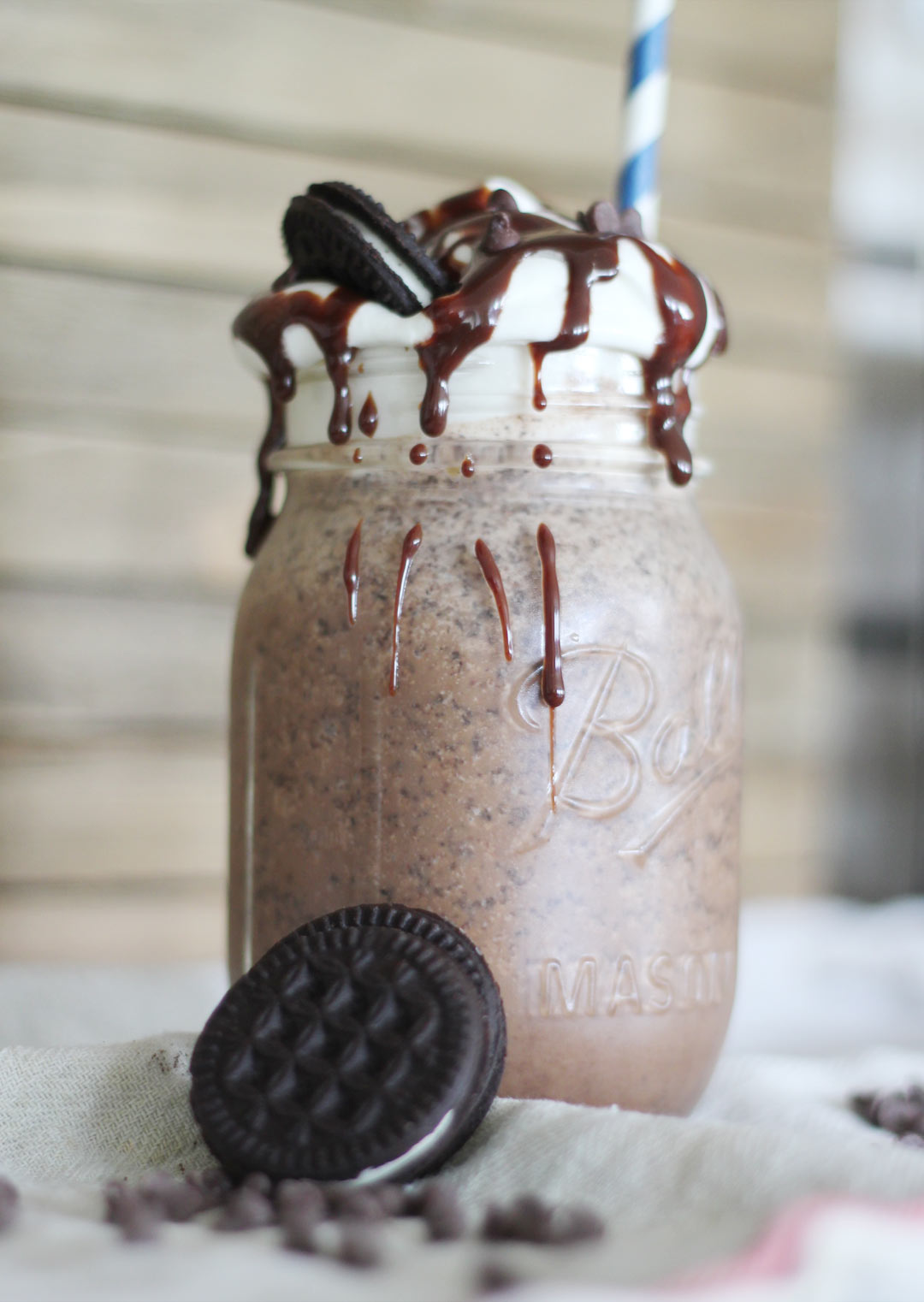 Print Recipe
Cookies and Cream Mocha by Gutsy Gluten Free Gal
Ingredients
Whipped Cream

¼ cup heavy whipping cream

1 tsp granulated sugar

Mocha:

1 cup strong coffee at room temperature or cold (you could use decaf)

¾ cup Hershey's fudge or other GF fudge sauce

¼ cup half and half

8 gf Oreo type cookies (I used Live G Free from Aldi)*

1 ½ TB cocoa powder

2 tsp sugar

1 TB mini chocolate chips

2 ½ cup ice cubes
Instructions
1
For the whipped cream: In a mixing bowl (easiest for making stiff whipped cream if the bowl has been chilled) of a mixer fitted with the whisk attachment add the heavy whipping cream and 1 tsp granulated sugar. Whisk on high speed until cream has stiffened and is forming peaks. About 2 minutes. If you over mix the cream will start to break down. If this happens, just add a drizzle of more cream and whisk again being sure to stop the mixer when peaks form. Set in fridge until ready to use.
2
For the mocha: In a blender add all the ingredients in the order listed, ending with the ice cubes. Blend on high until there are no chunks. Pour into glasses, top with whipped cream and drizzle with extra fudge if you like. Ooooh or more cookies….oooohhh or more mini chocolate chips. Or all of the above.
Notes
*If you are having a hard time finding gluten free oreo type cookies, you may sub another type of hard chocolate gluten free cookie. We have found Glutino, Great Value and the Live G Free chocolate sandwich cookies by us. The Pamela's dark chocolate cookies would be awesome in this too.
Recipe Tools used and Products We Love from Gutsy!

If you click on a link above and purchase through Amazon, an item recommended on our site, the GutsyGlutenFreeGal receives a teeny tiny amount from that sale. Thank you for helping to keep this site going and keeping gluten free delicious. We heart you.