Salad dressing is my life. There I said it. I cannot, will not, won't even entertain the idea of eating a salad without dressing. That is like getting dressed and forgetting to wear a shirt. Come now. I'm a huge salad fan, and part of what makes me giddy over salad are the flavorful dressings that you can top them with. My Ranch Dressing will always hold a spot in my heart as the top contender and subsequent champion of the dressing debate, but this is my second favorite dressing. A good Italian dressing can really add a brightness to a bowl of greenery. But a good vinaigrette can outshine all other ingredients.
This dressing is based on one that came with one of my most favorite antipasto salads. I was hesitant at first to make it because tomato is not really an ingredient that I imagine in a dressing. But this is tomato sauce and it adds a subtle tomato flavor. It pairs nicely with the red wine vinegar and oil. I do sometimes use half vegetable oil and half olive oil. I have found that using a whole ½ cup olive oil makes the dressing a bit heavy and overpowers it a bit. Like I said, this originally was served on antipasto salad with chunks of salami, provolone, pepperoncinis, olives and lettuce. I love it even more over some green leaf lettuce, mozzarella, garbanzo beans, roasted chicken and avocado. It is so fresh tasting. I'm usually very heavy handed when it comes to putting dressing on my salad, but this is so flavorful that a little does go a long way.
So we have tomato sauce for creaminess and a little tang, red wine vinegar and then a healthy amount of oregano and basil. It gives this an Italian flair but also makes for a more well-rounded flavor. And of course garlic. Garlic goes with dressing like a shirt goes with a kilt. I mean bloomers. You get it. Garlic should be in dressing. Now, I like this to be a little sweet. The sweetness can cut down on any acidity from the tomato, which is why I add the sugar. If you don't like sweeter dressings, then start with 2 tsp and see how you like it. This dressing is customizable, friend!
This dressing has many possibilities. It isn't just for green salad. It makes THE BEST dressing for pasta salad. It is an incredible dip for pizza. It goes perfect drizzled on bread when making a panini or cold cut sandwich. I have even put it on roasted asparagus with some feta cheese. That is a restaurant side dish right there. Let's go make it!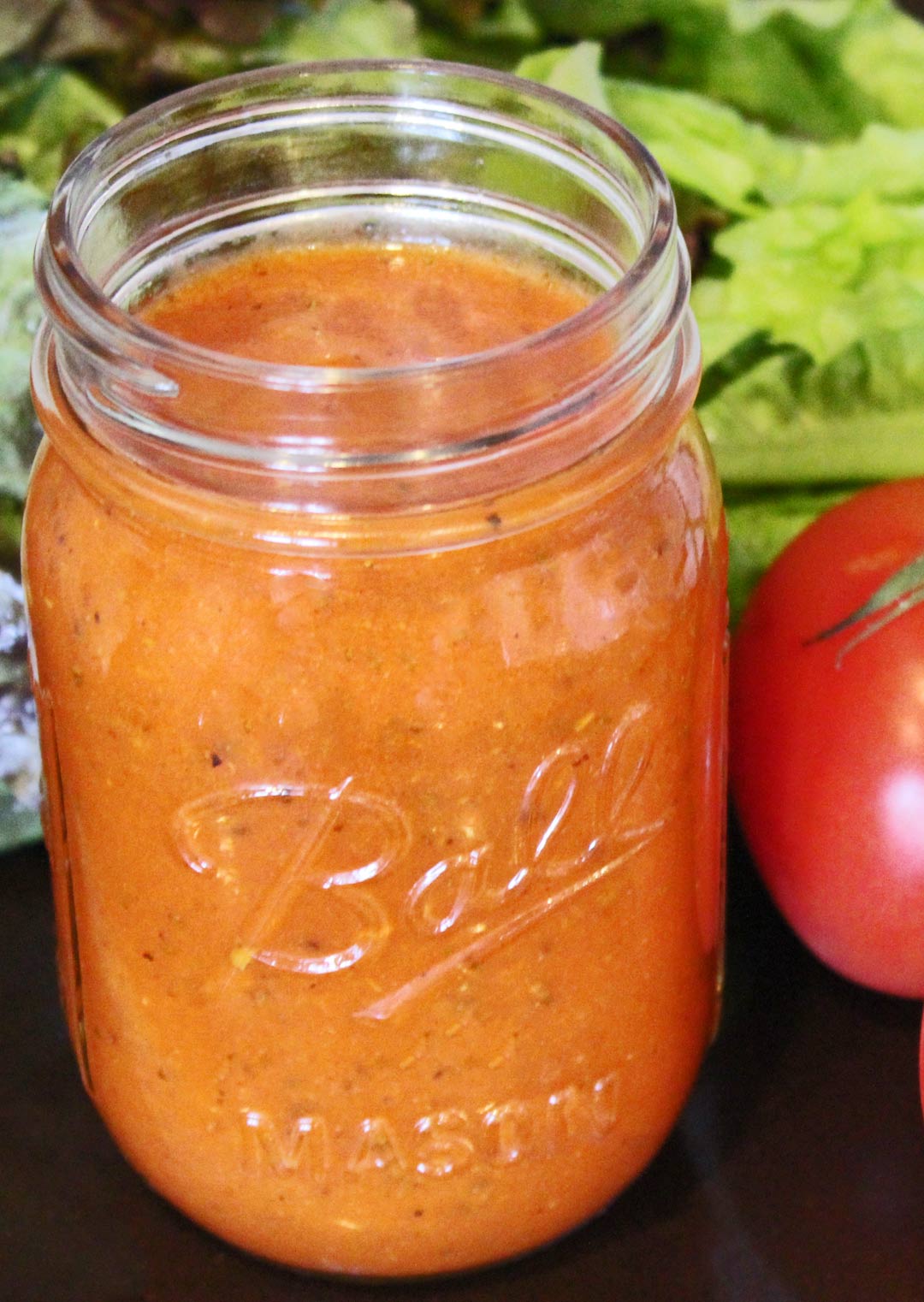 Print Recipe
The Best Tomato Vinaigrette by Gutsy Gluten Free Gal
Ingredients
8 oz can tomato sauce (yes, I'm serious. Trust me. I used Hunt's)

½ cup vegetable oil

¼ cup red wine vinegar

4 tsp sugar

3 tsp dried oregano

2 tsp garlic powder

2 tsp dried basil

1 tsp salt

½ tsp fresh ground pepper
Instructions
1
In a food processor (or mason jar) add all dressing ingredients. Pulse until all combined and there is no separation of oil and vinegar. If you are doing this by hand, make sure you shake the mason jar with the lid on until it all comes together. If doing this in a bowl with a whisk, whisk your heart out and then whisk some more. You want this to all come together completely. Taste to see if you want to add more salt or if you want a thinner consistency add a tsp or two of water.
2
Let sit in the refrigerator for 1 hour so flavors have a chance to meld. If you are in a hurry, you can use right away but it is best if it has set. Keeps in an airtight container for a week in the refrigerator.
Recipe Tools used and Products We Love from Gutsy!

If you click on an above link and purchase through Amazon an item recommended on our site, the GutsyGlutenFreeGal receives a teeny tiny amount from that sale. Thank you for helping to keep this site going and keeping gluten free delicious. We heart you.