There are some recipes that just come to me. Some are influenced by what I see others eating around me or on a menu. Many come from requests from my family. The Man Child had ordered a chocolate and orange scone from one of our favorite dedicated gluten free bakeries and savored every bite. The next day he asked for a scone. I ran and hid. Not really but I may have said something like, "What? A scone? Are we in England? Go play Hot Wheels and think of cheeseburgers." What my brain was really screaming was "Caution! Caution! We have never made gluten free scones before. The child is requesting a foreign baked good. Cut off requests at all costs!" My brain is super dramatic. My mom heart that loves my kids and would make them a bulldog ice cream sculpture if they asked me to, said that I had better get to work though. The next day I perused the shelves of the store and gathered ingredients to make my sweetie some scones. Now scones are super hit or miss even if they are gluten. Gluten free scones are one of the most disappointing baked goods we have purchased. I once bought one that tasted like meringue. If your scone tastes like whipped egg whites, then something is waaaaay amiss.
I had a treasured scone recipe from a sweet woman who had passed it down to my sweet mother in law. I wanted to use that as a base but cut out the gluten. Which can be tricky texture wise. I had to try this a few times. But one never gives up on good bakery worthy treats.
I made these and my little guy was so happy and thankful. That is what this is all about. Modifying, substituting and testing until the cows come home so that we all can live a gluten free life without sacrificing quality and taste. These scones are full of goodies. The heavy cream lends moisture to the dough but also creaminess too. It is cream after all. But I mean a scone needs chocolate. And chocolate has an underused partner in crime. Orange. Now yes, you could sub dried cranberries or other fruit but this orange flavor really makes these sing. It isn't over powering but adds a citrusy flavor and sweetness to the scone. These are substantial scones. You will be full off of one of these. You could cut them even smaller and cut your baking time if you want to serve more people and have less tight jeans. It is up to you. I'm used to the tight jeans and picture wise they looked gorgeous in a big boned size. And the final topping of melted chocolate just brings these beauties to another level. If you dip these in coffee or even some tea, the cholate gets so soft and gooey. I love these. I'm glad my Man Child asked for them and I didn't make him a cheeseburger instead.
Let's go make them!
Recipe Tools used and Products We Love from Gutsy!

If you click on an above link and purchase through Amazon an item recommended on our site, the GutsyGlutenFreeGal receives a teeny tiny amount from that sale. Thank you for helping to keep this site going and keeping gluten free delicious. We heart you.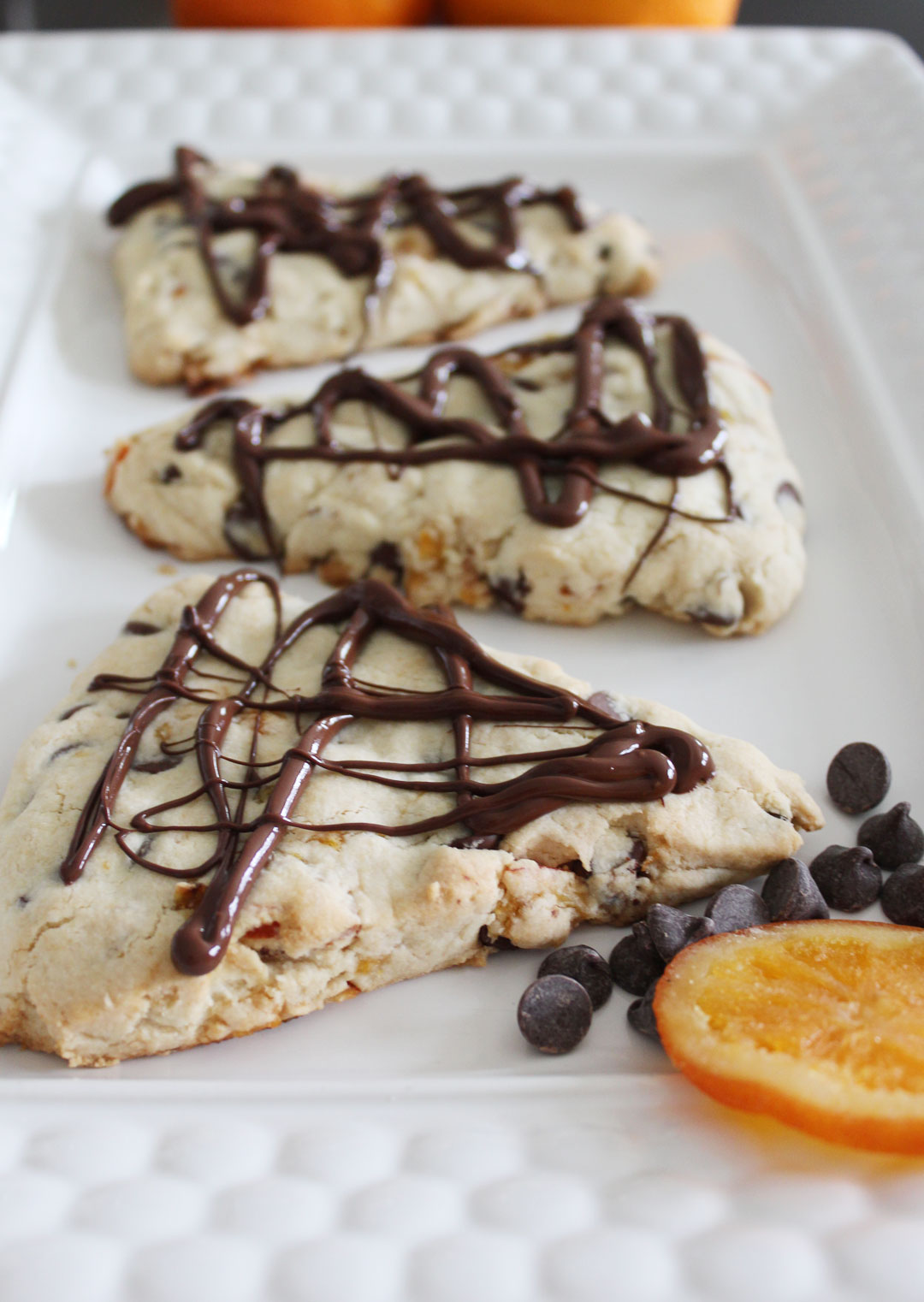 Print Recipe
Dark Chocolate and Candied Orange Scones by Gutsty Gluten Free Gal
Ingredients
2 ½ cups Gluten Free Flour) plus additional flour for rolling out the dough (I used Pamela's All Purpose Artisan flour

¼ tsp xanthan gum ( I used Bob's Red Mill)

1 TBS baking powder

½ tsp salt

½ cup (1 stick) salted cold butter (cut into pieces)

1/3 cup granulated sugar

¾ cup heavy whipping cream

2 cups dark chocolate chips (I used Guittard)

¼ cup finely chopped dried/candied oranges (I found mine at Trader Joes)
Instructions
1
Preheat oven to 425 degrees. Line a large baking sheet with parchment paper.
2
In a large food processor (see note if doing this by hand) add the flour, baking powder and salt to the bowl. Pulse the food processor just to get the dry ingredients mixed together.
3
Add the cut up butter and pulse with the dry ingredients until the flour/butter mixture looks about the size of peas.
4
Add the sugar and pulse a few times again until incorporated.
5
Add the cream and pulse until all combined.
6
Add 1 cup of chocolate chips and orange pieces and pulse until it starts to come together like dough. This will be sticky because of the gluten free flour, so it may not form a total ball of dough. You may have to scrape the sides to get it to come together. If it seems especially dry, add 2 tsp of heavy whipping cream to get it to be easier to work with.
7
Generously flour your countertop, cutting board or work surface. Form the dough into a ball as best as you can and fold the dough into itself two times (kneading). This adds a bit of air to the dough but you don't want to overwork it. Then pat it down into a circle. I used my hands to manipulate it. My circle was about 10 inches in diameter.
8
With a pizza slicer or sharp knife, slice the circle into 8 equal sized wedges. Place onto parchment lined baking sheet with space in between each wedge.
9
Bake for 10 minutes. They will look lightly golden brown and be very soft. That is okay. You want them to be just baked otherwise they will be dry.
10
Let sit on the pan for 5 minutes so that they can firm up to be transported without breaking.
11
Cover a wire cooling rack with a clean towel and using a large spatula place the scones on top of the towel. Cover with another towel and let cool for 30 minutes. This will keep them from losing moisture as they cool.
12
When cool, place remaining 1 cup of chocolate chips in a bowl. Microwave for one minute or until melted. If not melted after a minute, stir and then microwave an additional 30 seconds. Transfer to a plastic Ziploc bag or pastry bag (or if you have a steady hand use a spoon) and cut the tip off the bag. Drizzle melted chocolate over scones. I like to have plentiful amounts of chocolate on top. Let chocolate harden a bit and dive in.
13
These are best eaten the day you make them but can be stored covered with wax paper in an airtight container in the refrigerator for two days. Let come to room temperature before eating.
Notes
If you are not using a food processor (which I highly recommend to use if you are able) then combine flour, baking powder and salt in a large bowl. Add the cut up butter and using a pastry blender, 2 knives or your fingers, blend the butter into the flour mixture until it forms pea sized dough balls. Add sugar and use two forks to blend. Add the cream and stir with a fork. This is going to be sticky! Next add the 1 cup chocolate chips and orange pieces. At this point, use your hands to work everything together into a dough ball. Proceed to kneading in the directions above.