I have a confession. I'm an Andes mints hoarder. If I'm ever at a restaurant and they give them out with the check I may or may not pretend to be pondering paying the check all while secretly swiping the mints meant for everyone at the table. I can remember going to Olive Garden as a kid and thinking it was so weird to go to a restaurant that had olives as its main dish. I wondered if they grew them in the kitchen. Ah, the ponderings of a six year old. As a six year old who loved food I would order my fettuccini alfredo (oh those were pre gluten free days) and eat it till I felt sick. Or it could have been the three Shirley Temples my parents would let me order. That's neither here nor there. Grenadine is like a vitamin. I would be so full but I would eyeball that check because they would always put those delightful mints in there. I would smile sweetly at my Grandma and ask her for her mint too. She would smile sweetly back and say "NO". I'm so much like my Grandmother.
Well now I have my own children and Princess Sparkle has deemed all mint "spicy". It doesn't matter what form it is in, she equates it with a jalapenos. The Man Child likes mint but in small reasonable doses. I can't see him pounding back a mint julep anytime soon. The Boyband inhales all desserts, so if mint is in it he enjoys it. Before we went gluten free I used to make these creamy peppermint brownies and they had crushed mints in them. The kids are repulsed by this. But Boyband has asked for them each year. If I had a pair of new stretchy pants for every time a dessert is requested from me, I would be very comfortable.
These brownies were born out of desperation. Desperate to meet the dessert demands. Desperate to not go to one more store. Desperate to sit on the couch and not do anything ever again until New Years. (I've been sick for about four million years with coughs, colds, stomach flus and whatever other germs seem to be finding me) These turned out so flippin' delicious that they actually gave me energy. I wanted some kind of peppermint candy that wouldn't illicit "ewws" and "this tastes like pepper jelly". While Princess Sparkle and I were waiting in line to return some clothes at Ross (because someone can only wear plain shirts now apparently) I saw some Ghirardelli Peppermint Bark with Dark Chocolate sitting on the shelf. You know the area before the cash registers where they try to sucker you into buying stuff. I'm always suckered in. It's inevitable like the tide or Princess Kate being perfect. Well, I bought them and put them in my recipe and they were incredible. The perfect mix of smooth white chocolate, rich dark chocolate and a hint of mint. And of course confirmed to be gluten free.
These Peppermint Cream Brownies are absolutely perfect for holiday get togethers, New Year's parties, winter desserts or keeping in your glove box for when you feel a road rage moment coming on. Oh and these use a mix for the brownies. Feel free to use whatever brand of mix that you like. I used Arrowhead Mills which is very fudgy and has no hint of being gluten free at all. I also love the Pamela's Brownie mix and in a pinch the Betty Crocker one is nice too. It just dries out a little quicker. Or make brownies from scratch. You are awesome like that. Okay and the cream. The cream is luscious. The cream is so necessary. It makes these Oreo like. Yum. Top it with chocolate ganache and the Ghirardellis and you are just going to love these. I served them to many people. AND NO ONE THOUGHT THEY WERE GLUTEN FREE. In fact they acted insulted when I told them that they were. Like I was trying to pull the wool over their gluten loving eyes. Gluten Free Brownies. Yes. Peppermint Cream Brownies. Double yaaaassss.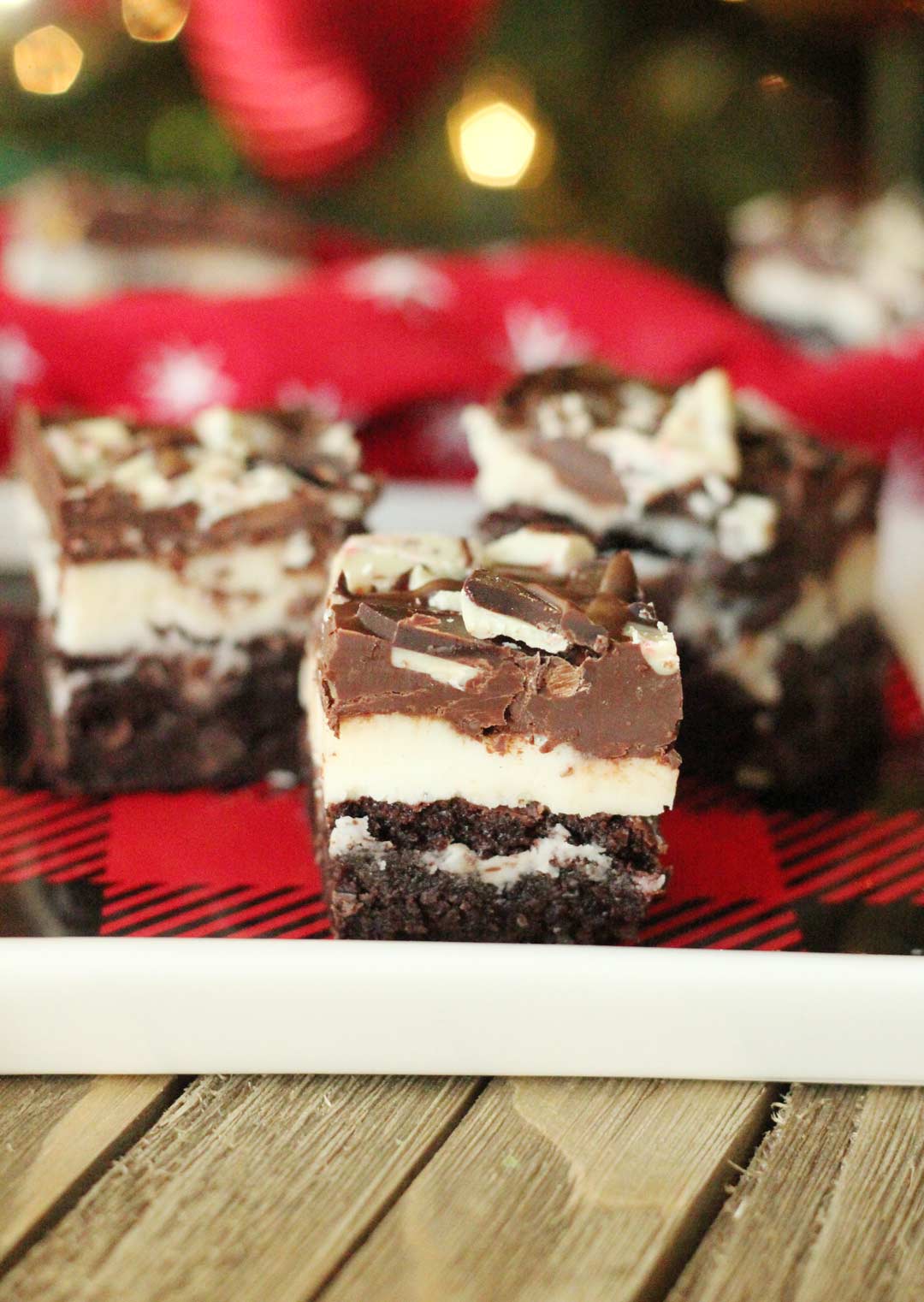 Print Recipe
Gluten Free Peppermint Cream Brownies by Gutsy Gluten Free Gal
Ingredients
1 Gluten Free Brownie Mix (I used Arrowhead Mills)

Whatever Ingredients the Brownie Mix calls for: usually oil, egg, water

½ cup dark chocolate or semi-sweet chocolate chips

2 cups confectioners sugar (more if the cream appears runny)

6 tbsp. salted butter (melted)

1 tsp vanilla

¼ tsp salt

3 tsp heavy whipping cream

5 tbsp. salted butter

1 ½ cup chocolate chips (dark or semi-sweet but I like dark)

10 Ghirardelli Peppermint Bark Candies (or Andes Mints or your favorite mint candy) broken in small pieces
Instructions
1
Preheat oven to brownie temperature from package. Mine was 350. Grease an 8 by 8 baking dish with coconut oil or spray. Line with parchment or tin foil for easier cleanup. I lined mine with tinfoil. Spray that with oil. Prepare brownie mix adding the additional ½ cup chocolate chips to the batter. Bake according to the directions. You don't want to overbake. Let cool to room temperature. Do not put the cream on warm brownies. Butter catastrophe!
2
While brownies are cooling, in a stand mixer or with a hand mixer or really strong hands, combine the confectioners sugar, 6 tbsp. melted butter, vanilla, salt and whipping cream. Mix until smooth. It will be thick but should be spreadable. If it is runny for some reason add small amounts of sugar until thickened. Spread evenly on cooled brownies. Place in the refrigerator for 20 minutes to set.
3
When cream is set on brownies make the ganache. Melt the remaining 5 tbsp. butter in a small saucepan over medium low heat. Once melted add the chocolate chips and stir. Remove from heat. It should be glossy and happy, not look chalky. If you got to chalky you cooked the chocolate too long. You want to get the chocolate just till melted. Pour chocolate ganache over cream layer and then sprinkle Ghirardelli bark pieces on top of the ganache. If you have extra ganache drizzle that on top of bark pieces. Place pan back in the refrigerator to set completely. About 20 minutes.
4
When brownies are done setting you can leave in the pan until you are ready to cut or cut and then store in an airtight container covered with wax paper and stored in the refrigerator until ready to eat. When ready to eat it is best to leave brownies out at room temperature for about… you guessed it… 20 minutes so they can soften up a bit.
Notes
Note if you want these even more minty add a tsp of peppermint extract to the cream.