Soup. It's not a souper exciting word, right? See with soup it always seems to need to be jazz hands upped a little bit. Add some pizzazz. Put some flash in it. It may be because we live in a part of California that ignores actual cold weather for most of the year and those nights where people crave something warm and comforting don't really occur often here. I am obsessed with clam chowder however. I guess that is another component of living in California and being by the beach. Clam chowder is appropriate at any time of the year.
It has only been since I have aged and started saying things like "turn down that loud music" or "the lights are too bright" or "I coughed and now my hip hurts" that I have actually found soup to be comforting. Even if it is 70 degrees outside. Crockpot Creamy Poblano Chicken Soup is even more comforting because it brings a little Tex-Mex flavor to the party. Soup doesn't have to be boring. Soup doesn't have to be full of gluten to thicken it. Gluten free soup seems like it should be easy to find, but gluten free soup is one of those things that defies all common sense and broth can't just exist without wheat flour for a lot of people.
Now that I have become more of a soupy person I have learned the art of thickening a soup with gluten free flour. It requires you holding your breath, whisking like a machine, adding much more liquid than originally called for and generally playing with the seasonings a bit. The gluten free flour likes to seize up when you add the stock or cream to it. Seized up swamp goo is not what soup should be. Maybe for Shrek, but not for you or I. This Crockpot Creamy Poblano Chicken Soup is awesome because it cooks in the crockpot (easy!), doesn't use any flour to thicken it (more easy!) and has lots of flavor (easily delightful!). I came up with this when I was in an obsessed chili relleno phase. What do you want for dinner? Chili rellenos. Who do you love? Chili rellenos. Debit or Credit Ma'am? I'll be paying with chili rellenos.
I love the slight heat of the poblanos, the sweetness of the onion and the creaminess of the cream cheese in this. Because cream cheese should be creamy. It can cook away all day and all you have to do when it is time for dinner, is blend it to desired texture, top it with some delectable toppings and dinner is on the table. Man Child loves this soup. I admit I added the bacon to visually lure him in because soup isn't the most luring of the food groups. But the bacon adds a smokiness to it that is what you have been missing in your soup world. Maybe you get actual cold where you live. Maybe you are a souperbly better person than I and you like soup. Let's make it no matter what. Long live soup and bulldog snores! So comforting!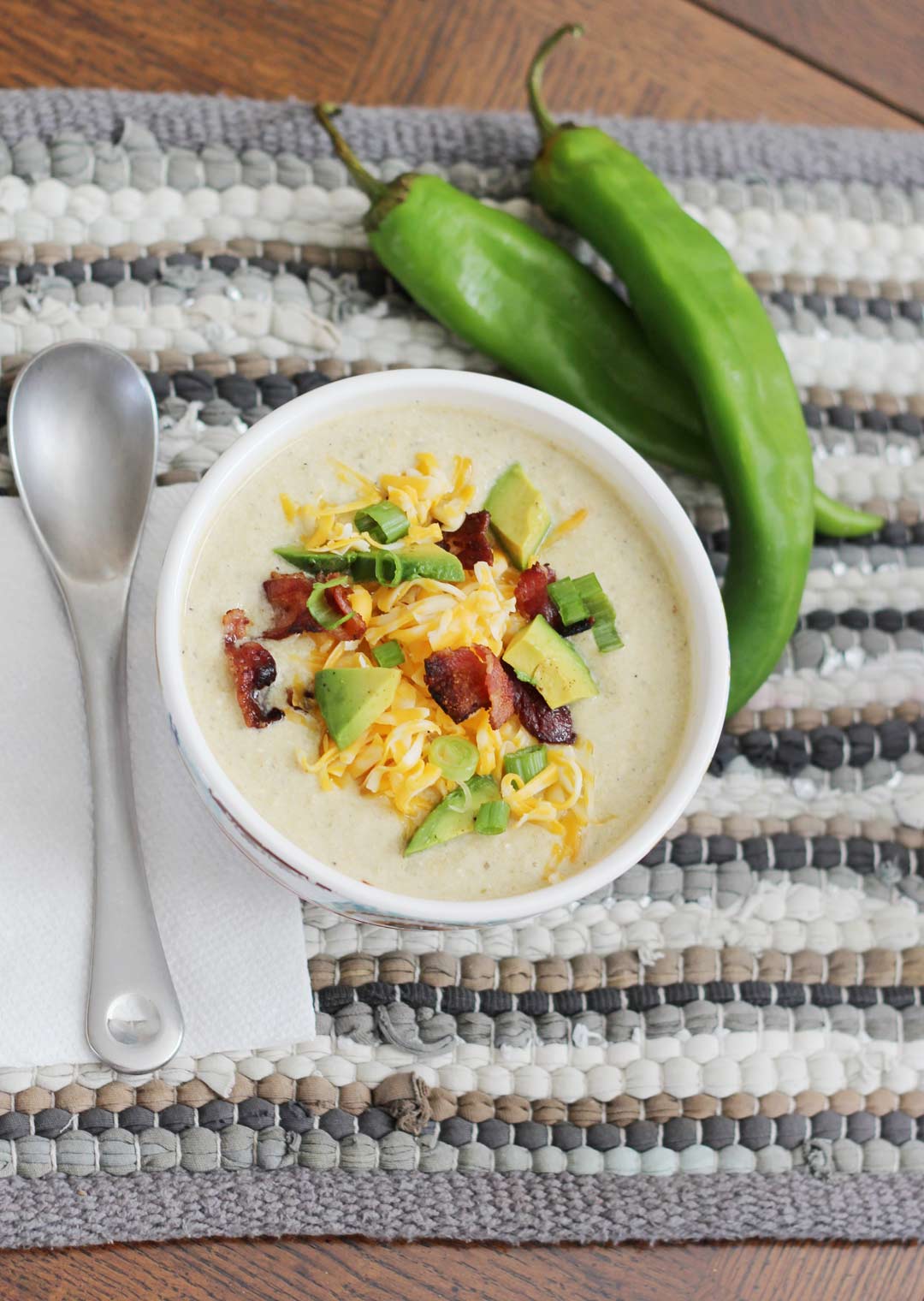 Print Recipe
Crockpot Creamy Poblano Chicken Soup
Ingredients
1 TBS vegetable or coconut oil

3 poblano peppers (or if you want spicier sub other peppers like pasilla or mild like hatch) chopped

2 ears of corn, corn kernels removed from the ear with a knife

1 sweet onion chopped

1 garlic clove minced

1 lb boneless skinless chicken tenders

4 cups chicken stock (I used Pacific)

1 block (8 oz) cream cheese, cubed (I used Philadelphia)

1 cup Colby jack cheese shredded

1 ½ tsp salt

1 tsp pepper

½ tsp paprika

3 green onions sliced

1 avocado pitted and chopped

1 lb bacon cooked and crumbled (I used a thick cut Farmer John Black label)
Instructions
1
Heat oil in a skillet over medium heat. When oil is hot add the chopped poblanos, onion, corn kernels and garlic. Sautee vegetables until they are soft and have a little brown to them.
2
Add to a crockpot (set to your desired cooking time and temp) the sautéed veggies, chicken tenders, chicken stock, cubed cream cheese, ½ cup Colby jack cheese, salt, pepper and paprika. Stir, put a lid on it and leave it be.
3
When done cooking in the crockpot, use two forks to pull apart the chicken tenders. Using an immersion blender or carefully putting soup in a stand blender, blend the soup to the desired consistency. My kids don't like chunky soup, so mine gets beaten down quite a bit. You may like chunky soup. Do what feels right to you.
4
Put into bowls and top with the remainder ½ cup Colby jack cheese, green onions, avocado and crumbled bacon.
Notes
Note that you could make this in a pot on the stove. In that case you will add everything to the pot and simmer over medium low for an hour then proceed as mentioned above for the crock. Make sure to check that all your ingredients are gluten free and not cross contaminated if that is an issue for you. Remember that some prepackaged shredded cheese contains gluten. As does some bacon. If you like more seasoning, have at it. This is the version I make for my kids. You may want to up it with some all natural seasoning salt or add more garlic. This is really yummy with crushed gluten free corn tortilla chips on top too!