One of the meals that has come the farthest with gluten free cooking is the one with pasta in it. I have never been a big pasta eater. I prefer my carbs to come from bread, but I know so many who absolutely love pasta. Gluten Free pasta has come a long way and it is one of the most available items in grocery stores when you are looking for specialty gluten free foods. Ironically when we went gluten free and I started cooking with quinoa and brown rice varieties of pasta, I really enjoyed it. And much preferred it to the gluten version. The Trader Joes quinoa pasta is our favorite. Kid's love spaghetti and it is such a relatively simple meal to make. I'm thankful that the transition to gluten free didn't take much modifying in that area. But what about lasagna? Some people are scared of lasagna with all its layers and apparent effort. Well, this is gluten free and I call it weeknight lasagna for a reason. It is easy enough to prepare on a busy night. We eat dinner early, so I'll normally get this going when we get home from school and it is ready by 5. As usual, I try to hide as many veggies in it as possible to make it healthful and less of a struggle. Your idea of lasagna may be different than mine. It is a treasured meal that often has a memory linked to it. If you are Italian. Or like Italian food as much as I do. This is no Stouffers Lasagna. It is all fresh real ingredients and tastes like a million bucks. Who knew million dollar bills tasted like Prego?
Tender ground beef is cooked with onion for flavor. And carrots to add sweetness and nutrients. A blend of seasonings gives it that Italian taste. Now ricotta cheese is a pretty typical ingredient in lasagna. I love ricotta cheese. It is so creamy, slightly sweet and a great binder. I add egg, vitamin heavy spinach, parsley for some pizazz and some more seasoning. All of this comes together with the spaghetti sauce, no boil noodles (thank you lasagna noodle companies for hearing our cries!) and fresh mozzarella cheese. I buy the ball or brick of fresh mozzarella in water/cheese juice. Fresh mozzarella is very different from its more solid form brother. Or sister. It has a milder sweeter flavor and it melts like a dream. If you can't find fresh, you may sub a packaged one, but really the fresh makes this lasagna different.
Now a note about gluten free lasagna noodles. Gluten Free lasagna noodles if not properly handled will rebel and decide they would like to hold onto to their crunchy identity. They must be totally covered with sauce and protected with foil while baking. They don't appreciate air or dryness. Don't be like me. The first time I made lasagna with gluten free noodles I did not cover it. So basically we ate lasagna chips. It was unsavory to say the least. But this will cook up beautifully and give you delicious leftovers too. It is a great meal to take to someone who is gluten free also. Let's go make it!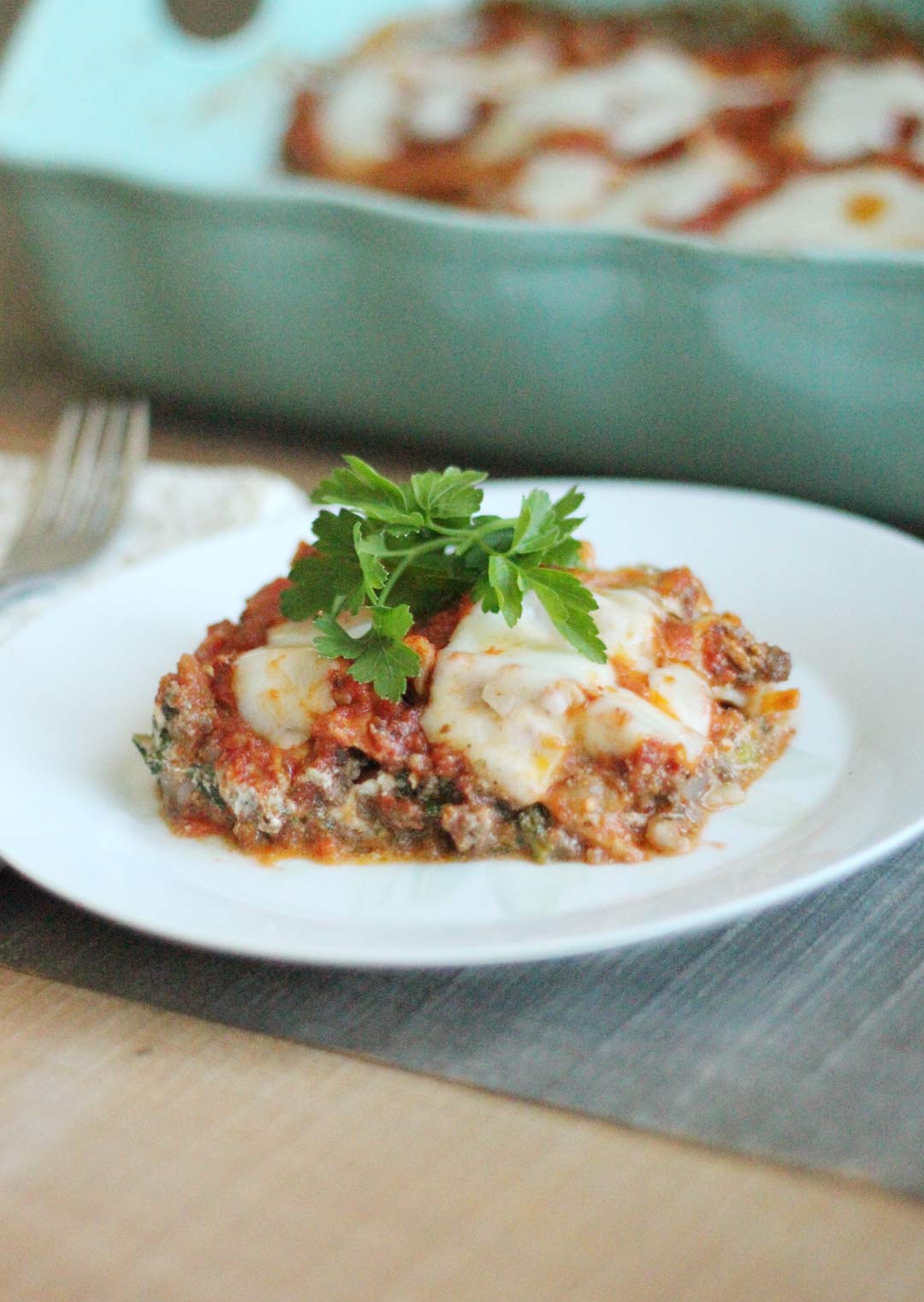 Print Recipe
Weeknight Lasagna by Gutsy Gluten Free Gal
Ingredients
1 TB olive oil

1 ¼ lb ground beef (I used 15%, and yes you could just use a lb.)

1 onion- diced

3 large carrots- peeled and shredded

2 jars favorite gluten free spaghetti sauce

16 oz. fresh mozzarella- sliced

15 oz. gluten free ricotta cheese

10 oz. chopped frozen spinach- thawed and water squeezed from it (I use a towel)

½ cup chopped parsley

1 egg

3 tsp Italian seasoning

2 ½ tsp salt

1 tsp fresh ground pepper

2 tsp garlic powder

1 package no boil gf lasagna noodles (I used De Boles)
Instructions
1
Preheat oven to 350 degrees.
2
Heat 1 TBS olive oil in a large skillet over medium/high heat. Add to it the beef, onion, and carrots. Stir. Next add 2 tsp salt, 2 tsp Italian seasoning, 1 tsp garlic powder and ½ tsp fresh pepper. Cook until meat is cooked through. Drain off fat.
3
In a medium bowl add egg and beat slightly. To that add the ricotta cheese, spinach, parsley and 1 tsp garlic powder, 1 tsp Italian seasoning ½ tsp salt, and ½ tsp pepper. Mix until combined.
4
To the bottom of a 9 by 13 oven safe dish add 1 cup of spaghetti sauce then add 3 lasagna noodles on top of the sauce. Next spread ½ cup of the ricotta mixture onto the noodles, followed by ½ cup of the meat mixture. And then 1/3 of your sliced mozzarella cheese. Top with 1 ½ cups of spaghetti sauce.
5
You are now going to repeat this again. 3 lasagna noodles, ½ cup of the ricotta mixture onto the noodles, followed by ½ cup of the meat mixture. And then 1/3 of your sliced mozzarella cheese. Top with 1 ½ cups of spaghetti sauce.
6
Top that layer with three more lasagna noodles and totally cover them with 2 cups of spaghetti sauce. If you don't have the noodles covered totally with sauce they will not cook and will remain crunchy. Cover tightly with tinfoil. This is so important. Cover super tightly with Hulk strength. No air is invited to this.
7
Bake in the oven for 50 minutes. Remove from oven and top the lasagna with the remaining 1/3 portion of fresh mozzarella. Return to the oven without tinfoil and bake for 10 minutes more.
8
Let sit for 10 minutes when out of the oven to make it easier to cut. Enjoy!