Do you love lunch? Lunch is my love language. For some reason it is the meal that I look forward to the most. Perhaps because by the time it is lunch I feel like I have lived an entire day and am starving. It could also be because I prefer lunch foods. Sandwiches, wraps, salads and whatever else is usually on a lunch menu really make my heart happy. If I'm staying on track with healthful eating I usually eat some kind of salad each day. I bloat up like Popeye if I habitually eat dense carby foods for lunch. I also love the energy I get from eating a healthy lunch.
Your salad game has to be strong if you are going to be a heavy salad eater. Here are things that in my mind make for a weak salad game: gross dressing, lack of protein rich toppings, too much kale (sorry), lack of crunch and lack of color. Basically if a salad is lacking, it should hop a ship to Antarctica and never been seen again. Strong salad game consists of flavorful fresh dressing, grilled or interesting proteins, a mixture of greens, vegetables that make a crunch noise when you bite them and should look like the rainbow.
Man Child can't eat the hot lunch they have school even though there are a few gluten free options because we don't trust the contamination factor. It kind of ruins your school day when you are doubled over with stomach cramps from being glutened. Oddly enough the thing he wishes he could have the most that he sees a kid eating at hot lunch is salad. Well that is an easy solve. I can just send him with a Tupperware of salad. Ah, but the salad at hot lunch is that iceberg/carrot/cabbage mix. It breaks my heart a little bit to make that because HELLO! Romaine! Butter Lettuce! Red Leaf Lettuce! Arugula! But alas, he wants it to be like the other kids (who don't even typically eat the salad). And he is so happy when he gets it.
This recipe here is not a prepackaged boring salad. This is a salad that leaves you full and smiling. I make this almost every week. Several times a week. It is so simple! Gluten Free rotisserie chicken adds so much flavor and is a time saver. I buy mine at Sprouts or sometimes Costco. The Man Child loves rotisserie chicken. He has devoured half a bird before. It was frightening. I put everything on top of chopped baby spinach and romaine. I also add in delicious creamy hummus. Have you ever had hummus on a salad? It is phenomenal. It add dimension, nuttiness and brings all the other ingredients together. This hummus had apricot chutney on top. I really loved it. And yup, for even more heartiness there is quinoa. If you are not a fan, then by all means leave it out. I love quinoa. So I add a cup to this salad. It adds more texture too. I like to make a batch of quinoa at the beginning of the week and then use it for salads and cooking during the week. Then there is avocado because I can't do salad without it. For that crunch I add red bell pepper and red onion. Both full of healthy vitamins and bursting with flavor. Drizzle this all with some fresh tasting dressing (I use Brianna's or my own Tomato Viniagrette) and you have a super-fast lunch or light dinner. This also keeps well for meal prep in mason jars if you are bringing your lunch with you. Just store dressing on the side until you are ready to use it. Boycott the bag salad! You can have a strong salad game too!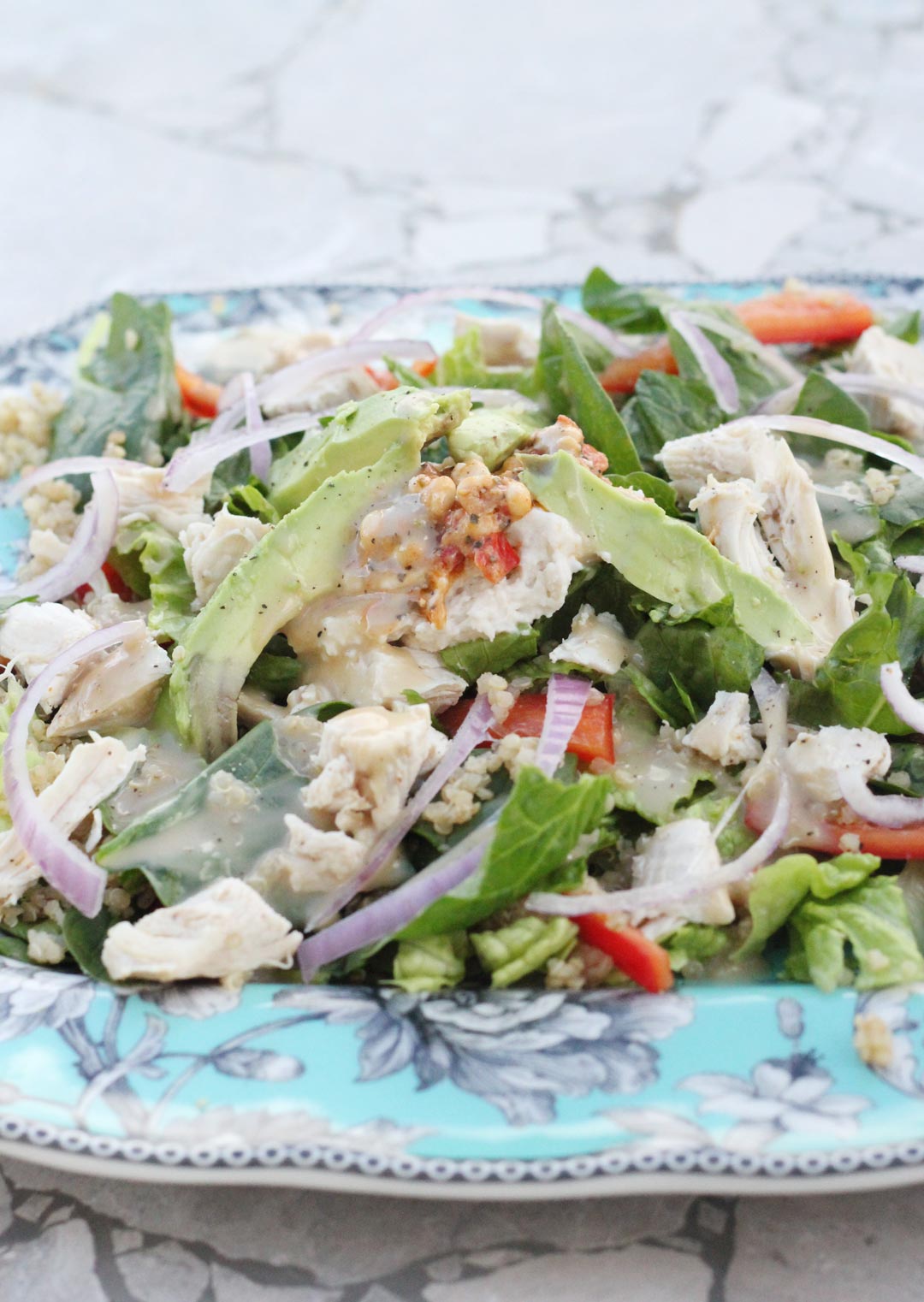 Print Recipe
Rotisserie Chicken and Hummus Salad by Gutsy Gluten Free Gal
Ingredients
2 cups chopped romaine lettuce

2 cups chopped baby spinach

2 cups rotisserie chicken meat- chopped (can be light and dark meat)

1 cup prepared gluten free quinoa

1 avocado – pitted, skin removed and sliced

1 red bell pepper- seeded and sliced

¼ red onion- sliced very thin

½ cup gluten free hummus – I used Eat Well Embrace Life Spicy Lentil

Italian Dressing- I used Brianna's Italian Vinaigrette for these photos but this salad is delicious with my Tomato Vinaigrette
Instructions
1
Add all ingredients except for hummus and dressing to a bowl and toss until they are evenly distributed.
2
Divide into two portions and put on plates.
3
Top each salad with ¼ cup hummus and drizzle with desired amount of dressing.
Recipe Tools used and Products We Love from Gutsy!

If you click on an above link and purchase through Amazon an item recommended on our site, the GutsyGlutenFreeGal receives a teeny tiny amount from that sale. Thank you for helping to keep this site going and keeping gluten free delicious. We heart you.