A friend said to me that we must eat gourmet meals every night because of this little blog. I spit out my chocolate milk I was sipping and laughed chocolate bubbles into the air space in front of her face. Umm, no. I cook constantly. I will maybe take one night a week to not cook dinner, but that's all folks. When you are dealing with cooking for Celiac disease and Type 1 Diabetes, your options are limited when it comes to eating out. And yes, I may be a total loon but I love cooking and rarely get tired of it. Which is a blessing, since I don't have a whole lot of choice. I hope through this site of mine, you have found some recipes that have made you enjoy cooking and have boosted your confidence in the kitchen. Or maybe you were already confident and it is nice to just have some variety.
Most of the people who don't enjoy cooking or even dread making dinner at night are stuck in a rut. They may have their families' favorites that they make but just get really uninspired at the grocery store. We have all been in ruts. I think what helps with that is to pick at least one new recipe each week. It doesn't have to complicated. It could be simple and ready fast, just like this one. But try something new. Even if it is a bit out of your comfort zone.
Another thing I do each week is let my kids pick two meals that sound really good to them. Now, yes, Princess Sparkle has a limited rotation of what she picks, Hello Pizza, but I try to do a different variation of it. Man Child enjoys branching out so he might request something I have never made before, but that is the fun of it. The grocery store inspires them too. I try to go to the grocery store by myself when they are in school. I can get all my shopping done for the week and read my list and meal plan and not want to impale myself on a stack of rice cakes. I shouldn't complain though because my kids really are very good in the store, they just have many questions. What is creamy fresh? Crème Fraiche, my dear? What does the lady with the hat on smell like Gasoline? Not sure. Can we buy every type of tomato? Umm, no.
We happened to be going down the potato section of Sprouts and Man Child said he would like a dinner based around sweet potatoes and his other obsession, guacamole. Hmm, that isn't quite what comes to mind when thinking of sweet potatoes but I could work with it. I had some chipotle chicken in the Crock-Pot and this meal came together faster than a bulldog falls asleep.
The smokiness of the chipotles is not too spicy for kids but does add flavor to chicken tenders. I also add oil, honey, lime juice and salt and pepper. As for the rest of it, it is very not gourmet but it looks gourmet. You just bake or microwave some sweet potatoes, and top with the shredded chipotle chicken, fresh cheddar cheese, sour cream, guacamole and green onion. I made this on a night where I had next to no time. I had just bought a tub of gluten free guacamole (I like wholly guacamole or the Aldi guacamole) so I used that and it was a hit! I have an awesome recipe for guacamole in my cheesy loaded nachos post, so if you want to make it from scratch, have at it.  And if I put sour cream on any of Sparkle Princess's meals, they suddenly become palatable, so that was just your basic light sour cream. This was healthy, gluten free and came together quickly. Bonus, you will have leftover chicken for making something else. Boom another dinner taken care of. I used ours for tacos and the shells were actually quesadillas. I need to post that. You haven't lived until you've used a quesadilla as a taco shell.  Okay, let's go make these Chipotle Chicken Sweet Potatoes!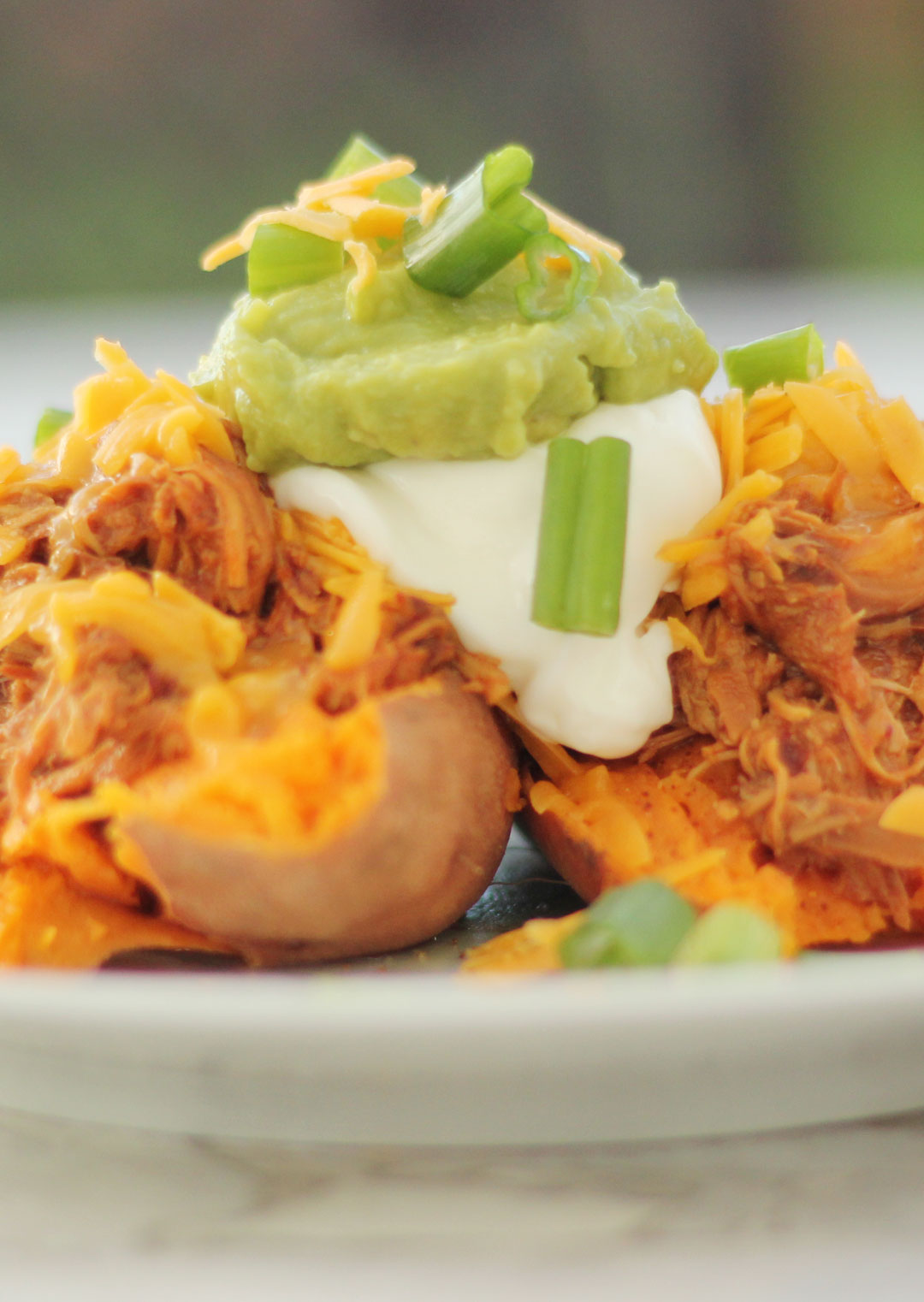 Print Recipe
Chipotle Chicken Sweet Potatoes by Gutsy Gluten Free Gal
Ingredients
2 lbs. chicken tenders

2 canned chipotle peppers- minced

3 TBS adobo sauce from chipotle can

2 TB vegetable oil

2 TB honey

1 tsp salt

½ tsp fresh ground pepper

Juice of one lime

4 sweet potatoes (mine were average sized)

2 cups shredded sharp cheddar cheese (I shred my own, if you are using pre shredded make sure it is gf)

1 cup sour cream (could be light, I used Daisy)

1 cup guacamole (can be homemade, see recipe link above or store bought)

¼ cup sliced green onions, whites removed
Instructions
2
Add to the bowl of a crock pot chipotles, adobo sauce, oil, honey, salt and pepper. Mix with a spoon. Then add the chicken and make sure it all gets coated with the sauce. If you need this to cook all day then do low for 8 hours. Or high for 6 hours. When it is done take two forks and shred the chicken letting it soak up the sauce in the Crock-Pot.
4
Place the four potatoes on a microwave safe plate (or if you prefer you could bake them in the oven at 400 degrees for about 45 minutes) and pierce potatoes with a knife. Microwave for about 10 minutes or until potatoes are soft to touch. When cool enough, slice in half and place on a plate.
5
Top the potato with ½ cup chipotle chicken, ¼ - ½ cup cheddar cheese, ¼ cup sour cream, ¼ cup guacamole some of the green onions and more cheese if you like.
Recipe Tools used and Products We Love from Gutsy

If you click on an above link and purchase through Amazon an item recommended on our site, the GutsyGlutenFreeGal receives a teeny tiny amount from that sale. Thank you for helping to keep this site going and keeping gluten free delicious. We heart you.