Do you love a good chicken salad? When I married Boyband I was a little disturbed to find that cold chicken salad didn't rock his world. I mean what is not to love? Mayonnaise, salt, rotisserie chicken, more mayonnaise, sometimes fruit, mayonnaise, nuts and then maybe mayonnaise. Mayonnaise apparently rocks my world for sure. I used to love this chicken salad from Costco that had these huge pecans and cranberries in it. It was a little pricey (especially when you could eat the whole container in a day because you are the ultimate chicken salad fan) but it was so easy. Well, they stopped carrying it for a while. And then we switched to gluten free and I never checked to see if it was in fact gluten free when it came back in store.
And since Boyband didn't care for chicken salad a whole lot, I set out to make one that he did enjoy. And that had mayonnaise. Okay, let's take a second here to talk about mayonnaise. Do you like it? Some people hate it. Would rather lay down on the highway in the dark than eat it. I grew up on it. Best Foods only. My grandmother let me try a peanut butter and mayonnaise sandwich combination once. I loved it. That may be disgusting to you and admittedly now some 20 years later, it is kind of gross. And detrimental to my cholesterol. But back then it tasted good! If mayonnaise is not your thing, you could do all sour cream for this recipe. Gluten free chicken salad shouldn't be hard to come by in stores, but as most things gluten free, it is more the cross contamination factor if you have Celiac disease or are very sensitive. Sometimes it is in the seasonings or flavorings used in the base or on the chicken. Well, no worries here if you make it yourself.
So on to this Cranberry Pecan Chicken Salad. My amazing sister got married not too long ago. (She is my sister in law but we have known each other since 9th grade and I think we somehow share some DNA, so we call each other sister) For her bridal shower we did a falling in love theme. It was in the fall. So cute. And she and her husband are so cute. It's a lot of cute. I can't wait till I'm an Aunt and can watch their cute kids and feed them cute mayonnaise and peanut butters sandwiches. Moving on. We served this chicken salad at her shower. It has some flavors of fall, but would be great on a hot July day too. I've made it reminiscent of that pecan and cranberry chicken salad but made a more flavorful base. This was served on croissants to the gluten eaters at the shower. Let us all take a moment to mourn croissants. Good gluten free croissants are a unicorn. Maybe they exist and we all get excited thinking that they might. But they don't. BUT this Cranberry Pecan Chicken Salad is so good that it is perfect for some butter lettuce cups, on top of mixed greens, dipped into with a gluten free cracker or just with a spoon. This is also really good in a gluten free wrap. Or you could do some gluten free bread and make a sandwich. So many options, so much yard bird salad. Have you ever called a chicken a yard bird? My brother does. I do too.
This salad has large crunchy pecans, sweet and tart cranberries, easy peasy rotisserie chicken, and a delicious base of mayo, sour cream, and seasonings. Cinnamon too! Yes, this is a chicken salad not a pie but the cinnamon works well here folks. I'm not kidding. Let's go make it and tantalize your taste buds!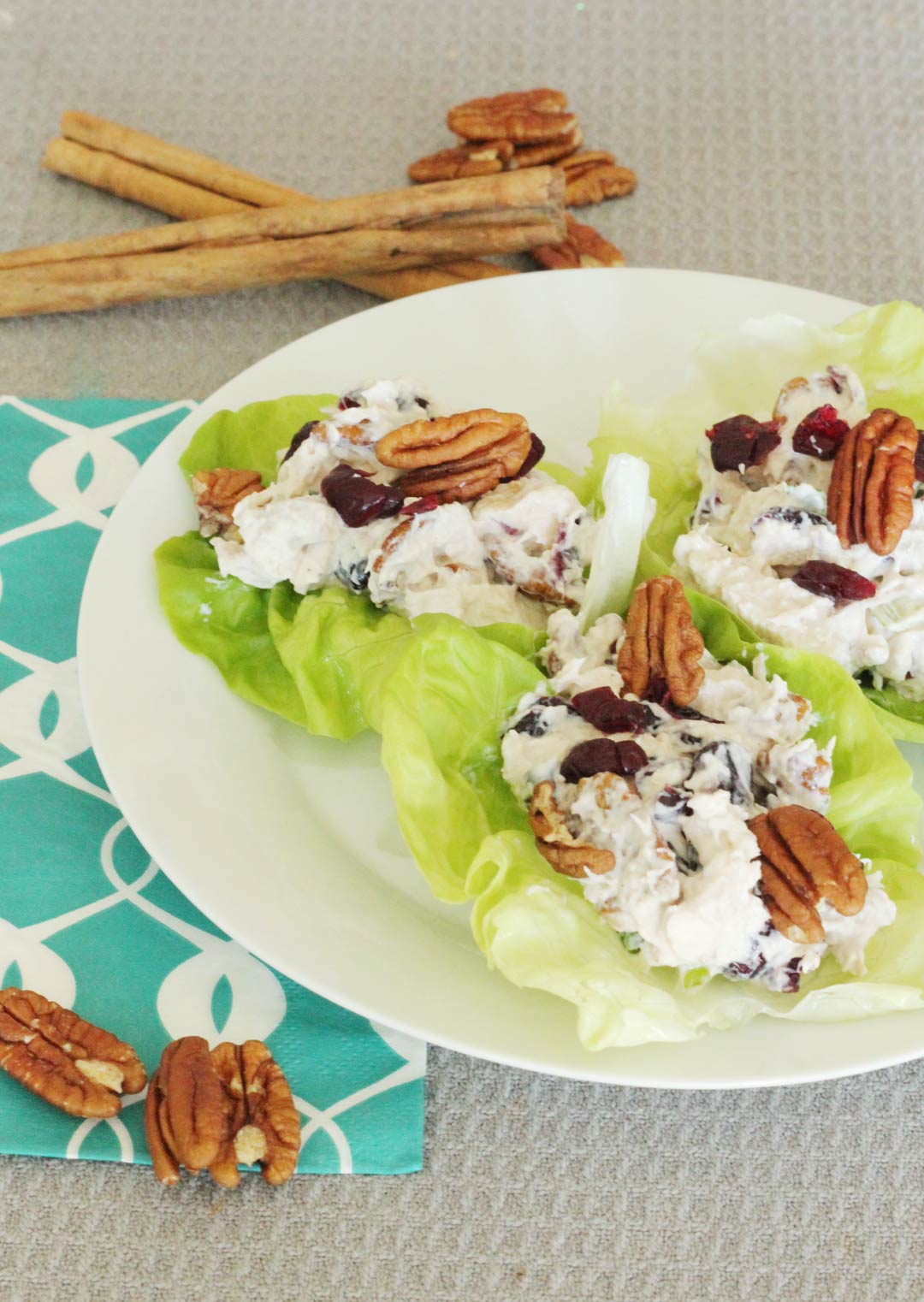 Print Recipe
Cranberry Pecan Chicken Salad by Gutsy Gluten Free Gal
Ingredients
1 rotisserie chicken * (Always check packages but Costco, Sam's club, Sprouts, and Whole Foods all sell gluten free at the locations by me)

1 cup mayonnaise (I used Best Foods)

1/3 cup sour cream

½ tsp salt or seasoned salt (make sure it is gluten free)

½ tsp cinnamon

¼ tsp fresh ground pepper

¼ garlic powder

½ TBS honey

3 TBS white wine vinegar (can use apple cider)

2 green onions- finely sliced

1 ¼ cup whole pecans

1 ¼ cup dried cranberries (I used Craisins)
Instructions
1
In a bowl mix together the mayonnaise, sour cream, salt, cinnamon, pepper, garlic powder, honey, vinegar and green onions. Mix well and set aside
2
Pull the chicken off your rotisserie chicken. I like to do this as soon as I get the chicken home. If you let it get cold in the fridge it is much harder to get the meat off. Pulling chicken is one of my least favorite tasks. But it is delicious. Once all meat has been pulled off, discard the bones and chop the chicken meat into small chunks. Think 1-2 inch pieces.
3
Add chicken to the wet ingredients then add 1 cup pecans and 1 cup cranberries. Gently fold all the ingredients together. You don't want to beat the chicken salad and make it into glue. Just gently mingle all ingredients until evenly distributed.
4
I like to let this set up in the fridge until I'm ready to serve but you can eat it right away too.
5
When ready to serve add the remaining ¼ cup pecans and cranberries to the top of the chicken salad to make it look pretty and add extra flavor.
Notes
*If you don't have a rotisserie chicken, you could certainly roast a whole chicken yourself, or even use canned gluten free chicken breast. It will definitely have a different texture or flavor but do what works for you. * If you don't care for mayonnaise, you may sub all sour cream. It will be tangier.