We all have that happy place that we take mental vacations to. At least I think we do. Maybe I'm the only one-which wouldn't be surprising considering my overactive imagination. But I think most of us do that. You know when you are holding back your child's hair as the stomach flu rips through the household. Physically you are grabbing the Lysol. Mentally you are on a beach in Tahiti getting the perfect tan. Or when the car breaks down and instead of focusing on the tow truck drivers "aroma" (hint it smells like acetone mixed with fresh tar) you think of skiing down some fresh powder in Vail.
My mental escape is normally to Hawaii. It is my happy place. I've been blessed to go there several times and I cry every time I leave. You would think a very pasty girl who doesn't really tan and can't move her hips to Hula wouldn't love the Islands, but I do! I love them so much! Just call me Moana. Of course one of my most favorite things about Hawaii is the food. Some of my best meals ever, have been eaten in the tropical paradise. Coconut shrimp with a chili garlic dipping sauce that melted in my mouth in Kona. Locally grown vegetables and fresh caught fish on a bed of coconut rice in Waikoloa. The list goes on but I can never forget the absolutely perfect Kalua Pork that I had on Maui in Lahaina. It rocked my world. I never knew a pig cooked in the ground could be better than anything cooked on top of the ground. Does that make sense?
I'm a huge BBQ pulled pork gal, but this was unlike anything I had ever eaten. It was so juicy and tender. Flavor that was out of this world. Boyband and I were on our honeymoon there and maybe that contributed to the magic of it. Maybe it was the free lava flows. All I know it was the yummiest meat I had ever eaten. I have made other versions of it since we returned from there. I mean Man Child's first birthday party was luau themed. Obsessed? I think yes. And I made Kalua pork then too. This pork has a sweet and saltiness to it that makes it very different than BBQ pork. Sparkle Princess detests most meats. It has to either be dipped in mashed potatoes (I kid you not) or be really good. She loves this meat. Eats it like a champ. You will notice that my recipe does not use liquid smoke, which many Hawaiian pork recipes do. My kiddos do not care for smoke flavor. Like they look at me like I have served them poison with a side of grass clippings. If you like a smoky flavor, you could by all means add 1-2 tsp of it to the pork. Make sure you are using a gluten free one though. Colgin is typically gluten free but always read all labels.
Okay, so this makes a lot of pork. You may have a family of 12 and will eat this in one meal.  That is cool and I admire your procreating skills. If you are like me and have a smaller group of carnivores, then I like to portion this out into three plastic Ziploc bags. I typically freeze one(this freezes really well) and make two different meals out of the other. My pulled pork potatoes are awesome with this. I also love to make tacos out of these. I usually will do a fruit salsa, some chipotle crema, avocado, thin sliced cabbage and throw it all in a gluten free corn tortilla. This is also awesome with some pepper jack cheese made into a panini. Add some roasted garlic mayo and it is winner winner pulled pork dinner. I hope you enjoy it. And it takes you to a happy place.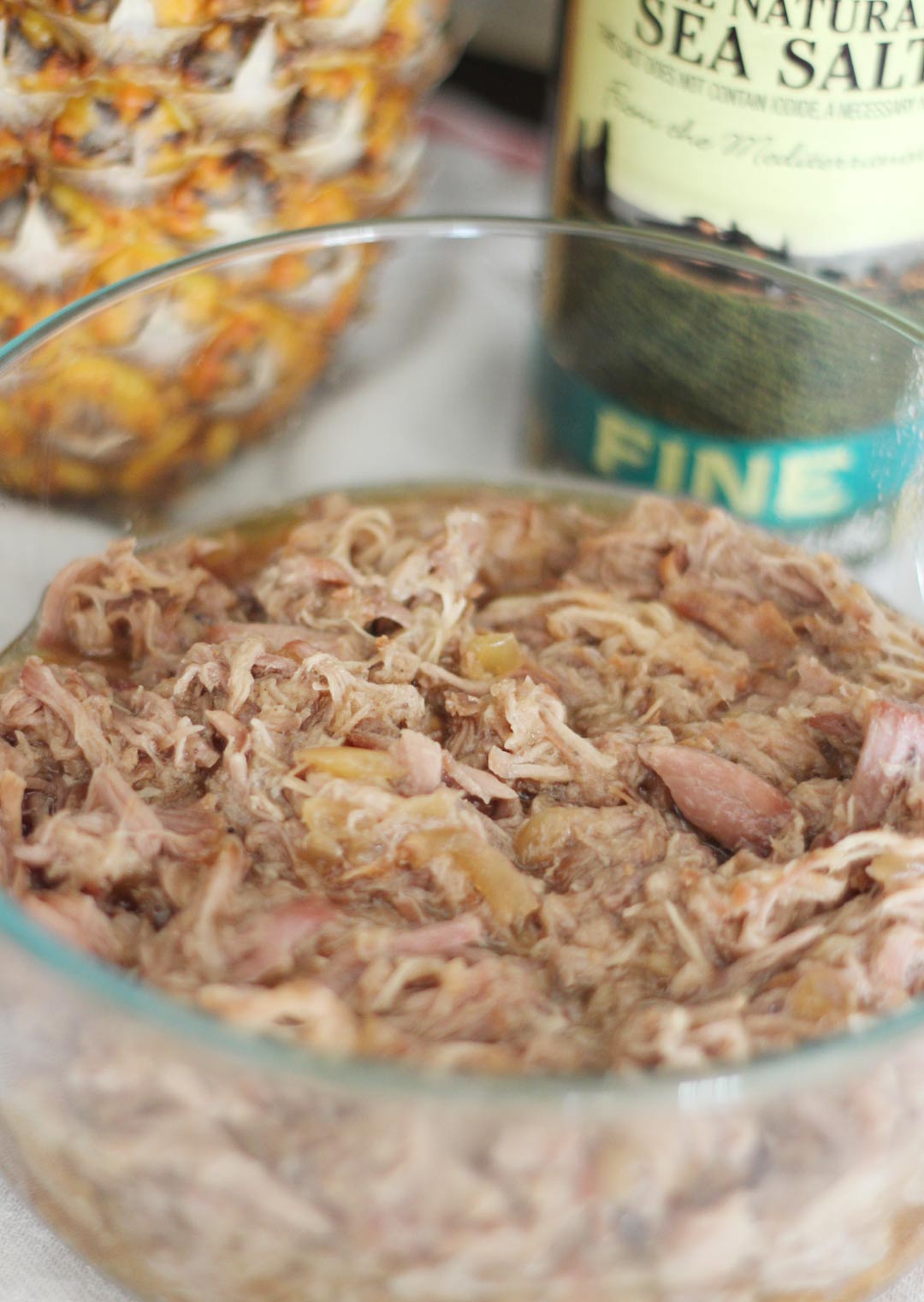 Print Recipe
Hawaiian Pulled Pork by Gutsy Gluten Free Gal
Ingredients
3- 4 lb. boneless pork shoulder

1 1/2 cups pineapple juice

1/3 cup brown sugar

1 sweet onion chopped

1 TBS garlic powder

½ TBS onion powder

½ TBS paprika

1 tsp ground pepper

Sea salt to taste (how salty you like your meat I will leave up to you. I generally use 3 tsp to start and taste it once it is done to see if it needs more)
Instructions
1
In a bowl mix together the brown sugar, garlic powder, onion powder, paprika, ground pepper and salt.
2
Make sure the pork is dry (patting it like a good piggy with a paper towel if necessary) and rub the dry seasoning mixture all over it. Both sides please.
3
In the bottom of a large crockpot place the pineapple juice and onion. Give it a stir. Place the rubbed pork on top of it and put the lid on the Crock Pot. Cook on low for 6-8 hours. If you are in a pinch you could do high for 4 hours but the meat may not be as tender. It is best low and slow. You will know it is for sure done because the meat will be falling apart.
4
When done cooking, shred the meat using two forks and mix shredded meat with the juices in the crockpot. Taste for seasoning.
Notes
This makes a lot of meat. I like to divide it up into three portions. I typically use one portion for my loaded potatoes, another for tacos and a third is great in burritos or in a grilled sandwich. Yum! * You can make this in the Instant Pot! I did a trial run and halved everything. I used a 2.5 lb pork shoulder. I did everything just as if it were going in the Crock Pot but put it in the Instant Pot. Set to meat setting with high pressure. It cooked 60 minutes. I did stop it half way because I thought it would be done and it wasn't. If you are using a 4 lb pork, my guestimate would be to do it for 90 minutes. Remember to turn the pot off when done cooking and let it release pressure on it's own. Good pork can't be rushed.