Do you love cake? I love cake. It used to be my most favorite dessert. Cookies now share that spot, but there is just something about a delicious piece of cake. I think cake has been one of the biggest challenges since we went gluten free. I have tried the many store bought mixes available. The only one we have ever enjoyed is the Chocolate Pamela's Products Cake. It is a truly delicious flavor and texture. But to make enough cupcakes for Man Child's class I have to buy two packages. Bummer. So I have experimented with homemade cake. I always used to make cakes from scratch before gluten free life but it seemed so intimidating without wheat flour. I have had some truly awful gluten free cakes. I mean cakes that should be totally ashamed of themselves. Or change their name to cardboard disc with frosting. A cake should not be dry, crumbly or have the density of a brick. I should not have to drink a full class of milk per bite.
Now flourless chocolate cake is usually a safe bet. It is hard to dry one of those out because it is usually made up of illegal amounts of chocolate, egg and maybe cream. All of life's treasures. But a true cakey cake is hard to come by. I find that if the cake is chocolate, it is usually more…wait for it…moist. Sorry, that word is awful. But it will have a more tender crumb and wheat like consistency. Have you ever tried the gluten free chocolate chip cake from Nothing Bundt Cakes? I believe it is more cookie bar like than cake but it is in the shape of a mini bundt and is so good. The cream cheese frosting is what really adds to it too. They are very careful at the Nothing Bundt Cakes by our house, with cross contamination. Man Child has never gotten glutened by one. But here is the thing, they make big beautiful bundts too. But not in gluten free. And the kids have always eyed those gorgeous cakes longingly. What is a mama to do? Research the techniques for making the best vanilla based cake and make one!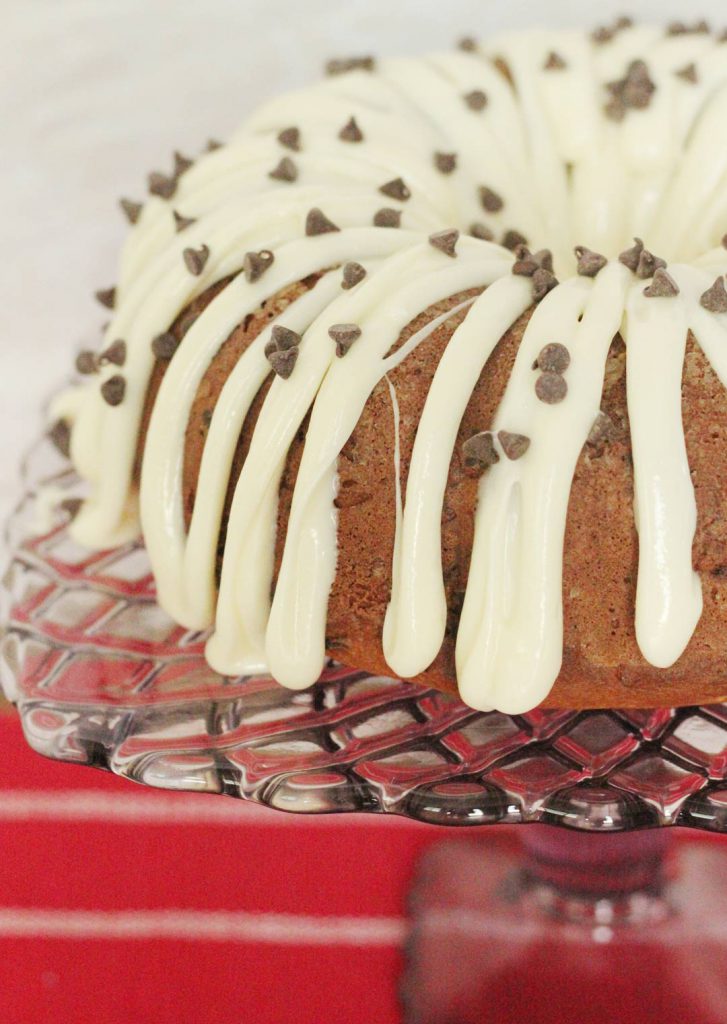 I am so proud of this cake. Not only because it turned out really pretty if I do say so myself, but because the smiles I got from it were a mile wide. There are two types of chocolate chips in this gluten free chocolate chip bundt cake. I am going to risk bristling some hairs here and admit that I can't stand white chocolate. It is the worst. If you ever get a box of chocolates and some of them are white, just give it to your worst enemy and be done with it. But there is a time and a place for white chocolate. It can be tasty in some cookies. Some. And in this cake it melts into the batter and really just adds an added dimension of flavor and softness. The other chocolate chips called for are dark chocolate. Those are where the money is at. Total ballers. And the cream cheese frosting was everyone's favorite. I used Neufchatel cheese. I didn't want to. I thought I bought cream cheese and I didn't. I bought its skinny cousin. I was scared to use it but another trip to the store was going to make me lose my white chocolate covered marbles. But it worked. I was shocked. I have since made it with real cream cheese and yes, I preferred that but using the Neufchatel really does cut calories. So it is up to you.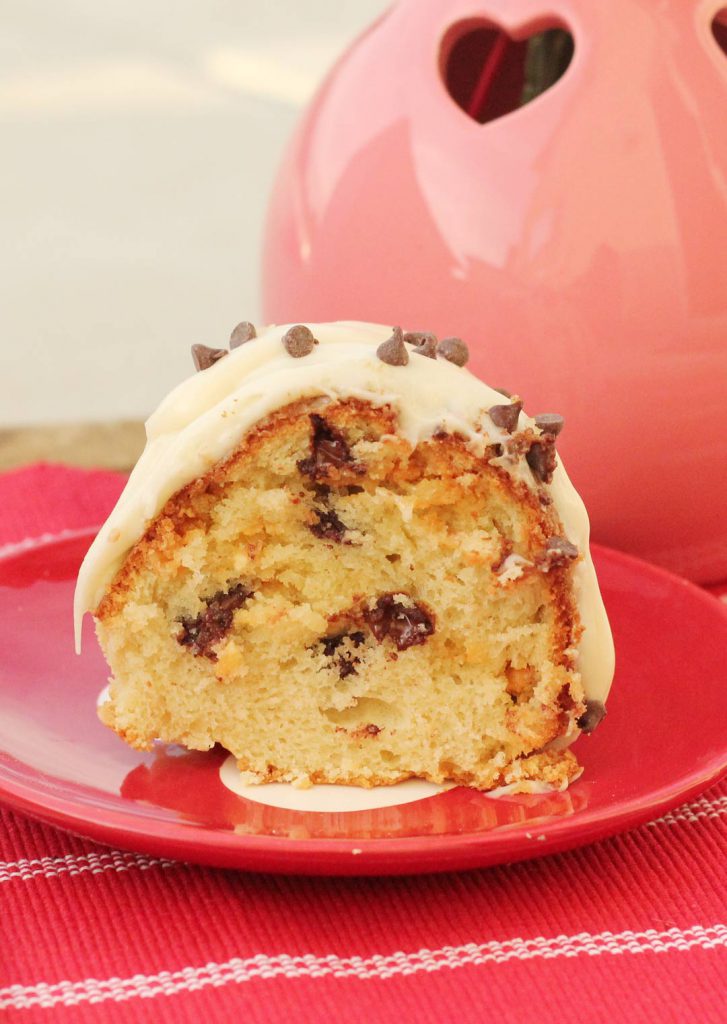 This was a special early Valentine treat. Early because I wanted to get it posted so you could make it for your sweetie or for yourself. Or to eat with your bulldog. It is of course not just for Valentines. Nothing Bundt Cakes decorates their cakes with cute banners and tissue flowers for all holidays and events. Just not the small gluten free ones. Bitter much? Nope! Not when I can make this at home, feed a whole party and pass out business cards that say Nothing Bundt Guts! Get it, Gutsy? Maybe I should work on that. The base of this is inspired by one of my most favorite coffee cakes by Ina Garten. She is my spirit animal. Sometimes when the doorbell rings, I expect it to be her standing there with a roast chicken and asking me to come garden with her in the Hamptons. Hasn't happened yet. But a gal can dream. The base has sour cream in it, so there is your moisture right there. And plenty of chocolate chips, because this is supposed to be a chocolate chip cake.
Okay, enough talking about this. Nothing Bundt Gluten Free wants to bake! Still doesn't work, huh?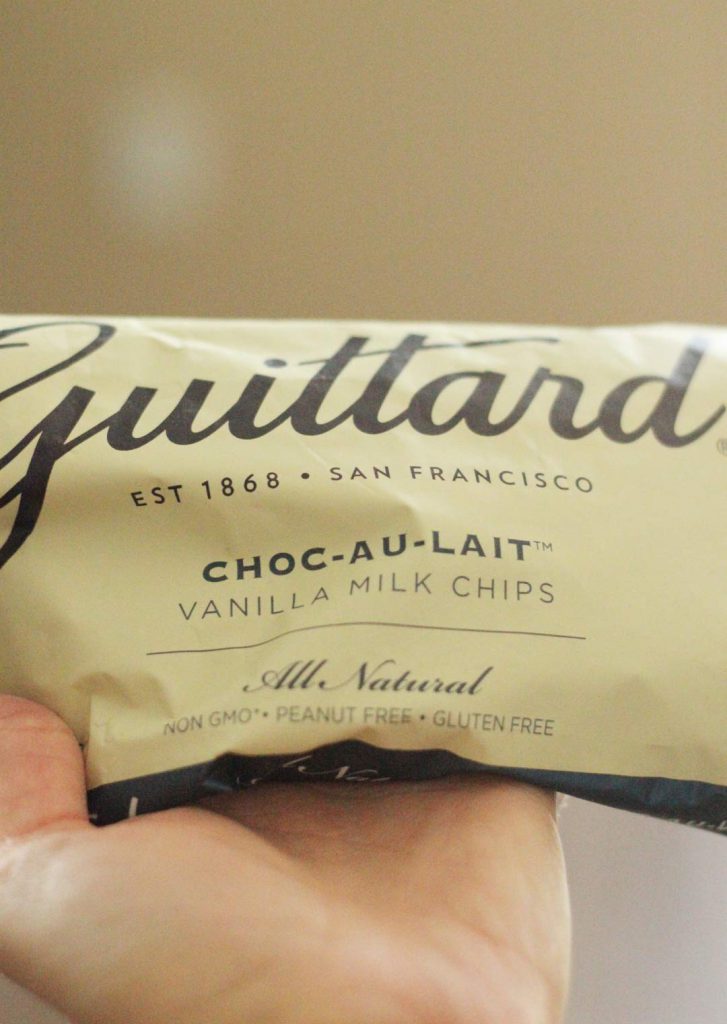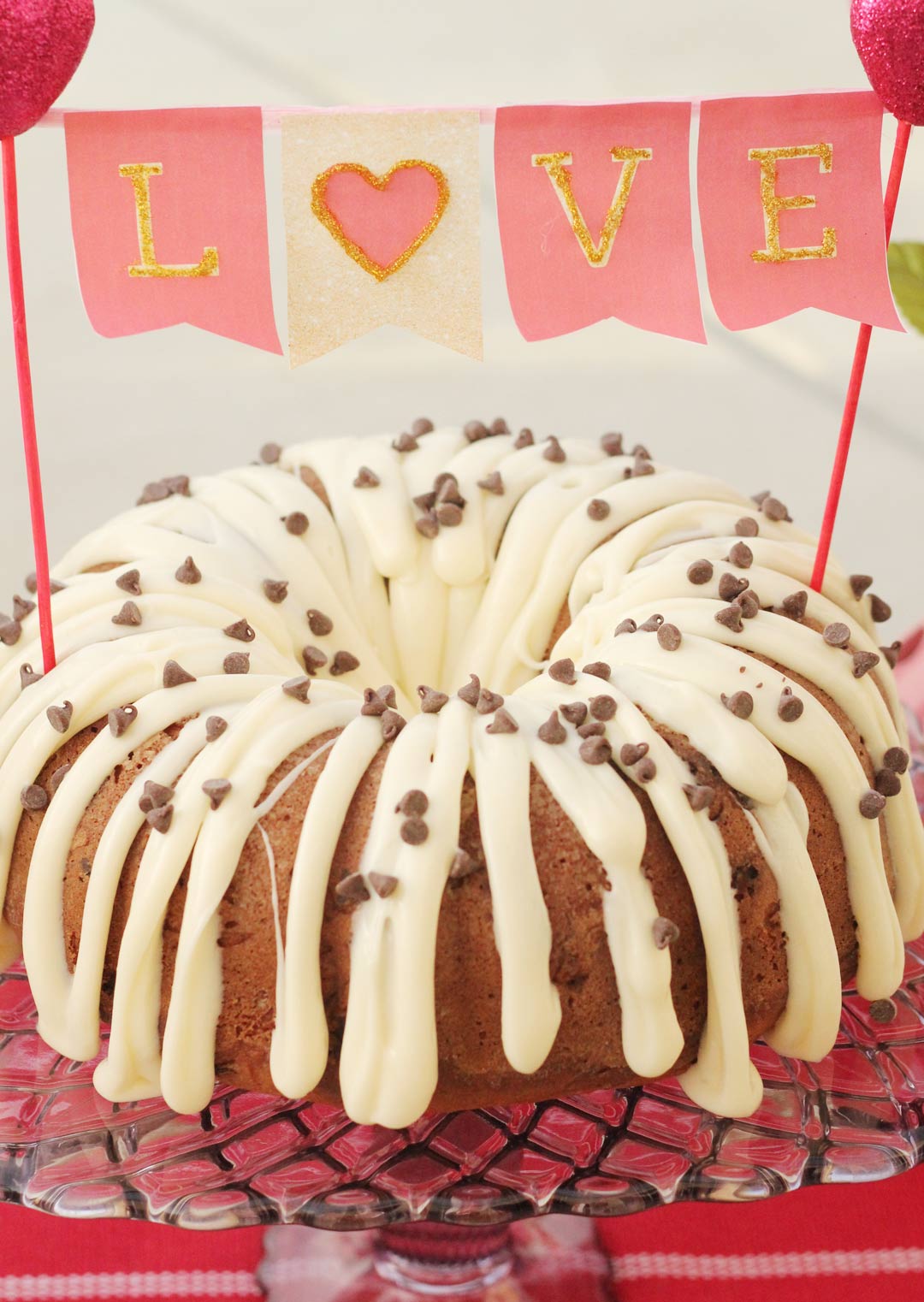 Print Recipe
Chocolate Chip Bundt Cake by Gutsy Gluten Free Gal
Ingredients
For Cake:

1 ½ sticks salted butter (12 tablespoons- softened)

1 ½ cups granulated sugar

4 large eggs at room temperature (this may sound crazy but I will put them in microwave for 8 seconds to achieve this)

1 ½ teaspoons vanilla extract

1 ¼ cups sour cream (I used Daisy light)

¼ teaspoon xanthan gum

2 teaspoons baking powder

½ teaspoon baking soda

½ teaspoon salt

2 ¼ cups minus 1 TBS Gluten Free Flour (I used Pamela's, if yours has xanthan gum, leave the above amount out) *

5 TBS corn starch

1 cup dark chocolate chips (I used Guittard)

1 cup white chocolate chips (I used white chocolate choc-au-lait by Guittard, make sure yours are gluten free)

For Cream Cheese Frosting:

12 oz softened cream cheese

4 ½ cups powdered sugar

½ tsp salt

¼ tsp vanilla

3 TB mini chocolate chips for topping the cake
Instructions
1
Preheat the oven to 350 degrees. Prepare a 10 inch bundt pan by spraying with non-stick spray or coconut oil and then flouring it.
2
In a bowl whisk together the baking powder, baking soda, salt and xanthan gum. In a sifter add the flour and cornstarch. Sift together. This seems like a pain but you are essentially making gluten free cake flour. You want this to be very fine. Once sifted, whisk all the dry ingredients together. Set aside.
3
In the bowl of mixer with a paddle attachment, cream together the butter and sugar until light and fluffy. About 5 minutes. With the mixer on low, add the eggs one at a time. Making sure they are incorporated into the butter. Next add vanilla and sour cream.
4
With the mixer on low, add the bowl of dry ingredients to the wet ingredients and mix until just combined. You may need to scrape down the sides to make sure it is all mixed together.
5
When batter is all combined add the chocolate chips and gently fold into the batter. When evenly distributed, pour the batter in the prepared bundt pan. Bake for 50-60 minutes. Mine took 60 minutes. But I started checking it at 45 minutes and I recommend you do the same. You do not want to over bake this. A toothpick should come out clean (unless it has melted ooey gooey chocolate on it) when the cake is done but you shouldn't smell a burning or toasted cake smell. This isn't a smore marshmallow.
6
When cake is done, remove from oven and place cake in bundt pan on a wire rack. Let it cool completely before frosting. I let mine sit for about 45 minutes, then took it out of the pan to let it come completely to room temperature. In total it took an hour.
7
When you are ready to frost the cake, add the softened cream cheese and powdered sugar to the bowl of an electric mixer with a paddle attachment and beat until thoroughly combined. About 2 minutes. Next add the vanilla and salt. Mix again until it has come together. When frosting is done, you can put it in a piping bag with a tip, or you can be quick like me and put it in a large Ziploc bag. Cut about a ½ inch off the corner of the bag and pipe frosting onto the cooled cake. I started in the inside of the bundt and would just do lines to the outside of the cake, all the way around. Sprinkle with the mini chocolate chips.
Notes
Remember for the flour, you are measuring out 2 ¼ cup of gluten free flour and then removing 1 TBS of it. This will give you the proper ratio of flour to corn starch that you need for making the cake flour mixture. Note, this cake tasted the best on the day it was made. But can be made a day ahead of time, tightly covered and stored in the refrigerator. Just set the cake out to come to room temperature before serving. That could take an hour. I love warm cake too, so zapping a slice of this in the microwave for about 20 seconds gives you melted chocolate goodness .
Recipe Tools used and Products We Love from Gutsy!
If you click on an above link and purchase through Amazon an item recommended on our site, the GutsyGlutenFreeGal receives a teeny tiny amount from that sale. Thank you for helping to keep this site going and keeping gluten free delicious. We heart you.