I feel like this is a non-recipe. I mean gluten free layered fudge brownies don't just appear but it is so simple in nature that this could be printed out on a gum wrapper. It was my birthday a bit ago. I have a totally weird thing with my birthday. It is a long, emotional story and I won't bore you with it. Let's just say I'm totally fine with a pile of presents on my porch, a few texts and some chocolate cake shoved under my door. I'm as unique as I am addicted to desserts.
Well, my family does try to make me like my birthday which is sweet. My dear sister and brother in law gave me as part of their gift a really delicious brownie mix by Cup 4 Cup. I had never used their mixes before. Just the all-purpose flour. Holy wow! That brownie mix was like something from outer space. Like from the best planet ever! Where fudgy is the name of all things and melt in your mouth is the planet motto. I used that mix as the base for these brownies that I took to a Christmas party. I still wasn't feeling well this past weekend and I couldn't muster up my usual energy to bake. The brownie mix was calling to me. But I wanted to dress it up. Give it something to make it dessert party wear ready. I made a thick fudgy frosting for it. Once it sets up it really is just like a layer of fudge on top. And then I topped it with more chocolate in the form of semi-sweet mini chocolate chips to make it pretty. You could add sprinkles too. Or nuts. Or coconut.  Layered Fudge Brownies are open to all toppings. They are the kindest of fudge brownies.
You may not have the Cup 4 Cup brownie mix available to you( it is sold at Whole Foods, Williams Sonoma and Amazon). That is totally fine. It is definitely a treat expense. My family must really love me to spend $12 on a brownie mix! If you are looking for a super easy treat and don't mind the price tag, then I would totally go for it. I also love the Pamela's gluten free brownie mix and the Arrowhead Mills brownie mixes, which are very affordable. If you have more time, the brownie recipe that I use most is from fellow blogger, Your Homebased Mom. I follow her recipe to the T but do add some extra chocolate chips. I'm a chocoholic. I'm sorry! You can find her fabulous recipe here. http://www.yourhomebasedmom.com/gluten-free-brownies/
Any of those brownies will give you a super thick and deeply chocolatey texture and taste. The fudge on top comes together in a matter of minutes and uses easy on hand ingredients. The mini chocolate chips melt into the warm fudge layer and are soft as you bite into them. People raved about these layered fudge brownies. I'm going to be making another batch for Christmas. No one would EVER know these are gluten free. Someone said "These are the best gluten free things I have ever eaten." I think he then said "Someone should give Gutsy Gluten Free Gal a million dollars, a lifetime supply of Cup 4 Cup, and a Grammy." Perhaps I was the only one who heard the last bit. But I'm sure he was thinking it.
Dark chocolate brownie. Creamy fudge. Melted chocolate chips. Gluten Free Layered Fudge Brownies. Voila. Gluten free dreams do come true.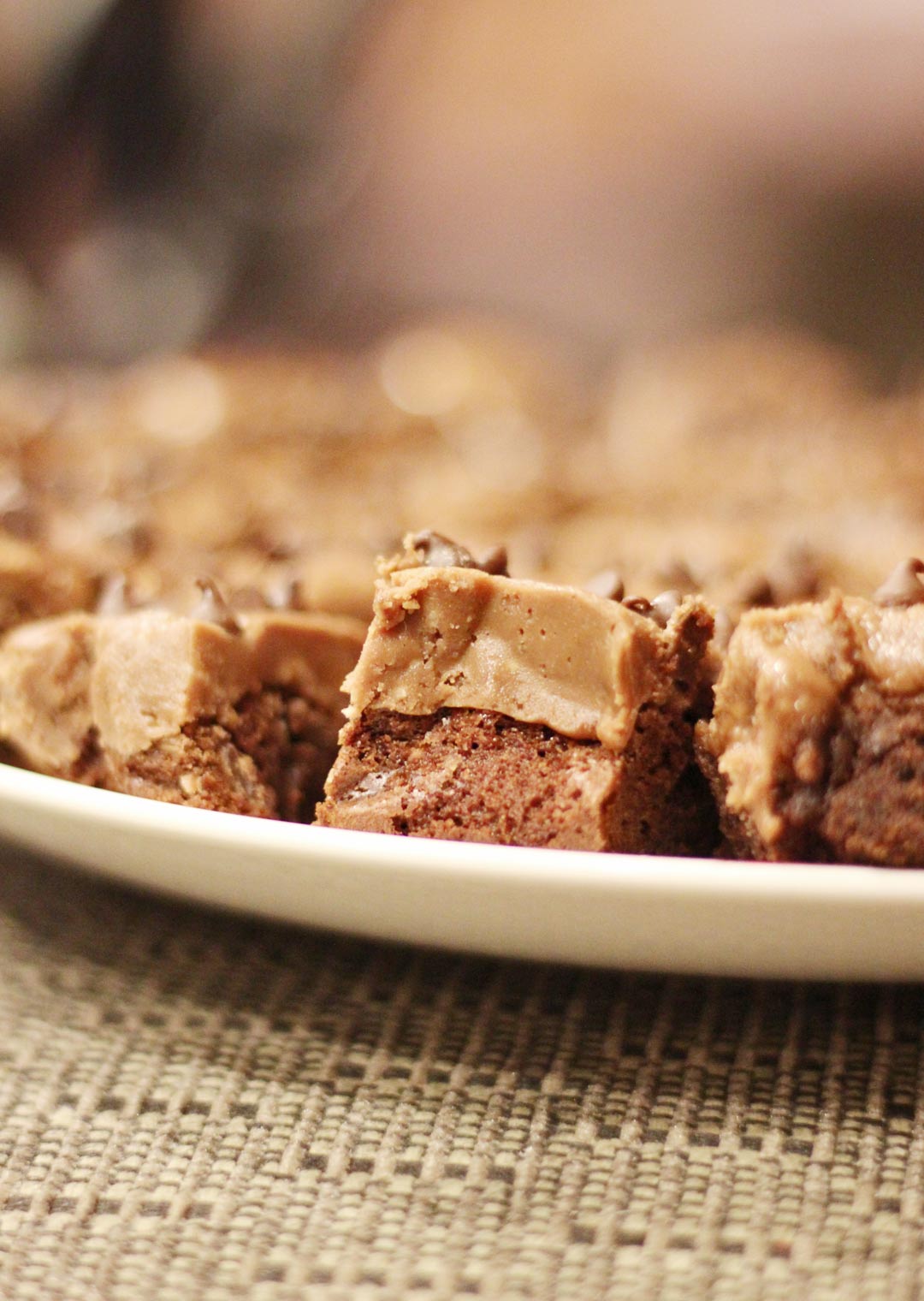 Print Recipe
Gluten Free Layered Fudge Brownies by Gutsy Gluten Free Gal
Ingredients
1 bag Cup 4 Cup Brownie Mix (see my note on other substitutions)

½ cup semi-sweet chocolate chips

7 TBSP salted butter

2 TBSP cocoa powder

1/3 cup whole milk

2 ½ cups powdered sugar

1 cup semi-sweet mini chocolate chips.
Instructions
1
Preheat oven to 350 degrees Fahrenheit or whatever temperature for your brownies. Line an 8 x 8 pan with foil and spray with nonstick cooking spray. Prepare your brownie mix according to the package or recipe directions and add the additional ½ cup semi- sweet chocolate chips. Remember this is to make an 8 x 8 pan's worth. If the recipe or mix you have makes a 9 x 13, you won't pour all the batter in. Leave maybe 1/3 of it. Give yourself a conditioning treatment with the rest if that is the case. Pour brownie batter into pan and bake for recommended baking time. Mine was 30 minutes. Make sure to not over bake. You want these to be soft, not crumbly or hard. When done take out and let cool for a half hour or until you are ready to make the fudge topping.
2
Heat a saucepan over medium heat and melt the butter in it. Once butter is melted whisk in the cocoa powder and milk. When it is all combined and starting to boil remove from heat. Add in the powdered sugar. It will get thick quickly. As soon as combined pour over the top of the baked brownies. Use a butter knife or spatula to spread the fudge over the brownies evenly. Top with mini chocolate chips. Cover with plastic wrap and place in the refrigerator until set. About 30 minutes or until fudge layer feels firm to touch.
3
Remove the brownies gently by pulling them out of the pan by the foil. Peel off foil and place on cutting board. Cut into 30 brownies. These are rich and a little goes a long way. But you will still want to eat at least 10. Serve chilled or at room temperature. Refrigerate any leftovers.
Notes
You may not have the Cup 4 Cup brownie mix available to you. That is totally fine. It is definitely a treat expense. My family must really love me to spend $12 on a brownie mix! If you are looking for a super easy treat and don't mind the price tag, then I would totally go for it. I also love the Pamela's gluten free brownie mix and the Arrowhead Mills brownie mix. If you have more time, the brownie recipe that I use most is from fellow blogger, Your Homebased Mom. I follow her recipe to the T but do add some extra chocolate chips. I'm a chocoholic. I'm sorry! You can find her fabulous recipe here. http://www.yourhomebasedmom.com/gluten-free-brownies/