In honor of giveaway week, I wanted to to post recipes that could use Pamela's Flour. I originally planned to give you the recipe for some absolutely awesome white chocolate raspberry cookies that I concocted. Trouble is, when you are in the baking mood on a cold windy, rainy day, your pictures are not going to come out edible looking. The glow of the overhead lighting will make them look like iridescent hockey pucks and the white chocolate chips take on another worldly shimmer. Like pieces of swamp nectar. I'm just going to have to sacrifice and make the cookies again so I can shoot them in proper lighting. So you properly see the crumbs of peace and tantalization. I was determined to post a cookie recipe today and remembered this winner.
These cookies were a total fluke as are most triumphant baking achievements. When I set out to make them, I didn't have great hopes. I actually wanted to make whoopee pies, but didn't have the right ingredients and I just couldn't travel to the store again. They know me by my first name. I can't get on a full name basis. Or worse a nickname basis. They might start calling me crumbs or Buffy the Gluten Slayer. The later I wouldn't mind. So I decided I would make some type of sandwich cookie. But I didn't want crunchy cookies. I wanted something soft. Something comforting. Chocolate is normally my go to comfort, so I had to wrack my brain for another ingredient that was comforting. My eyes looked at the shelves of my pantry and landed on a new canister of Oatmeal. Could I do it? Did I dare? A gluten free Oatmeal and Cream Cookie? Would it have the right texture? Would it satisfy my craving for soft melt in your mouth cookie love? It was worth a shot.
There is a bakery where I grew up that makes divine oatmeal cream sandwich cookies. They are not gluten free and therefore I now hate them. Just kidding! But I had them in mind when I made these cookies. Their oatmeal cookies still have a little bit of oatmeal bite to them, as well as notes of cinnamon and brown sugar. The cream filling is more of a cream cheese and butter base but with the perfect amount of salt without being too sugary. Don't get me started on overly sweet frosting. It should be run over by a hover craft. All this rain has me thinking of water vehicles.
The kids gobbled these up. So did Boyband. So did some friends. And my parents. And maybe myself. Just look at the photos of the finished product they are gorgeous! All luscious and tender. Hey, maybe the supermarket people could have that be my nickname. Will that be all Lusciously Tender? Did you find everything you needed today? Nope. Sounds weird. I'll just let them call me Crumbs or Crazy Eye. Let's go make some cookies, friends!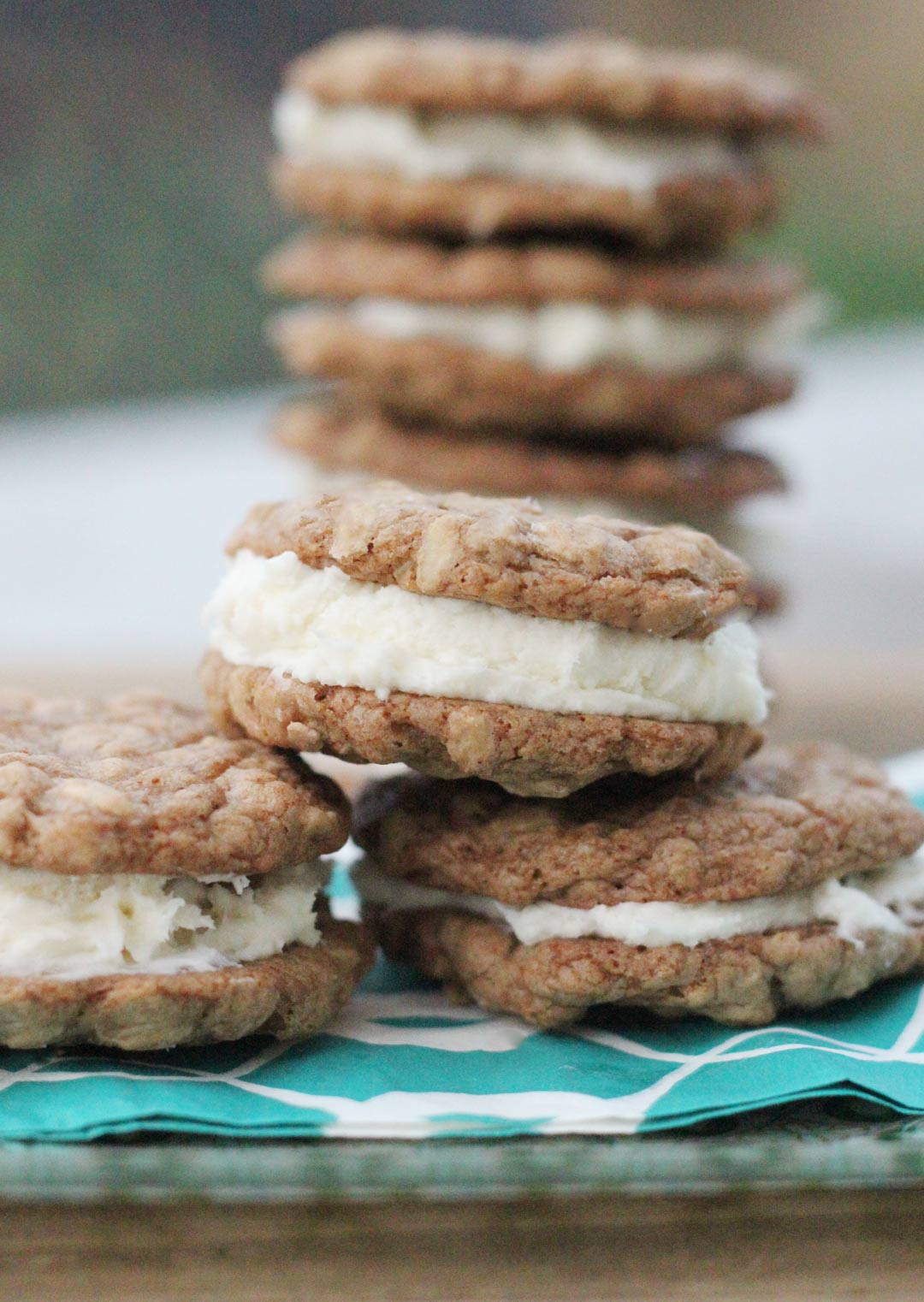 Print Recipe
Oatmeal and Cream Cookies by Gutsy Gluten Free Gal
Ingredients
For the Cookies:

1 cup brown sugar

½ cup softened butter

1 egg

1 tsp vanilla

1 cup Gluten Free All Purpose Flour (I use Pamela's)

¼ tsp xanthan gum

1 ½ tsp cocoa powder

1 tsp cinnamon

½ tsp baking powder

½ teaspoon baking soda

¼ tsp salt

1 cup gluten free oats (I used Quaker gluten free)

For the Frosting:

8 oz softened cream cheese

2 TBS salted butter

¾ cup powdered sugar (add another ¼ cup if you like a sweeter frosting)

½ tsp salt

1 tsp vanilla
Instructions
1
Preheat oven to 350 degrees. Line two large baking sheets with parchment paper.
2
In a bowl, add your carefully measured gluten free flour, xanthan gum, cinnamon, cocoa powder, baking powder, baking soda, salt and oats. Mix or whisk dry ingredients together.
3
In the bowl of an electric mixer add the butter and the sugar. Cream together until fluffy. About a minute. Add the egg and vanilla. Mix well.
4
To the wet ingredients add the bowl of dry ingredients and mix until combined.
5
Using ½ Tablespoon to measure, drop cookie dough balls about 2-3 inches apart. These will spread because of the butter and being gluten free. Give them room to express themselves and don't over crowd them. You may have to do two batches.
6
Bake for 8-10 minutes. You want them to be just set and slightly golden brown. They will set up more when you remove them from the oven.
7
While cookies are in the oven make the frosting. Clean out your mixing bowl and add to it the cream cheese, butter, salt and vanilla. Mix until very smooth and fluffy. About 3 minutes. Set frosting aside until ready to use.
8
Once removed from the oven, let sit on the pan till cool.
9
To make the sandwich cookies, take two cookies and on the bottom of one sprtead about a ½ TBS of frosting. Top with the other cookie. You can choose how much frosting you want. I really like a lot. I do more like 1 TBS, but if you are a minimalist, then start with ½ TBS and see how it looks.
Notes
These can be kept in an air tight container in the refrigerator for several days. They taste best at room temperature in my opinion so you may want to let them sit out for a few minutes before eating from the fridge. The oatmeal portion of the recipe is adapted to be gluten free from one of my favorite recipe sites, A Spicy Perspective.
Recipe Tools used and Products We Love from Gutsy!

If you click on an above link and purchase through Amazon an item recommended on our site, the GutsyGlutenFreeGal receives a teeny tiny amount from that sale. Thank you for helping to keep this site going and keeping gluten free delicious. We heart you.