Hi. How are ya? Been a while, I know. I'm sorry. I hope you kept eating during that time. I'm so excited to be back! For this first post back, I wanted it to be spectacular. I wanted it to be something that screamed "gluten free is for everybody!" I wanted it to be worth its efforts. Well here ya go. One of my most favorite recipes that I have ever made gluten free. Donuts!!!
We went on vacation to Big Bear recently and found the cutest donut shop. They had a whole tray of gluten free donuts. They do their best to prevent cross contamination and we had to issue with feeling sick after eating them. If you are ever in Big Bear, go to Dank Donuts! The cutest little shop with a big heart. Anywho, the Boy was so excited to see a whole assortment of donuts. He liked a coconut flavored one best. And then per his usual, he asked me to make them at home so he could have a bunch and he also wanted them to be chocolate. Okay then. I'm up for a challenge. And gluten free donuts can be challenging!
I have not found a yeast/ fried gluten free donut that has tickled my fancy. But I'm a cake donut person anyway, so a gluten free cake donut was just the thing. Oh my word! are these good. I ate way too many, but they are baked donuts which makes them practically like eating quinoa. Maybe not, but they are so stinking good. We shared some with some gluten eating friends and they absolutely loved them too. I have to say as donuts go, these are a keeper. And they are fun to make, use normal ingredients and are very filling.
Chocolate anything is always my choice, and that goes for donuts too. These have a light cocoa flavor that is enhanced by the semi sweet mini chocolate chips. It is a little bite of joy to get double chocolate. They are cakey and very moist. Because dry donuts are sad donuts. Add the double glaze and it is a masterpiece. I love the rich depth of the Nutella in the glaze but you can see the substitutions as well. But since we were going for a coconut flavor, I developed a coconut glaze that adds a tropical twist. You can also see the notes on doing just one type of glaze. So many delicious donut options.
I hope you enjoy these as much as we do! And nice to see you too! You look thin and healthy. I like your eyeballs. Okay, let's go make some donuts.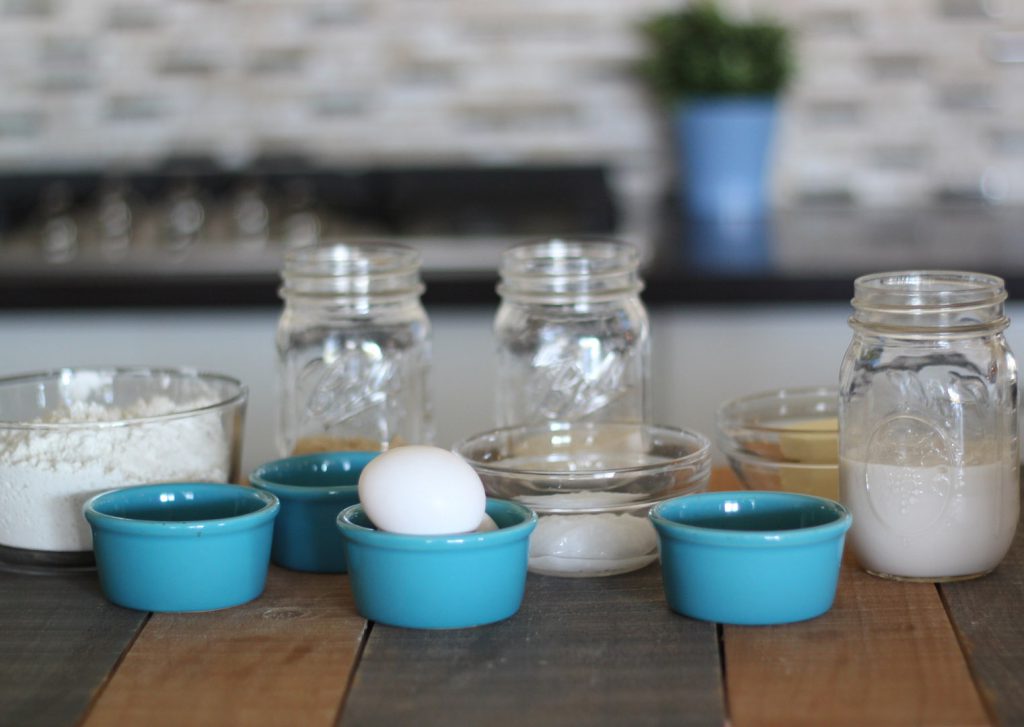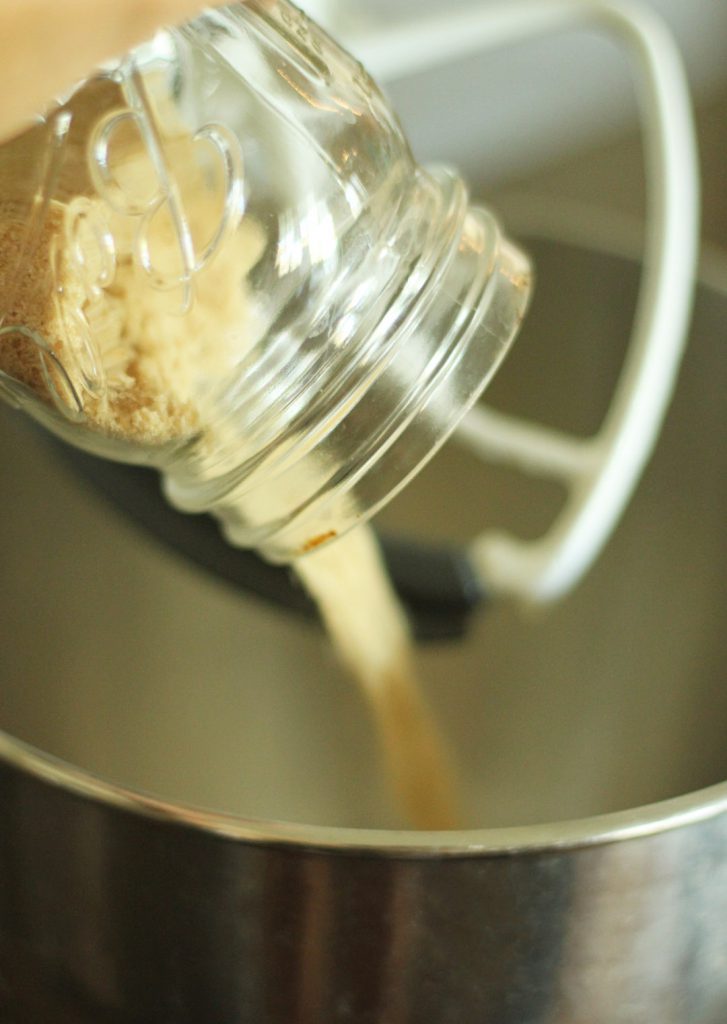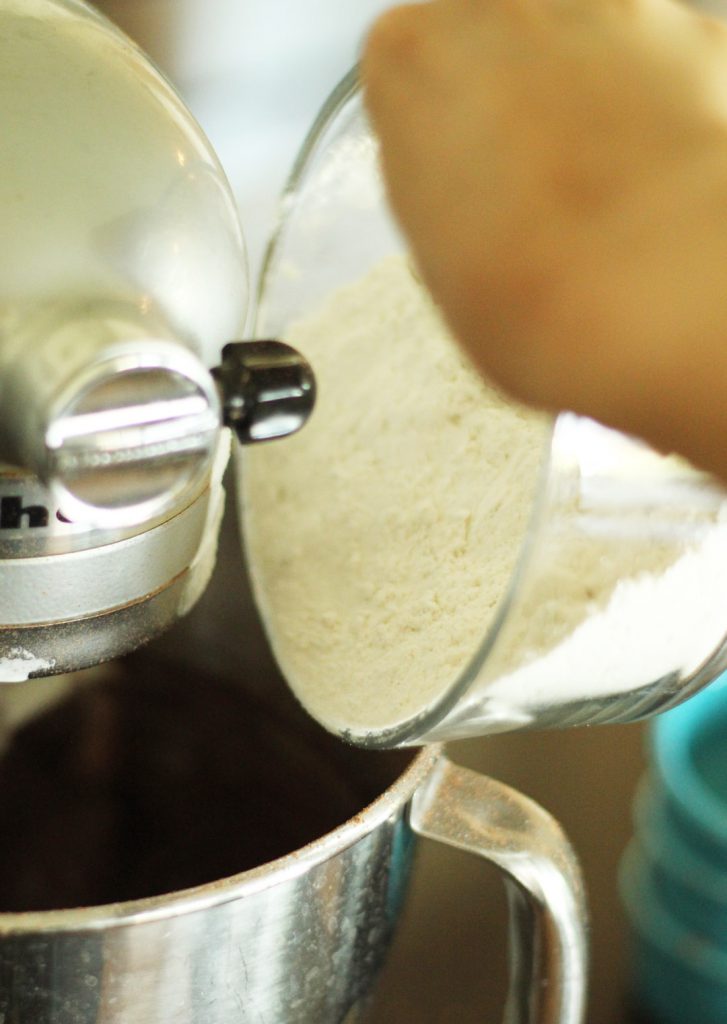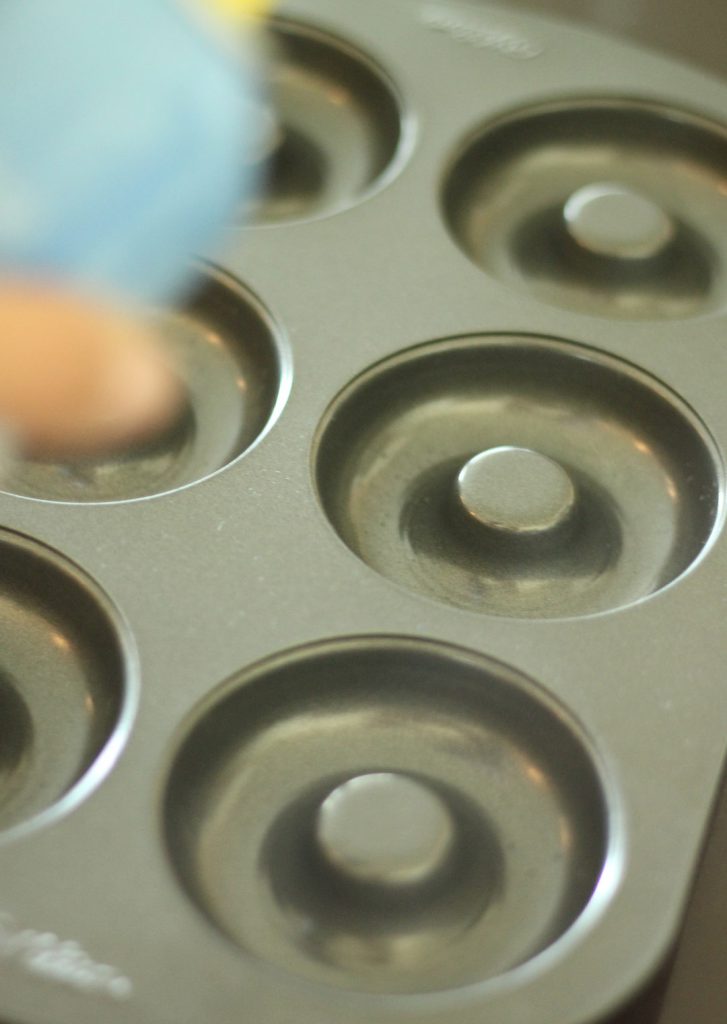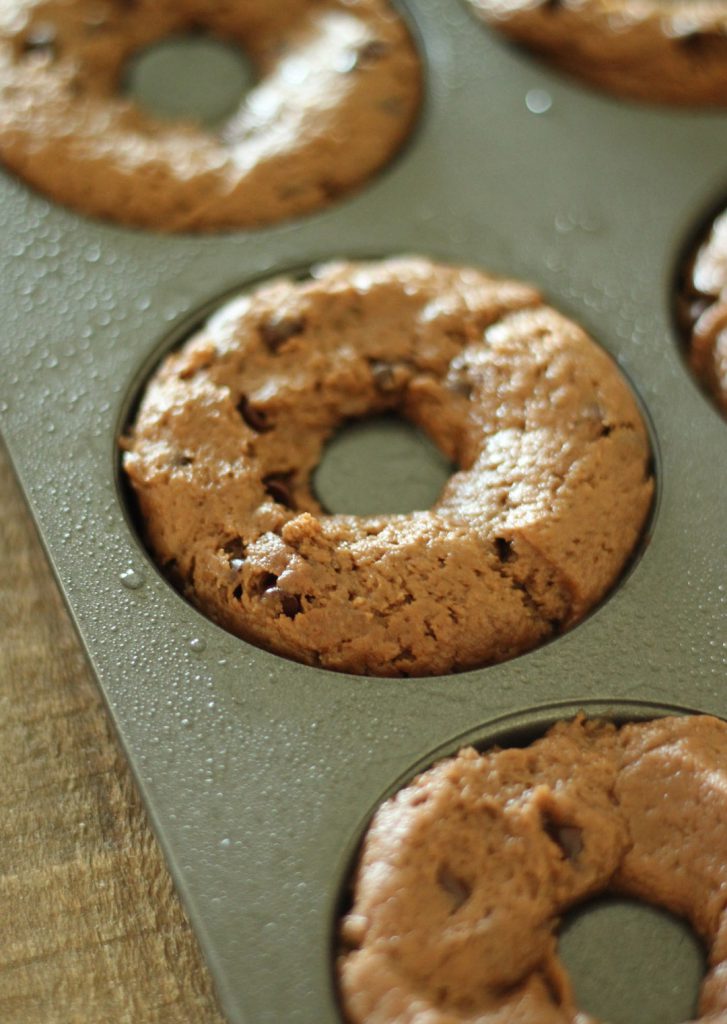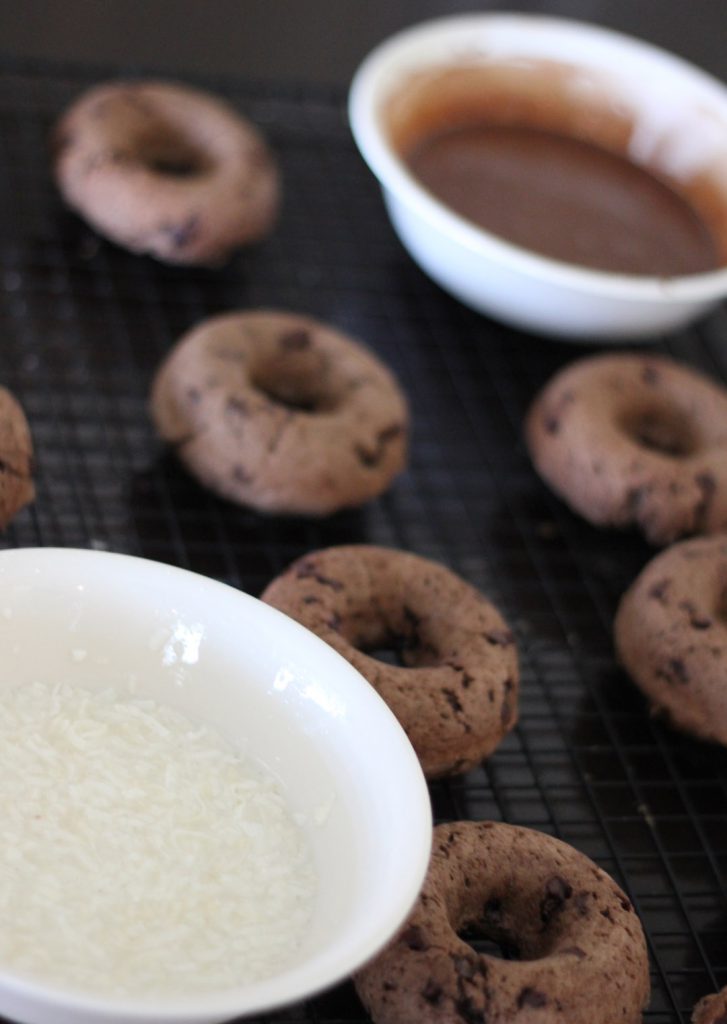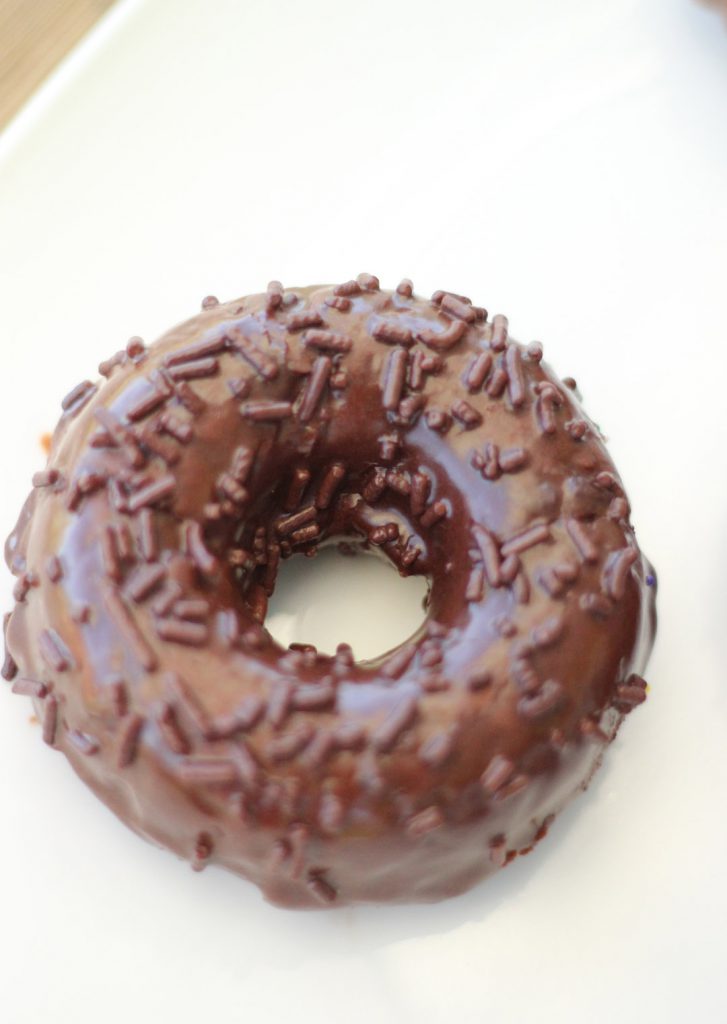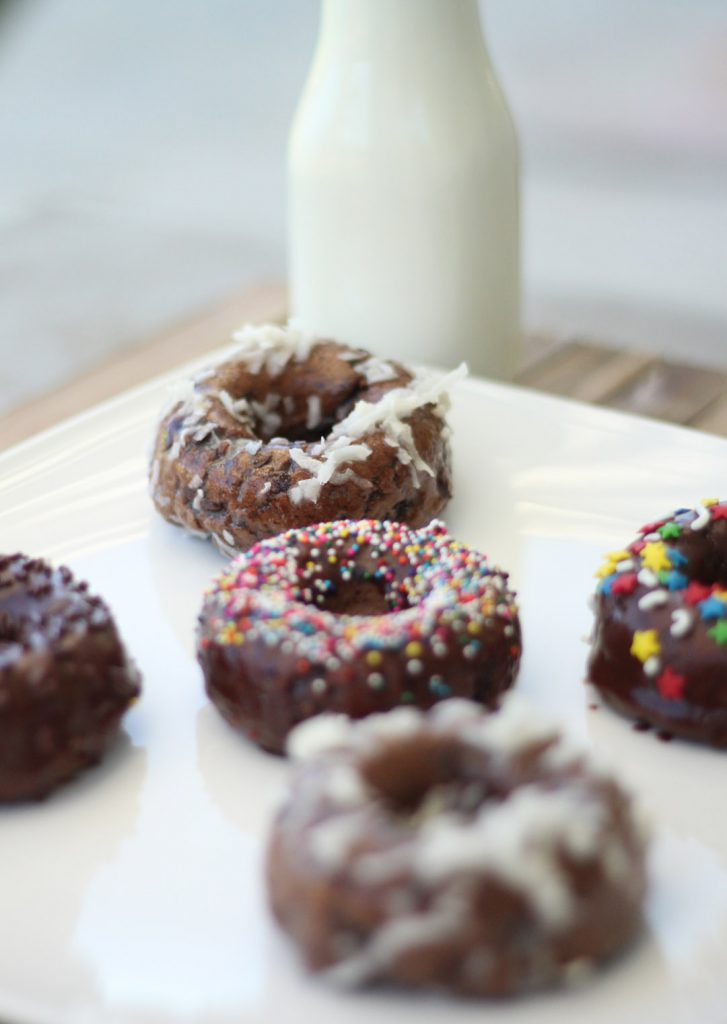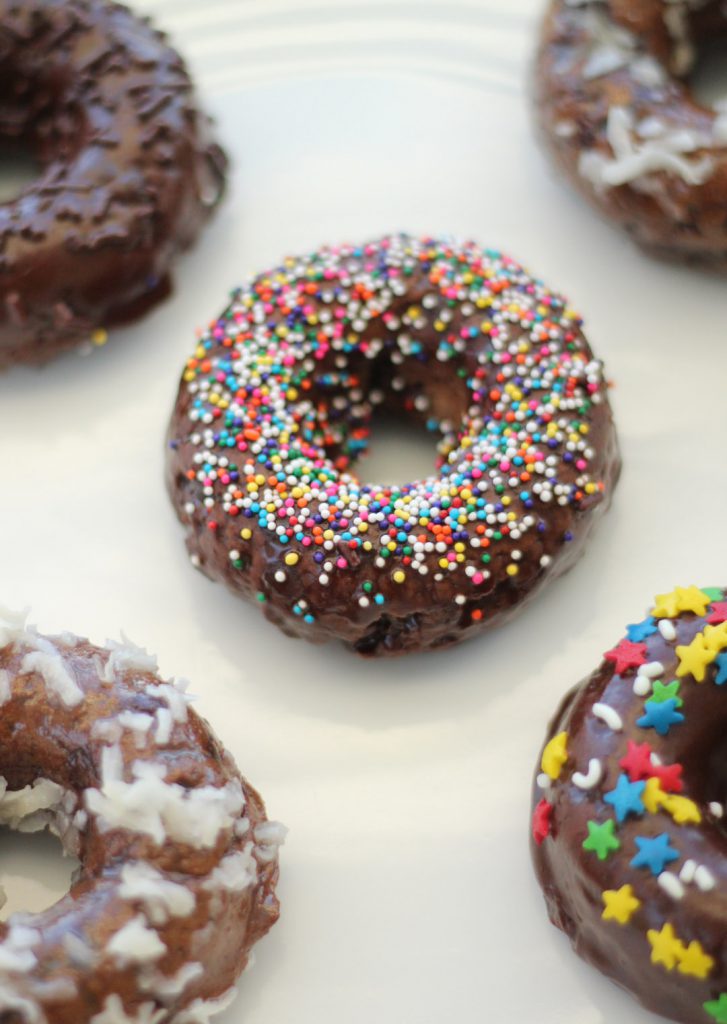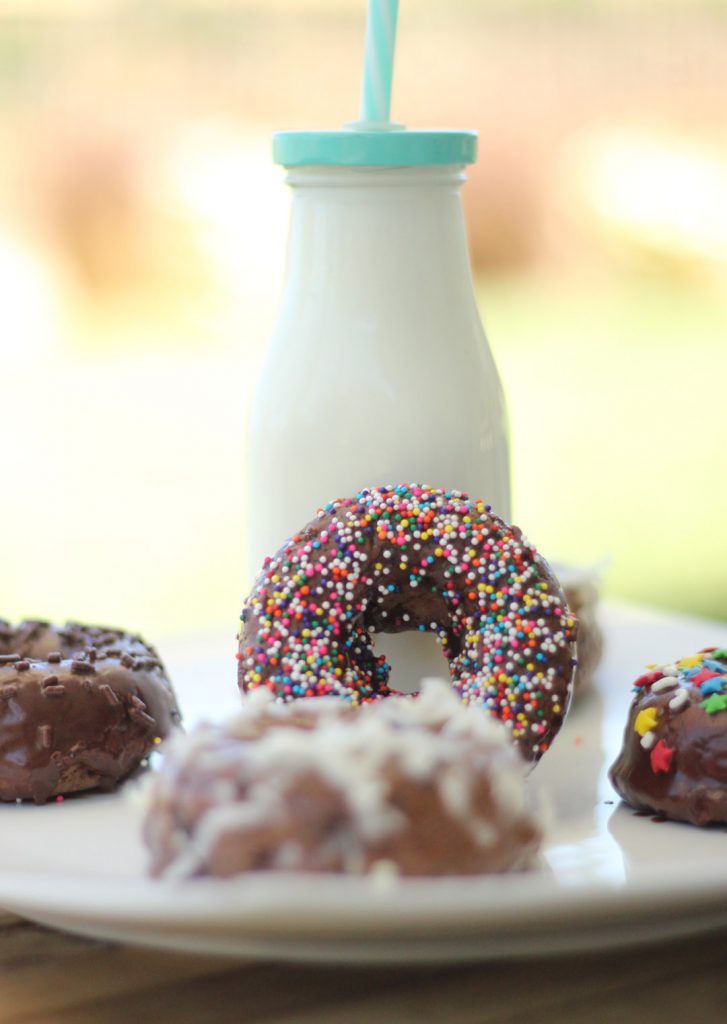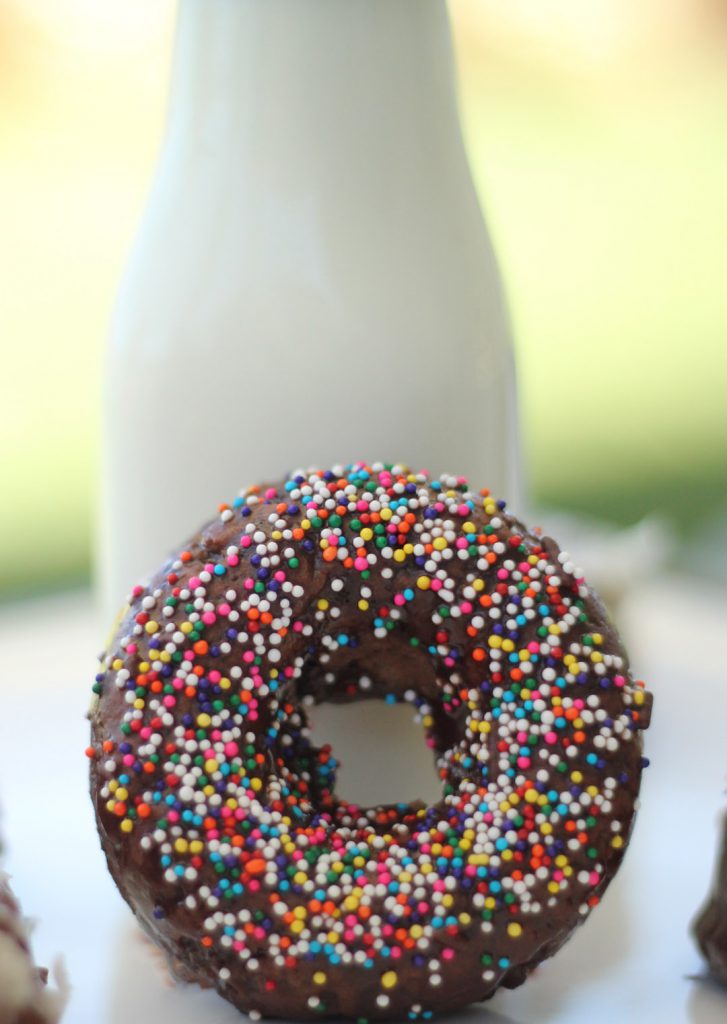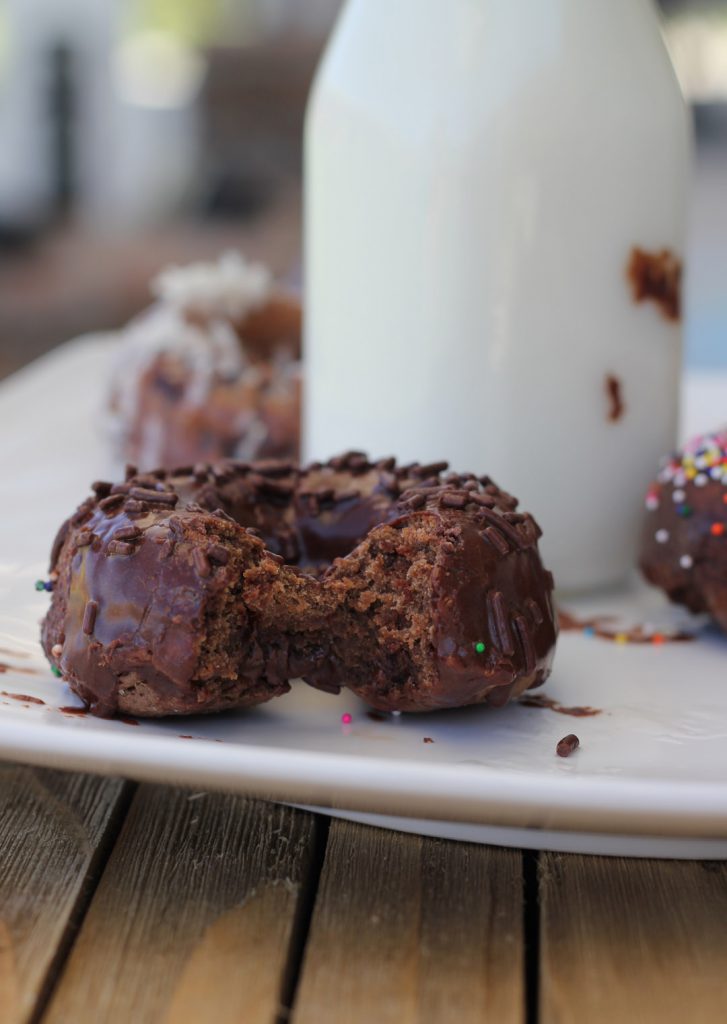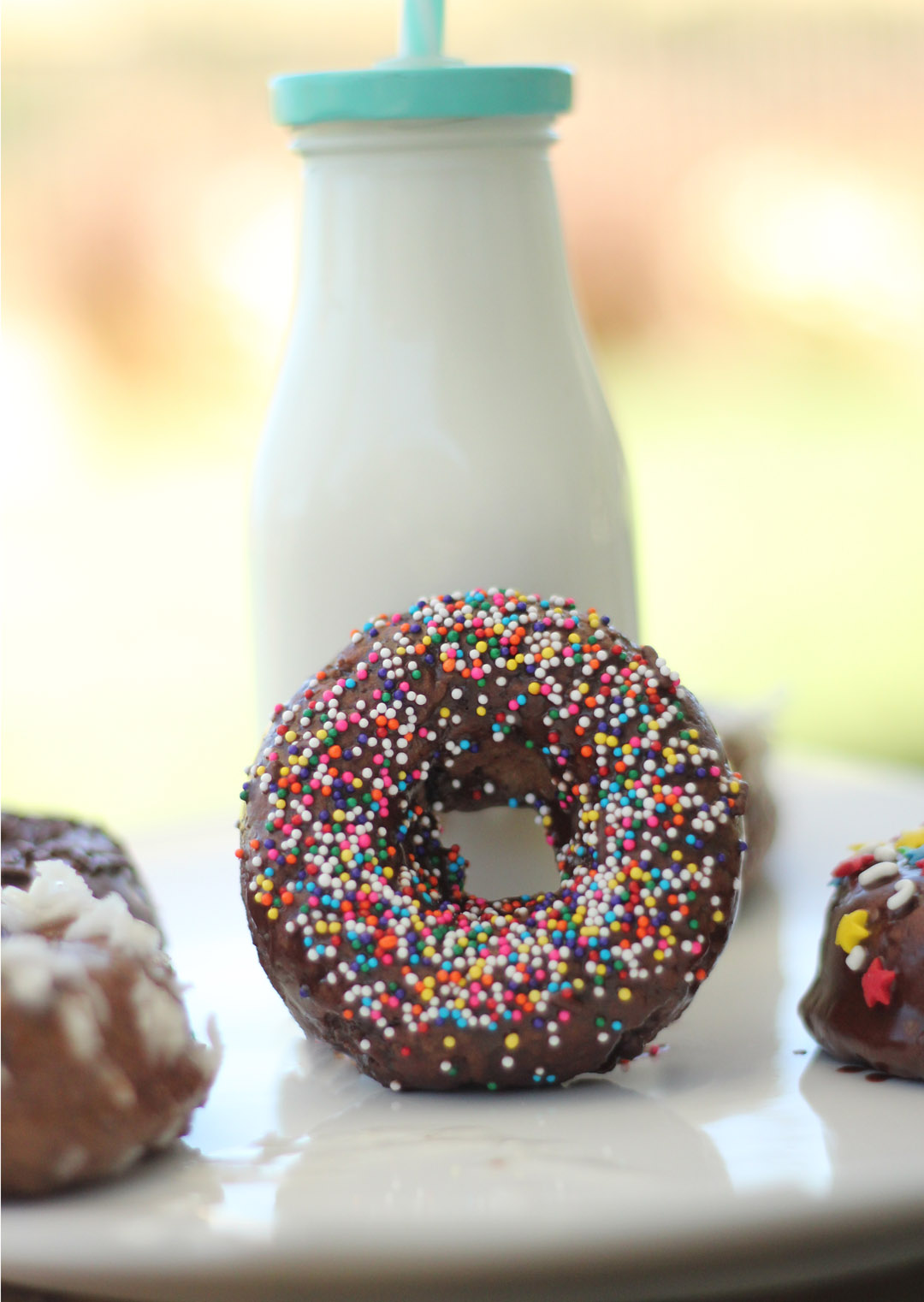 Print Recipe
Gluten Free Glazed Chocolate Chip Cake Donuts- Coconut and Double Chocolate Glazed
Ingredients
4 TBS salted butter- melted

¼ cup coconut oil- melted

1 cup granulated cane sugar

1/3 cup brown sugar

2 large eggs- beaten

1 ½ tsp baking powder

¼ tsp baking soda

1 tsp sea salt

4 TBS cocoa powder

1 teaspoon vanilla extract

½ cup semi sweet mini chocolate chips

2 2/3 cups Gluten Free All Purpose Flour- I used Pamela's

1 cup almond milk

For Double Chocolate Glaze:

¾ cup confectioners sugar

2 TBS cocoa powder

½ tsp sea salt

4 TBS milk

1 heaping TBS Nutella*

3 TBS sprinkles of your choice

For Coconut Glaze:

½ cup confectioners sugar

1 ½ TBS Torani coconut syrup*

2 TBS milk

¼ cup unsweetened coconut flakes
Instructions
1
Preheat oven to 425 degrees and spray(I used coconut oil) two 6 count doughnut baking pans. If you don't have doughnut pans, you can improvise by using cupcake pans and inserting a 2 inch ball of tinfoil into the center to create a donut shape. It won't be perfect but it'll give you a donut taste.
2
In a mixing bowl beat together butter, oil and both sugars until smooth.
3
Next add the two beaten eggs and mix.
4
Add the vanilla extract, baking powder, baking soda, salt and cocoa powder. Mix until smooth.
5
Add the gluten free flour and almond milk. Alternate mixing on low between the flour and the milk, ending with the milk.
6
Next add the chocolate chips and mix until just combined. This batter is going to be very thick. Don't be scared.
7
Now you have two choices. I personally like to take a gallon Ziploc bag and fill it with the dough and then cut off about a two inch corner so I can easily squeeze the dough into the pans. You can also use your hands or a spoon. Just fill the pan to the brim. I'm going to warn you right now that it may not look super pretty. I know. Just stay the course.
8
Fill 10 of the 12 doughnut wells, pouring about a tablespoon of water in the two unused wells to prevent burning.
9
Bake for 9 minutes. They should spring back slightly when you touch them but not at all smell burnt.
10
Leave in pans five minutes and then transfer to cooling racks.
11
For the double chocolate glaze:
12
While donuts are cooling mix together all ingredients with a small whisk and place in a cereal sized bowl for dipping.
14
While donuts are cooling mix together all ingredients with a spoon and place in cereal bowl for dipping.
15
When donuts have cooled to a temperature where they won't burn your hands off, begin the glazing process.
16
Dip the tops and sides into each glaze(I do half and half).
17
Let sit for a minute and then dip them again. (Double glaze means more flavor)
18
For chocolate glazed, now add sprinkles and let donuts set for about fifteen minutes. Or eat it right away if you are like me.
19
For coconut glazed, once glazed twice, arrange any leftover shredded coconut to make the donut look pretty and add flavor. Let donuts set for about fifteen minutes
Notes
*If you wish to not use Nutella or don't have it on hand, you can sub a tablespoon of melted chocolate, or use only 3 TBS of milk if leaving it out all together * If you don't have Coconut syrup on hand, you may substitute a tsp of coconut extract. Taste to see if more sweetness is needed. You can also sub sweetened coconut flakes If you want to make these all coconut glazed, just double the coconut glaze recipe. If you want them to be all double chocolate glazed, double the chocolate recipe. You can't lose! They are donuts after all.
All products used and loved by Me! *affiliate links*