This recipe is a big deal. I feel like I had a third (or fifth if you count the moltipom and bulldog) child. A recipe that my readers have consistently asked for is a gluten free caesar salad. It is just one of the dishes that are nearly impossible to find out in a restaurant and a little challenging to get perfect at home. We absolutely adore caesar salad. Caesar salad for Governor. It is my Man Child's favorite meal currently. He would eat this every night. Which wouldn't be a problem considering how much the rest of us like it too. So why is a gluten free caesar salad such a mystery? Well first…croutons. Most places don't offer gluten free croutons or if they do it is like eating sugar cube shaped bits of cement. Pleasant, no? Also, they often have no flavor. I have purchased some from the store and let me tell you…bleh. In fact probably a sugar cube would have added more flavor than the crouton. Another aspect of the salad dilemma is the dressing. Why does every place put gluten in their caesar salad dressing!? It is not an essential ingredient. Yet it is most commonly in there. Then add in some possibly contaminated cheese and all you are really left with to safely eat is a bowl of lettuce. Yum.
This gluten free chicken caesar salad contains both amazingly crunchy and flavorful gluten free croutons as well as a creamy garlicky caesar dressing. It is a victory for me. I made tons of these salads, constantly testing different methods, flavors and degrees of difficulty. Now try to not give me too much of a virtual hug but this actually comes together in 20 minutes. Ouch! Not too tight. But I am super excited that you are excited. Yes, in all my recipe testing I decided that this needed to be our new go to meal when nights are crazy. It is healthy, filling and a breeze. Yes, even the dressing. You most likely have all the ingredients hanging out in your fridge just begging to be used.
Let's talk croutons…I used Trader Joe's multi grain gluten free bread for these. I tried a few other brands and found that the TJ's and Canyon Bakehouse worked the best. Feel free to use what you like. The bread gets coated in an herb and garlic oil that helps them crisp under the low broiler in just five minutes. Give them a few minutes to set and voila, you have amazing crunchy gluten free croutons. I make these croutons for other types of salad as well. And my kids like to snack on them too.
Now dressing is as major player in caesar salad. Too thick and the salad becomes a ball of uneven glop. Too watery and the flavor is lost. This dressing has a nice kick of garlic, some richness from Dijon and olive oil and a slightly acidic creaminess so that it doesn't taste too heavy. My little ones slurp this like a drink. I think if Juicy Juice sold this dressing in juice box form it would be a hit. And my easy shortcut with this is using precooked chicken breast. I love the chicken breast at Trader Joes. It is already cooked, sliced and ready to be zapped in the microwave. A pulled rotisserie chicken is also a go to for us with this. Just shred up the meat and the protein is covered. Of course you could prepare a chicken breast yourself if you have time too. Maybe Bobby Flay is reading this and is appalled at using store bought chicken breast. To each his own, man.
This salad is a dream come true for us and I hope for you. If you have been out of the caesar salad game, I hope this brings you out of retirement.
Let's go make it!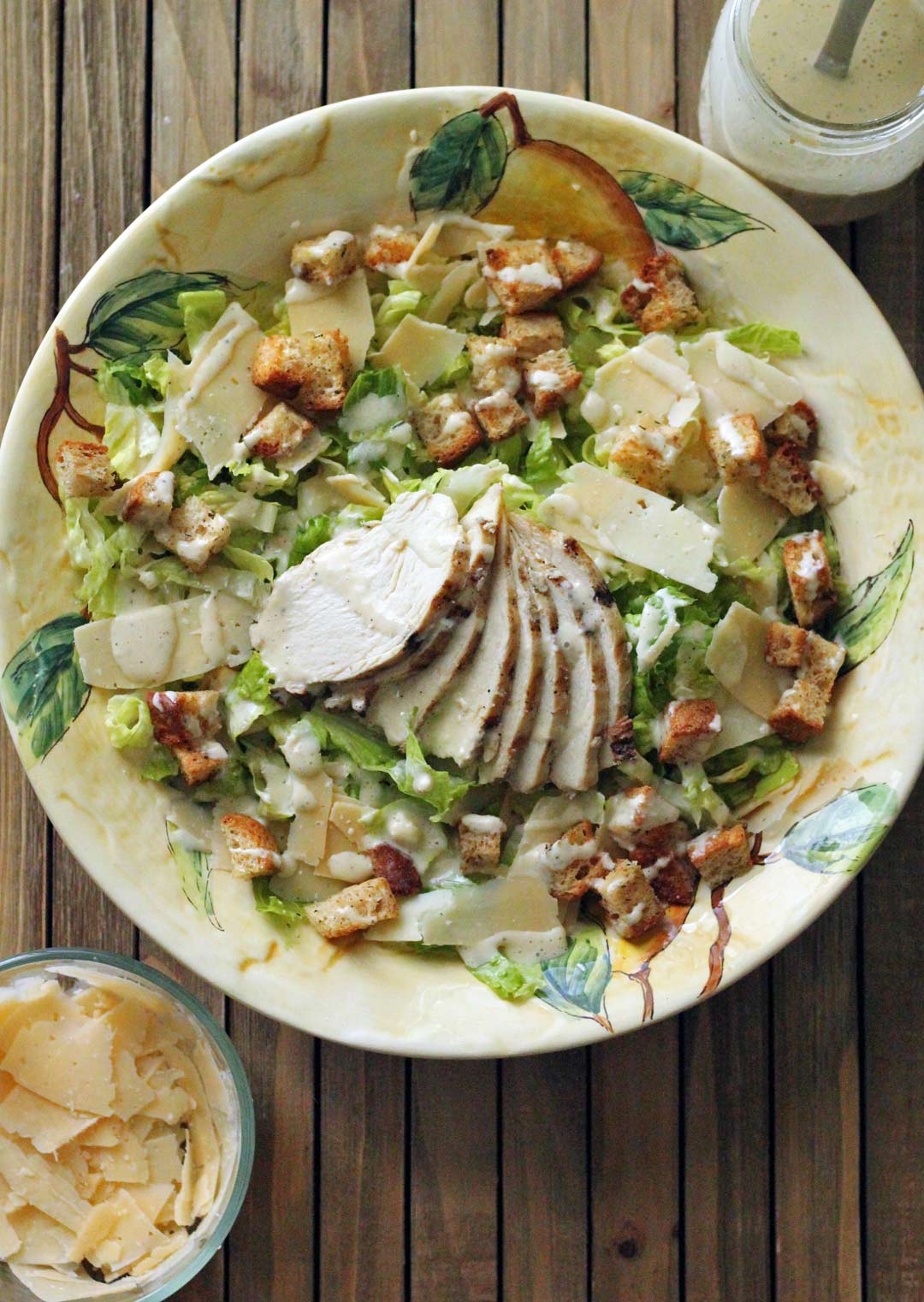 Print Recipe
Gluten Free Caesar Salad with Herb Croutons by Gutsy Gluten Free Gal
Ingredients
For the Croutons:

6 slices gluten free bread (I used Trader Joe's multi grain)

1 TBS olive oil

½ tsp salt

½ tsp garlic powder

½ tsp thyme

¼ tsp ground pepper

Dressing:

1 cup mayonnaise

3 cloves garlic - minced

2 TBS olive oil

2 TBS white wine vinegar

2 TBS lemon juice

2 TB grated parmesan

1 TBS water

1 TBS sugar or honey

1 TBS Dijon mustard

½ TBS Worcestershire Sauce

½ tsp sea salt

½ tsp pepper

For Salad:

3 heads of romaine lettuce chopped small (about 8 cups of lettuce)

5 oz of shaved parmesan (important to use good fresh parm!)

12 oz of sliced cooked chicken breast (I use already cooked chicken breast from Trader Joes or a gluten free Rotisserie chicken)
Instructions
1
Set the Oven to low Broil.
2
Line a baking sheet with tin foil. On a cutting board, cut up the bread into 1 inch cubes. Add the bread cubes to a large bowl and toss with olive oil and remaining crouton ingredients. Place croutons onto the prepared baking sheet, making sure there is space around each piece of bread so they can crisp. When oven is ready, place sheet of croutons on middle rack of oven and broil on LOW for 5 minutes. Keep an eye on them, as they could burn. My oven may not broil the same as yours. But we can still be friends. After 5 minutes remove from oven and let sit on the pan and harden while you prepare the rest of the salad.
3
In a blender, or food processor or( if you have extreme muscles or lack the first two) items put in a mason jar or bowl… add all the dressing ingredients. Blend until creamy. Adjust by adding more salt or pepper if you like. Put dressing in fridge for 5 minutes to come together.
4
Now in a large salad serving bowl add the lettuce, shaved parmesan cheese and sliced chicken breast. Add desired amount of dressing and toss. Top with croutons and toss again. I like to add the croutons at the second tossing to make sure they stay crispy.
5
Dig in to a delicious salad that you just made super-fast. I can hear your tummy growling. Better get eating.