This is not going to be a popular thing to say as a food blogger but sometimes I'm lacking in the creativity department. And that is usually due to life being as chaotic as Walmart on Black Friday. When you don't have much time to meal plan and then make the food, you can kind of get into a rut. Especially when you eat gluten free. Gluten freers typically don't just throw together a PB&J. Maybe sometimes, but one can only eat so much gluten free bread. Our family loves bowls of stuff. If you haven't tried my Sausage Bowl with garlic aioli, you should- it is a bowl of heaven. But sometimes we want like a big bowl of comforting Mexican food. Like a burrito bowl from Chipotle but not spending $40 on that for a family of four or having to leave the house again after a long day. I love these because you can customize them to your family's preferences. One kid not a fan of peppers, leave them out. Hubby in love with spicy pepper jack cheese, throw that in.
Now I'm obsessed with Chipotle's dressing. It is so stinking good that I have drank it from the container. I put it on everything. Dip my chips in it. My finger. Whatever. It is dang good. And they are quite protective of this dressing. If you ask for extra you are not given more than a few eye dropper drops worth. I wanted a trough of it people! So I had to resort to making my own at home. I love this dressing. I can make as much of it as I want and no one will judge me. I can dip a cookie in it if I choose. It is my  chipotle dressing. And now kind of yours.
Do you live by a Trader Joe's? I do. I like how far they have come with their labeling. Before it was very hard to dissect if gluten was lurking or if cross contamination was going to be a problem. They have adjusted much of that. So I shop there, especially when we are having a busy week. They have some fire roasted fajita like frozen veggies, brown rice, low fat guacamole and frozen organic chicken that I use in this. You can use what works for you. If you aren't in a time crunch, you could certainly roast, chip and rice cook whatever you want. You are spectacular.
I start the chicken in the morning and typically throw together the dressing the night before. Then when we get home I can just follow the rest of heating and assembling and voila it is on the table ASAP. This chicken has so much flavor and I could eat it straight from the crock. You know how good salsa and cream cheese are, right? Well let them coat some chicken and you have a delicious salsa sauce that comes together for you. All the flavors of this bowl really blend well. The acidity and slight sweetness of the chipotle dressing mixed with the tangy peppers and creamy chicken are a mouth party. Some hearty brown rice and melty cheese don't hurt things either. I hope this meal becomes an easy favorite for you!
Let's go make it.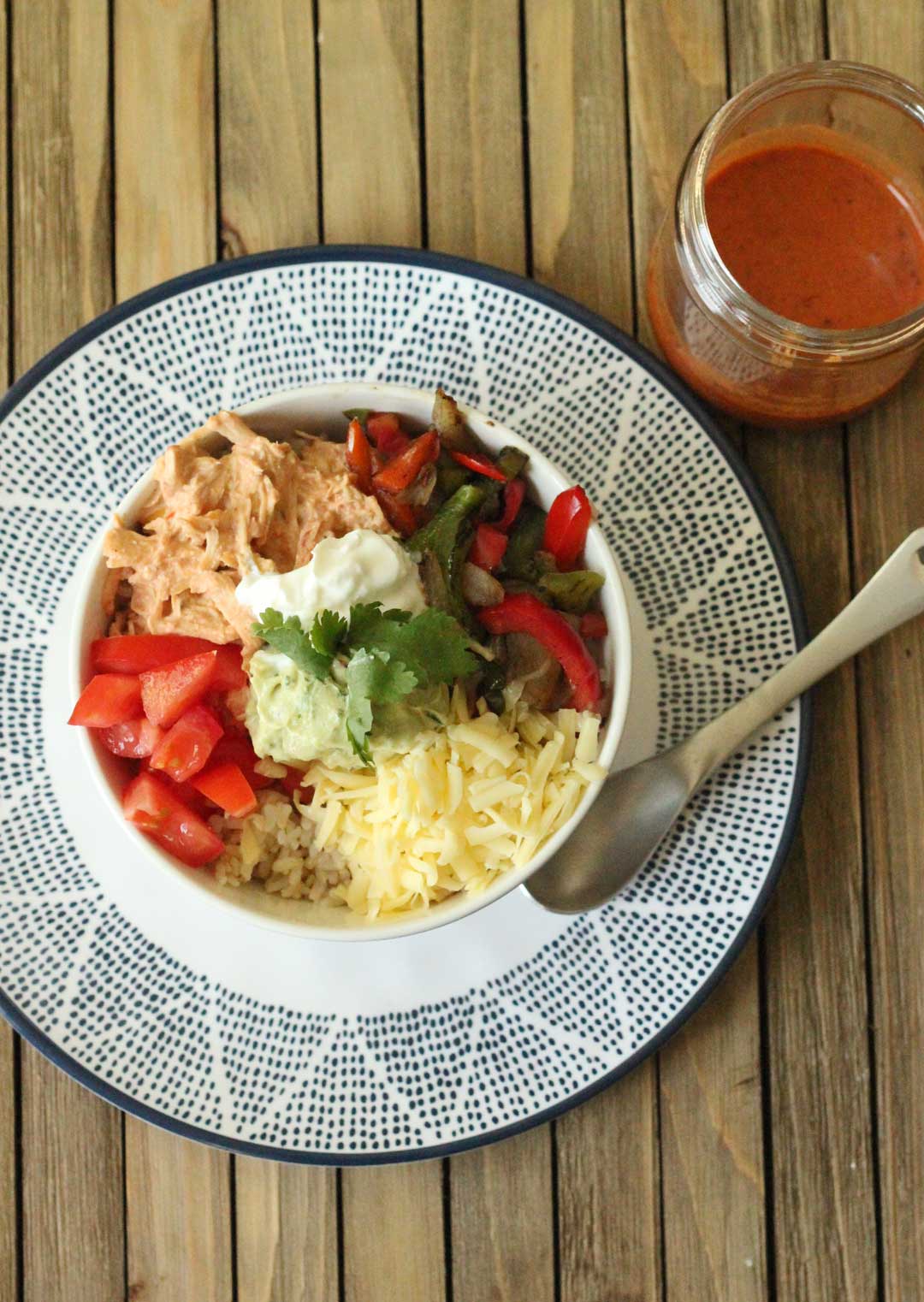 Print Recipe
Easy Salsa Chicken Fajita Bowls by Gutsy Gluten Free Gal
Ingredients
1 lb chicken breast(could be frozen)

1 jar gluten free salsa (mine was 12 oz)

8 oz cream cheese or Neufchatel cheese

2 cups frozen roasted red peppers and oinions(I got mine at Trader Joe's… if you hjave time you could roast 2 red bell peppers, 1 green bell pepper and an onion)

2 cups shredded cheese (I used monterey jack)

2 cups cooked brown rice (I used the frozen Trader Joe's brown rice… I'm in love with how easy and good it is)

1 large tomato diced

1 cup sour cream

1 cup prepared guacamole (I used Trader Joe's less guilt guac)

Chipotle Dressing:

2 chipotle peppers(from the jar with adobo sauce)

2 TB red wine vinegar

1 TB white wine vinegar

3 TB olive oil

1 TB honey

1 ½ tsp salt

1 tsp oregano

½ tsp garlic powder

½ tsp pepper
Instructions
1
To a crockpot add the chicken breast, salsa and cream cheese. Place the lid on and cook on high for 4 hours or low 6-8 hours. When it is done, take two forks and shred the chicken. You just pull it apart and mix it in with the soft cream cheese and salsa.
2
Make the chipotle dressing. Add all the ingredients for chipotle dressing to a small food processor or blender. Or for building arm strength put in a mason jar and shake like there is no tomorrow. Mix ingredients until all blended. Set aside.
3
Prepare your rice if you haven't already. My preparation meant cutting a whole in a bag and heating it in the microwave. Life is tough.
4
In a skillet or however you want to, heat up the peppers and onions. I used a skillet to just get them hot but you could microwave them too or use the oven if you are feeling very diva like.
5
In four bowls add ½ cup of brown rice, ½ cup of the fajita peppers, ¾ cup salsa chicken, ½ cup cheese, ¼ of the diced tomato and top with sour cream and guacamole. Drizzle the whole thing with two tablespoons or more of chipotle dressing. Dig in and let your taste buds thank you for not making them wait too long.
Notes
Chipotle dressing can be made the day before and just stored in the fridge. Chicken can even be made the day before too. You can top with fresh cilantro, jalapenos, corn chips or even throw some lettuce or spinach in the bowl. Always check ingredient labels!