Do you like Valentine's Day? I absolutely love it because of two things. The cute color scheme and chocolate/goodies. I may or may not have just received a very large box of See's Candy… that I ordered myself. Relax, there is some stuff in there for other people too but sometimes you need to treat yo' self. I also just love the pretty confections. Pink hearts, chocolate dipped strawberries, fancy cakes and of course Valentine's sprinkles on anything and everything.
We were riding in the car the other day and it came to my attention that the boy has never had a glazed vanilla donut. I mean a real one. He has had the Katz ones which are not his favorite. I know lots of people love them and it is great they are an option; he just doesn't have them float his boat. Now we make my chocolate glazed donuts ALL THE TIME but I had withheld one of life's simple pleasures- a vanilla glazed. The true plain Jane but trusty quarterback of the donut game.
I did some experimenting because gluten free donuts can be tricky. I found that the plain vanilla was just a little too umm, vanilla. I wanted to kick it up a bit. So, I added a bit of almond extract. They are lovely! A bit floral, subduedly vanilla and melt in your mouth tender. I will always choose chocolate but these are just too pretty to not choose. These are not Valentine Donuts per say. You could add whatever sprinkles you want to make them festive. Or no sprinkles. The fruit version is heavenly!
The cake crumb on these is full of moisture (a dry donut should only live in an old 7-11 display at 4 am). The glaze is a mix of heavy cream, butter and powdered sugar. Jazz handsed up with some more extracts and sea salt. It's a thick glaze that coats and really makes your toppings pop. I'm so pleased with how these came out. And the boy just loved them. And isn't that what Valentine's is all about? Amore?
Let's go make them!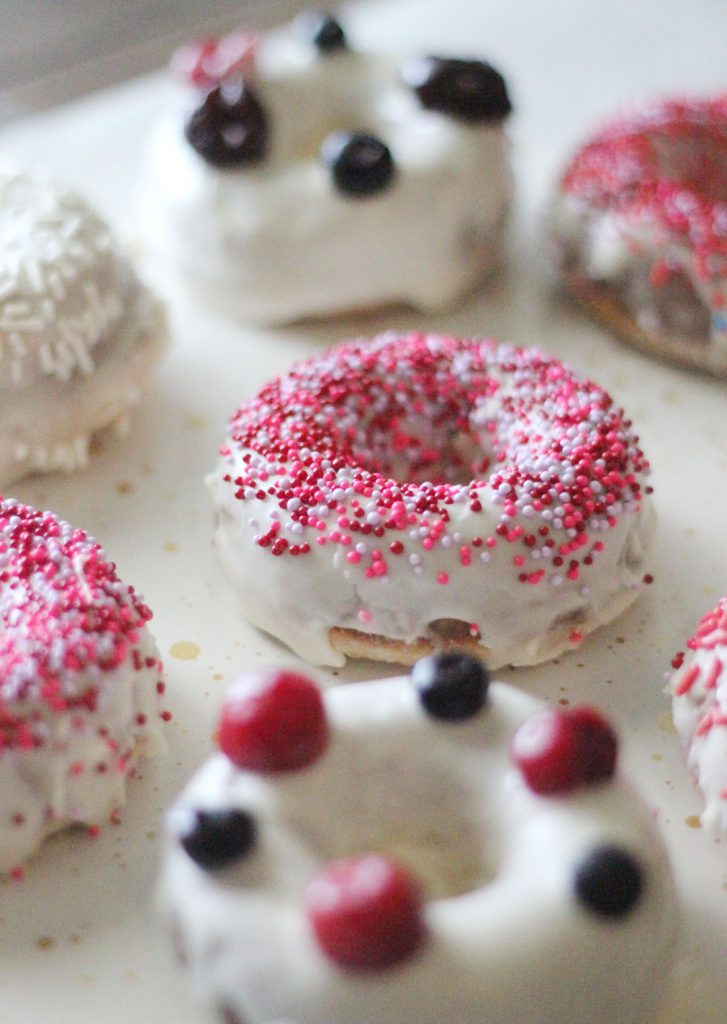 These are so pretty!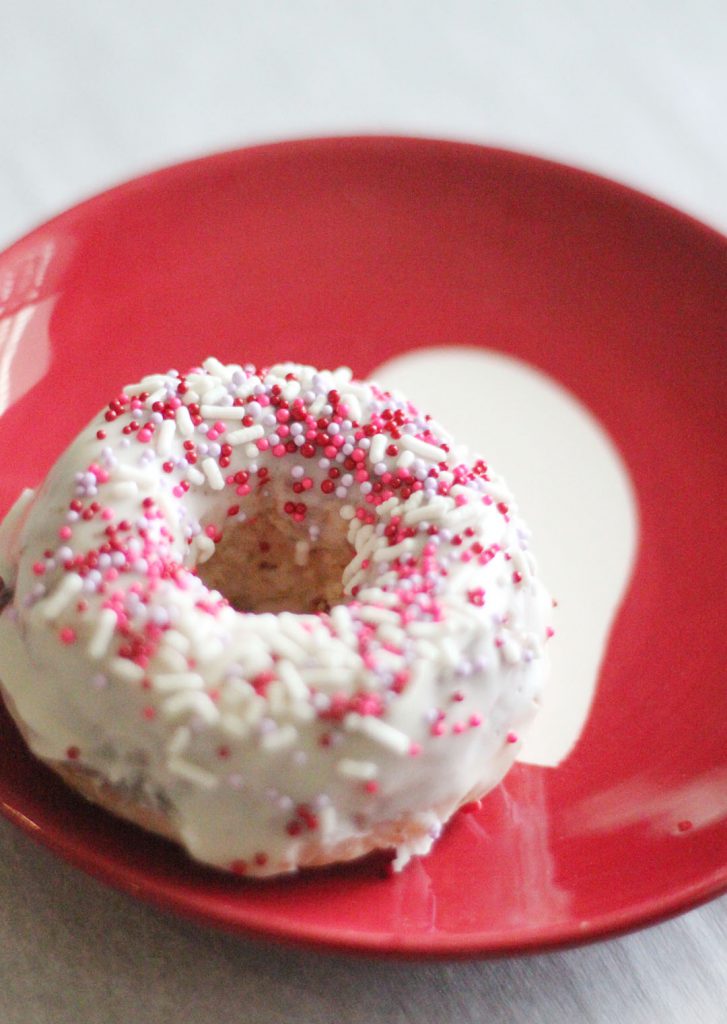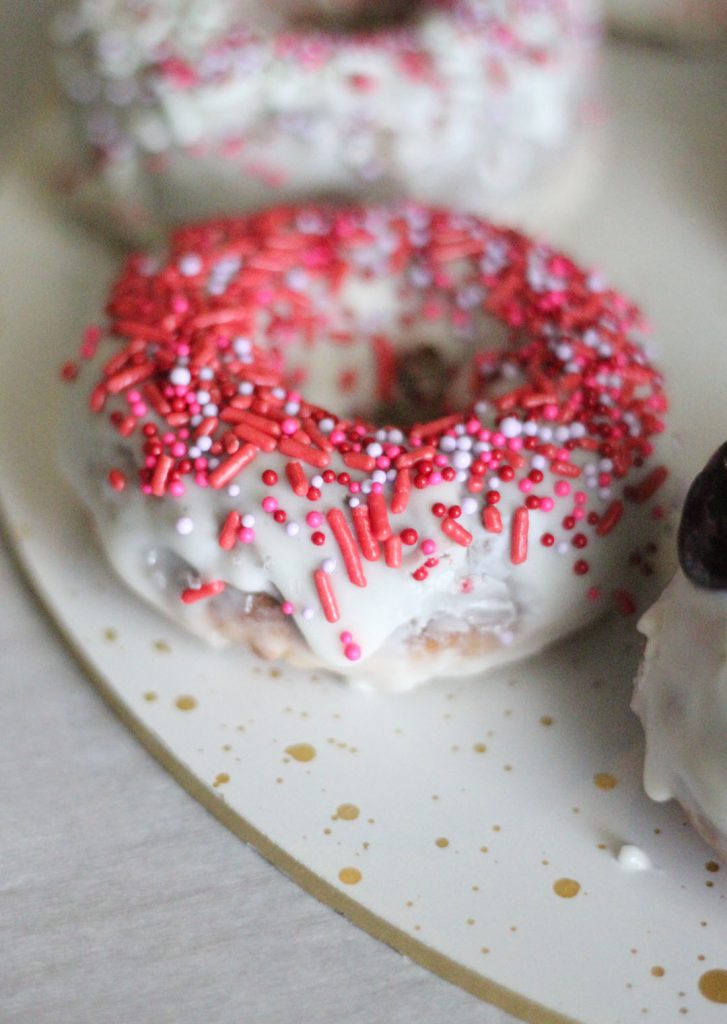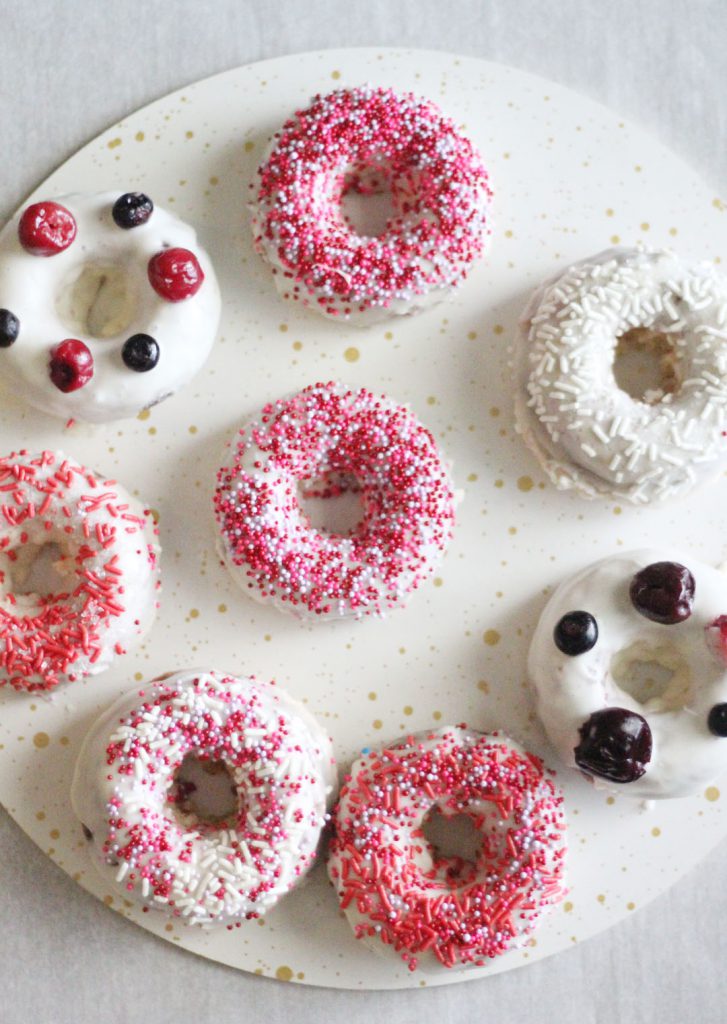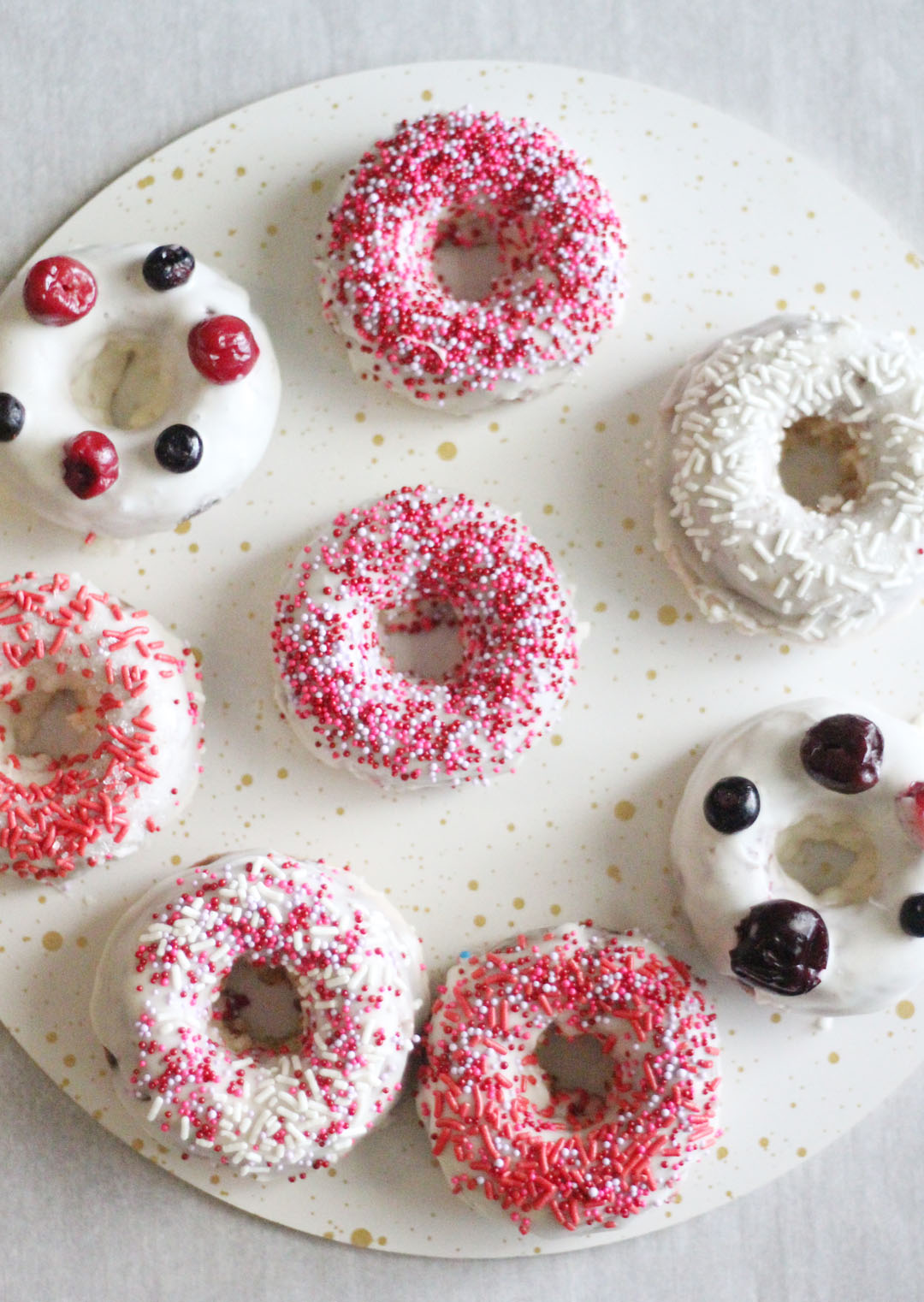 Print Recipe
Gluten Free Glazed Vanilla and Almond Donuts
Tender cake donuts infused with vanilla and almond extracts covered in an irresistible glaze!
Ingredients
Ingredients:

4 TBS salted butter- melted

¼ cup coconut oil- melted

1 cup granulated cane sugar

1/3 cup brown sugar

2 large eggs- beaten

1 ½ tsp baking powder

¼ tsp baking soda

1 tsp sea salt

1 teaspoon almond extract

1 teaspoon vanilla extract

2 2/3 cups Gluten Free All-Purpose Flour- I used Cup 4 Cup

1 cup 2% or whole milk

Glaze:

1 cup heavy cream plus more to thin if needed

3 cups powdered sugar

2 TBS salted butter melted but not hot

½ tsp sea salt

½ tsp vanilla extract

½ tsp almond extract

Toppings:

Assorted sprinkles or fruit
Instructions
1
Preheat oven to 425 degrees and spray(I used coconut oil) two 6 count doughnut baking pans. If you don't have doughnut pans, you can improvise by using cupcake pans and inserting a 2 inch ball of tinfoil into the center to create a donut shape. It won't be perfect but it'll give you a donut taste.
2
In a mixing bowl beat together butter, oil and both sugars until smooth.
3
Next add the two beaten eggs and mix.
4
Add the almond and vanilla extract, baking powder, baking soda, and salt. Mix until smooth.
5
Add the gluten free flour and milk. Alternate mixing on low between the flour and the milk, ending with the milk.
6
This batter is going to be very thick. Don't be scared.
7
Now you have a few choices. You can take a gallon Ziploc bag and fill it with the dough and then cut off about a two-inch corner so you can easily squeeze the dough into the pans. You can use a pastry bag without a piping tip and cut the end and put in the pans. You can also use your hands or a spoon. Just fill the pan to the brim. I'm going to warn you right now that it may not look super pretty. I know. Just stay the course.
8
Fill the 12 doughnut wells. You will most likely have enough batter for three more donuts. Save that!
9
Bake for 9 minutes. They should spring back slightly when you touch them but not at all smell burnt. They will darken but that is okay. Don't go over 9 minutes though!
10
While baking, whisk together all the glaze ingredients in a deep bowl slightly bigger than the donuts. If it is too thick, add more cream until it is thinned out. It should be liquidy but not transparent.
11
Once donuts have baked, leave in pans five minutes and then transfer to cooling racks.
12
Bake the remaining 3 donuts worth of dough. Add a tablespoon of water to the empty donut wells.
13
When donuts have cooled to a temperature where they won't burn your hands off, begin the glazing process.
14
Dip each donut carefully into the glaze and place on a rack that is resting over some parchment paper or tinfoil. After about every few donuts, sprinkle with the desired sprinkles. If you are using fruit, wait until they are all glazed.
15
Let sit at room temperature so the glaze can firm up and enjoy! Store uneaten donuts in an air tight container.
Notes
I actually think these taste best the next day but they are delicious day of too!