I've always longed for four true seasons. Where we live, there is Cold, Pleasant, Hot as armpits, and Regular Hot. Not much of a change but I do love those few months where the Southern California temperatures dip into the 50's and you can wear a jacket without sweating to death. It is fall in most places right now. I like to put on the look of fall but it will never truly be fall here. Some leaves change colors but we just don't have that "fall is in the air" type of weather. You can put lipstick on a pig, but it will never be Reese Witherspoon. Get what I'm saying? No? Me either. Pretty much I can put as many pumpkins as my bank account can sustain around the house and it still is going to be 90 degrees outside.
One way we CAN feel fall is through food. Pumpkin this. Apple that. Maple everything. Food is just a great way to transport us to where we wish we were. Hawaii, China…the Ghirardelli Factory. It is all brought on by smells, tastes and beautiful sights. This may sound crazy since we are on the tail end of September, but I'm already planning Thanksgiving. I'm a planner to the millionth degree. With our life and medical issues, you kind of have to be. And I enjoy it! I love giving careful attention to things. Part of what I am planning is what to put on this here little food site. I was working on my stuffing recipe which I think is critical on a gluten free food blog. Why? Because stuffing is my most favorite part of the meal and I'm not going to let a little thing like celiacs or gluten stop me from having it! I didn't mean to shout at you. I feel very strongly about stuffing. As I was thinking of my stuffing flavors and also thinking about how I feel a little…stuffed(thank you too many muffins), I started to come up with a dinner that would embody fall, remind me of stuffing without all the carbs and be something I could make ahead in the day because my week has been nutso.
So this sausage and brown rice stuffed acorn squash was born. Not really. Nobody thankfully gave birth to this. I really need to watch my imagery when I'm talking about food. Do you like acorn squash? I do! My sweet Grandma Marge would always roast either acorn or butternut squash and put a very thick coat of butter, brown sugar and salt on it. Oh mama is that the way to eat squash. Acorn squash is fairly inexpensive, has a nutty but versatile flavor and a creamy texture. It is also really easy to cut and remove seeds from. Spaghetti squash is partly my nemesis because of all the work it makes you go through. Like my stuffing this has sweet Italian sausage, apples, cranberries and onion. For a little binding and to make it a bit heartier I add brown rice to this too. And while we are at it the whole thing should probably be topped with cheese. A cheese hat seems very appropriate for this recipe. I used coastal cheddar(I say it with an English accent because it is from England) from Trader Joes. It is a hardish cheese, very similar in texture and taste to a good aged parmesan but not quite as hard. Man Boy loves coastal cheddar. I encourage you to get some. It is amazing with fruit and nuts on an appetizer platter as well. You are welcome to use parmesan instead. Or a mix of parm and cheddar. Or even some havarti or smoked gouda would be nice. I love the flavors of this meal. May it transport you to a happy fall festival as the smell of cinnamon and cloves wafts up your nose.
Let's go make it!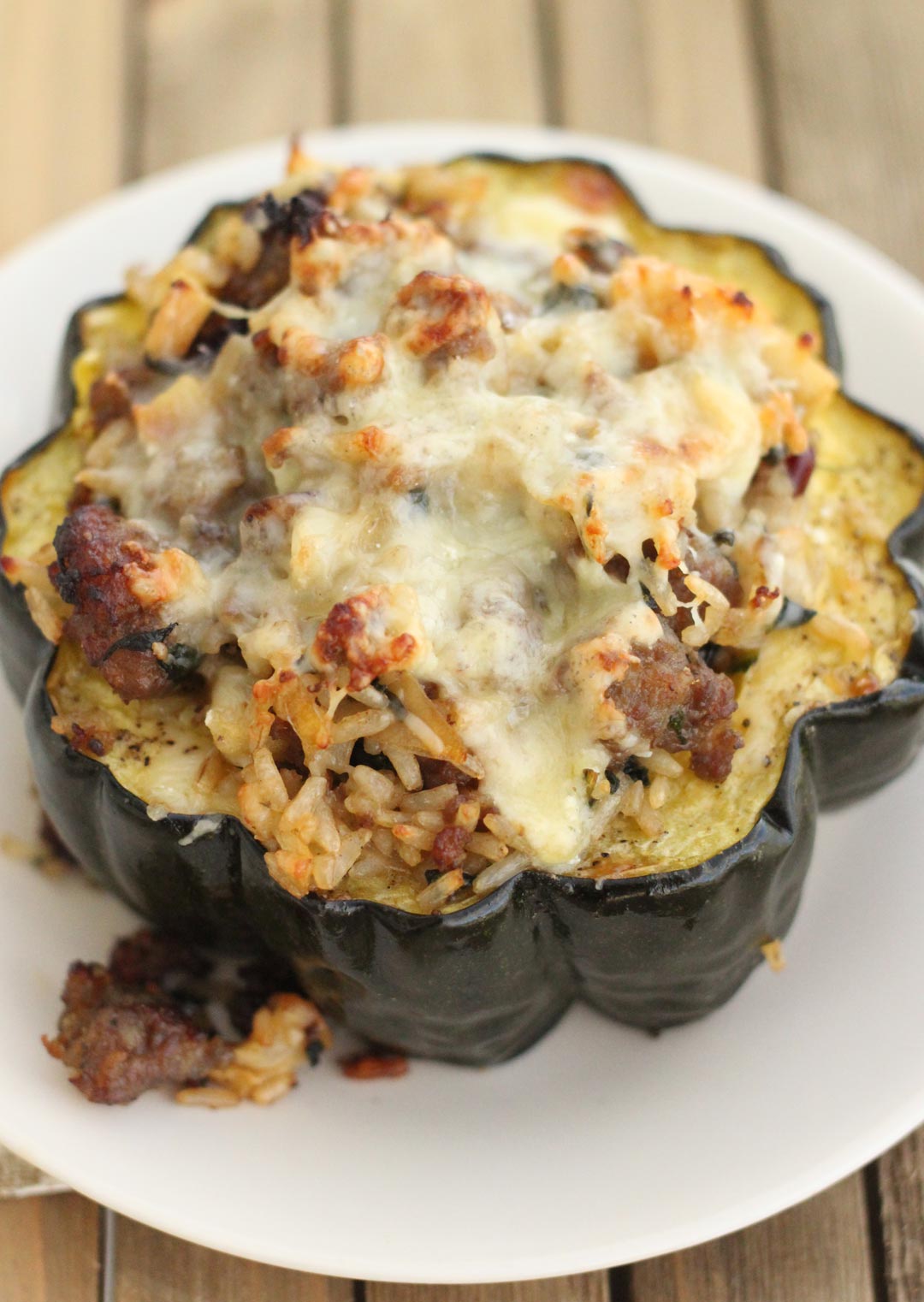 Print Recipe
Sausage and Cheese Stuffed Acorn Squash by Gutsy Gluten Free Gal
Ingredients
3 acorn squash

1 lb sweet Italian sausage( make sure yours is gluten free and if in casing, remove from the casing)

½ white onion- finely chopped

1 large apple- finely chopped

1 cup spinach- chopped

1 cup prepared brown rice(I used Minute Rice and made it in the microwave)

½ cup dried cranberries(I used Craisins)

1 tsp dried sage(I used McCormick)

1 ½ cups Coastal Cheddar or Parmesan or your choice- shredded

Salt and pepper to taste

olive oil
Instructions
1
Preheat your oven to 400 degrees Fahrenheit.
2
Take your squash and cut off the bottoms (don't cut too much as you want it to still hold the filling) and then cut in half. I like to take a spoon and get the seeds out but however you like, remove the seeds.
3
Line a baking sheet with tin foil and place squash halves on the sheet. Drizzle with olive oil or canola oil and sprinkle with salt and pepper.
4
Bake for 30 -40 minutes. The squash should be fork tender but not look like it is soggy and falling apart when it is done.
5
While squash is baking heat a skillet over medium heat. Add the sausage making sure to break it up with a spatula. Next add the onion and season with salt and pepper. Add in the apple, spinach and cranberries and sprinkle sage on top. Mix all together and let cook until sausage is cooked through and veggies are soft.(about 8 minutes).
6
Turn heat to low and add the brown rice. Mix all together and let hang out until squash is done in the oven.
7
When squash is out of the oven but still on the baking sheet fill each acorn squash half with about ½ cup of sausage filling. Using all the filling if you have extra. Just make little stuffing mounds on top of the squash. Cover each squash with the cheese, dividing it evenly amongst each one.
8
Place squash on baking sheet back in the oven and bake for 15 minutes. The cheese should be a nice golden brown in a spots.
9
When done baking remove from the oven and enjoy!
Notes
If you are unfamiliar with acorn squash… please don't eat the skin.