Oh boy. I'm in the doghouse. Or the gluten house. I have not written a post in quite some time. Life got a little busy/germy/spring breaky/birthday-y/windy/Great British Baking Show obssessedy. I did not forget about you. I thought about you with every spread of mayonnaise on some of my new favorite gluten free bread. Or with each crunch of a homemade tortilla chip. You are always in my heart. And my heart will go on. And oooooooooon. You can see I haven't lost that craziness. That is incurable.
So today I am wearing my Pioneer Woman Mercantile t-shirt and typing up a recipe for something that is all the rage. It is basically a bowl of goodness. Of heartiness. Of flavor. And of the best flippin garlic aioli your lips will ever meet. Have you heard of Buddha Bowls? Unbeknownst to me, I have been eating these for quite some time. I just called them bowl of stuff. I'm just not hip. You have a mix of veggies, protein and carb and it is all presented beautifully in a bowl. (I may get in trouble with the Buddha Bowl police but you could totally spread this out on a plate) These have nothing to do with Mr. Buddha. I don't know much about that. I think these are called that because it is a big bowlful of belly filling goodness? Or a bowl in the shape of a Buddha belly? Or because bowl of stuff sounded off putting?
These bowls have lots of gluten free healthy ingredients. And I made them and they were good. I liked what I had put in them. But they were lacking. My taste buds are very demanding and they were rating these as 9's… I wanted a triple lutz-salchowl 10. I wanted my mouth to swoon.
Do you like roasted vegetables? I love them. It brings out a sweetness and flavor that raw veggies definitely don't possess. So for this I roasted veggies and added them to quinoa. I'm so in love with quinoa. Added avocado for creaminess because avocado is my life. Ooooh and some Italian ground sausage too. It adds heat and flavor and is generally yum. And you put it all in a bowl. You could stop there. You could. But don't. We are going for gold with this remember. Don't pull a Tanya Harding and take the easy way. (not that any of that turned out easy for her, I believe).  You make the sauce that is going to beat all sauces at the sauce Olympics. You make garlic aioli. Also known as the first wonder of the world.
Have you had garlic aioli? Do you know what aioli is? It is bliss. How do you not know what bliss is? It is a line free day at Disneyland. You will mix mayonnaise (the second wonder of the world) with garlic, fresh lemon juice and some seasonings. Blend it all together and drizzle it on your bowl. Now Boyband said this was a totally amazing sauce. He was quite offended I didn't make more of it. So double the recipe for the sauce if you are heavy handed with sauce. Leave it be if you are normal with sauce amounts or a minimalist. I'm shaking my head at you minimalists.
Let's go make these bowls of excellence!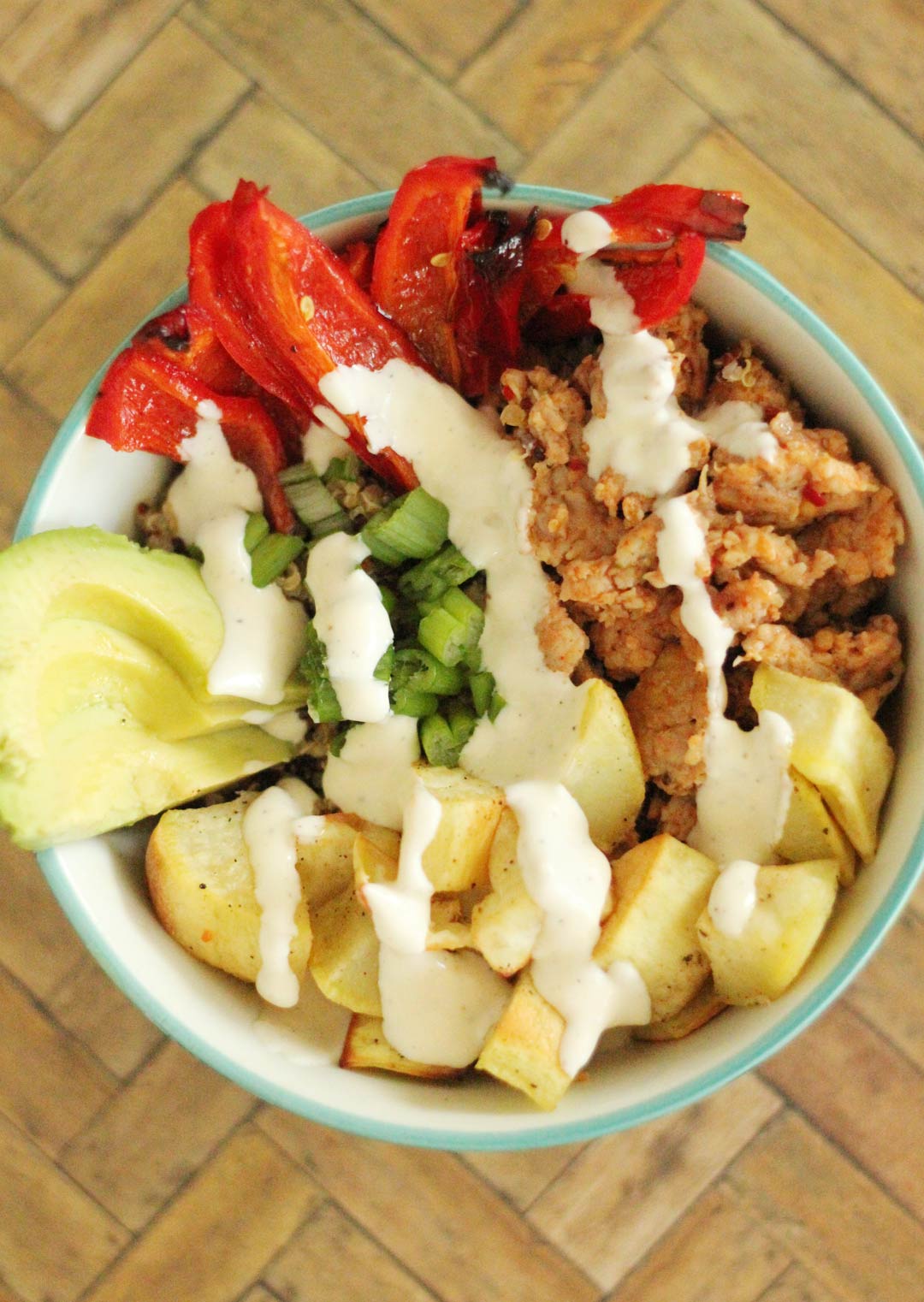 Print Recipe
Roasted Veggie and Sausage Buddha Bowls with Garlic Aioli
Ingredients
1 sweet potato- peeled and diced small

1 red bell pepper- deseeded and quartered

1 TB olive oil

Salt and pepper to taste

2 green onions, ends removed and finely sliced

1 avocado- pitted and sliced

½ lb Italian sausage (Make sure it is gluten free…I used Jennie O)

1 ½ cup prepared quinoa (make sure gluten free and to salt the water when boiling)

For the garlic aioli

½ cup mayonnaise (I used Best Foods)

2 TBS fresh lemon juice

½ TBS water

½ tsp pepper

¾ tsp sea salt

2 garlic cloves – minced (I like to use a zester to do that)
Instructions
1
Preheat the oven to 400 degrees.
2
On a baking sheet add the sweet potato and red bell pepper. Drizzle with the olive oil and how much salt and pepper you would like. When oven is preheated, roast for 30 minutes, or until potato is soft but crisp on the outside and bell pepper is soft with a slightly blackened skin.
3
If you haven't already, this is a good time to prepare and boil your quinoa. It usually takes around 20 minutes.
4
Cook sausage in a skillet over medium heat until all the way cooked through.
5
Add all the aioli ingredients to a small food processor or blender. If you don't have one of those make your arm whisk like it has never whisked before. Mix the ingredients until they come together and then set aside until ready to use so that the flavors can be buddies.
6
When veggies are done and slightly cooled assemble the bowls.
7
Place half the quinoa mixture in the bottom of your bowl (like a cereal bowl not a behemoth bowl) on top of that place half the cooked sausage, roasted veggies, green onion and avocado.
8
Drizzle the whole bowl with aioli. Enjoy!