It is hot time in the city right now. Or maybe not if you are reading this in the fall or winter. But as I type away  it's a sweaty arid summer out there. In California we don't get the 89 degrees but humid feels like temp is 114 type of deal but we do get some dry blistering sun. I heart California. It really makes you appreciate the little things. Like air conditioning and windows that roll up so you don't have to listen to the moron next to you blasting wannabe rap. This summer I have tried to use my oven sparingly. I mean why add to the heat if you don't have to? I believe that is what Chik fil A is for. But with some special events I have had to turn on the blasted machine that produces miracles like raw dough to chewy cookies. I love my oven in the fall. I snuggle it in the winter. In the spring we have a bit of a long distance relationship. In the summer I tend to look at it with longing for the things it can produce but also with disdain. Why you gotta be so hot, oven? But this recipe is worth firing up that oven. Who knows maybe you don't live in an armpit and the weather is just fine where you are. Maybe you are desperate enough for good tasting gluten free bread that no price is too high. Maybe you have a portable mister attached to your head. Oh the possibilities.
Let's talk gluten free bread. It sucks. Just kidding! But many of them do. Sorry. I bought a fresh loaf from a farmer's market not too long ago. It smelled deceivingly delicious. It sliced up all right. And then it tasted like bland gum. Not kidding. It was as if you took baking soda and rubbed it on the sole of a shoe, somehow cooked that nastiness down and put it in a bread loaf. We were a tad bit disappointed. We do enjoy different brands of gluten free bread like Canyon, Trader Joes, and Shar occasionally. Shar was a go to but it just spikes the blood sugar for our Type 1 guy a little too much. Those are all fine and dandy for sandwiches. But what about a bread that has a little more substance? Is fantastic as toast but just as good thick sliced with some chunky peanut butter and fresh preserves? A bread you can serve with tons of butter and gobs of honey(my favorite way to eat most bread) or just to nibble on out the door to school. This is that bread.
No way, no how is this going to taste like "gluten free" because it has so much flavor and a texture that is not dry, not gummy. It has oatmeal in it people! Oatmeal is a great binder for bread. It adds depth of flavor, texture, and a little nutty sweetness. This bread whips up really fast and makes two loaves. I always make two loaves when I do gluten free bread. If you are going to the effort to make the bread, at least double your money with it. Just making one loaf is like going to Hawaii for two days. I mean it is fun for 48 hours then you are just depressed it is over. I'm pretty sure that analogy works. A non-gluten free friend ate most of a loaf herself. She has the same appetite as I do, so that in and of itself is not shocking. But it was gluten free and she still liked it. She went with the butter and honey method. It never fails.
Let's go make some bread and be thankful we have ovens!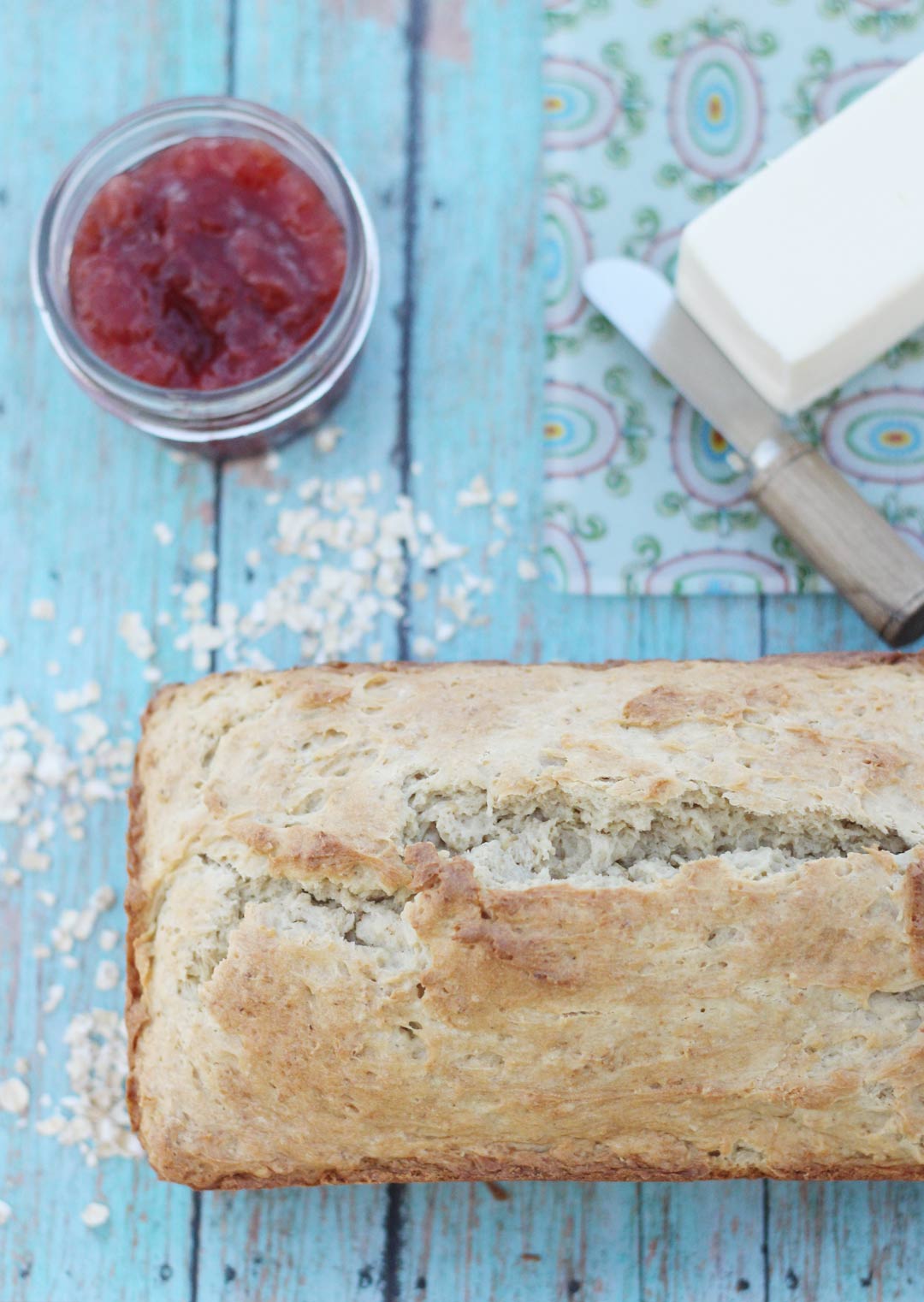 Print Recipe
Gluten Free Oatmeal Bread by Gutsy Gluten Free Gal
Ingredients
2 cups milk (I used whole)

2 cups plus 2 TBS oats (I used gluten free Quaker quick oats)

4 large eggs, beaten

1 ½ sticks butter (12 TBS), melted

½ cup packed brown sugar

4 cups gluten free flour (I used Pamela's Bread Mix and Flour but you could do an all-purpose)

4 ½ teaspoons baking powder

1 tsp salt

½ tsp xanthan gum
Instructions
1
Preheat oven to 350 degrees. Grease two 9" by 5" loaf pans. Embrace your oven.
2
In a very large bowl combine the milk and the oats. Let sit 5 minutes.
3
Add the eggs, melted butter and brown sugar to the oats and mix well. There should be no lumps of anything. Gently stir in the flour, baking powder, salt, and xanthan gum. Mix until just blended, over mixing can result in tough bread.
4
Spoon the batter equally into the two loaf pans. Bake loaves for 40- 45 minutes or until toothpick inserted in the middle comes out clean. Let bread cool in the pan on a wire rack for 10 minutes then remove from pan. Place back on rack and let cool completely. Slice bread when totally cool.
Notes
Second loaf can be wrapped in foil and put in an airtight bag and frozen. It freezes awesome! Toppings we love are: jam, butter, honey, cream cheese and fresh fruit, nut butter and whatever your heart desires. Great as sandwich bread too!