Do you ever miss those big blueberry muffins that they sell at Costco or Sam's Club? The ones chalk full of preservatives and sugar but just oh so yummy. I could scarf down a bunch of those suckers. Well, at least I used to. Now I think they are gross. But still a little bit tempting.
The Man Boy loves blueberries. Which is great because blueberries are a high fiber berry with little sugar for the amount you can eat. Go diabetic and carb friendly snack! Man boy also loves himself a good muffin. Mornings can be a little chaotic. They typically are when you hit snooze three times and give yourself and your brood twenty minutes to get ready. A muffin with some fruit or an egg is a perfect quick breakfast. Super easy to take with you, freezes well so you can make a bunch and not have to deal with making breakfast and a comfort food on a cold day. We don't get a lot of cold days here in California, so I eat it next to the air conditioning vent. I digress.
I wanted a bakery quality muffin that was fluffy and soft inside while having a little sugary crunch on the outside. Remember the muffin top episode of Seinfeld? Elaine wanted to just sell the muffin tops because they are the best part. It ended up that they donated the muffin "stumps" to a homeless shelter and the manager brought them back to Top of the Muffin to You( emphasis on the You) and said that it was insensitive to say that the homeless would be happy with just the stumps. Seinfeld was such a commentary on the really important things in life, ya know. Well, this whole muffin is yum, but ya the top is the best part. Bruleed sugar anyone? Yes, please. The sugar in the raw cooks in the oven and takes on a crème bruleed taste. All rich and crunchy and aromatic. Let's get muffining!
Get your ingredients together. Do not ever in the history of the world make it look like I did. That is just dirty bowl and dish recklessness right there. Just throw all the ingredients into the bowl when they are called upon. I did it it to be purdy for you.  I made you heart shaped sugar. Love me. Right.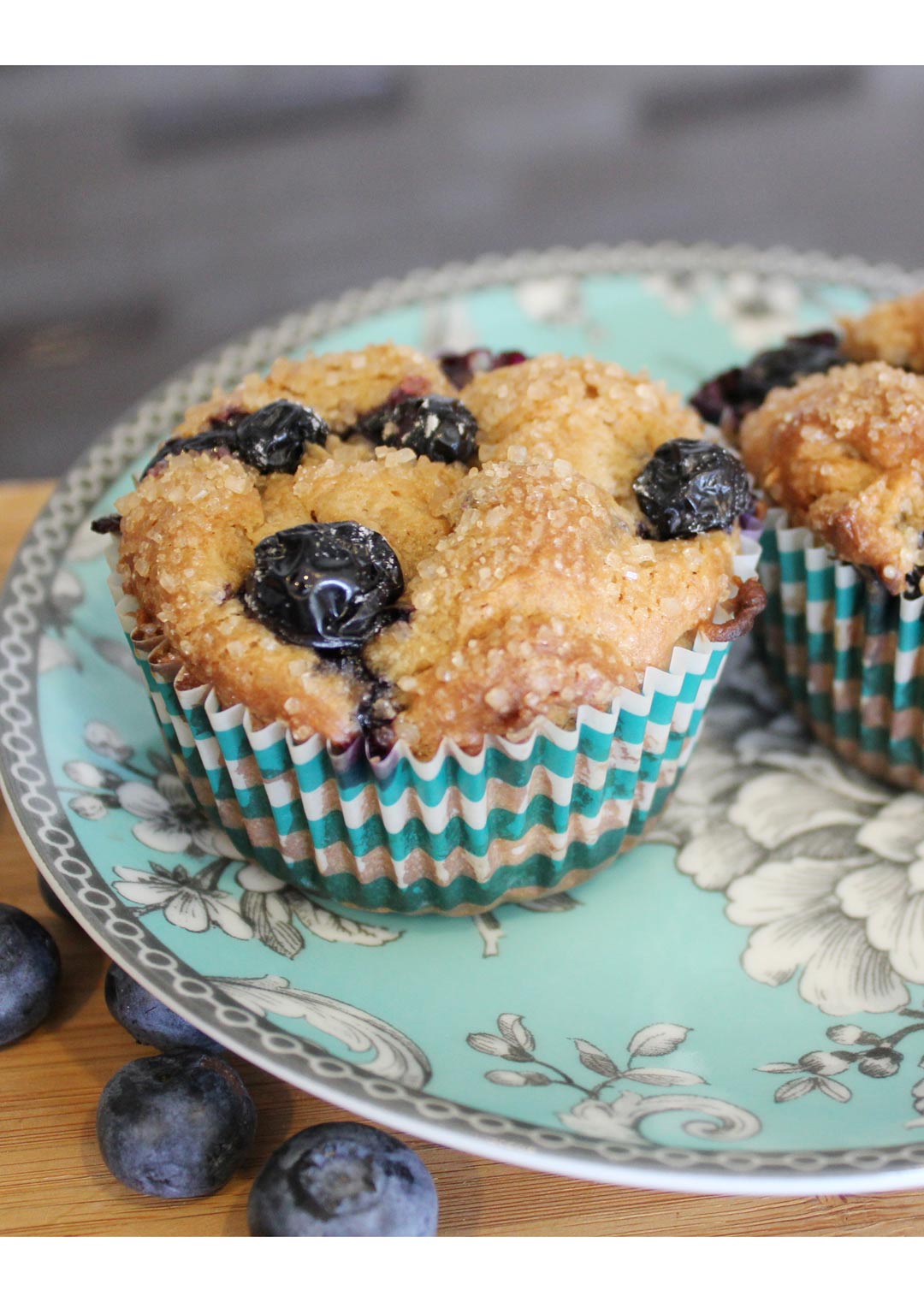 Print Recipe
Bruleed Blueberry Muffins by Gutsy Gluten Free Gal
Ingredients
1/3 c white sugar

2/3 cup coconut sugar

1 egg- best if room temperature

½ cup coconut oil (liquefied)

1/3 cup milk

1 tsp vanilla

¼ tsp xanthan gum

1 ¼ c Pamela's gluten free all-purpose artisan flour- measured the right way!

½ tsp salt

¼ tsp cinnamon

1 tsp baking powder

½ cup sour cream or plain yogurt…not nonfat!

1 1/3 cup blueberries – 1 cup for inside the batter, 1/3 cup for on top of the muffins

1 TB Sugar in the Raw
Instructions
1
Preheat oven to 375 degrees
2
Place super cute muffin wrappers/cupcake liners in a 12 count muffin tin. Give it a spritz of coconut oil cooking spray so it doesn't all stick together. These muffins were not made to use a jackhammer with.
3
In a large bowl mix together with a wooden spoon the sugars, egg, oil, milk and vanilla. Make it happy and smooth.
4
Add in the xanthan gum, flour, salt, baking powder and cinnamon. Stir until it is combined. This is going to be thick and sticky. Gluten free flour makes things stickier. It builds biceps. And then you can eat more baked goods from the calorie burn.
5
Add the sour cream. You will breathe a temporary sigh of relief as the batter becomes less sticky.
6
Gently, like probably with a spatula/bowl scraper thingy, fold in 1 CUP of blueberries. Give it some gentle stirring so that it has all become a beautiful family.
7
Fill the muffin tins to the top. I used my handy dandy 2 TBS Pampered Chef scoop but you could use two spoons or your hands if they are scoop like. Fill the suckers to the top and then become a food stylist and place the remaining berries on top of the batter so that it looks pretty.
8
Now take your sugar in the raw and evenly sprinkle it on top of the muffins.
9
Place the muffins in your preheated oven, close the door, set the timer for 25 minutes and watch them babies rise. You will start to smell the glorious scent of baking sugar. Don't slip in your saliva. Watch the muffins the last five minutes because you don't want them to overcook. A toothpick should come out clean of batter but it shouldn't come out with charred remains on it.
10
After they have cooled a bit in the pan, set on a rack and let cool complete. Get yourself a slab of butter or five and eat some yummy muffins.
11
These freeze awesome. I like to wrap individually in foil, pop them in a Ziploc bag and take them out as I need them. Remove the foil if you are microwaving to heat up. I don't want to have to buy you a new one.
12
Store well in an air tight container for 4 days also.
Notes
Check out my page about Pamela's Artisan Gluten Free Flour and what you can sub if you don't have it.