With school back in full swing, I've been trying out different breakfast ideas for the kids. Things that have not been looked at favorably included a spinach smoothie and anything oatmeal. They used to love oatmeal. Now it is like I am giving them a bowl of gasoline. The littles' most favorite thing to eat for breakfast is a muffin. Or muffins. Plural. I am a huge muffin fan because they are perfect for busy mornings. You can have them already made in an air tight container or even chillin' in the freezer. Now it may seem crazy that someone who is gluten free is singing the praises of muffins. The two aren't exactly synonymous, but these muffins taste like their gluten filled friends. They are light in texture(because who wants a brick of a muffin in their stomach at 7 AM?) and pack lots of flavor.
I like a delicate crumb for my muffins. We recently went to a restaurant that offered a gluten free blueberry muffin. It looked so pretty the way it came plated and with its gold filigree wrapping. I should have eaten the wrapping. Oh, it was containing no flavor. The density of packed snow and the blueberries smelled like hair spray. And it was $4.00! Nope, I prefer to make my muffins at home. Unfortunately I'm also good at making muffin tops but that is a tale for another day and a time when I don't eat muffins.
Do you love banana bread? I'm bananas for banana bread. These gluten free muffins taste like a light banana bread with tender bits of coconut for texture. And then there is the topping. Muffins should have something exciting going on up top. Like a circus of sugar. I made my favorite streusel(really just a mix of all things good in life- butter, sugar, gluten free flour and spice) and added some coconut because these are well…Banana Coconut Muffins. They are versatile too! They taste like you should be eating one curled up by a fire or on the balcony of a Hawaiian hotel room. Since this is a daydream, let's make it the Four Seasons in both scenarios.
If you don't care for coconut, you could certainly leave it out and then these would be Banana Muffins with streusel. Maybe sub some finely chopped walnuts for coconut. On second thought, don't do that. I need to do that. Ah, another recipe is born.
Okay, let's go make these beauties!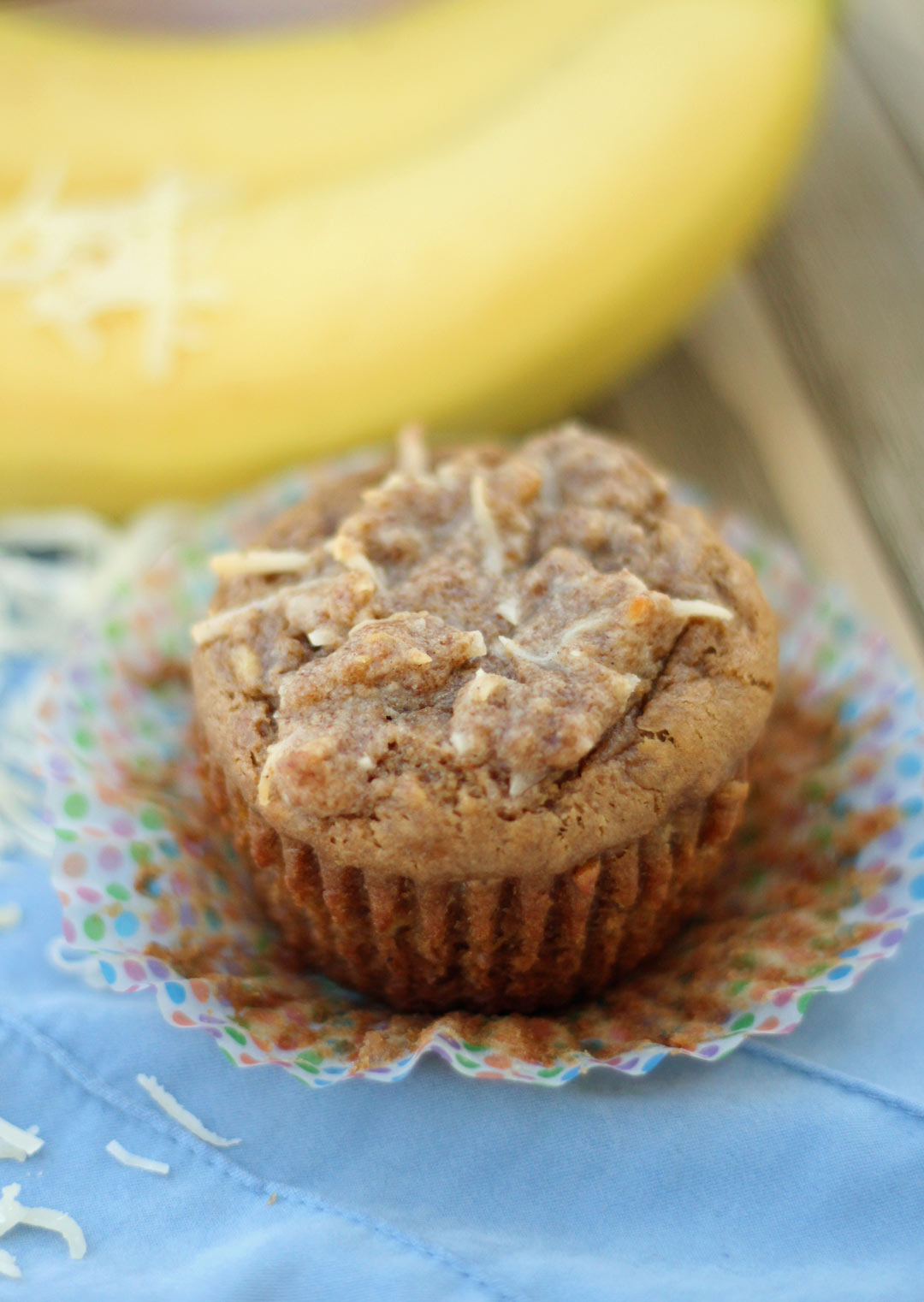 Print Recipe
Banana Coconut Muffins with Coconut Streusel by Gutsy Gluten Free Gal
Ingredients
1 cup coconut sugar (could substitute granulated but it will be sweeter)

1 egg- best if room temperature

½ cup coconut oil(could sub vegetable oil)

1/3 cup milk

1 tsp vanilla

¼ tsp xanthan gum

1 ¼ c gluten free all-purpose flour (I used Pamela's gluten free all-purpose artisan flour- measured the right way! )

½ tsp salt

¼ tsp cinnamon

1 tsp baking soda

¾ cup smashed banana (about two very ripe bananas)

¼ cup shredded sweetened coconut

For Streusel topping:

1/3 c gluten free all-purpose flour

3 TB melted butter

2 TB coconut sugar (or brown sugar)

1/3 cup sweetened shredded coconut- chopped fine

¼ tsp cinnamon

¼ tsp salt
Instructions
1
Preheat oven to 350 degrees
2
Line and spray (I used… you guessed it- coconut oil) a 12 count muffin tin with cooking spray such as coconut oil spray or Pam.
3
In a large bowl mix together with a wooden spoon(or using a mixer) the sugar, egg, oil, milk and vanilla.
4
Add in the xanthan gum, flour, salt, baking soda and cinnamon. Stir until it is combined.
5
Add the banana and coconut. Mix to combine.
6
Fill the muffin tins to about ¾ full using a spoon or small cookie scoop.
7
Bake the muffins in the preheated oven for 8 minutes. Take out of the oven and top with about a ½ tablespoon of streusel topping on top of each muffin. Return to oven and bake an additional 10 minutes. Muffins are done when they are not jiggly but these will look glistening on the top from the butter in the topping. Don't overbake!
8
When they are done and cooled for about five minutes, transfer to a cooling rack to finish their journey to room temperature.
Notes
These keep really well in the fridge in an airtight container. See my page on Pamela's flour and measuring Gluten Free flour the right way.