Banana Bread. It comes in many shapes and forms. Well, usually it is in a loaf shape, so I guess that isn't super true. But there are many variations. Do you like yours with nuts? Coconut? A streusel topping? All of the above? Should there be chocolate chips or dried fruit? A really dense or light texture? There are so many preferences and options. As with most things in life I prefer mine with chocolate. Lots of it. Bananas are a favorite fruit, but there are only about three days after purchasing them that I want to eat them as a snack or as is. I like them slightly green and not too sweet. If it is mushy- forget it. I'd rather eat an asbestos hot dog. Eww. The kids are so-so when it comes to bananas. Boyband likes them but doesn't eat them at home often. That leaves me with over ripe bananas. What to do with them? Put them in a bread that since it is called banana bread, could be eaten for breakfast. But since it is so decadent, could be eaten as a dessert. You could even slice this into rectangular slices, spread some Nutella and raspberry jam, and make the most awesome tea sandwiches ever out of this bread.
My mother gave me the recipe that this is based on. The first time I made it I was shocked. I had been making banana bread as long as I could remember. My Grandmother made it all the time. But this bread was different. This was the BEST. It was the banana bread to kick the booties of all banana breads. I had done the chocolate chip thing before, but when you add in that cocoa powder to the batter…wow. It is a chocolate level that is hardly ever reached. PEOPLE this bread causes moaning. I'm just gonna say it. I'm preparing you. It is so moist. I try to not use that word. Moist makes people grimace. Moist. Say it, it is an awful word. But the synonyms are equally cringe worthy. Soggy, wettish…damp. Ugh, I need to never write a food description with any of those words. Let's say that this bread is soft and the opposite of dry, shall we? It has one of my favorite ingredients to add to gluten free baked goods- sour cream. Sour cream adds moisture to what can be a risky dry batter. It also adds creaminess too. I even have used light sour cream and that just means you can eat both loaves and not even feel remorse. It is like running over a hard to see traffic cone with your massive SUV and not even feeling bad about it. What is wrong with me today? And no, I didn't run over a traffic cone but I witnessed it. And it made me laugh. And wonder if that driver was distracted thinking of the word moist.
This recipe makes two loaves. Why do you need two loaves? Because you will eat one entire loaf while watching an old rerun of Seinfeld. Because it freezes beautifully. Because it is handy to have a gluten free breakfast/ dessert/guilty pleasure around. Because then you have an extra loaf to give to someone you like/love/care about/ saw run over a traffic cone. This would never ever be thought to be gluten free. I mean that is my whole goal with this stuff. Make it gluten free but have it pass for not. People gobble this up. Kids give you mom of the year awards and lint brush the couch to remove bulldog fur. It is magic! Let's go make it!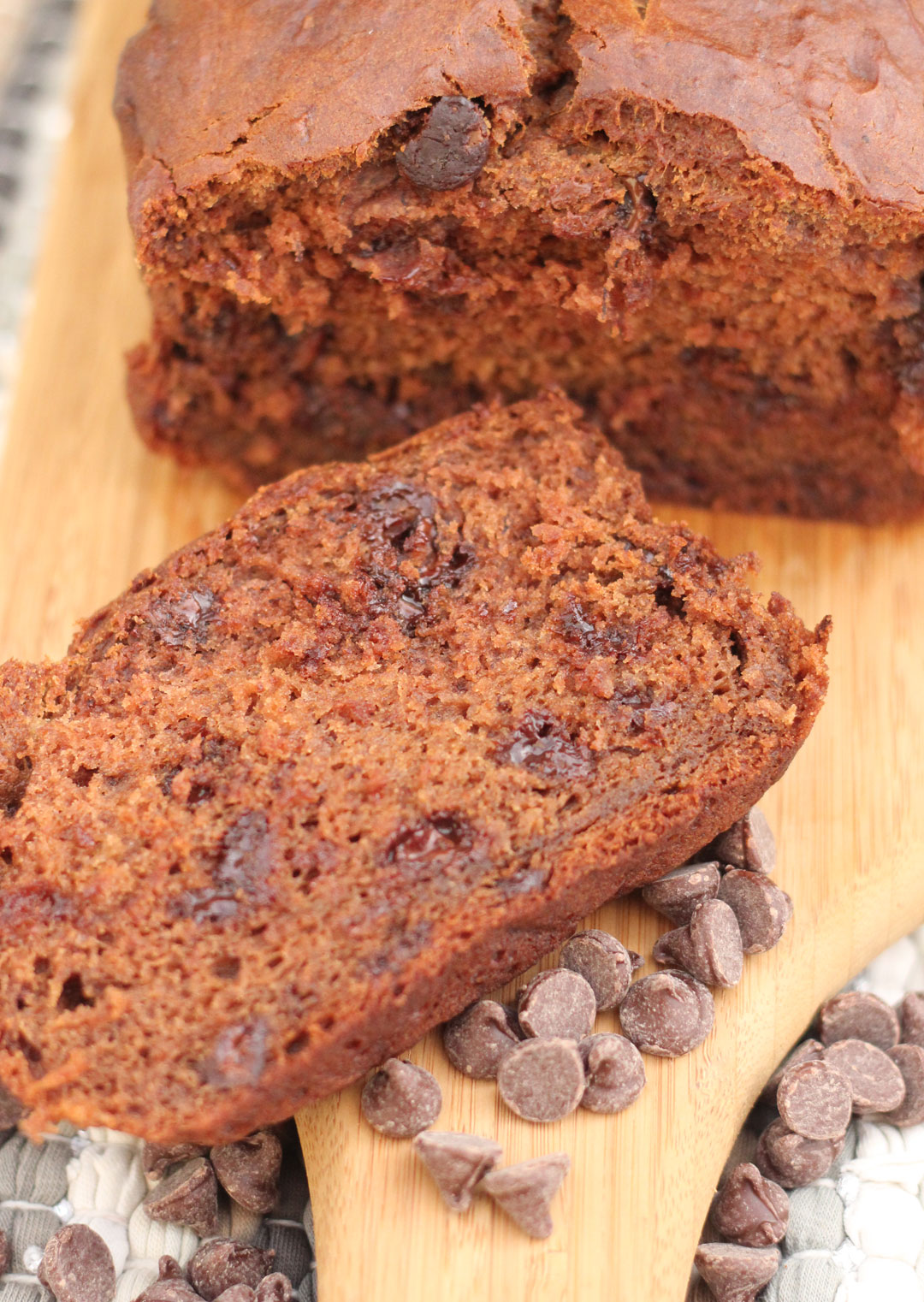 Print Recipe
The Best Chocolate Banana Bread by Gutsy Gluten Free Gal
Ingredients
1 cup (2 sticks) salted butter- softened

1 cup white sugar

1 cup coconut sugar (you can do all white sugar if you like but only add an additional ½ cup)

4 eggs

5 really ripe bananas- mashed

2 teaspoons vanilla extract

3 cups gluten free flour- I highly recommend/plead with you to use Pamela's All Purpose

2 teaspoons baking soda

½ tsp xanthan gum

¼ cup unsweetened cocoa powder

1 cup sour cream or ½ cup sour cream + ½ cup Greek yogurt

1 cup semi-sweet chocolate chips
Instructions
1
Preheat oven to 350 degrees Fahrenheit.
2
Lightly grease two 9 by 5 inch loaf pans. You can also line pans with foil and spray that so it is easy clean up.
3
In a large electric mixing bowl, cream together the butter, sugar and eggs on medium speed. It should be light and fluffy.
4
Add the bananas and vanilla. Mix until combined.
5
Add to the wet ingredients the flour, baking soda and cocoa. Mix well.
6
Blend in the sour cream and chocolate chips. Mix until just combined and no white streaks.
7
Pour half of batter into each prepared pan.
8
Bake in the oven for 50-60 minutes. Or until a toothpick inserted into the center of the loaf comes out clean. You don't want to over bake, so start checking it at 50 minutes.
9
Remove from oven and let sit in pan for 10 minutes. Remove to cooling rack and let cool on a rack until room temperature. Store wrapped in plastic wrap or in an airtight container.
Notes
Tastes amazing heated up with butter too! If freezing the extra loaf, simply wrap tightly in foil and then place in a freezer proof Ziploc bag.
Recipe Tools used and Products We Love from Gutsy!

If you click on an above link and purchase through Amazon an item recommended on our site, the GutsyGlutenFreeGal receives a teeny tiny amount from that sale. Thank you for helping to keep this site going and keeping gluten free delicious. We heart you.