Did you or do you ever eat Spam? It's gluten free you know. This may take my food credibility down a few notches, but I grew up eating Spam and eggs. My father cooked a few things. Spam and eggs. Fried egg sandwiches. And plain scrambled eggs. Pretty much his repertoire revolved around eggs. He now makes salmon on the BBQ in a bread pan but that is a topic for another day. He would cook the Spam up all crispy in the pan and cook the scrambled eggs in the leftover salty spam juice. Sometimes cheese was added. I have such fond memories of him being so excited to eat it. And my mother opening every window and complaining that the Spam smell would never leave our house. My mother thinks Spam is the worst.
I will admit that I cook Spam a few times a year. Normally when we go on vacation to the mountains. Because it just screams hearty greasy processed meat there. Man Child likes it. Sparkle Princess would rather run off into a hibernating bear's cave than eat it. All this to say, one of my favorite ways to eat eggs is with Spam. Eggs in and of themselves can be a little boring. I also add ketchup or hot sauce to my eggs. Are you still reading this? Have you given up on me? Please don't. I promise this is going to be good.
We had a delicious breakfast crustless quiche at a restaurant that I had wanted to recreate. It makes for a protein and veggie packed breakfast, which is great for starting your day. Spam grease tends to slow the brain a bit. And the digestion. This is what you would call a frittata. A baked egg dish where basically all the ingredients are whisked together and then popped in the oven. There is no crust. I don't have time for crust in the morning. Tired zombies are okay with no crust. This comes together super quick and you could even assemble it the night before. Heck, it tastes good if it is reheated, so you could bake it the night before too. Whatever floats your boat. Makes your eggs happy. Makes your dog door open.
Protein rich eggs get a twirl with some milk then you are going to add creamy Havarti cheese. I am in love with Havarti cheese. It is soft, a little tangy but still mild. I could eat tons of it. It also made the vegetables in this palatable to my two littles. Spinach for fiber and iron. Red bell pepper because it is colorful and tasty. And there is sausage! Not Spam because we are being classy here, but smoked sausage that adds so much flavor to the dish. It's already cooked, so you just have to dice it up and add it to the eggs. Breakfast is easy. And pretty. And will make you have the day of your life. That's all we could ask for, right? Okay, let's make it.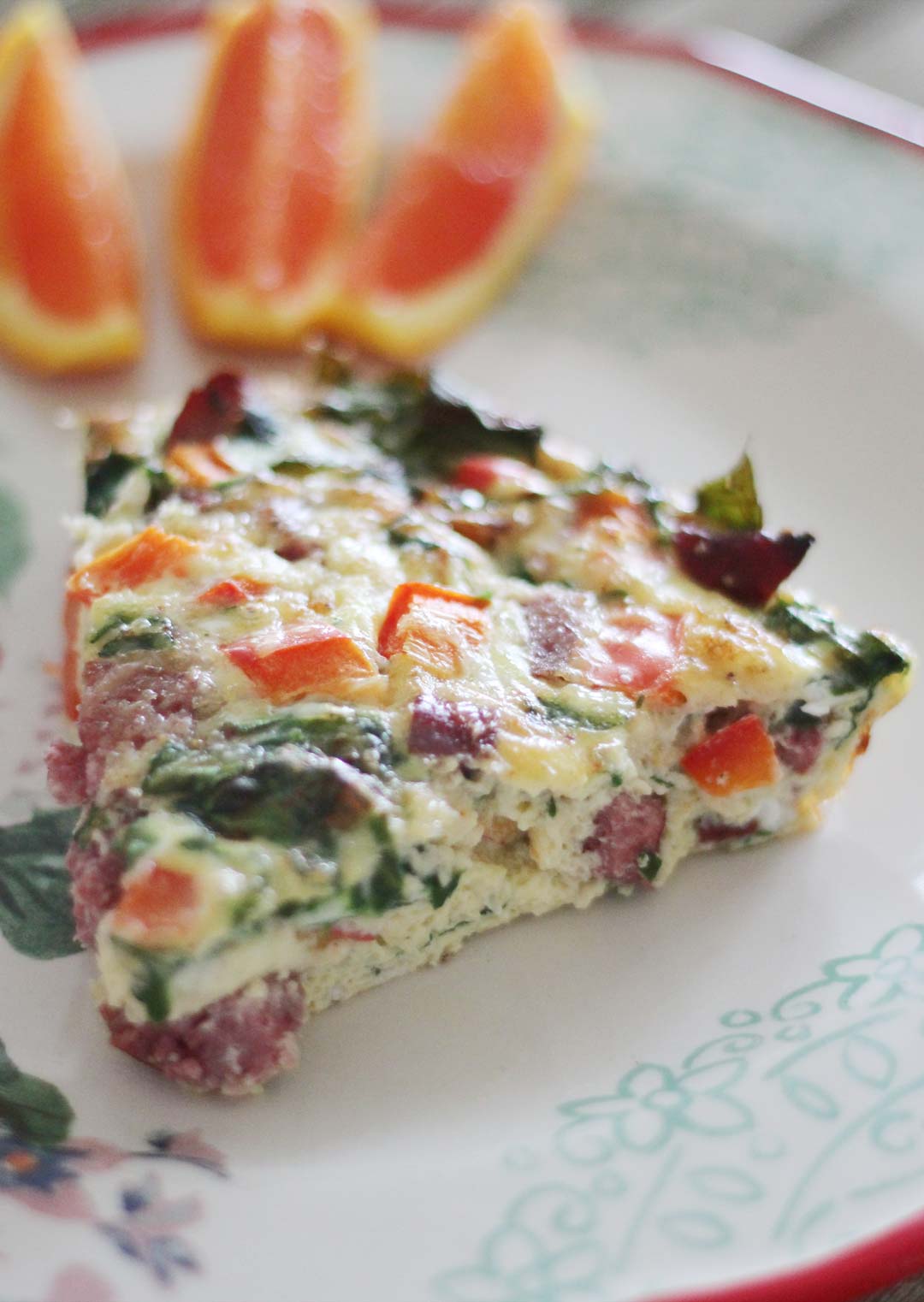 Print Recipe
Garden Sausage Frittata by Gutsy Gluten Free Gal
Ingredients
6 eggs

¼ cup milk (I used whole)

Salt and pepper to taste (I used about ½ tsp salt and pepper)

1 cup shredded Havarti Cheese (or other semi soft cheese)

1 cup fresh spinach- chopped

1 red bell pepper- chopped

1 12 oz. gluten free precooked smoked sausage- chopped into small pieces (I used Hillshire Farms Beef Smoked Sausage which is gluten free)
Instructions
1
Preheat oven to 400 degrees.
2
Line a round 9.5 in baking dish with parchment paper. If you don't have parchment, spray with cooking spray.
3
Whisk together eggs, milk and seasoning. Add the rest of the ingredients and mix until combined.
4
Pour into dish and bake for 30 minutes.
5
When done, let sit for five minutes then cut into slices.
6
Enjoy! This goes great with some fresh fruit.
Notes
Can be made ahead of time. Yay, easy morning!
Recipe Tools used and Products We Love from Gutsy!

If you click on an above link and purchase through Amazon an item recommended on our site, the GutsyGlutenFreeGal receives a teeny tiny amount from that sale. Thank you for helping to keep this site going and keeping gluten free delicious. We heart you.