Do you ever feel gross? Okay, stay with me! You look amazing, I only ask this because recently I have been feeling a bit large water mammalish. And we are friends. And friends listen to others talk about feeling gross. It turns out having a food blog where you cook and eat food. And then sit in a chair and write about the food. And then edit pictures about the food, means you are a sitting duck for fat molecule accumulation which in turn causes sluggishness. I have never been one to be concerned with the scale. The number is what it is. It's not gonna pay my property taxes if it's really low and it aint gonna pop my tires if it's high. I just want to be happy and healthy. Healthy is the main key. We eat pretty healthy as a rule because with a Type 1 Diabetic in the house, you have to pay attention to what you are eating. A good balance of proteins, healthy fats and high fiber are essential to not spiking that blood sugar. But we aren't crazy about it. If my sweet boy wants a cookie that I made, then I will let him have one. ONE. Not twenty. That is for when the diabetes has me stressed out and I'm  hiding in the pantry eating twenty. It is all about balance in our household.
These Enchilada Stuffed Zucchinis were born out of balance. I wanted to eat enchiladas. I also wanted Man Child to not have a carb heavy meal. I still wanted cheesy gooey enchilada flavor. So I decided to sub out tortillas for veggies and load them up with protein and fiber. These have the flavor of a Mexican meal without the heaviness. Have you ever used zucchini as a boat? It makes a fabulous food boat. Zucchini has a mild flavor but it still has some flavor. Sometimes lettuce just gets boring as a food holder. Zucchini is so in right now. Way to be trendy, gluten free and healthy. These come together really quick and aren't as messy as making enchiladas. I'm not sure why but enchilada sauce always sees me as a target. I could wear a full body apron/Hazmat suit and it would still somehow attach to my shirt. This is not messy.
So you are going to be cooking up some ground beef with Mexican spices, onion, and high fiber kidney beans. Mixing it with enchilada sauce so that it is…saucy, and then fill the zucchini boats with it. Top with cheddar cheese so it gets all melty, more enchilada sauce, tomato and cilantro. We even added some avocado and light sour cream to ours. My children are on a sour cream kick. It used to be ranch dressing. Now it is sour cream. Which is healthier. And stranger. This dinner was delicious and didn't make me feel weighed down. Winner Winner Healthy but Tasty dinner. Okay, let's go make it.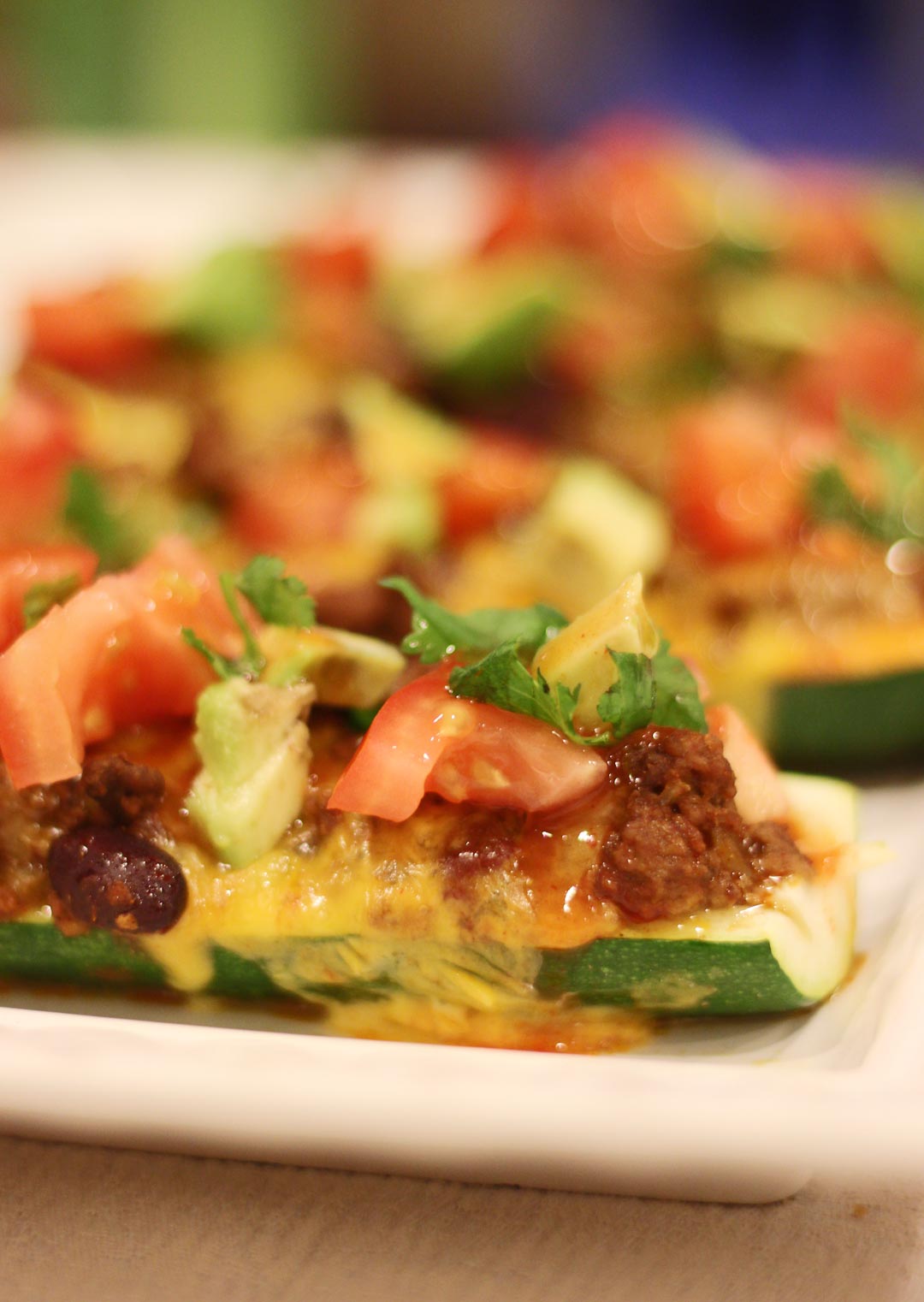 Print Recipe
Enchilada Stuffed Zucchinis by Gutsy Gluten Free Gal
Ingredients
4 large zucchinis

Dash of salt

1 lb ground beef (I used 85/15)

1 cup onion- chopped

10 oz enchilada sauce (I used Old El Paso mild sauce, make sure yours is gluten free)

1 gluten free taco seasoning packet (I used McCormick, but you could make your own too)

1 15 oz can of kidney beans(drained)( I used Bush's)

2 cups shredded cheddar cheese (see my note on GF cheese)

1 large tomato- chopped

¼ cup cilantro- chopped

Hot sauce, avocado and sour cream for garnish if you please
Instructions
1
Preheat oven to 350 Degrees. Line a large baking sheet with parchment or foil.
2
In a skillet over medium heat cook the ground beef and chopped onion until the meat is cooked through. Turn the heat to low and drain the fat off from the meat in a colander (you could now drain the kidney beans in same colander to save dishes). Add back to skillet and add taco seasoning and 1/3 cup enchilada sauce. Mix and add the kidney beans. Let simmer on low.
3
Cut the ends off each zucchini off. Then cut in half lengthwise. With a sharp knife, cut a V shape the length of the zucchini, being careful to not pierce the skin. With a spoon carefully scrape the inner "meat" of the zucchini out. It should look like a zucchini boat when you are done. You can discard the inner part, or save it for your own plans. Whatever makes life interesting.
4
Sprinkle a pinch of salt on top of each zucchini. Fill each zucchini with about 1/3 cup of the meat mixture and place on foil lined baking sheet. Top with cheddar cheese (about 2-3 TBS per zucchini). Drizzle each zucchini with enchilada sauce. About a teaspoon each or so.
6
When done baking remove from oven and drizzle any leftover enchilada sauce on top, followed by the chopped cilantro and tomato. Add hot sauce, avocado or sour cream if you like too. I'm always all about more toppings.
Notes
If you are buying pre shredded cheese, make sure you read the label. Some pre shredded cheese contains gluten to keep the cheese pieces from sticking to each other. Charming.
Recipe Tools used and Products We Love from Gutsy!

If you click on an above link and purchase through Amazon an item recommended on our site, the GutsyGlutenFreeGal receives a teeny tiny amount from that sale. Thank you for helping to keep this site going and keeping gluten free delicious. We heart you.