I'm going to be honest. This meal was an afterthought. It was a blip on my radar. I'm talking about dinner. Not the fabulous creation that is Caprese Lobster Pasta. We had been running around all day and then boom! Small people were looking at me expecting to be fed in the next hour. For a gal who thinks about food constantly, I had really dropped the ball. Plus it was a Friday. I like to make dinner a little extra special on Friday's in celebration of the whole family getting to be together for the weekend. Friday nights are my fave. Full of so much possibility. The hope of sleeping in (happens 40% of the time), the longing for a date night with Boyband (happens 15% of the time) and the idea that I will go and work out (happens (0.00099 % of the time). Even if all my hopes and dreams don't come true, I still like Friday.
I had gone to Trader Joe's that morning and bought an odd assortment of items. This always happens when I don't have a definitive list. It is bad for the hips and the pocket book. Does anyone say pocket book anymore? Isn't it called like instant cyber credit card paying thingamajig now? So I had purchased an array of goodies. One of them was langostino lobster. Okay, before someone clobbers me… technically people have different viewpoints on langostino. Is it really a small lobster? The name means tiny lobster in Spanish. Is it more a shrimp? Crawfish? Many restaurants use langostino and call it lobster. I'm looking at you place that rhymes with Fred Flobster. I believe it is closer to some sort of small spiny lobster. Whatever the heck it is, I love it. It is a very sweet meat, I feel more similar to crab. It cooks up super quick and makes you feel like a fancy shmancy pants. Do people say fancy shmancy anymore? Isn't the new phrase…dope? Baller? Amaze? I've got to stop. Again, I had purchased langostino and I just wanted to eat the whole bag. I also had fresh basil plants. The basil plants at TJ's are…wait for it…amaze. Nope. Can't use it. I hate myself a little now. I put it all together to make a fantastic dinner. If you want, you can sub real lobster. I mean, I'm a poor blogger so go for it if you want. I'll live vicariously through you. Describe each bite in the comments section. You could also use shrimp because I adore shrimp.
I boiled our favorite quinoa pasta, tossed it with a hearty tomato cream sauce and then added toppings. It is like a pasta pizza. Not really but there is a base and then stuff on top. The flavors all came together to give the fresh taste of a caprese salad, delicate tenderness of the lobster and pasta that still has some bite to it. We loved it! It is the kind of dish you could serve to company to impress them or just whip up when you are short on time. Or to celebrate Friday. Hat's off to you, Friyay.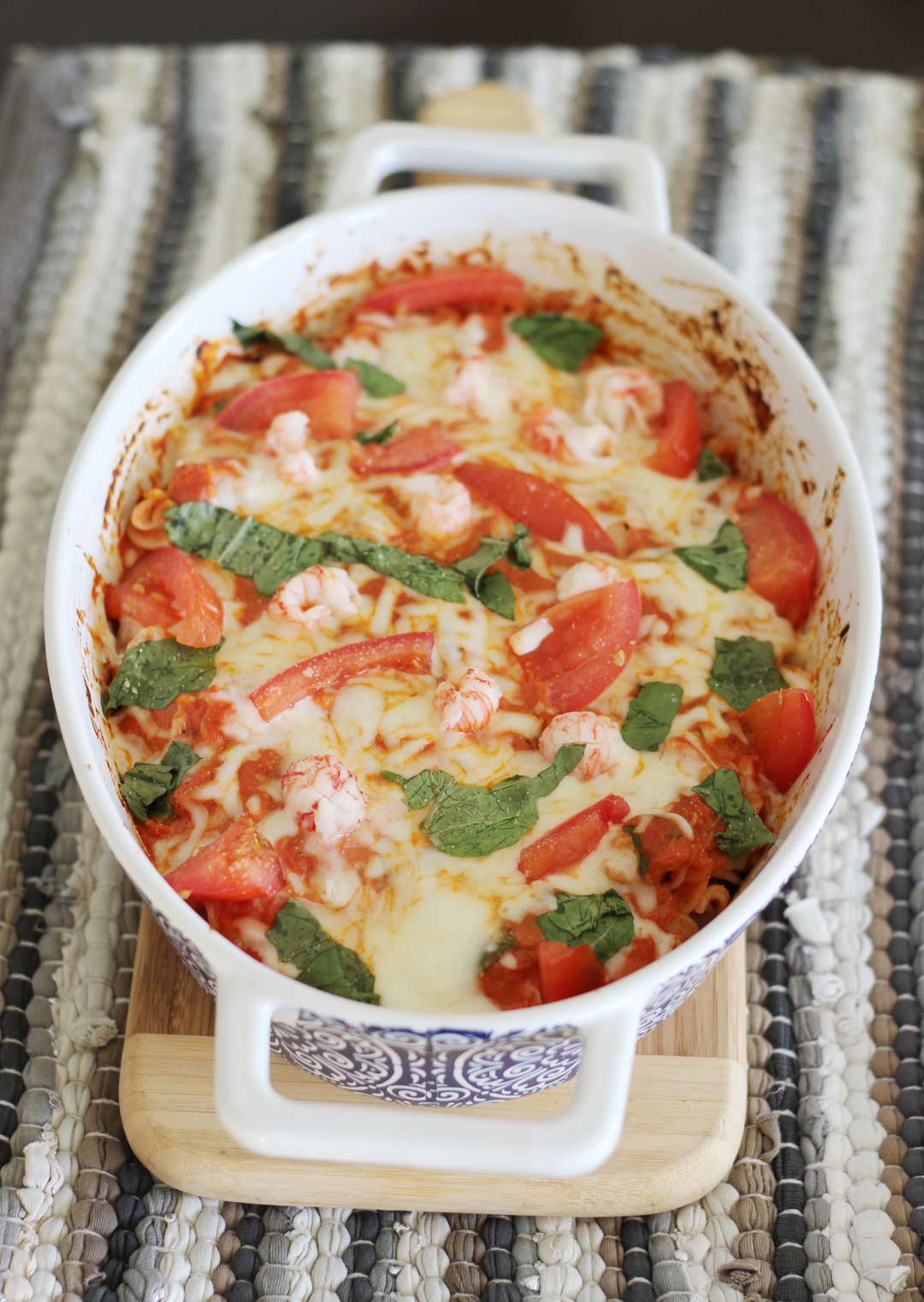 Print Recipe
Caprese Lobster Pasta by Gutsy Gluten Free Gal
Ingredients
8 oz langostino lobster (Trader Joe's has it precooked and frozen-that is what I used)

¾ cup heavy cream

2 cloves garlic minced

¼ tsp salt to taste

8 oz quinoa pasta (I used Trader Joes, but sub whatever gf pasta you want that is penne like)

1 jar(24 oz) gluten free marinara or favorite pasta sauce (I used Prego)

1 cup shredded mozzarella cheese (Make sure gluten free if not hand shredding it)

½ cup basil leaves (torn in half)

2 roma tomatoes chopped in large pieces
Instructions
1
Preheat the oven to 350 degrees.
2
Bring a pot of water to a boil on the stove. When water is boiling add pasta and cook until softened but not mushy. Please no mushy gross pasta.
3
While pasta is boiling make the sauce. In a saucepan over medium heat add cream, salt and minced garlic. Let cook for one minute or until tiny bubbles are beginning to appear. Add the marinara sauce and mix until combined. Heat for a few minutes until the sauce is heated through. Taste sauce to see if you would like to add more salt.
4
If you are using frozen langostino, and it is not defrosted, defrost by placing lobster in a bowl of cold water. It should only take about 5 minutes. When it is done, dry on a paper towel. No mushy wet langostino please. If you are using fresh, then just look at how pretty it is.
5
When pasta is cooked, drain off water in a strainer and add pasta back to the pot it boiled in. Add ¾ of the creamy sauce mixture to the pasta. Gently mix.
6
In an 11 by 7 casserole dish or something in that size family but that is smaller than a 9 by 13, add the saucy pasta. On top of the pasta spread the remaining pasta sauce followed by ¾ of the cheese. Then arrange the chopped tomatoes, basil and lobster on top of that. Top with the remaining shredded cheese. Cover with foil.
7
Bake for 10 minutes. Then remove the foil and bake for another 10 minutes.
8
Remove from the oven and appreciate your happy dinner.
Recipe Tools used and Products We Love from Gutsy!

If you click on an above link and purchase through Amazon an item recommended on our site, the GutsyGlutenFreeGal receives a teeny tiny amount from that sale. Thank you for helping to keep this site going and keeping gluten free delicious. We heart you.