Do you ever feel like you have to hit the breaks on eating ALLLLLLL the baked goods? I've been doing a plethora of baking lately. An abundance of sugar work. A mountain of mochi. Not really the mochi part but that would be cool to learn how to make. This dish is full of filling whole foods that gasp(!) have nothing to do with dessert.
I will tell you another tale. I'm sick of dishes. I run the dishwasher at least twice a day. Is there anyone else out there in that camp? With us all home ALL THE TIME (I meant that capitalization emphasis in the nicest possible way) the dishes just pile up. I think the dogs use spoons now to eat grass in the backyard because I don't know how our family could possibly make this many dishes. We won't go into the fact that I use about 30 spoons when recipe testing salad dressing. I can do what I want.
So I wanted a go to meal that only used one pot to cook the stuff in! I turned to my trusty cast iron skillet. She is so versatile and a work horse in my kitchen. All the ingredients cook down beautifully with that signature cast iron sear.
Another result of being home ALL THE TIME, is produce. Our garden is still going and the peppers have been abundant. I had five million red bell peppers from outside and wanted to use like two of them at least. We are sick of rice so I subbed in some itty bitty adwarble taters, added sweet red onion, garlic and some smoked sausage. But it needed a sauce. I believe almost everything in life needs a sauce. Sauce is the icing on the savory cake. Oh, this creamy chimichurri is sooooo good. I love chimichurri as it is because anything garlicky and a little spicy is my love language. I wanted a little creaminess to bring out the richness of the sauteed ingredients.
This dish was gobbled up by all of us. Kiddos may like a light drizzle of sauce because it is very flavorful. But this is a quick meal (the Man Boy helps make it with me) that tastes delicious, has real food ingredients and doesn't make a big mess. Dinner is served!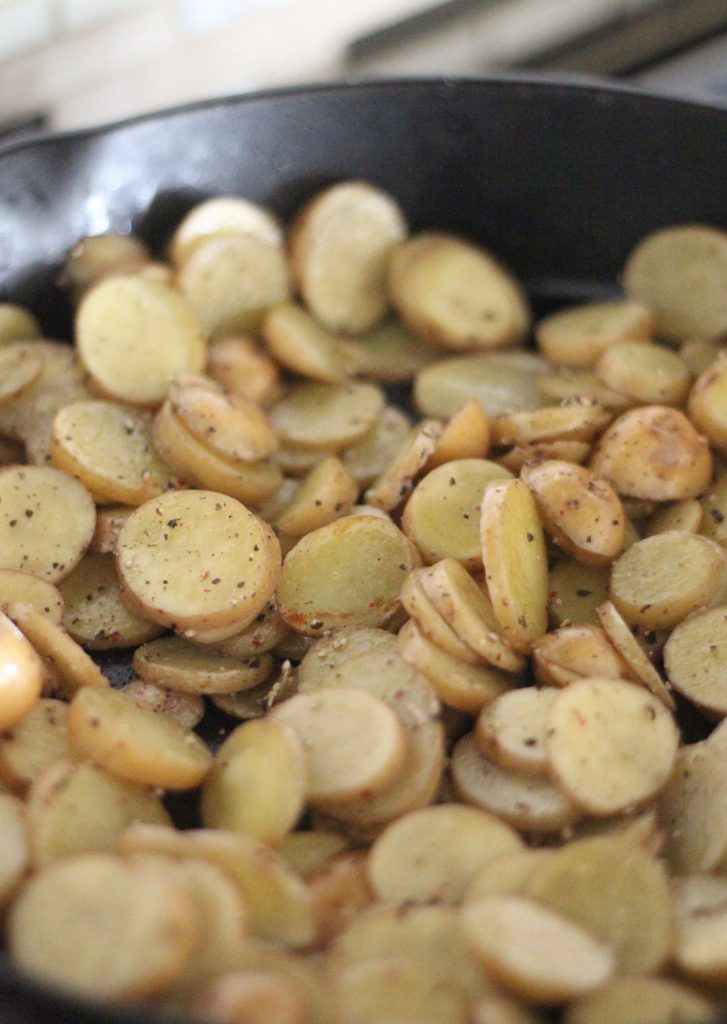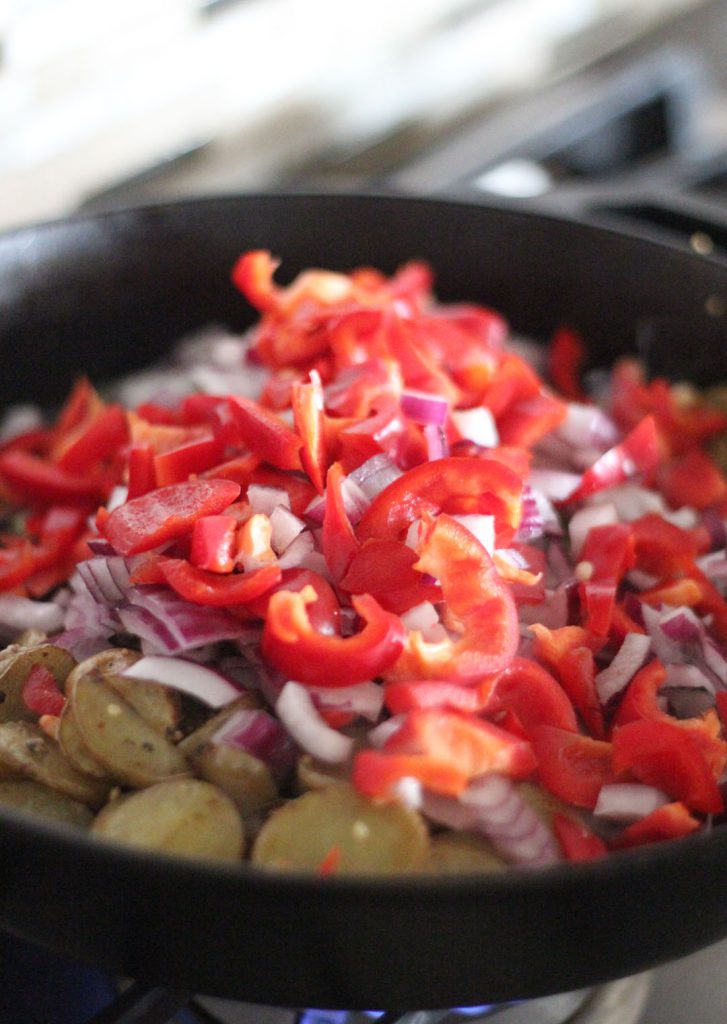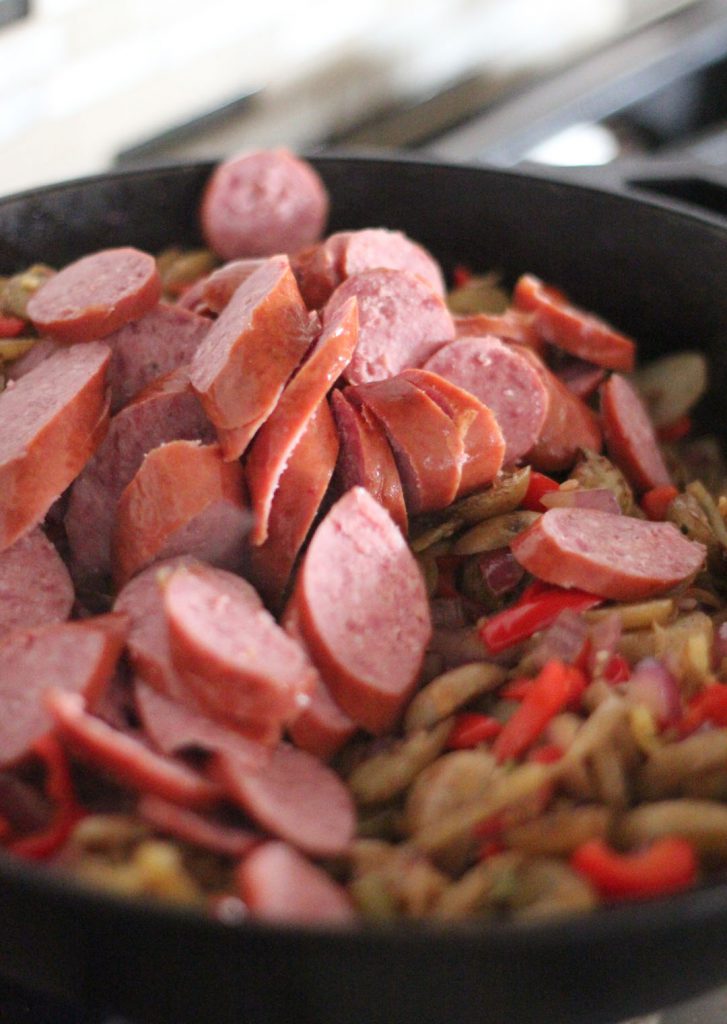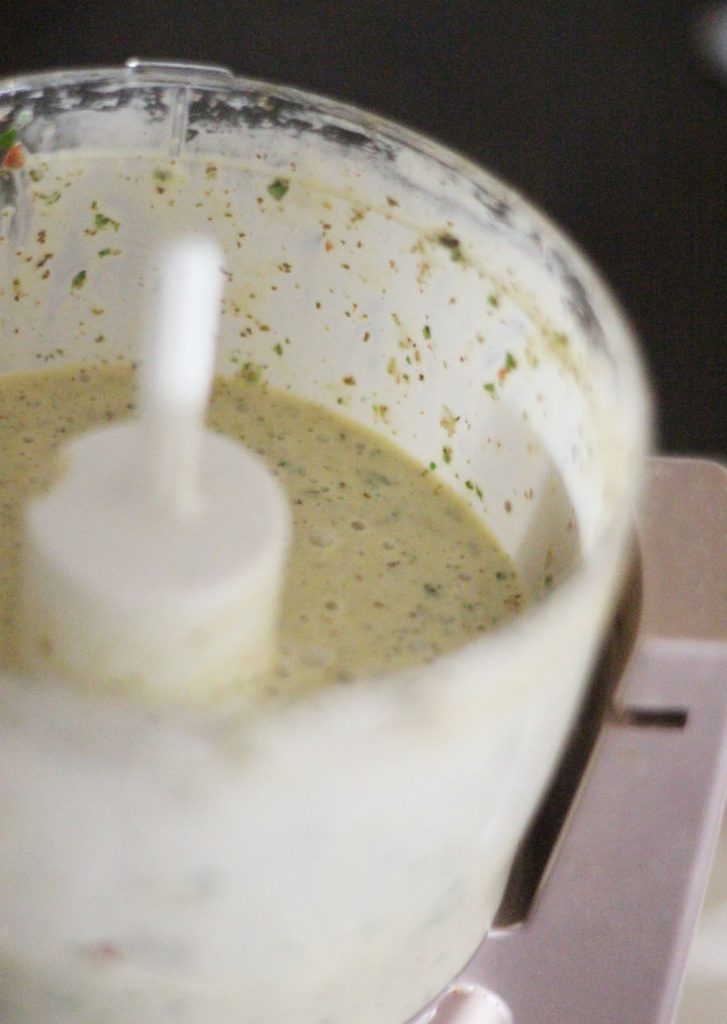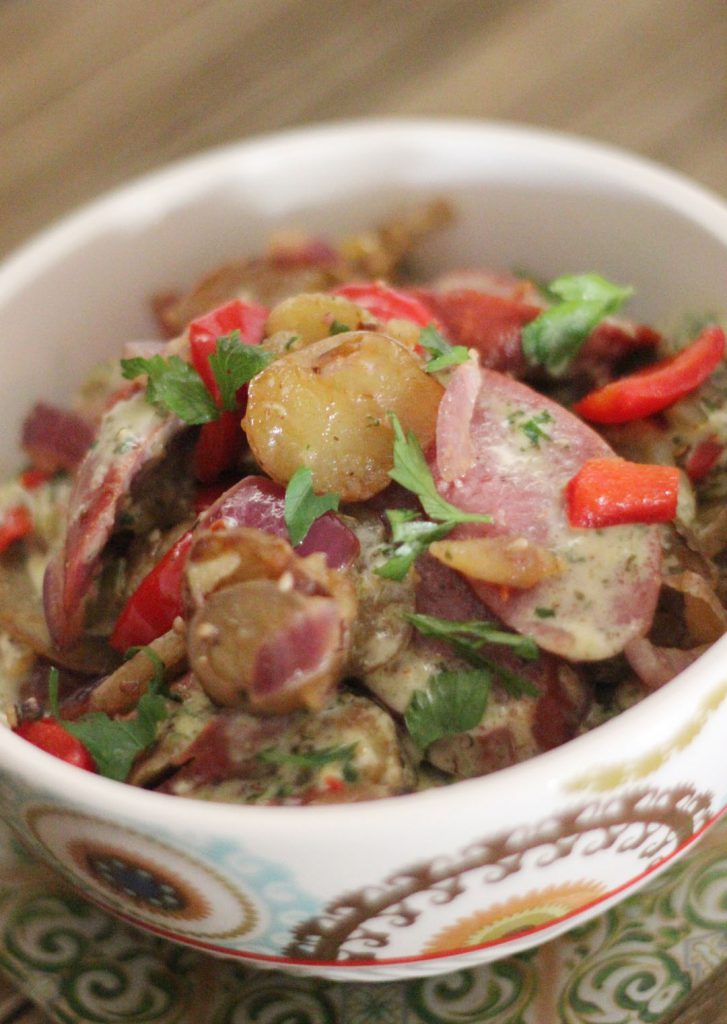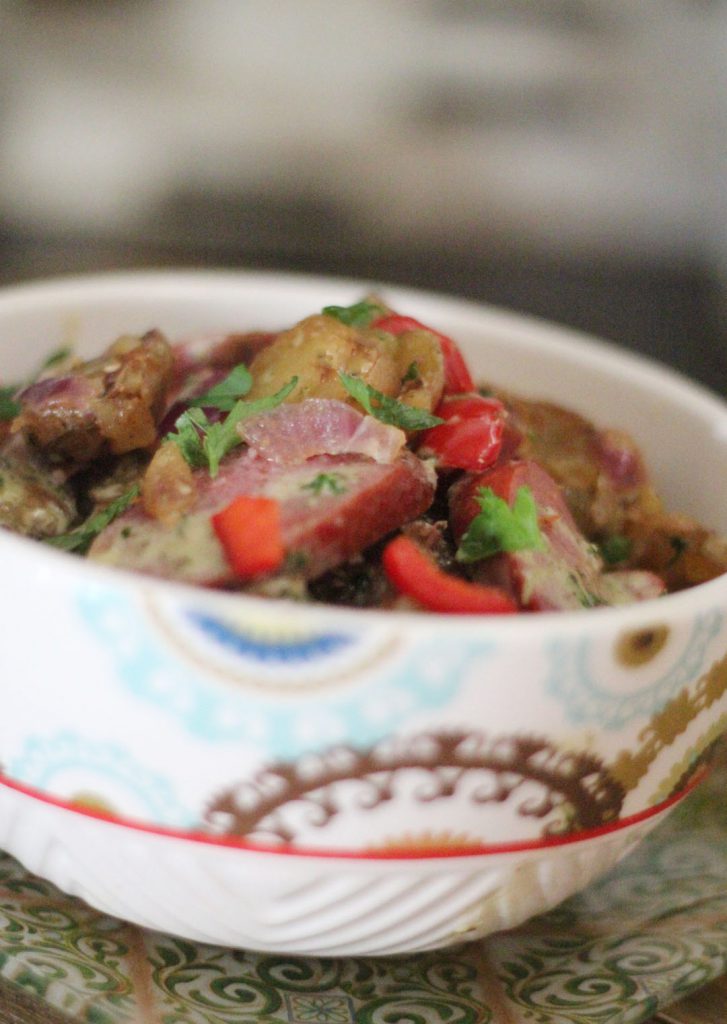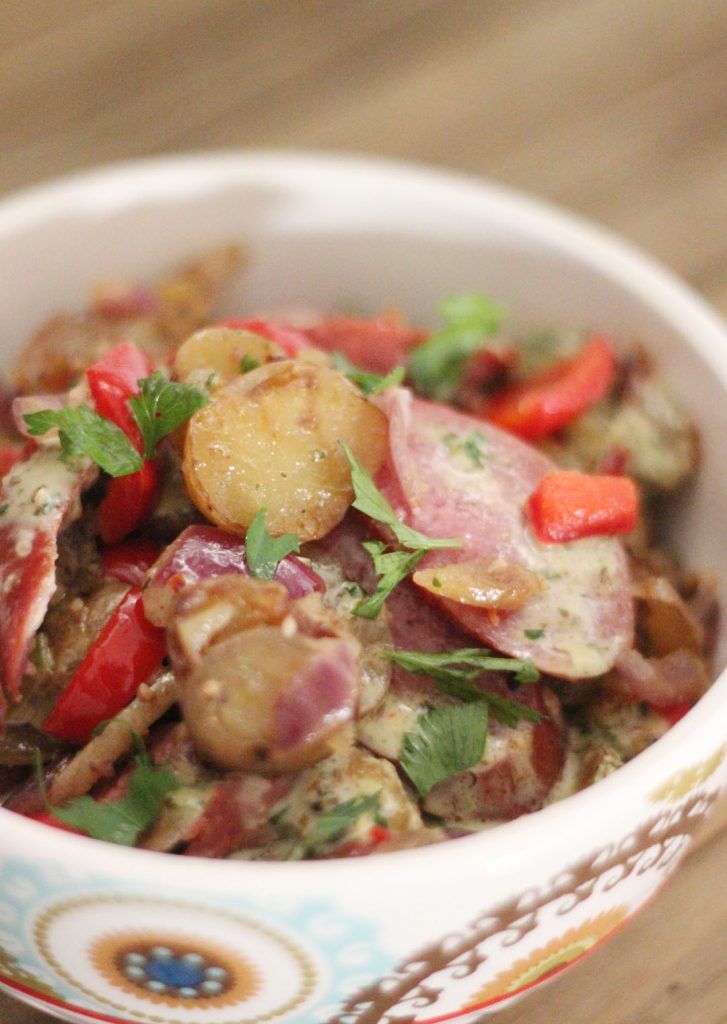 All items are used and loved by me! *affiliate links*
I absolutely love this mini food processor. It gets some of the most use in my kitchen out of all the gadgets. I give them as gifts with dressing recipes attached. They are a super fun item and last a looooong time. And it comes in pink!
Love the wood look in these pics? It is actually a wooden pallet board! It is awesome for setting up a charcuterie on or rustic desserts!
I have a weakness for bowls! A pretty bowl makes even Cheerios look sophisticated. They don't make the bowls featured in my pictures anymore(how rude Target!) but I came across these and just had to add to cart. So pretty!
This is the work horse of my kitchen. I use it the most of all my skillets. You can't beat the sear and flavor cast iron will get you. They can transfer to the oven without a thought, look rustically beautiful and last forever. These are a necessary item for any kitchen.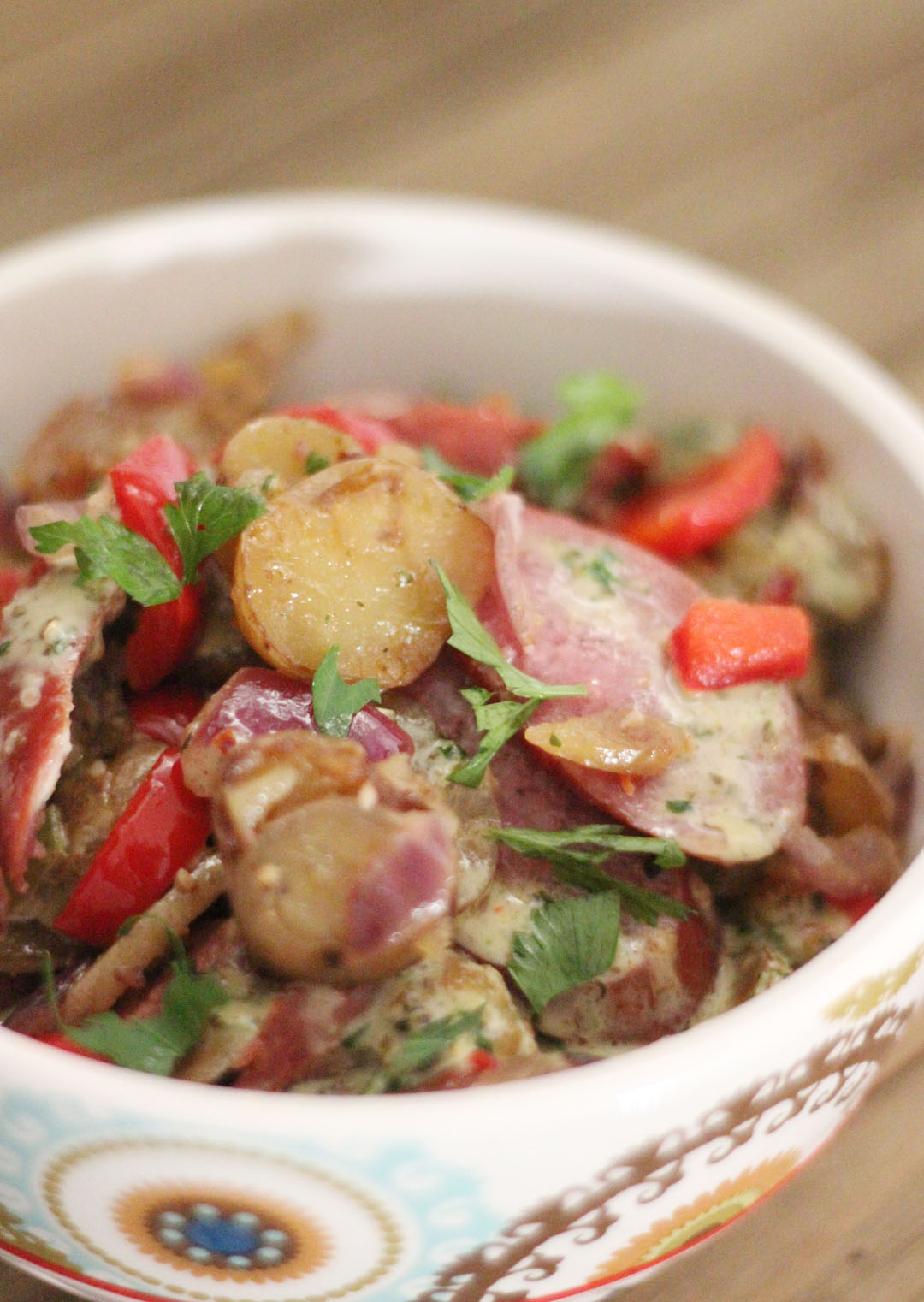 Print Recipe
One Pan Rustic Bowls with Creamy Chimichurri
Easy gluten free main dish full of hearty sausage, wholesome vegetables and drizzled with an out of this world creamy chimichurri sauce. All in one pan!
Ingredients
4 TBS extra virgin olive oil

1 lb. small very thinly sliced potatoes- I used some super small Yukon Golds from Trader Joes

2 red bell pepper – roughly chopped

1 red onion- diced

1 lbs. smoked sausage-I used a Hillshire Farm one. Aidells would be delish too

1 tsp salt

½ tsp ground pepper

1 TBS minced garlic

For the Creamy Chimichurri:

3 TBS red wine vinegar

2 TBS water

¼ cup Extra Virgin Olive Oil

4 garlic cloves minced

3 TBS finely chopped parsley

2 TBS finely chopped cilantro

2 TBS honey

½ tsp ground pepper

1 tsp salt

2 TBS dried oregano

2 tsp crushed red pepper flakes

½ cup mayonnaise
Instructions
1
Add 2 TBS olive oil to a large cast iron skillet (or large other material skillet) over medium. Add the potatoes and a dash of salt and pepper. Cook the potatoes, stirring frequently over medium until soft. This should take about 20 minutes. When they are starting to get soft add the 1 TBS minced garlic and 1 tsp salt and ½ tsp pepper. Stir until garlic is sauteed, about 30 seconds.
2
Next add the peppers and onions to the skillet with the potatoes and additional 1 TBS olive oil. Continue cooking until the veggies are soft, stirring frequently.
3
While the vegetables are cooking make the creamy chimichurri.
4
In a food processor or blender add all the chimichurri ingredients and blend until smooth. It will be a thin consistency.
5
Once vegetables are soft and chimichurri is made, add the sliced sausage to the skillet mixture and cook until warmed.
6
To serve, spoon some of the sausage and rustic vegetables into a bowl and cover with desired amount of chimichurri sauce. We do about 2 tablespoons. Enjoy!
Notes
You may have extra sauce left over. It is delicious stored in the fridge and later used for carrots, French fries, on a sandwich or even on meat. Or to drink it as a real gut blaster.