Oh I'm trying to eat lighter right now. I know I keep saying that. I have to. That is the story of life, isn't it? Everything in moderation. But lately moderation seems to just be a lot of Chick fil A with some baked goods mixed in. I love fresh salads and I specifically love Greek Salad. There is a Mediterranean food place by us that makes such a delicious Greek Salad. It makes me feel super healthy. Of course I like to follow it up with some Greek feta cheese fries with garlic sauce just for good measure. I can't get too healthy. 😉
This is a go to salad in our house. I usually have humus on hand because we like to eat it with carrots as a snack. Have you tried the Sabra spicy red pepper hummus? It is so good. It tastes like fire but it is so good. This recipe uses plain hummus but you could definitely sub a fun flavor in too.
All of the fresh veggies, salty cheese and olives and the creamy slightly garlicky dressing make this perfect as a side dish or even main meal. Add some chicken. Buy a plane ticket to Greece. It'll make you happy. I almost featured just the dressing as a recipe because it is so good!
Let's Go Make It!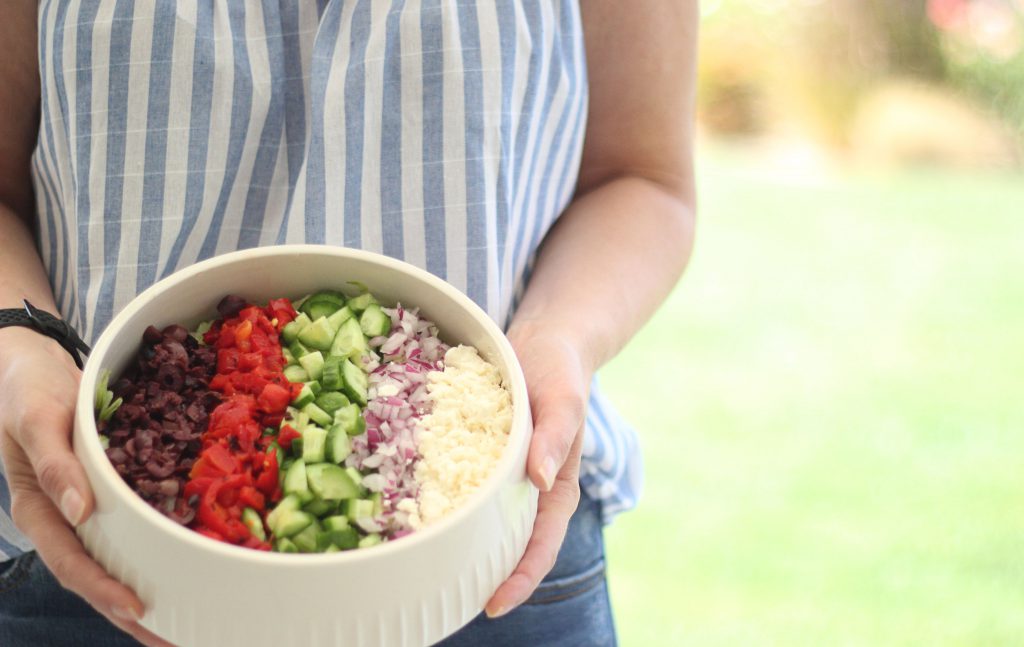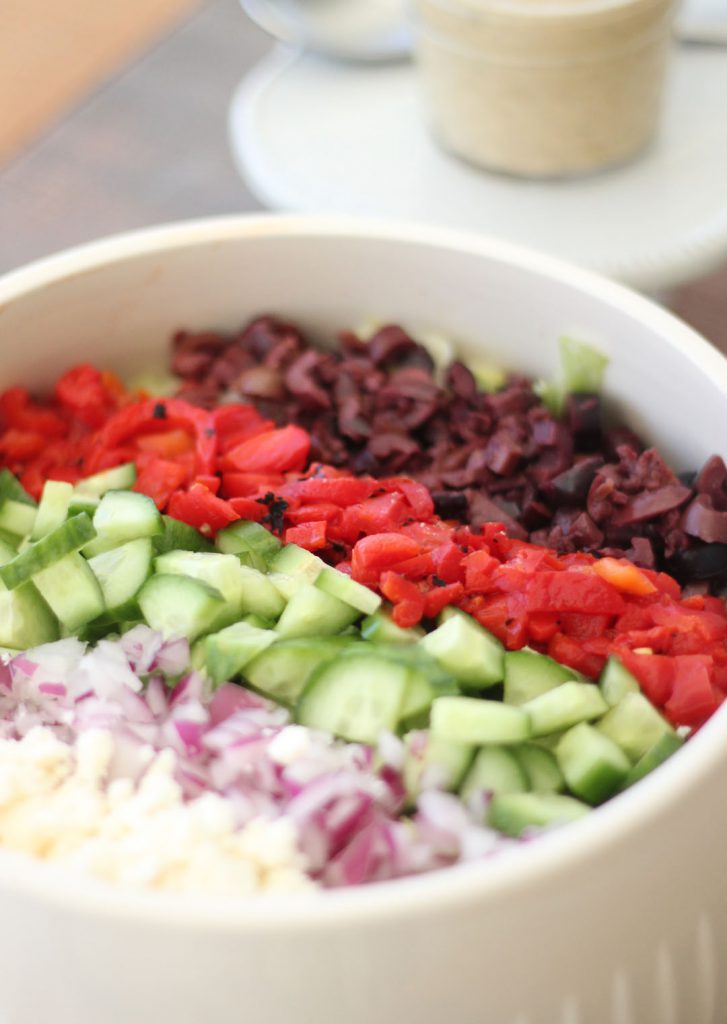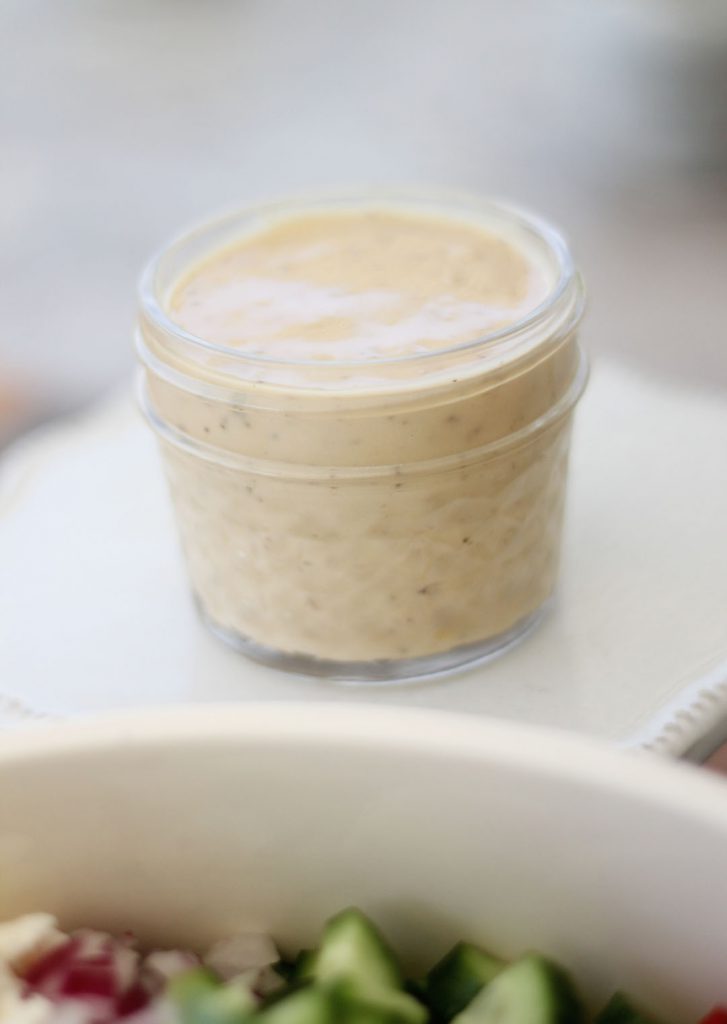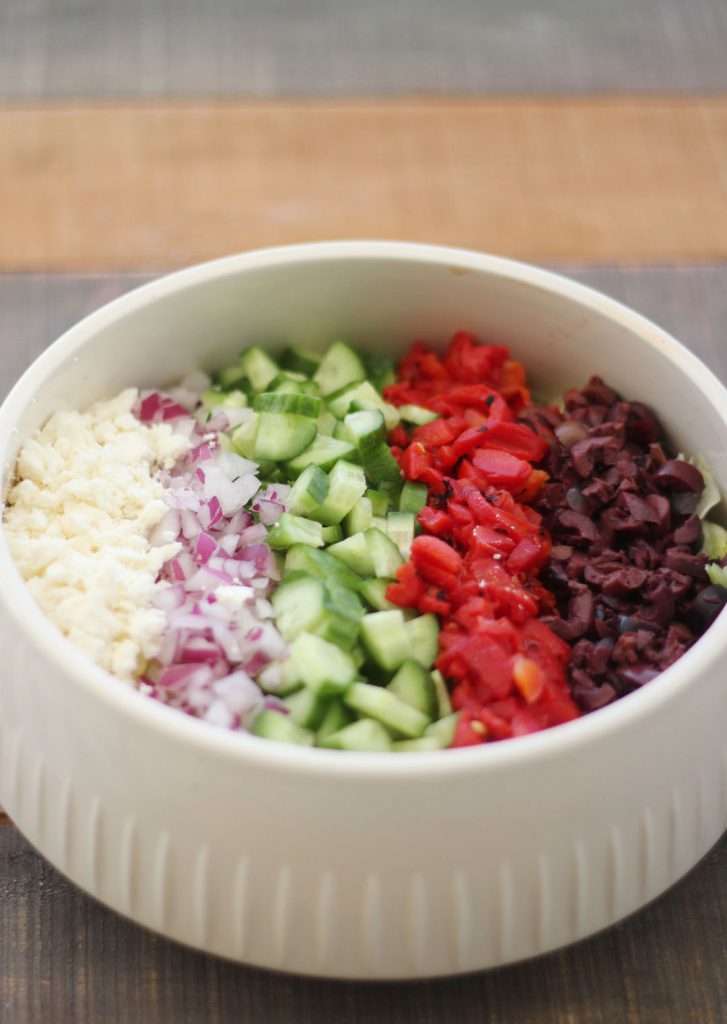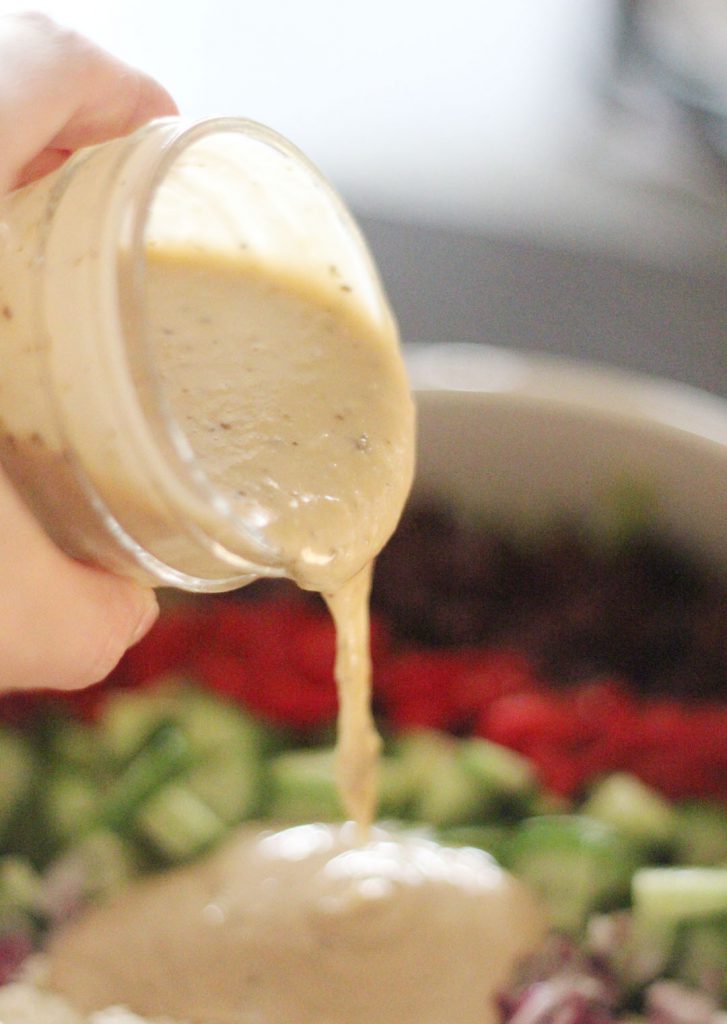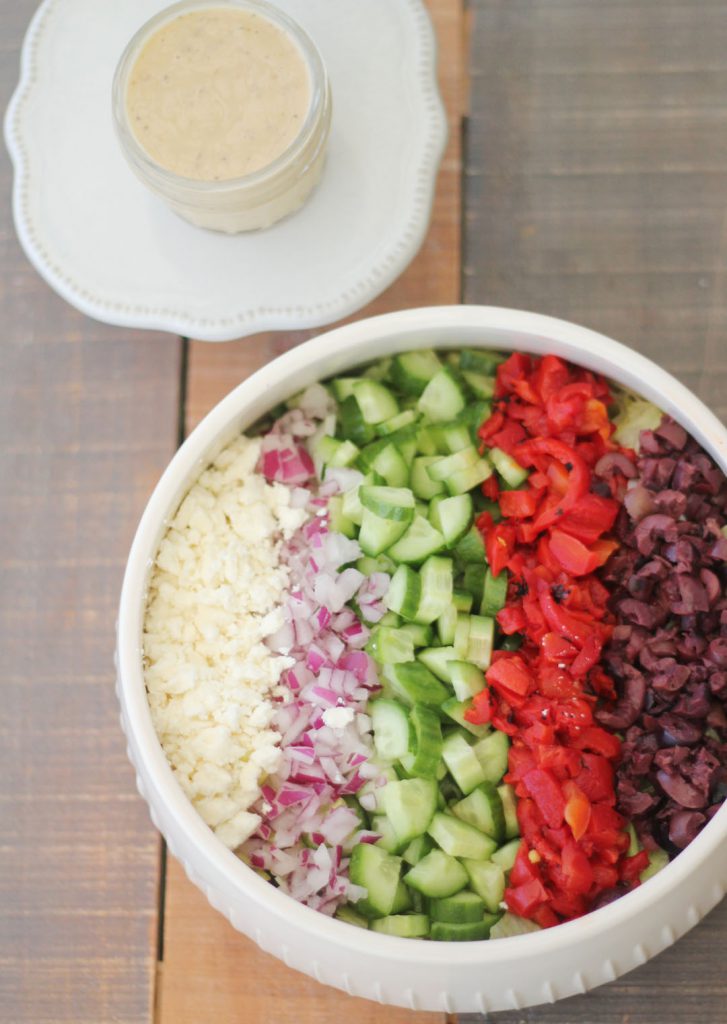 All items used and loved by me! *affiliate links*
If you are a dressing fanatic. You must have one of these. I use it almost every day. It is the perfect mini processor. Comes in several colors too. Makes a great gift!
I love a big versatile bowl. Salads, casseroles, even meatballs look more glamorous in them.
Do you store your dressing in Mason jars? I do. They are perfect and Ree Drummond the Pioneer Woman does too. And she can do no wrong. I use these all the time.
In case you would like a salad holding shirt of your own, this is the one I am wearing. heehee. It is actually a super cute shirt even with a sweater and it hides things that ahem may have been produced by not eating enough salad.
Sharp knives are a must for salad chopping. I have decent knife skills but I also have decent almost cut off my finger skills. I like these because they are sharp but I don't feel like I'm going to need a blood transfusion when I'm done.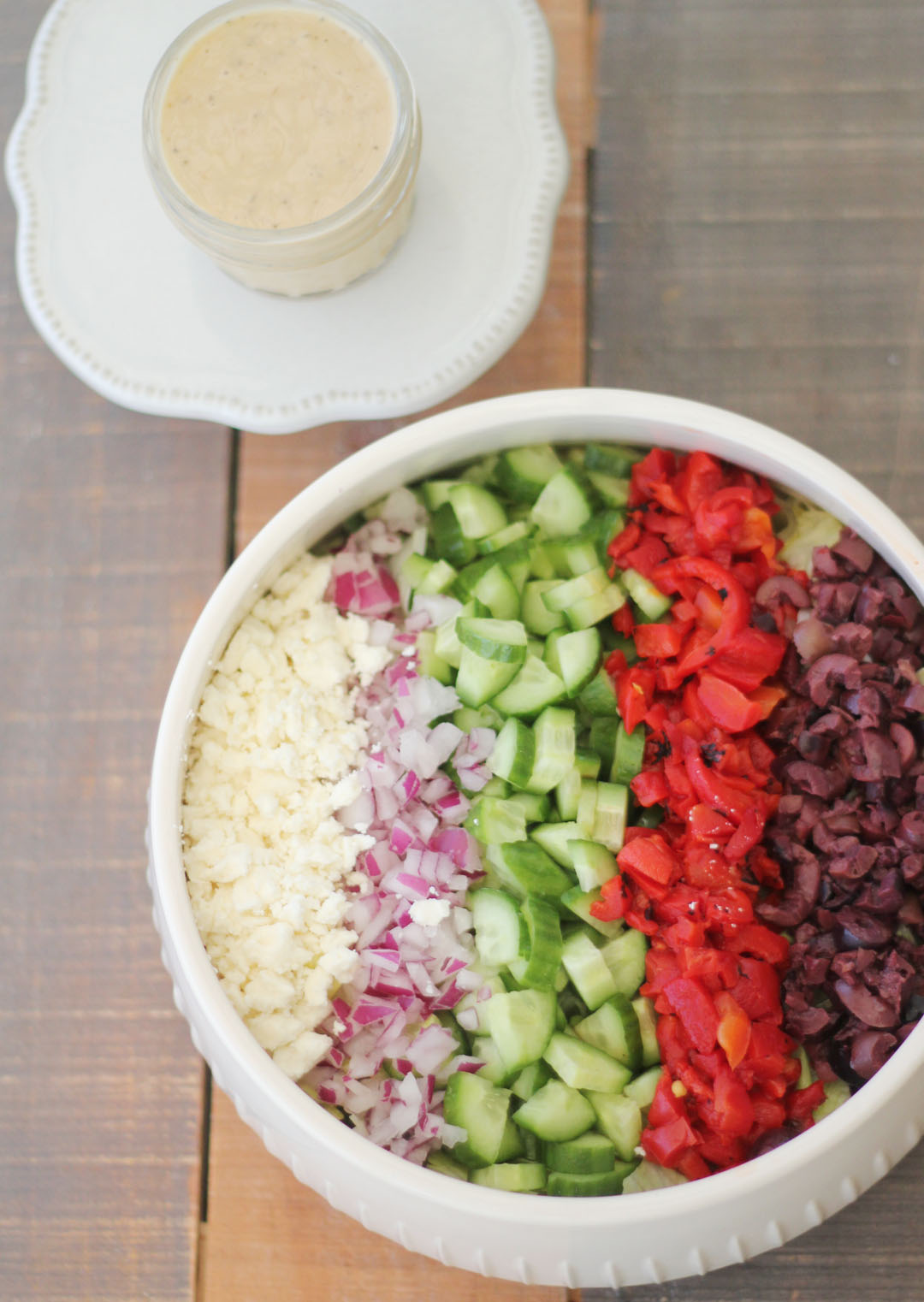 Print Recipe
Gutsy Greek Salad with Creamy Hummus Dressing
A flavorful Greek salad full of fresh and lively flavors topped with a creamy hummus dressing.
Ingredients
1 head iceberg lettuce- chopped fine

1 cup cucumbers- diced

1 cup roasted red peppers-chopped

½ cup crumbled feta cheese

½ cup Kalamata olives- chopped

3 TBS red onion- finely diced

Hummus Dressing: (makes about a cup of dressing)

½ cup plain humus

¼ cup extra virgin olive oil

¼ cup red wine vinegar

2 minced garlic cloves (about a teaspoon)

1 TBS honey

1 tsp oregano

1 tsp salt

½ tsp ground pepper
Instructions
1
Toss all the salad ingredients together in a bowl.
2
In a food processor or blender (or whisk and bowl) blend all the humus dressing ingredients together. Dressing tastes best if made ahead but no worries if you need it right away.
3
When ready to eat, toss the salad with the dressing and enjoy!
Notes
As always, make sure your ingredients are gluten free! I used Sabra humus, President feta and Mezzetta olives. All gf.