Do you feel it? Are you wearing stretchy pants? Is your mind in a sugar fog? I went into Christmas week really strong. I was eating healthfully. Not indulging too much. Burning calories by wrapping presents and keeping a bulldog from eating those presents. Then the time came for the actual Christmas eating and I just started ramping up the indulging meter. An extra helping of potatoes here, five lbs of prime rib there, some innocent scoops of ice cream. If you use a 4 cup measuring cup as an ice cream scooper. I've been in an eating pit the past five days folks. I didn't really get many clothes for Christmas but if I had the buttons would be gasping for breath. I did get a new pair of purple Hunter boots that are fabulous and I am wishing they were full body galoshes at this point to hide the lower tummy pouch that Santa brought.
I'm craving non holiday food. I need to drop the sugar and hit the spinach. This roasted vegetable salad is perfect. It is hearty and comforting because it has warm components to it. Yet, it is full of healthy vegetables to ease the digestion and get me some spring back in my step. You won't feel like you are missing out on anything. There is cheese in this because cheese is just supposed to be in most things but if dairy is scary, then sub cashew cheese or leave it out. It is Gluten Free of course, also. Now I used to think gluten free salad was a no brainer. Umm, no. People love to add gluten into their salad. I think I saw someone using whole King's Hawaiian rolls as croutons. True story. Always check your dressings if you are doing store bought. Gluten pops up in them. I top this Roasted Vegetable Salad with a balsamic vinaigrette. It isn't overpowering. Though I once drank what was left out of a mason jar as Boyband watched and it went down the wrong pipe. Maybe that is why my coughs always smell like antipasto salad.
If you are looking to eat healthier for the New Year or just want a delicious salad that isn't straight up rabbit food, you have come to the right place. Did you know when you roast vegetables it brings out a really deep rich flavor to them? Cherry tomatoes get sweeter, red onions less acidic and more robust. Zucchini becomes a key player and bell pepper gets way more love. You are layering delicious roasted vegetables on top of crunchy lettuce and then topping them with cheese. The cheese is going to get soft and dare I say melty and become friends with the veggies. Next you can add some grilled chicken breast and a sprinkle of almonds. Maybe a wedge or ten of avocado. Delish! Let's make it!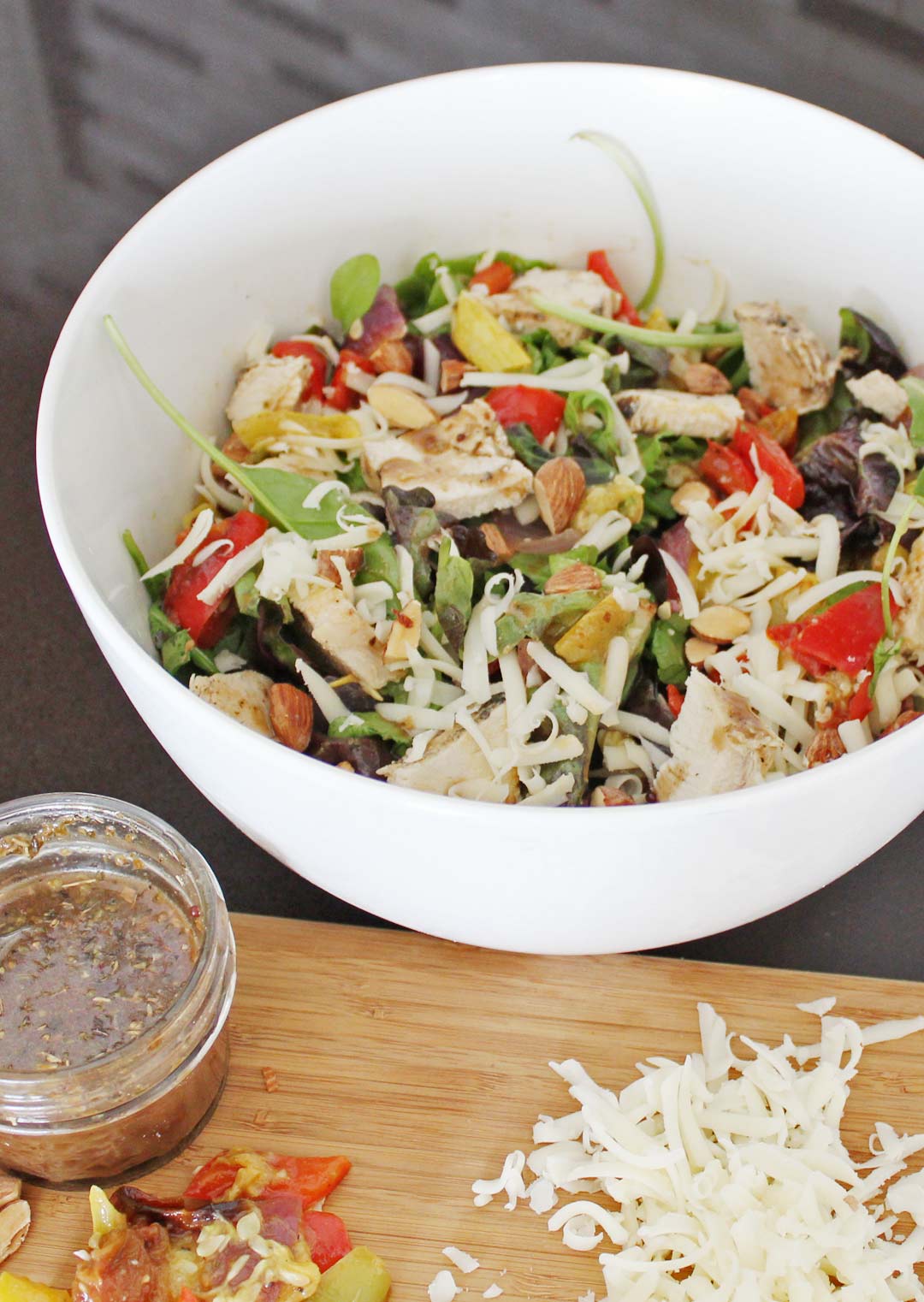 Print Recipe
Roasted Vegetable Salad with Balsamic Vinaigrette by Gutsy Gluten Free Gal
Ingredients
1 red onion –peeled and quartered

1 red bell pepper- top and seeds removed thickly sliced

1 green bell pepper -top and seeds removed thickly sliced

1 ½ cup whole cherry or grape tomatoes

2 summer squash or zucchini- ends removed thickly sliced lengthwise

2 TBS olive oil

Dash of salt and pepper (I believe a dash is about ¼ tsp but it is not scientific)

3 cups mixed greens or spinach

2 boneless skinless chicken breasts (for making a faster meal you could sub rotisserie chicken or pre-bought grilled chicken) *

1 TBS olive oil

½ tsp garlic powder

¼ tsp paprika

½ tsp salt

¼ tsp pepper

1 ½ cup shredded mozzarella cheese*

2 TBS chopped almonds*

For the dressing:

2 TBS honey

2 TB balsamic vinegar*

2/3 tsp garlic powder

½ TBS oregano

1 TBS water

½ tsp salt

½ tsp pepper

¼ cup olive oil
Instructions
1
Preheat the oven or grill to 450 degrees. Drizzle a large sheet pan or jelly roll pan with an edge with 2 TBS olive oil. Toss the chopped red onion, bell peppers, tomatoes and squash with the oil and dashes of salt and pepper. When oven is ready, roast the vegetables for 30 minutes, turning the veggies half way through so they evenly roast and don't stick to the pan. Remove from the oven when done.
2
While veggies are roasting make the dressing. To a mason jar, mini food processor, or bowl with a whisk, add all the dressing ingredients and mix thoroughly. It should not have any separation of oil and other ingredients. Set aside.
3
Time for chicken. Heat a grill pan or bbq grill or even frying pan over medium heat. Place the chicken on a plate and season with garlic powder, paprika, salt and pepper. To the hot pan add 1 TBS olive oil and make sure it coats the bottom. Add the chicken breast to the pan, and cook for about 5 minutes per side. Or until done. Your chicken breasts might be bigger than mine. It's just a way of life. I embrace chickens of all sizes. Make sure it is not pink inside but don't cook it until it could be a beret either. When done and not too hot, slice chicken into pieces.
4
Drizzle 2 TBS of the balsamic dressing on the finished roasted vegetables and toss to coat.
5
In a bowl add the lettuce or spinach then top it with the roasted vegetables. Top that with cheese and chicken. Sprinkle nuts on top of that and add your preferred amount of dressing. Toss the salad. And think of how healthy you are.
Notes
We have used the Trader Joe's grilled chicken strips and not had any issue with contamination Make sure your cheese does not contain gluten if you are a celiac friend. Check those nuts for contamination too if you are celiac. Some people cannot do balsamic vinegar because it is irritating to the gut. You could sub apple cider here.