Do you have a staple dinner that you love? I grew up with a small rotation of meals that my mama would make. Her meatloaf always smelled divine. The after dinner meatloaf sandwich was even more heavenly. To this day I am still a huge fan of meatloaf. When the Boyband and I got married, meatloaf was a big bone of contention for us. He didn't care for it all that much. But don't worry, I made a believer out of him. My Cheddar BBQ meatloaf is the bomb, so if you are a meatloaf lover, you should try it! And if you don't like meatloaf, try it anyway. You may be surprised that meat in the shape of a rectangle can be so tasty and comforting. So meatloaf was a staple when I was growing up. The staple in our house is Taco Salad. I don't like to repeat recipes because I'm always on to the next food obsession and that requires us to eat it for dinner, but taco salad appears about once a month. The Man Boy would like it every week. I can't commit that hard but it truly is good enough to be eaten every week!
When I was in elementary school I used to spend about a week each summer going with my best friend and her family to her grandparents' beach house. I have such fond memories of that time. Sand in unreasonable places, falling asleep to the sound of the waves, trying to boogie board and realizing you just can't learn coordination. It was all truly a great time. But one of the things that stuck with me the most was the food. Her mother was an excellent cook and since my life has always revolved around food, I waited with anticipation to see what we would be served three times a day. We would go to the farmer's market there and she would pick out fresh produce. I mean vine ripe tomatoes, crisp lettuce, the creamiest of avocados. Forget Toys R Us, I wanted to pick out treats from the produce stands! One of the lunches she served was a variation of this taco salad. I have gluten freed it and adjusted it to our family's preferences but it still reminds me of sitting at the dining room table overlooking a beach in Monterey and feeling my stomach smile. I also recollect her serving it to her mother in law, and as a married woman now myself, I know that you only bust out the big guns for your husband's Madre.
It pleases me to no end that my spawn also love this salad. It isn't heavy but it fills you up with protein. We eat it for dinner but you could totally do it for a nice lunch. The veggies are on display here so you want as fresh as you can get. Think a nice firm head of iceberg lettuce in a light green color. No brown spots or loose leaves. Tomatoes that are actually red inside and haven't been spray painted or whatever they do to tomatoes at many of the produce areas of major supermarkets. The meat really stands out here with its Mexican spices but also the way the sharp cheddar cheese melts into it makes it become a happy marriage of yum.  As usual, check your ingredients for contamination and refer to the gluten free recipe notes.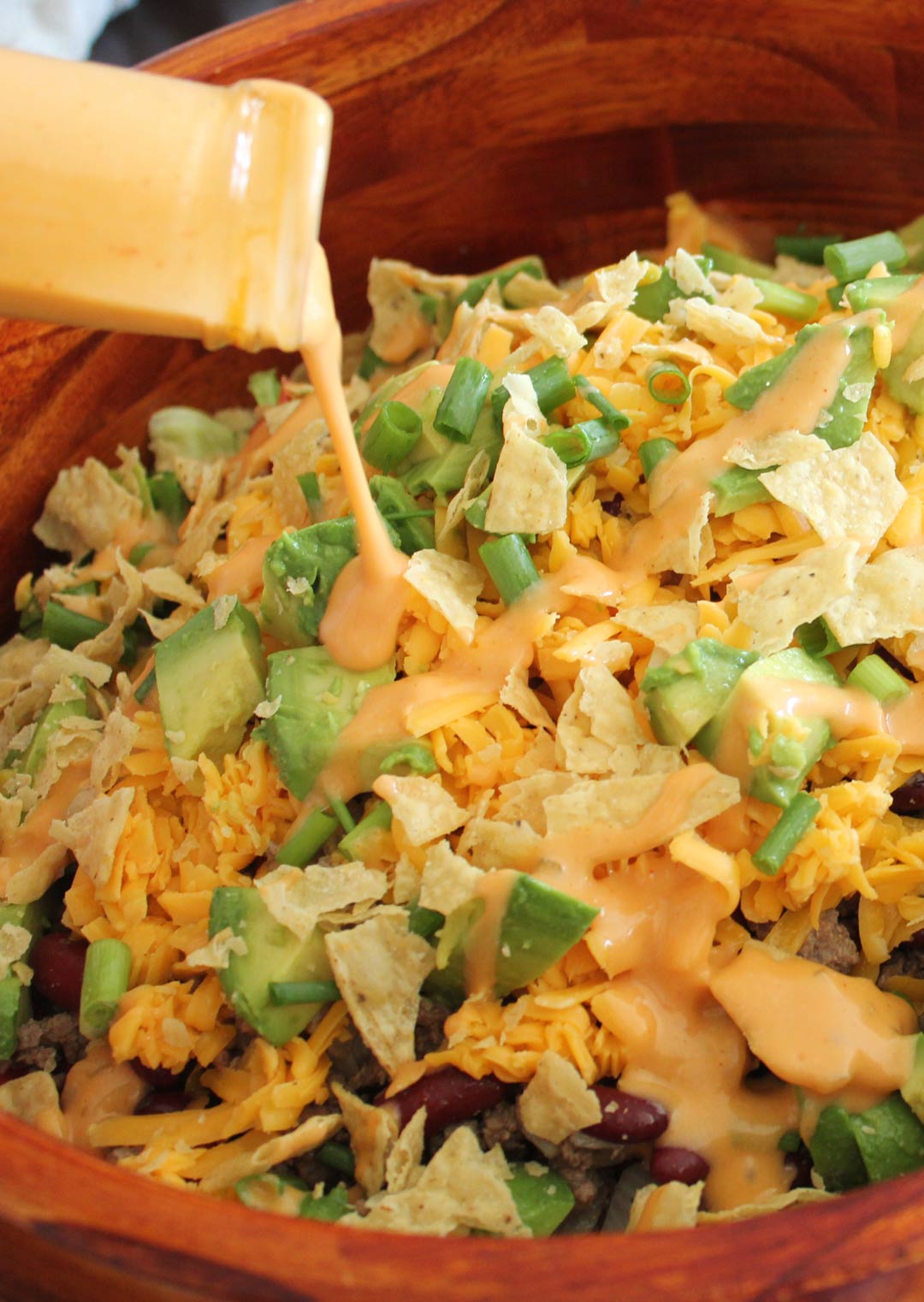 Print Recipe
Favorite Taco Salad by Gutsy Gluten Free Gal
Ingredients
1 lb ground beef (15 or 20%)

2 TBS salt

3 TBS Mexican Seasoning ( or sub a mixture of cumin, paprika, oregano and chili powder) ( I got my gf spices at Sprouts but you could also use the McCormick Gluten Free Taco seasoning if you can find it)

1 tsp ground black pepper

½ large white onion (chopped small)

1 can 14.5 oz kidney beans (drained) ( I used Bush's)

2 cups sharp Cheddar Cheese (shredded)

1 head iceberg lettuce (chopped small)

2 tomatoes (chopped)

3 green onions (chopped)

2 avocados (pitted, skinned and sliced)

2 cups gluten free tortilla chips (crushed into smaller pieces) (I used On the Border)

1/2 bottle gluten free 1000 island (we like Annie's) or my recipe 1000 island
Instructions
1
In a skillet over medium heat, add the ground beef, chopped onion, salt, and Mexican seasoning. Cook until the meat is brown and cooked through. Be sure to break up the meat as it cooks. About ten minutes. Drain the fat from the meat mixture. Return the meat to the skillet and turn down to low. Add the drained kidney beans to the meat and stir until evenly distributed. Keep the meat on low until ready to add to the salad.
2
In a bowl add the iceberg lettuce, tomatoes, green onions, avocadoes and 1.5 cups of crushed tortilla chips. Toss with the 1000 island dressing. Add the warm meat on top of the salad and then top with all the cheese. Leave it alone for a minute so the cheese can melt into the meat. When melted, toss the whole salad together and top with remaining tortilla chips.
3
So good to serve with extra tortilla chips for scooping up the salad too.
Notes
I always shred my own cheese. If you like to buy prepackaged shredded cheese, make sure you check the ingredients. Some shredded cheeses contain a wheat product to keep the cheese pieces from sticking to each other. Make sure your tortilla chips are gluten free. Yes it seems they should be by nature but some are not. Check for the processed in facility if you are celiac too.