Raise your hand if you love Mexican food! I see you there. Nice forearms. I love Mexican food. In California we have a plethora of it. It is one of my most favorite types of food because much of it can be made gluten free. I mean…hello tacos! I have jalapenos in my veins. Not really, I think I would have some major clotting issues going on if that were true, but I adore spice. If something is really spicy, it just calls to me. I have little kids who do not appreciate spice like I do. That is why in this recipe I offer to ways to make it. Either with jalapenos or green chiles. I can get away with green chiles with my kiddos. Or you could do half and half. Whatever works for your family.
Now the reason these quesadillas are so dear to my heart is because quesadillas are one of the Mexican meals that are typically NOT gluten free. I mean a flour tortilla is usually the first ingredient. Well, I tell you, these are made with corn tortillas and you are not going to miss that inflammatory flour one bit. The key to these is to butter the skillet and then cook the quesadillas. It crisps the tortilla a bit, gives it a butter flavor and some crunch when you bite into it. No, these are not going to taste like mini tacos. They are quesadillas in every sense of the word. Is there a sense to that word?
One of my children who will remain nameless but enjoys pink nails, sparkly hair bands and likes to be called Princess has been fighting me on meat. She would much rather exist on the protein provided to her by squeeze yogurt than eat real meat. It is a give and take and I said well if you aren't going to eat meat then I am going to make you eat vegetables. So these are full of delicious vegetables and even topped with more for good measure. Have you ever had avocado in a quesadilla? When it is all warm and gooey with the cheese, it gets even creamier. If you for some reason do not have avocadoes available to you as easily as we do here, you could sub some grilled chicken, chunks of cream cheese (yup), roasted red peppers or just up the cheese. Think creamy or substantial. Then there is the crunch from the corn and green onions. I did add beans for some more fiber. Fresh pico de gallo is a must with quesadillas. I left out cilantro in mine because…umm I forgot it. But feel free to add it in!
I made a little lettuce, pico de gallo salad on these. And what is salad without dressing? I made up some of my fresh ranch dressing and added dried chipotle peppers. This is in the regular spice aisle. A little goes a long way, so if you are sensitive to spice, test it as you add it in. For my kids I gave them regular ranch drizzled on top. These come together so quickly and taste like you are at the best Mexican food restaurant. Gluten Free Quesadillas are calling to you. Let's go make them!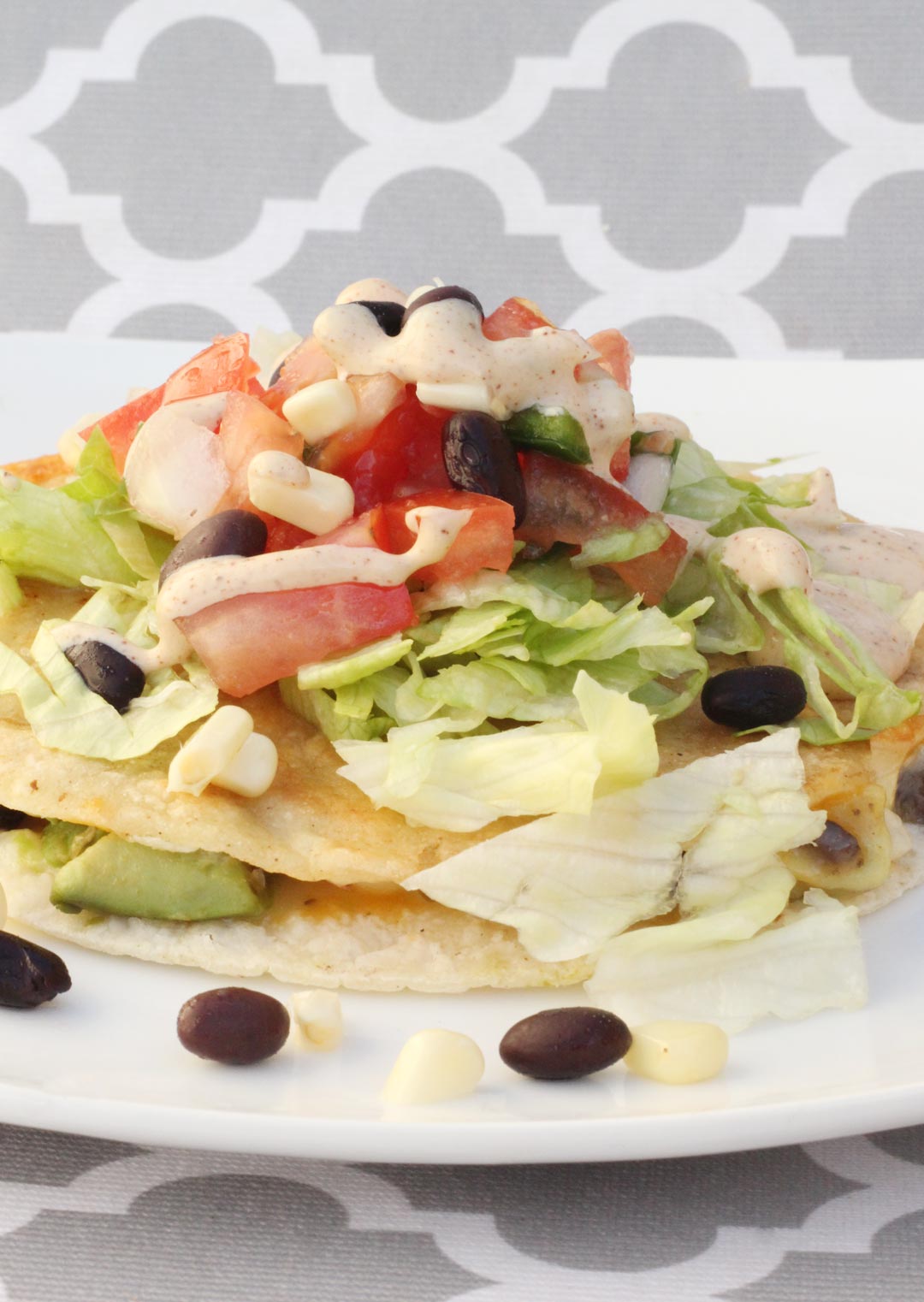 Print Recipe
Veggie Quesadillas with Chipotle Ranch by Gutsy Gluten Free Gal
Ingredients
12 gluten free corn tortillas

1 can black beans- rinsed and drained (I used Bush's)

2 sliced green onions

1 ear of corn- kernels removed with a knife

2 cups cheddar cheese-shredded

2 cups Monterey jack cheese- shredded

2 medium sized ripe avocadoes- chopped

¼ cup canned jalapenos (I used Hatch brand) or green chiles if you don't like heat

2 TBS butter

2 cups iceberg lettuce –shredded

1 cup favorite ranch dressing

1 tbs. dried chipotle chiles

Pico De Gallo:

Juice of one lime

¼ of a chopped onion

2 diced tomatoes

1 finely diced jalapeno

Salt, pepper and honey to taste
Instructions
1
To Make Pico De Gallo, combine all ingredients; toss together and let sit so flavors can develop while you make the rest.
2
Mix the ranch dressing with the dried chipotle powder in a bowl and set aside.
3
In a bowl combine both types of cheese.
4
Line up six tortillas. Top each with about ¼ cup of the cheeses, followed by evenly disturbing the black beans, corn, green onion, avocadoes and jalapenos. Top with another 1/3 cup of cheese and place another tortilla on top of the cheese.
5
Heat a skillet over medium heat. Butter the skillet with ½ tbsp. of butter. You will have to work in batches, depending on the size of your skillet. Mine could fit two at a time.
6
When butter is melted and sizzling, place two of the quesadillas in the hot skillet. Let sit until the bottom tortilla is turning a golden brown and ingredients are starting to melt. When ready, flip quesadillas and cook on the other side. If the pan needs more butter, feel free to add more to it to make sure the quesadillas crisp a little bit.
7
When quesadillas are done place on a sheet of tin foil and cover with another sheet of tin foil. This will keep them warm while you cook the remaining quesadillas. Continue to cook quesadillas in batches until all are done.
8
When done, slice each quesadilla into four triangles. Serve with lettuce, pico de gallo and chipotle ranch either on top of quesadillas or on the side. We like to eat this with it on top.
Recipe Tools used and Products We Love from Gutsy

If you click on an above link and purchase through Amazon an item recommended on our site, the GutsyGlutenFreeGal receives a teeny tiny amount from that sale. Thank you for helping to keep this site going and keeping gluten free delicious. We heart you.