Do you ever get hangry? You know, hungry/angry? It's totally a thing now. And an urban word. It's hip… I think. I can't believe that my whole life I have suffered from this condition and not until this perfect description of both hunger and anger came together, did I know it. I knew I would be irritable if I didn't eat a meal. Slightly. I wouldn't pick up a car and throw it into a river, but I might give off an eye roll or a few grimaces.
When I had children I noticed that because my job was now to run after wild peacocks and keep them safe/fed/bathed/happy/with all their teeth I started to burn extra calories. I have a freakish metabolism. For all intents and purposes I eat like a man. I said it. I don't apologize for it. I love food. I eat food. I do eat healthfully most of the time, so a big appetite doesn't really matter when your plate holds healthy veggies and hearty proteins. But when I had kids I wanted to eat my meals as soon as I was hungry. Funny thing about that is kids somehow demand food first. So fast delicious meals are a must.
Food is my hobby. I could never be content with eating the leftovers of my kid's pb & j. I'm snobby like that. I'm also snobby about off brand saran wrap. It has it out for me. This sandwich is something that we can all enjoy, comes together quickly and doesn't reek of kid food. I enjoy pepperoni pizza bites as much as the next person, but I like to try to get the small people to eat a wide variety of foods. Man Child will eat whatever he is given. Sparkle Princess will battle you like a Pokémon War Lord if she doesn't care for something. Or maybe she is just hangry. Either way, they both enjoy this grilled sandwich.
We eat at very scheduled times because diabetes is a clock watcher. So I know that if we need to eat at say 12:00, I have up until 11:50 to play soccer goalie outside (a job mostly devoted to guarding the bulldog from popping said soccer ball) if I'm making this sandwich. Then I can whip up lunch quickly. When you are the parent of a Type 1 so much is about planning. Your whole life is a constant plan. Add Celiacs to the mix and not only are times crucial but the available food as well. I understand it. I know how eating gluten free can not only be hard to do but vital to your health.  That was a quick tangent but no apologies. I only apologize after I said something while being hangry. Okay, any who, let's talk about the sandwich.
Cinnamon raisin bread is one of my most favorite breads but it can seem limiting. Is it exclusively for toast? The occasional French toast (still has the word toast in it)? There is a Barefoot Contessa recipe that makes a fresh basil and turkey sandwich on raisin bread. She is a genius. I love Ina. I used to eat that when we were not gluten free and I was about 8 years younger. I had forgotten about it until the other day when I was analyzing what to do with a loaf of delicious raisin bread in the fridge. An idea was born. I love the mix of slightly sweet crunchy bread, flavorful roasted turkey, sharp cheddar cheese, crisp  apples and smooth cream cheese. That is very long descriptive sentence. Ooooh and basil! I add dried basil to the cream cheese. It all melts together on the stove top and you get a gluten free Turkey, Apple and Basil Grilled Cheese on Cinnamon Toast. That may be the longest recipe title in the history of recipes. Let's make it and celebrate!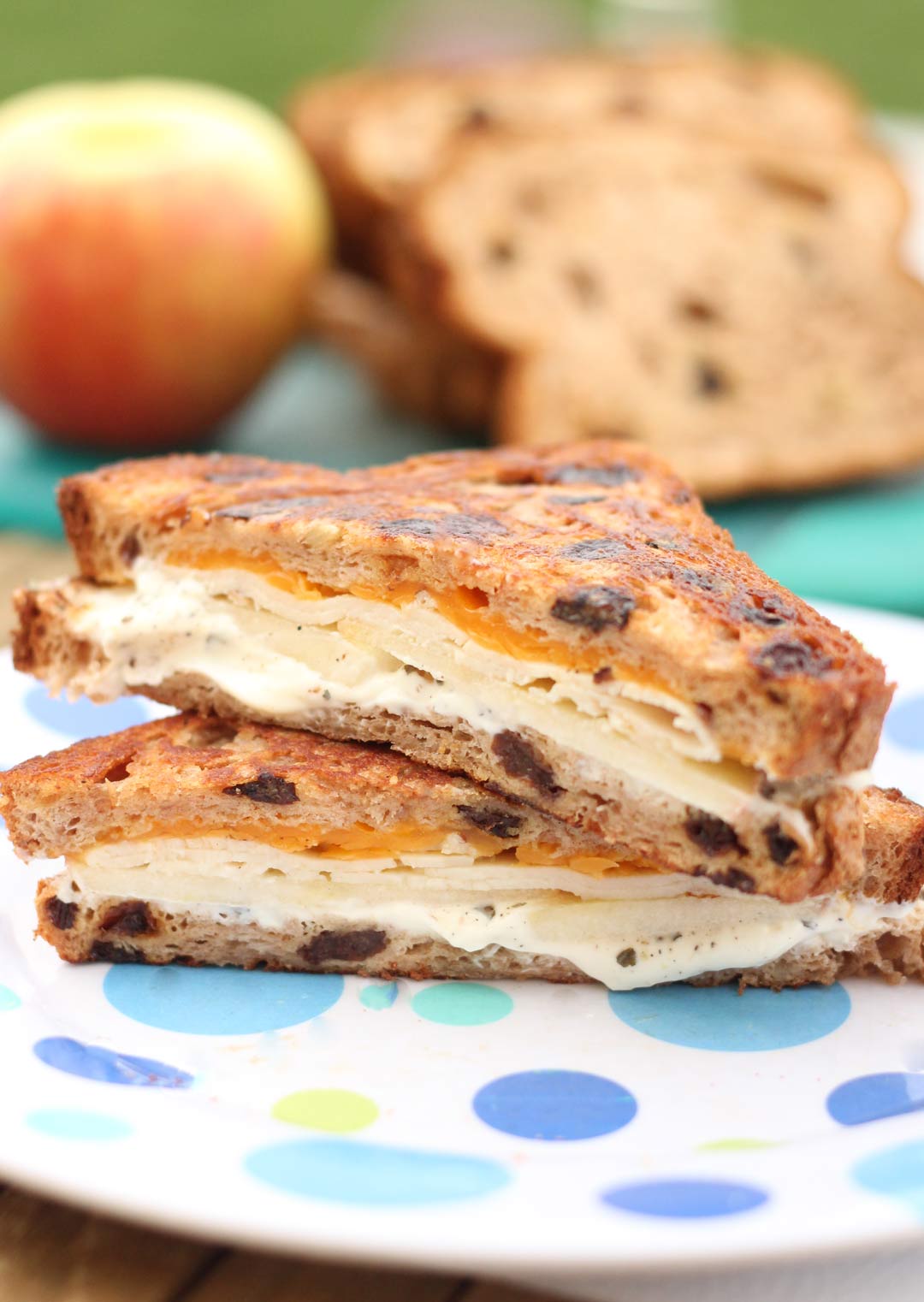 Print Recipe
Turkey, Apple and Basil Grilled Cheese on Cinnamon Toast by Gutsy Gluten Free Gal
Ingredients
4 slices cinnamon raisin bread *

Butter

½ cup sharp cheddar cheese- shredded

8 thin apple slices - mine were honeycrisp

About ½ cup turkey or chicken lunch meat. I got mine from Sprouts. Make sure it's gluten free.

4 TBS cream cheese or Neufchatel cheese

1 teaspoon dried basil

Pepper

¼ teaspoon garlic powder.
Instructions
1
Heat a skillet over medium/ low heat.
2
Arrange 4 pieces of bread flat on your work surface. 2 TBS of cream cheese on one slice of bread. Then another 2 TBS on another slice of bread. Top each slice of bread with ½ teaspoon basil, 1/8 tsp garlic powder and a dash of pepper. On top of the cream cheese mixture place about 4 apple slices on each slice of bread. The apples should cover the bread evenly.
3
On the other two slices of bread add ¼ cup sharp cheddar to each slice. Top with ¼ cup turkey on each slice. Put the two different halves together.
4
Butter each side of the sandwiches and grill until the cheese is melted and the bread is grilled on both sides. You can use a spatula to press the sandwich together so it is more panini like.
Notes
I love Canyon Bakehouse bread for this. The flavor and texture is superior. And it is the size of regular bread. I'm not trying to eat a teeny sandwich. I was not paid to say any of this. I'm just a true supporter of good bread when I find it.
Recipe Tools used and Products We Love from Gutsy!

If you click on an above link and purchase through Amazon an item recommended on our site, the GutsyGlutenFreeGal receives a teeny tiny amount from that sale. Thank you for helping to keep this site going and keeping gluten free delicious. We heart you.