So just the name of these cheeseburgers makes my stomach know it is in for a good time. A good burger is like finding a rare diamond or a lamp with a Genie in it. Don't give me any of those frozen Costco patties. Those cows should be ashamed of themselves. Cheeseburgers are a big deal in our house. They are one of the Man Boy's favorite foods and therefore requested a lot. Sparkle Princess does not enjoy animal protein too much but she will usually eat a cheeseburger. But you have to call it meat. If you ever call something chicken, or pork or turkey she won't eat it. Somehow when it is just in a general meat category it is more palatable. Kind of like me and shopping. Say I have to go buy pimple cream or 409 and I'm not too excited. Call it shopping and I'm grabbing my purse while running out the door.
Cheeseburgers. Yum. I make these on the grill. The day I made these it was 105 degrees. I almost died out in that heat for you. You should thank me. I accept Visa gift cards and bulldog babysitting. I kid. It was fine. I soaked my burnt feet in some ice cube water and was fine. If you live where you don't grill all year long or going outside gives you the creeps. Feel free to make these in the safety of your own home. You could do them on a grill pan on the stove or just in a regular frying pan. Make sure you drain off the fat though.
You will see we eat these babies two ways. Let me rephrase that. You will see that we eat these puppies two ways. Ahem…again. You will see that we eat these cow patties two ways. I give up. We eat these cheeseburgers two ways. On a gluten free bun or lettuce wrapped. I prefer lettuce wrapped. I wouldn't normally say that I'll have you know but this meat is so flavorful and the sauce is just tangy enough that the cool lettuce is a great compliment to them. I also cook a lot and my acid reflux is better if I cut out some calories here and there. The Boyband prefers them lettuce wrapped too and he never likes stuff wrapped in lettuce. It's like wrapping paper to him. Just rip it off to get to the good prize inside. Both kids would probably rather wear the lettuce as a hat than as a wrap, so bun it is for them.
The search for a good gluten free hamburger bun has been tedious. For some reason they want to produce buns that look like bread but are really rocks covered in crumbs. Man Child only likes the Trader Joes gluten free hamburger buns. They are not bad. And if toasted in some butter pre-burger making they are quite tasty. I prefer the Sharr ones myself or to use the Sharr Ciabatta rolls instead of a bun. If you don't have those available or buns that you like. Lettuce. If you don't like lettuce…well you can eat a very trendy deconstructed cheeseburger. How Food Network of you.
The caramelized onions are what make these. I was actually just really sick of burgers without onions because Sparkle Princess would turn her nose up at them. Haha, my little Toddler in a Tiara, I fooled you! It's the little things in life.
We ate these with grapes and my favorite chips on the planet. We don't always eat chips but when we do, they are Kettle chips. Have you tried the peppercini ones?! I got them at Sprouts. They have the tanginess of Salt and Vinegar without the overwhelming salt or feeling like the chip is sucking the life out of your tongue. They are delicious. Both kids like them. They were on sale. Done and Done.
Dinner is served my pretties!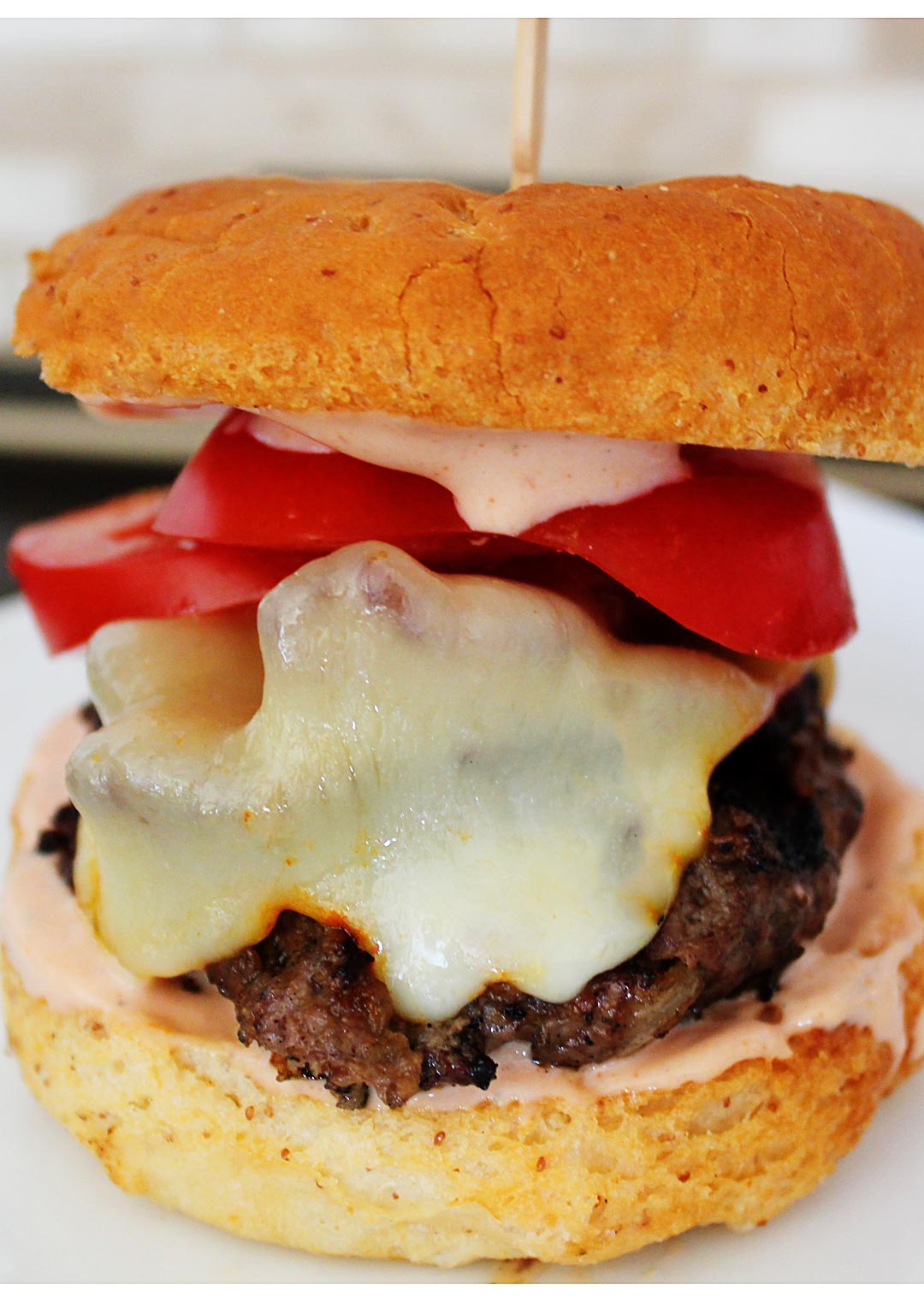 Print Recipe
Caramelized Onion Bacon Burgers by Gutsy Gluten Free Gal
Ingredients
½ lb thick cut bacon (make sure it is gf, I like the Farmer John Black Label)

1 onion

1 lb ground beef 15% or 20% fat

½ tsp paprika

½ tsp salt

¼ tsp ground pepper

1 tsp Worchestershire Sauce (Lee and Perrins is GF)

2 tsp Gluten Free BBQ Sauce ( I use Rib Rack Brand or Kinders)

6 slices muenster cheese (Sargento makes a great gf one)

2 thick sliced tomatoes

6 Gluten Free buns

Romaine Lettuce Leaves for Wrapping if not doing buns.

For The Sauce:

1/3 cup Mayonnaise (Best Foods/Hellmans is my homeboy)

3 TBS Ketchup (I use Hunts or Organic Trader Joes or something from Sprouts)

¼ tsp garlic powder (I use McCormick)

¼ tsp ground pepper
Instructions
1
Preheat a bbq, griddle or skillet to medium heat for your burgers.
2
In a separate skillet over medium heat (not too hot or your bacon will burn outside and be raw inside) fry up some bacon. Turning it over as needed. Bacon should be done after about 5-10 minutes but it depends how thick your bacon is.
3
While bacon is cooking, chop very finely one onion. I like to use my mini prep food processor, but you can use a good ol' knife and cutting board. Try to get the onion very very very small. Like small flakes of diamonds. ½ carat not 3 carat.
4
When the bacon is done remove it to a plate lined with a paper towels so the grease can go to the paper towel and not your fabulous self. Spoon half the bacon fat out of the skillet and discard.
5
Place the finely chopped onion into the remaining bacon fat. Turn the heat down to medium low. Stir the onions and bacon juice until all the onions are coated and then don't touch them. Let them cook and caramelize. After 5 minutes, stir them around and then don't touch them again! Let them cook down for another 5 minutes. They should be getting even teeny tinier. Once onions are completely soft and have a caramel color remove from heat and let cool slightly before adding to the meat mixture. Mine took about 15 minutes total. While the onions are caramelizing…
6
In a small bowl mix together the sauce ingredients: mayonnaise, ketchup, garlic powder, and ground pepper. Just give it a stir with a spoon until all combined and set aside until ready to use.
7
In a large bowl combine the ground beef, paprika, salt, ground pepper, Worcestershire sauce, and BBQ sauce and the slightly cooled caramelized onions. With your hands or claw like spoons, bring the ingredients together until they are all evenly mixed. Don't handle it too much or the meat will get a little tough. Divide the meat into 6 portions and make patties out of it.
8
Spray preheated grill with oil or cooking spray (Pam, Spectrum and Trader Joes coconut oil spray are GF) and place the burgers on the grill, cooking over medium heat. The amount of cooking time depends on how well you like your burgers done. We don't like to see too much pink around here. So ours take about 6 minutes per side. Cook to your liking.
9
After you have flipped the burgers once and they are cooked on one side, top the cooked side with your bacon slices (broken in half) and the muenster cheese. Watch in amazement as it looks so delicious your heart stops and your nose dances off your face. After 6 minutes on the other side or your desired time, remove the burgers from the grill.
10
Get out your buns or lettuce and slather them with the tangy sauce, add the bacon burgers on top followed by tomatoes and more lettuce if you like. If doing a lettuce wrap, go ahead and wrap the lettuce around the contents forming a pocket. If doing a bun, you probably know what to do with that. Put it together.
11
Appreciate the burger beauty and then gobble it up.