Okay, I'm going to admit something to you that I am not proud of. When I was a kid I loved fast food. Now eating it occasionally wasn't a big deal. It was what I would order when I had the chance. From a young age I always ordered from the adult menu. A kid's meal was just too small. And insulting. I was a kid but that didn't mean my taste buds hadn't progressed past macaroni and cheese. So I often would order what my parents did or what looked extra special. As extra special as a drive thru menu can get. And I would order a lot. One of my most favorite items was a Santa Fe Chicken Sandwich from Carl's Jr. It had this creamy southwest sauce that my 8 year old self just loved. Oh 8 year old self, your pants are going to be adult size too if you don't cut it out. If only I could turn back time. I thankfully became a bit more elevated in my culinary preferences and we don't eat Fast Food now because we can't and don't really want to, so the Carl's Jr sandwich is just a distant memory.
However, before going gluten free if we were out at a restaurant and there was some sort of southwest chicken sandwich/wrap/salad/alien I would order it. I still love the flavors. Since becoming gluten free, we had not found a place that really offered something like that. And I missed it. When I miss things I get determined to not miss them any longer. Just like the lion king shorts I wore till they were thread bare or my Jetta I had in college (love you forever, Jetta). I try to fix the situation. So I set out to make a delicious sandwich that the whole family would like and had the flavors that I remembered.
The chicken here is key. It has to be tender and flavorful. I achieved that by pounding out the chicken with a mallet (also good for aggression) and seasoning it with adobo sauce. Have you had adobo sauce? If you buy the chipotles in a can they come in adobo sauce. It is a rich smoky sauce that has chili flavor but isn't super spicy. I did a little salt and peppa' action too. That all marinates and then gets grilled. You will also be making a sauce. A sauce that is miraculous in its ability to turn a chicken sandwich into a meal that makes you feel like you are riding a cactus. I mean a horse. I mean something western and southwesty. You will use some of the chipotles in the sauce as well as garlic. It is a flippin amazing sauce. You could totally make it and use it for dipping things in. Or on burgers. It is my southwest sauce and it is precious.
Now the bread for this was important. Nothing ruins a gluten free sandwich like awful bread. I used Shar ciabatta rolls and lightly toasted them. With butter. Toasting gluten free bread is usually a sure fire way of making it taste better. I kid you not, I served these to Boyband and he thought I messed up and bought gluten rolls. He was about to stop Man Child from eating it when I proved to him that it was in fact gluten free. Never doubt me Boyband. Or else no more Southwest Chicken Sandwiches for you! Hmph. It all comes together with pepper jack cheese, crisp lettuce and fresh tomato. The family loved it. I just know you will too.
Let's go make it!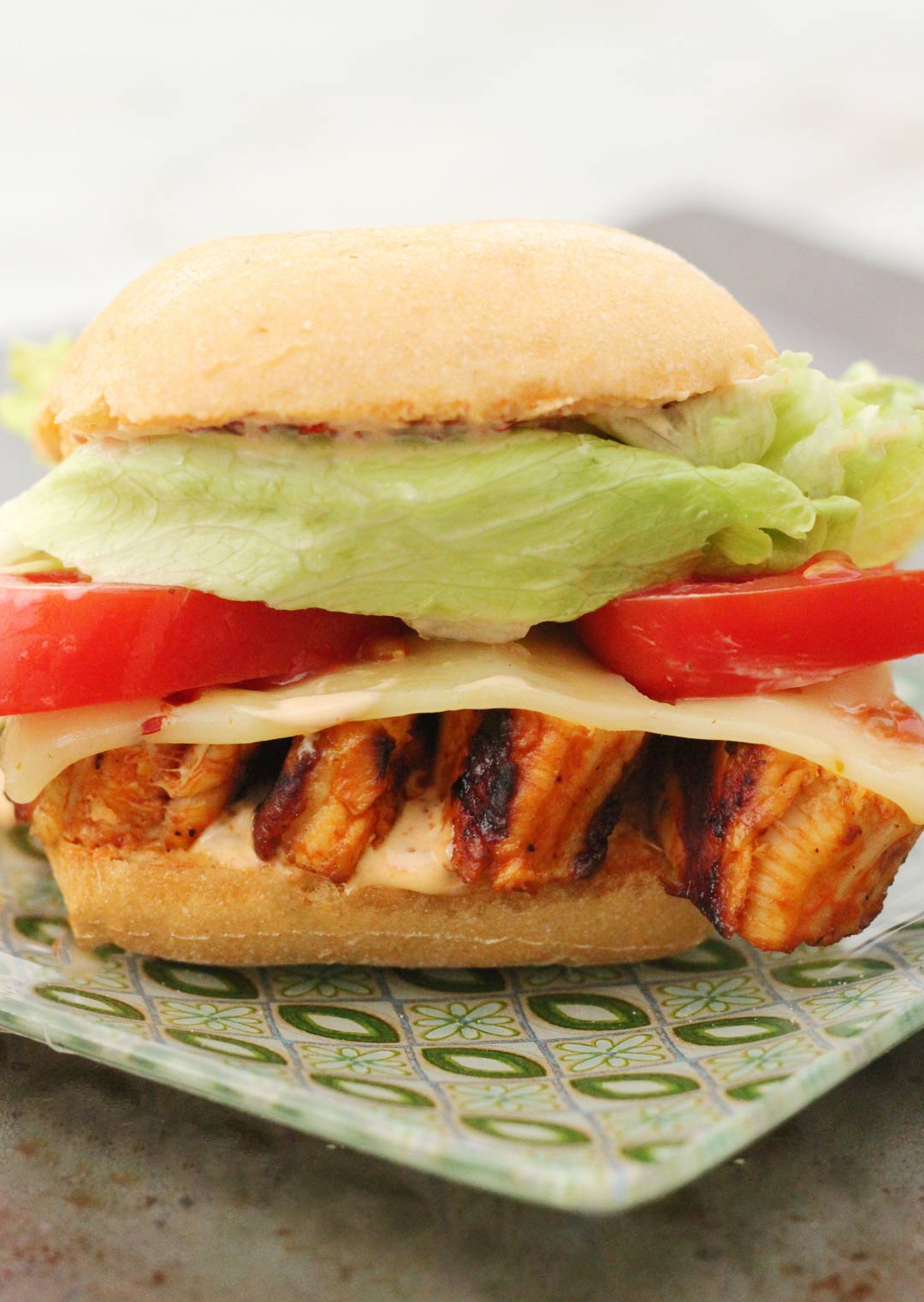 Print Recipe
Southwest Chicken Sandwich by Gutsy Gluten Free Gal
Ingredients
1 TB vegetable oil

1 lb chicken breast (mine was a giant breast)

3 TB Adobo Sauce(from the can of chipotles) (found in the Mexican food aisle)

Sprinkle of salt and pepper

2 tomatoes- sliced

Iceberg lettuce leaves (about 4 big leaves to fold in half)

4 slices pepper jack cheese (make sure it is gluten free, I used Sargento)

4 gluten free ciabatta rolls (I used Shar but you can use what is available to you and could use hamburger buns)

2 TB butter

For the Southwest Sauce:

1/3 cup mayonnaise (I used Best Foods)

2 TB sour cream (I used Daisy)

2 minced chipotle peppers

1 small garlic clove- minced (easiest to do this with a small grater/zester)

1 tsp honey
Instructions
1
Place chicken between sheets of parchment or wax paper. With a heavy mallet or rolling pin, flattened the chicken by pounding it out. It should be about 1 inch thick when done. In a glass bowl or baking dish place the oil and adobo. Mix together. Put the chicken in the adobo and coat on both sides. Salt and pepper both sides of chicken. Let sit while you make the sauce.
2
In a bowl add all the sauce ingredients. Mix together.
3
Heat a grill pan or skillet over medium high heat. Add the chicken and cook until done. Mine took about 6 minutes per side. Make sure it is done but not hard and overcooked. That is not the look we are going for.
4
When chicken is done remove to a cutting board and slice the chicken into sandwich sized pieces. About 3 inches long. Make four sandwich sized portions of chicken and put a slice of pepper jack cheese on each portion. Let sit so cheese can soften and get melty. Wipe out the pan or skillet. Butter the bread on the cut side and place face down in the skillet until warm and toasted.
5
When bread is done remove from pan. Add about a tablespoon and a half of sauce on the bottom piece, then the chicken with the cheese, followed by tomato, lettuce and place another tablespoon and half of sauce on the top bun. Place top bun on top of lettuce and admire a delicious sandwich.
Notes
You can flatten and marinate the chicken ahead of time. It gives it even more flavor. You can also make the sauce up to a day ahead of time too.
Recipe Tools used and Products We Love from Gutsy

If you click on an above link and purchase through Amazon an item recommended on our site, the GutsyGlutenFreeGal receives a teeny tiny amount from that sale. Thank you for helping to keep this site going and keeping gluten free delicious. We heart you.