Okay let's discuss sandwiches. We were huge sandwich lovers before we entered the Gluten Free World. Boyband has always preferred hot sandwiches. I preferred cold sandwiches. Until we started eating a lot of gluten free bread. Now, hot for me. Hot and toasted is the way to go if you can. It helps to hide some of the tapioca odd mouth feel that many gluten free breads lend themselves to. Oh and the breads are typically soggy or dry. Why is there hardly ever a middle ground? Sandwiches can be one of the things that those who switch to a lifestyle sans gluten miss the most. It really stinks like rotten milk when someone is chowing down on some big old hoagie next to you and you gaze down at your crumbly- half the size of normal bread-made with who knows what sandwich bread. We have tried every brand of gluten free bread that I have been able to get my hands on. What a waste of money. I could have gotten like ten layers of gel nails. Most are nasty. I'm sorry. I don't want to name names as usual. Looking at you bread that starts with a U and rhymes with Cooties. But some are just shameful. And not fresh! We were buying this grainy seeded bread from Costco that had a pretty good taste but could somehow last for like six years without going bad. Maybe I exaggerate but it had more shelf life than a Hollywood Romance, I know that.
We have a bakery here in California that is semi local to us and makes freshly baked bread that tastes like real wheat ridden bread. We order it from time to time as a treat but it can definitely get pricey when a family of four is eating it. By far the bread we eat the most is Schar or Trader Joes. Now the Trader Joes has to be fresh, I don't find that it freezes well. Schar has that long shelf life thing going on but it does taste fresh. The white bread version looks most like regular sandwich bread. For this recipe I used a loaf of Trader Joes because that is where I happened to be when I was buying dinner ingredients. But you can use whatever brand for this that you prefer. We went to a Celiac friendly restaurant not long ago and they made baguettes. Oh wow, it was bad people. There were pockets of gumminess all throughout and the ends were like bricks. Gluten Free bread is a tricky business, I tell ya.
This sandwich is super filling, so we eat it for dinner with some fruit or veggies. I mean just the name lets you know this is a Sly Stallone worthy meaty sandwich. It has awesome Italian flavors- sweet red peppers, tangy olives, zippy garlic and earthy artichokes. And then you pile on tons of creamy and delicious cheese and meat. It is a good time in your mouth. Since it is a grilled sandwich, you will get that buttery crunch of the bread as you bite into it and everything will be melted together. I am a huge mayonnaise fan. Like just let me live off of it, but this uses a cream cheese spread that doesn't add the oil and heaviness that mayonnaise can. Don't you just love roasted red peppers? And they come in a jar and they are easy to use. Magic.
This recipe makes 6 filling sandwiches, but if you have leftovers, wrap them in foil and when you want to reheat pop them in the oven or toaster oven and they will once again be gooey delicious.  Let's go make Rocky proud and make this, shall we?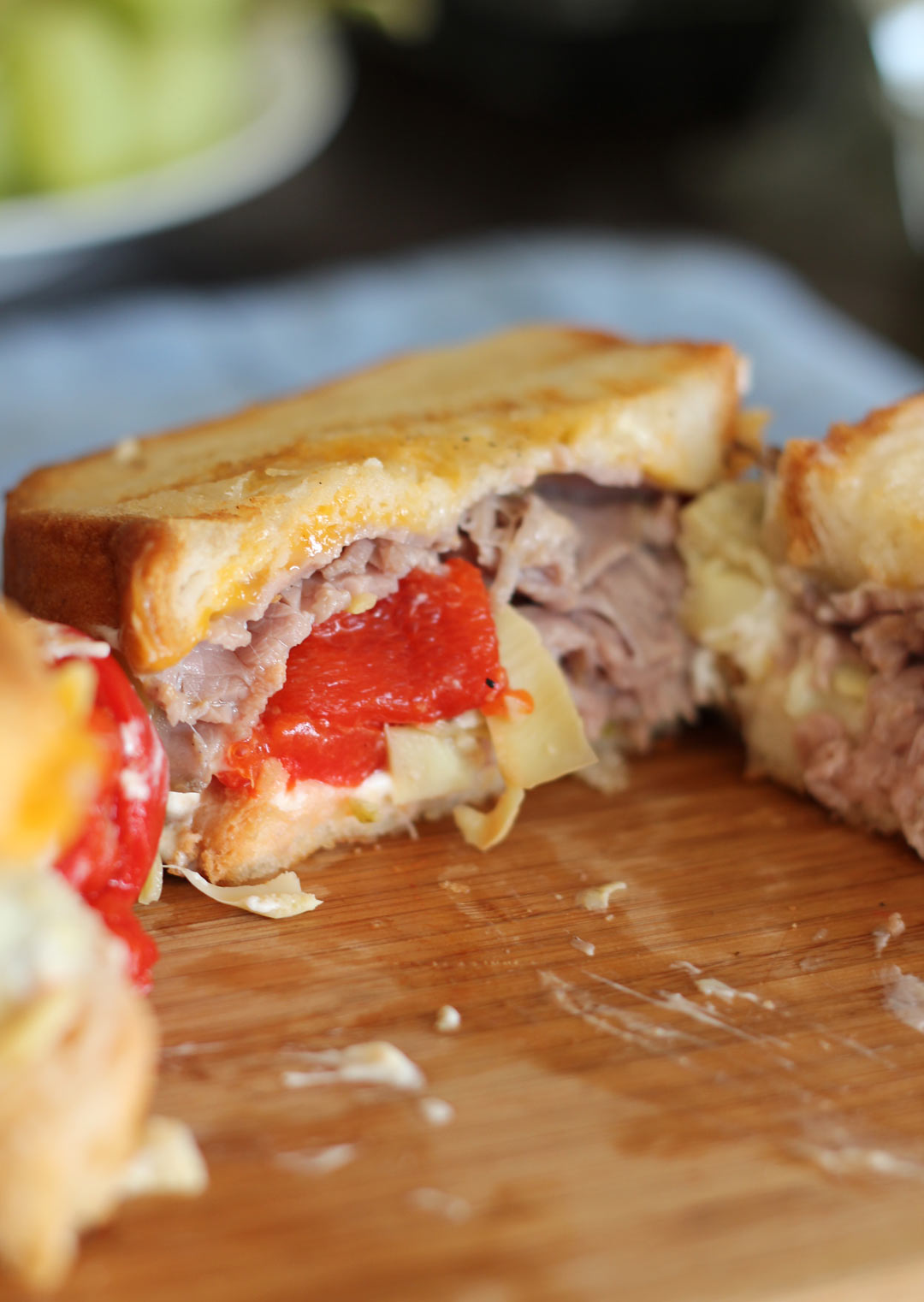 Print Recipe
Italian Roast Beef Triple Cheese Panini by Gutsy Gluten Free Gal
Ingredients
12 slices of gluten free bread- I used Trader Joes

3 TBS softened butter

6 slices cheese- I used colby jack but you could do provolone, pepper jack even cheddar

6 oz Gluten Free Roast Beef- I used Columbus brand

12 oz Roasted Red Peppers

1 can artichoke hearts

For the Cheese Spread

8 oz cream cheese- softened

1 TBS grated parmesan cheese

¼ cup finely chopped manzanilla green pimento stuffed olives –may sub black olives

1 small clove minced garlic

Salt and pepper to taste
Instructions
1
Over medium flame, heat a griddle or panini press. I used a panini press because I love it. Spray with a gluten free cooking spray, like coconut oil or olive oil.
2
In a small bowl mix the cream cheese, parmesan cheese, manzanilla olives, garlic and salt and pepper. Set aside. Note, you will probably not use all of the mixture. Save any leftovers for something else. Really yummy on a warm baked potato.
3
Chop artichoke hearts finely and separate and slice red peppers if not pre-sliced.
4
You are ready to assemble! Top the bread with a layer of cream cheese mixture followed by red peppers then artichokes, roast beef, one cheese slice and another slice of bread. Easy.
5
Spread the top piece of bread with butter on all sandwiches. Using half the butter and saving the other half for when you flip the sandwiches and need it for the other side of sandwiches.
6
Grill the buttered and sliced cheese side down sandwich on medium low until the cheese is melted. If using a panini press, use the metal presser that goes on top of the sandwiches. Don't grill on too high a temperature or the bread will cook before middle contents can heat through.
7
When ready to flip to grill to the other side, spread the remaining butter on the untoasted bread and then flip. These are thick sammies so you may get a little falling apart action. Just carefully use a spatula to scoop contents back in.
8
When both sides of sandwiches are done remove from grill and place on a carving board to cut in half. Keep grilling until all the sandwiches are done. I can fit four on my panini press. Appreciate the melting cheese and meat. Dig in.
Notes
Note since I was using a panini press, I did use the top metal piece that presses the sandwich together. If you do not have this, you can omit this step or use a small frying pan to gently press sandwiches.