Chocolate. Chocolate with Shortbread. Dark Chocolate. Dark Chocolate in an almond shortbread crust. Dark Chocolate Shortbread Tart. Why are your still reading this? You should be busting out your tart pan right now! Oh it was a rough six days for the Man Boy. He caught a black plague illness that was going around at school. Despite his diabetes and celiacs, he is one of the healthiest kids. Last year he only missed half a day the entire year due to illness. I truly believe it is because he eats well. He eats balanced meals. He loves healthful foods. And I pump all his meals full of Cold Eeze. I kid. I don't know that Cold Eeze is gluten free. Perhaps I just sprinkle a dash of overprotective mother and pepper his food with continuous prayers and voila: health. Again, I am totally joking. If you don't believe me read my new parenting manual coming out: How to Keep Your Kids at Home Until They are 70! It will be a blockbuster no doubt.
Back to what this was about. Chocolate. He got so sick and he requested… drum roll please… a chocolate tart. He is so my offspring. The Boyband entertained Man Boy and Princess Sparkle while I conceived of making the most decadent kick germs to the curb dessert that I could think of. Off of very little sleep over three nights and having sat in traffic for eight hours the day before. But I conjured up all my brain juices for this one and it is truly special. Something to make for Christmas or Thanksgiving dessert. A chocolate masterpiece to bake for the special someone you are looking to trap. A decadent sweet to impress people who are real sticks in the mud. This dessert is for every special moment in your life. Unless you don't like chocolate. Then I kind of feel betrayed by you and just very sad.
No one. I repeat No Flippin' One would know this is gluten free. I fooled people with it and I laughed deliriously in their face. Or gave them a hug and cried about how tired, sick kids make their parents. The shortbread is legitimately delish. It is my favorite base for cookies that I like to dip in chocolate and dip in cocoa or decaf coffee or shove in my mouth when no one is looking. It has a hint of almond flavor too. I detest a crumbly dry shortbread. Like just throw it off the planet, would ya? This holds together beautifully, is the perfect firm base for the chocolate goodness but isn't dry. And butter. Just love for butter. And it is easy. The hardest part about this tart is waiting for it to bake and cool. It is such a simple to assemble dessert.
Now onto the real star. The Bette Middler or Jennifer Aniston of the piece if you will. The chocolate filling. If you have read my posts before, you know that I have very little love for milk chocolate. I mean chocolate milk- fine. Don't reverse the words, okay? This is a dark chocolate tart, as all chocolate tarts should be. You get the real flavor of chocolate when it isn't laced with terribleness, like excess sugar and arsenic. I used a very dark chocolate for this and oh baby, I would do it again. Maybe even go darker. You can do semi sweet but please consider doing a dark chocolate. It's right there next to all the other chocolate levels in the grocery store. It is superior. It will make you superior. Thus making your life the best it can be. Look for my new motivational manual coming out: Your Best Life Now- How Swapping my Blood for Chocolate Changed my Life. Again, it's gonna be a best seller. This chocolate center is smooth, sets up perfect and prep is done in two minutes. Sprinkle it with sea salt to bring a crunch and contrast to the cool chocolate and watch yourself and others melt into happiness. It isn't overly sweet but the perfect complement to the crust. This tart certainly made the Man Boy happy. And me happy because it may just be my go to fancy shmancy dessert that takes no time, looks gorgeous and tastes like a million bucks. Sweet.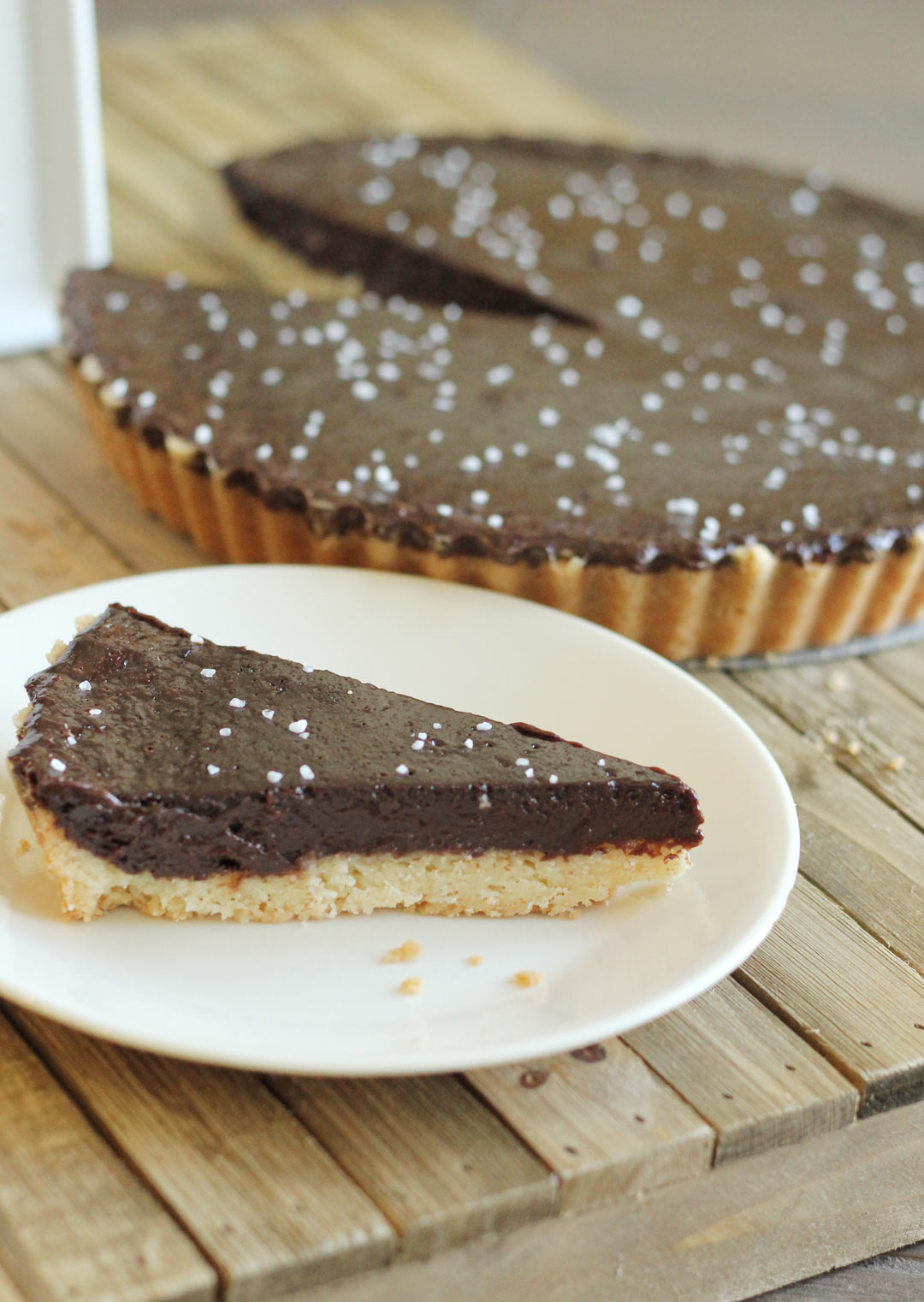 Print Recipe
Dark Chocolate Shortbread Tart By Gutsy Gluten Free Gal
Ingredients
For the Shortbread

1 ½ sticks salted butter- sliced

½ cup granulated sugar

1 ¾ cup Pamela's Artisan All Purpose Gluten Free Flour

½ tsp almond extract- can sub vanilla or coconut too

For the Chocolate Filling:

¾ cup 2% milk

¾ cup heavy cream

3 TBS granulated sugar

¼ tsp salt

12 oz Dark Chocolate Chips or Chunks– I used Hershey's Special Dark

2 eggs- lightly beaten

1 tsp Sea Salt Flakes for sprinkling on top of tart when it is done.

Can garnish with berries or whipped cream too
Instructions
2
Preheat oven to 350 degrees.
3
Lightly spray a 10 inch tart pan. If you do not have a tart pan, you could use a pie pan, it will just have a slightly thinner crust. Really buy a tart pan. You can find them cheap. They make things look sophisticated.
4
Place all shortbread crust ingredients in a food processor. You really should use a food processor but if you don't have one, you can use a mixer with a paddle attachment. Process on low until most of the ingredients have morphed into a ball. This is gluten free flour so it will be sticky and you may have to coax it along by scraping it all together.
5
Place the dough ball into the tart pan and with a spatula or knife, gently spread the batter evenly along the bottom of the pan and up the sides. Making sure to fill in all of the ridges in the tart pan. Place the tart pan on a cookie sheet so that it is supported and easy to transport to the oven.
6
Bake at 350 degrees for 22-25 mins or until the crust is a light golden brown color. It may appear to poof up like a cotton ball while baking. It is okay. I promise. It'll flatten out. When done remove from the oven and let cool while you make the chocolate filling. Reduce oven temperature to 325 degrees.
7
For the Chocolate Filling:
8
In a saucepan over medium low heat bring the milk and cream to a simmer. Not a boil. Once you see tiny bubbles around the outside of the liquid, remove from the heat and stir in the chocolate chips. Add the sugar and salt and continue to whisk until it is all smooth. It should look like the best hot cocoa ever. You could actually just stop and drink it, if you want.
9
Slowly add in the beaten egg and whisk all together until just combined.
10
Pour chocolate mixture into the shortbread crust. It should come up to the tippy top but not overflow. If there is extra, you may hide in the pantry and eat it.
11
Carefully place the tart on the cookie sheet and back in the oven at 325 degrees. Let bake uncovered for 35 minutes or until it is set. It shouldn't be jiggly. And should not feel like soup if you touch the middle.
12
Remove from oven and sprinkle with the sea salt flakes then let cool completely. Once at room temperature remove the outside of the tart pan and store covered in the refrigerator.
13
When ready to serve take out of the fridge and let it sit at room temperature for 10 minutes.
14
Keeps covered in the refrigerator for 4 days but why would there be any left in the first place?
Notes
Hi! See my note on why I use Pamela's Flour. You may sub your own gluten free flour but the consistency of the crust may vary from mine. Make sure you look at all packaging. Gluten can hide in some chocolate chips... the cheaper ones. I like Hershey's, Guittard or Enjoy Life.