Do you ever listen to current music and sing along?  Only to find that you are totally singing the wrong lyrics, have no idea what the real lyrics actually mean when you read them(what does gold up in my teeth mean?!) and feel a little embarrassed for being in your early thirties and apparently being super uncool. Don't you love how my stories are insane? Anyways, I was listening to this song that had such a catchy tune(meaning I was doing a little head nod and duck face) and meant something completely different from what I thought it did. In my head I am forever 18 in my music prowess. I listened to that song as I made this recipe. Pandora must not know I am better suited to Adele than some young girl singing about basement parties. But this dinner is for sure a party in your mouth. Better than wondering why your boyfriend never tells you when he is leaving. Or the roof is on fire. See, I just don't get these lyrics.  Hello, I understand.
I love stuffed potatoes. I love Pulled Pork Stuffed Potatoes even more. They are the perfect holder for delicious goodies and never make me feel angry that we eat stuff gluten free. Sometimes a sandwich on gluten free bread can bring about periods of depression, irritability and heart palpitations. Maybe that was on a medicine commercial. BUT you are never missing out with stuffed potatoes. So hearty and filling too. We have been getting real weather here on the West Coast. Rain falls from the sky, clouds blow in and out. Sweaters aren't ridiculous. I can wear my new rain boots without judgement. It is glorious. And this is the type of meal that should be eaten when it is winter. But I would eat this by a swimming pool in the summer too. Good food is in style all year round. This starts with my Hawaiian pulled pork that slow cooks in the crock pot and makes three dinners worth. This is one of the meals I make out of it.
It just looks like it comes from a restaurant. Welcome to the Gusty Gluten Free Gal bistro. If you got an Instant Pot for Christmas, the potatoes are cooked in it. Or there is an oven/microwave method if you didn't. I enjoy my Instant Pot. For me, it has not changed society or the way I look at the world as it has for some, but it is fun to use. I do think potatoes come out exceptionally well in it. The inside is so creamy and the skin is so tender you can gobble it up.
So what exactly is layered in the creamy swoon worthy potato? Flavorful slightly sweet Hawaiian pulled pork, a delicious coleslaw for crunch and sauciness, jalapenos for heat, and crunchy fried onions to top it off. Oh and a drizzle of BBQ sauce for even more bold flavor. Now a word on those French fried onions, both Sprouts and Whole Food sell gluten free French fried onions. If you can't find them, I would recommend subbing crushed gluten free tortilla chips and finely chopped green onion. You will still get the same flavor and crunch. You could also do some caramelized onions too. I don't like my coleslaw to be too sweet and this one is a great combination of savory and slightly sweet. It has Dijon mustard in it. Ina Garten makes hers with Dijon mustard. She is an amazing cook and anything she does is gold. I wonder if she has gold up in her teeth. Hmm. Things to ponder while eating Pulled Pork Stuffed Potatoes.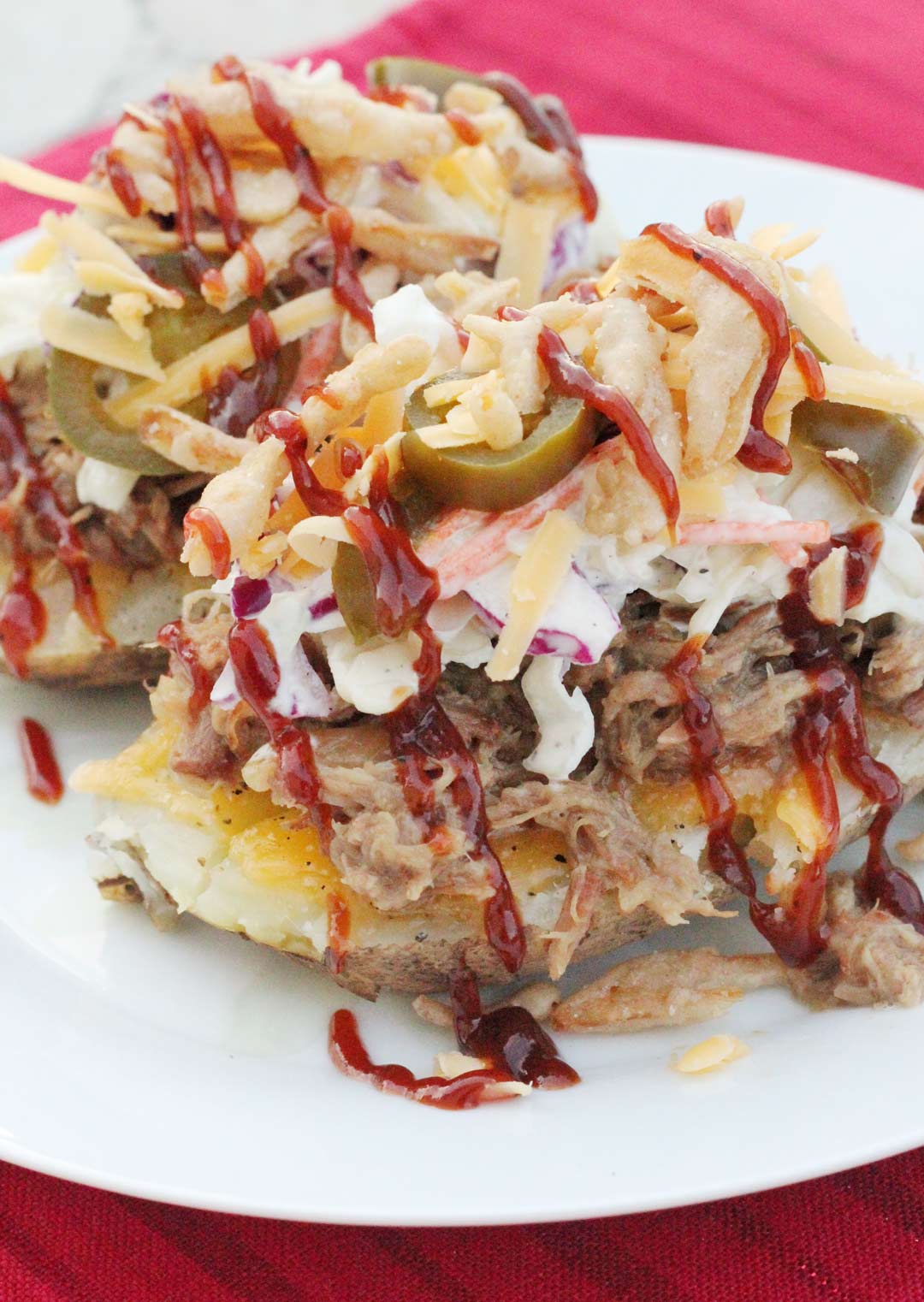 Print Recipe
Kahlua Pork Stuffed Potatoes by Gutsy Gluten Free Gal
Ingredients
1 ½ cups Hawaiian pulled pork *

4 medium sized russet potatoes- cleaned of any dirt

2 cups shredded sharp cheddar cheese (make sure it is gluten free if buying pre shredded)

1 ½ cups Gluten free French fried onions

½ cup sliced jarred jalapenos

16 oz. coleslaw mix

1 cup mayo- I used Best Foods

1 TB Dijon mustard – I used Grey Poupon

¼ tsp sea salt

¼ tsp fresh ground pepper

2 ½ TBS apple cider vinegar

1TBS sugar

¼ cup BBQ sauce – I used Kinder's
Instructions
1
If you are doing your potatoes in an Instant Pot here is how you do it. Pour 1 cup of water in bottom of instant pot. Place the trivet in the bottom of the pot on top of water. Add the potatoes on top of the trivet. Set the pressure cooker to manual and select high pressure and set for 15 minutes. It will take about 10 minutes for the pressure to build. When the 15 minutes is done. Hit cancel to turn it off. Let the pressure come down naturally. It should take about 10 minutes. Remove potatoes.
2
If you are microwaving potatoes, poke a few holes in each potato and wrap each potato in plastic wrap. Place on microwave safe dish. Microwave until done. Could take about 20 minutes since you are doing 4 potatoes. Flip in the middle of cooking. Be careful as they will be steamy when you remove the plastic wrap.
3
If baking potatoes in the oven, set oven to 425. Rub potatoes with olive oil, salt and pepper. Place on a baking sheet and bake for 45-60 minutes. Check potatoes as they bake.
4
When potatoes are done, slice them lengthwise in half. Place ¼ cup shredded cheese on each hot potato. Follow that with about 1/3 cup pork and then another ¼ cup shredded cheese. Top that with your desired amount of coleslaw. I did about ½ cup. Followed by Jalapenos and French fried onions, evenly distributed amongst the potatoes. Finally drizzle BBQ sauce on top. Even better if you have heated the bbq sauce! Can also sprinkle with any remaining cheese if you have extra. Then dig in. These are so phenomenal.
Notes
If you are not using the kahlua pork recipe from here, you could substitute with a store bought gluten free bbq pulled pork. Make sure your BBQ sauce is gluten free. We love Kinder's and Rub Rack. Sweet Baby Ray's is also gluten free.