As a parent there are always going to be days where even the simplest request seems hard to meet. You wake up feeling yuck. Having been up with the little people you birthed during the night. Or maybe you feel a cold coming on. Or you are having a bad hair day. Moms aren't always to level 10 on the energy scale, okay. I was having one of those days. I really wanted to lie on the couch, watch a home renovation show and eat Nutella out of the jar. Oh and now they say Nutella has carcinogenic palm oil, which in large amounts could cause cancer. They can stuff it. I'll probably get more cancer from breathing the exhaust from the school bus driving in front of me. Why must they take away everything good in life? First Netflix stopped carrying Fixer Upper and now Nutella. My first world problems list is super troubling.
Back to my story. Or ramblings. I was having a blah day and the Princess Sparkle who is so sweet and cute said to me in her little accented voice, "Mama, I want to make cinnamon cookies for my friends at school tomorrow." At that moment whipping out a dozen ingredients and making cookies for the friends sounded akin to mowing a 40 acre field while being followed by a swarm of bees. Not appealing. But she looked at me with these sincere thoughtful eyes and I melted. Like Olaf in the Bahamas. How could I not take the opportunity to bake or cook with my little ones? Even if you are whipping up the simplest meal, it creates memories. It shows them the importance of what we put in our bodies and how we value their time and help. Cooking with my kids is a way to open up conversation and teach new skills. I love that they love being in the kitchen.
So, I got out the stuff we needed to make our favorite cinnamon cookies, or snickerdoodles as most of the world knows them and I spent a beautiful morning with my girl. We talked about Lalaloopsys (if you don't know what those are, you will someday) and how to show kindness to our friends. My girl loves to talk. Like constantly. But there is something about the smell of cinnamon and sugar in the air while working with our hands that makes it something magical. She has the dearest heart. Her heart makes my heart want to make her heart happy. Basically I really love the little one.
I watched her face as she bit into one of these cookies because apparently she needed to taste test for her friends. 6 times. With a crumb lined- cookie filled mouth she smiled and said, "Mama these are deeeeelicious." That was so worth it. I hope you enjoy these cookies. They are light with a crispy outer crust but tender and chewy in the center. Oh and the cinnamon is not over powering but because these are buttery it is like eating the best cinnamon roll in a cookie form. These are just happy cookies. Like sunshine in a baked good. You are my friends so I taste tested many for you too. 10 times. You are welcome. Let's make some cookies, friend.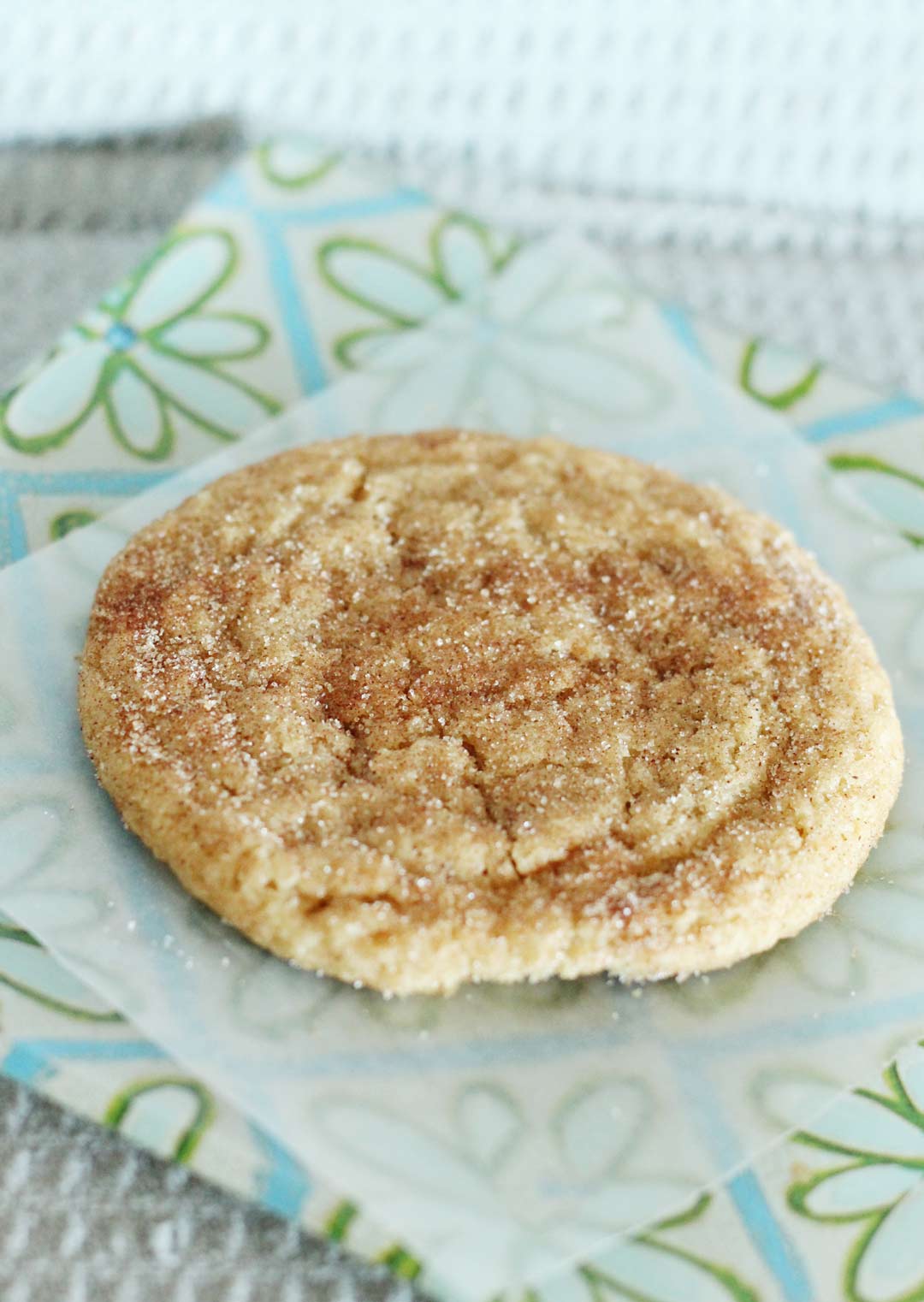 Print Recipe
Gluten Free Snickerdoodles by Gutsy Gluten Free Gal
Ingredients
1 cup salted butter- softened

1 cup granulated sugar

½ cup coconut sugar (may sub brown sugar)

2 eggs

½ tsp almond extract

½ tsp vanilla extract

2 ¾ cup Gluten Free Flour (I always use Pamela's All Purpose Artisan Flour)*

1 tsp baking soda

2 tsp cream of tartar

¼ tsp salt

¼ tsp xanthan gum

4 ½ tsp cinnamon

4 TBS granulated sugar
Instructions
1
Heat your oven to 350 degrees Fahrenheit. Line two baking sheets with parchment paper. You could also spray them with non-stick spray but parchment makes for such easy cleanup.
2
In a mixing bowl with the paddle attachment beat the softened butter, 1 cup granulated sugar and coconut sugar. Mix on medium until all combined. Next add the eggs and both almond and vanilla extracts. Mix until eggs are incorporated well.
3
Add the flour, baking soda, cream of tartar, salt, xanthan gum, and a half tsp of cinnamon to the wet mixed ingredients. Mix on medium speed until combined but don't over mix. You don't want whipped cookies. Save that for cream.
4
Scoop 1 TBS size cookie dough balls about 2 inches apart onto the prepared cookie sheets. Cookies will spread so don't overcrowd. Place into the fridge for about 15 minutes(longer won't hurt) so the dough can firm up and to prevent extreme spreading. Say no to extreme spreading. If you have remaining cookie dough because your pans are full you can pop the bowl of it in the fridge too.
5
While cookie dough is hardening mix the remaining 4 tsp of cinnamon with 4 TBS of granulated sugar in a bowl.
6
When cookie dough is done chilling, roll each ball in the cinnamon sugar mixture and return to baking sheet. Save the remaining cinnamon sugar mixture. Bake cookies for 10 minutes. Do not overbake. They should just be the lightest of brown on the outsides.
7
When they are out of the oven sprinkle the remaining cinnamon sugar mixture over the tops of the cookies. Transfer to a wire rack to completely cool. Be gentle with them. They are precious. Enjoy!
Notes
*I always use Pamela's because it is the easiest gluten free flour to work with in my opinion. It is very fine and has no weird aftertaste. It is just a delight. You never know you are eating gluten free. If you are using a different gluten free flour, your cookies may have a little different consistency. If your flour contains xanthan gum already, then omit the one in my ingredient list.
Recipe Tools used and Products We Love from Gutsy!

If you click on an above link and purchase through Amazon an item recommended on our site, the GutsyGlutenFreeGal receives a teeny tiny amount from that sale. Thank you for helping to keep this site going and keeping gluten free delicious. We heart you.