Ah, if you are hanging around this recipe, perhaps you are looking for autumn inspired treats. You have come to the right place. This Gluten Free Pumpkin Cream Pie just screams spiced comfort and celebration. I'll admit. This was a fluke. I was sitting on the couch with time to kill (which never happens… perhaps I should have gone shopping on the interwebs instead) and I was just craving something pumpkin.
I busted out a bunch of ingredients and this was born. And it was such a lovely birth. Let's move away from that analogy, shall we?
I used what is my family's favorite crust… because it is made out of COOKIES. Yes, cookies. It adds a sweetness to the pumpkin cream, which in itself is not super sweet. I found gluten free vanilla sandwich cookies (think like Oreos but without the nasty gluten) at Walmart. Sprouts, Whole Foods and Amazon all sell them too. If you can't find them, you could sub gluten free graham crackers, it just won't be as sweet. But still yummy! And fallish. The cream for this comes from maple syrup sweetened whipped cream (it's easy!) mixed with pumpkin puree, cream cheese and delicious spices. This is NO BAKE. Save your oven for turkey. Or French fries. So easy to make and so quick to come together but it tastes like a million bucks. This is a beautiful addition to your Thanksgiving dessert line up. It brings all the fall feels. Luscious pumpkin cream, crisp cookie crust and dollops of maple whipped cream. It's almost like a Hallmark movie in your mouth.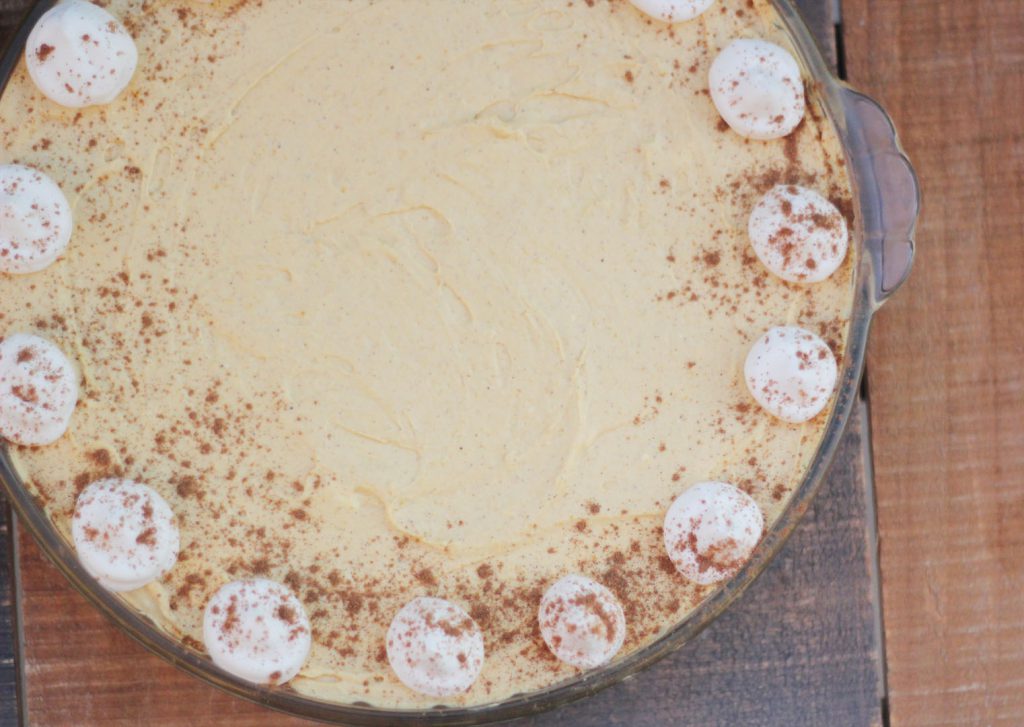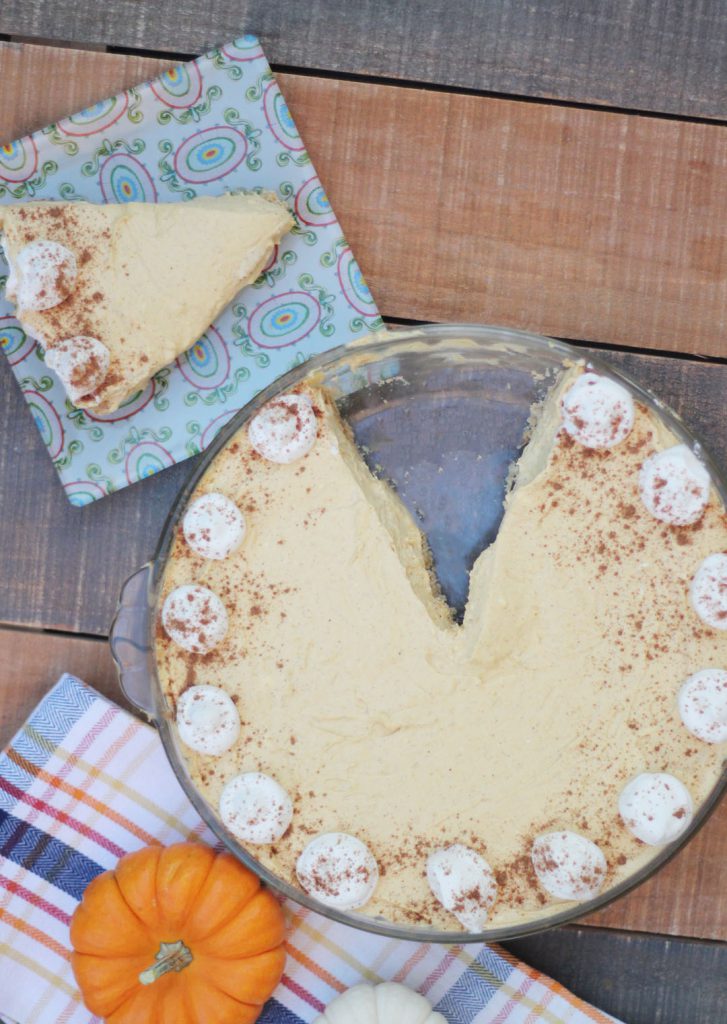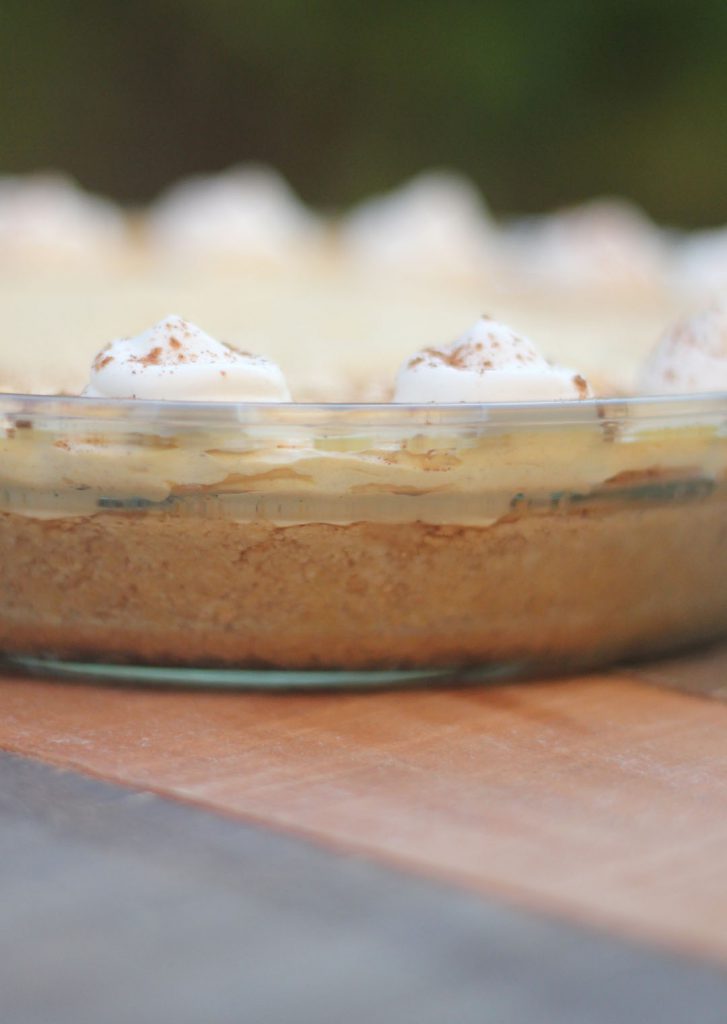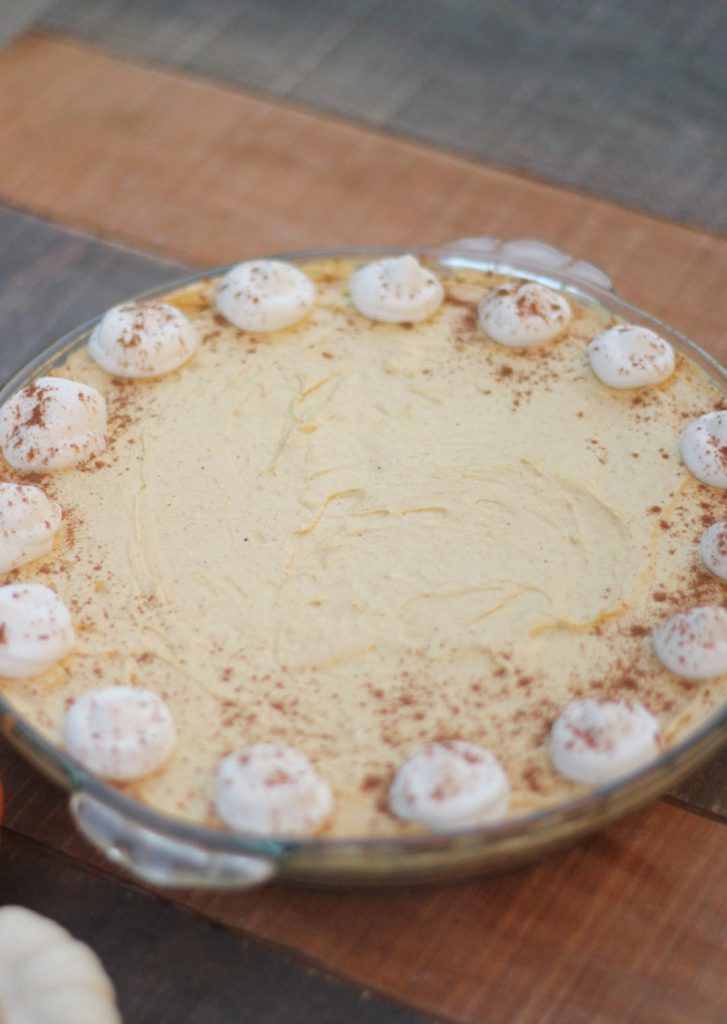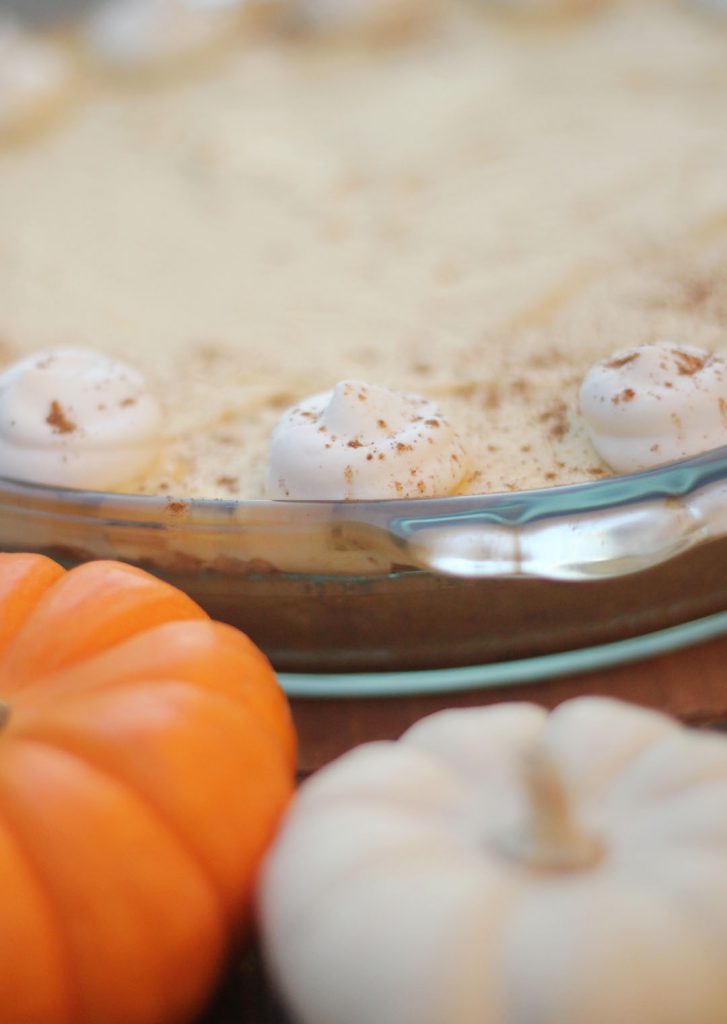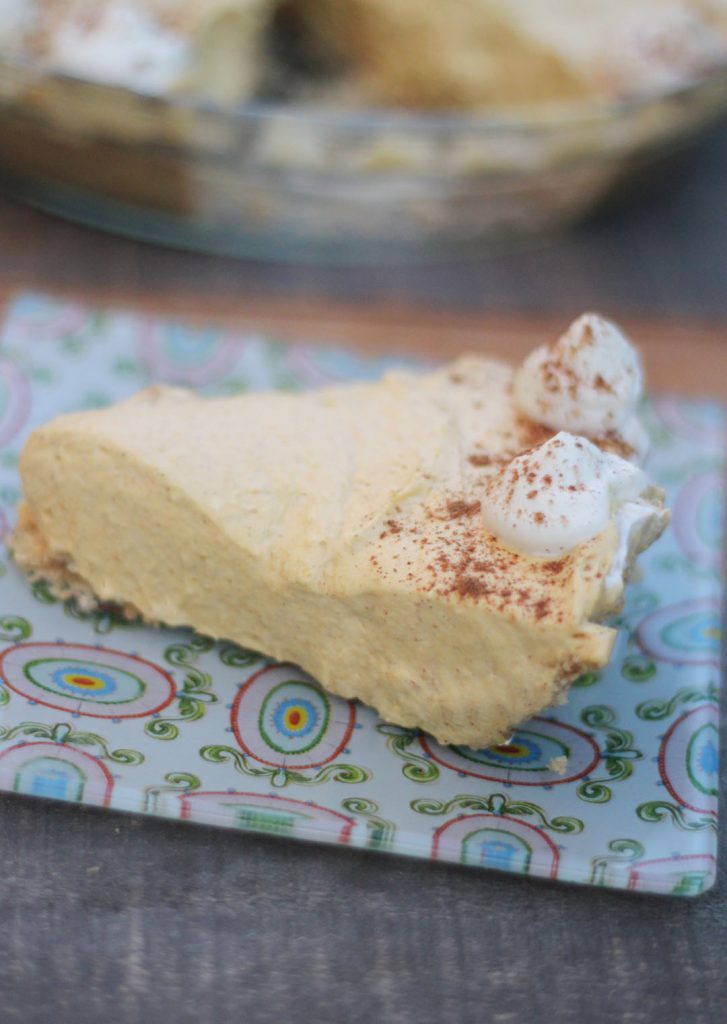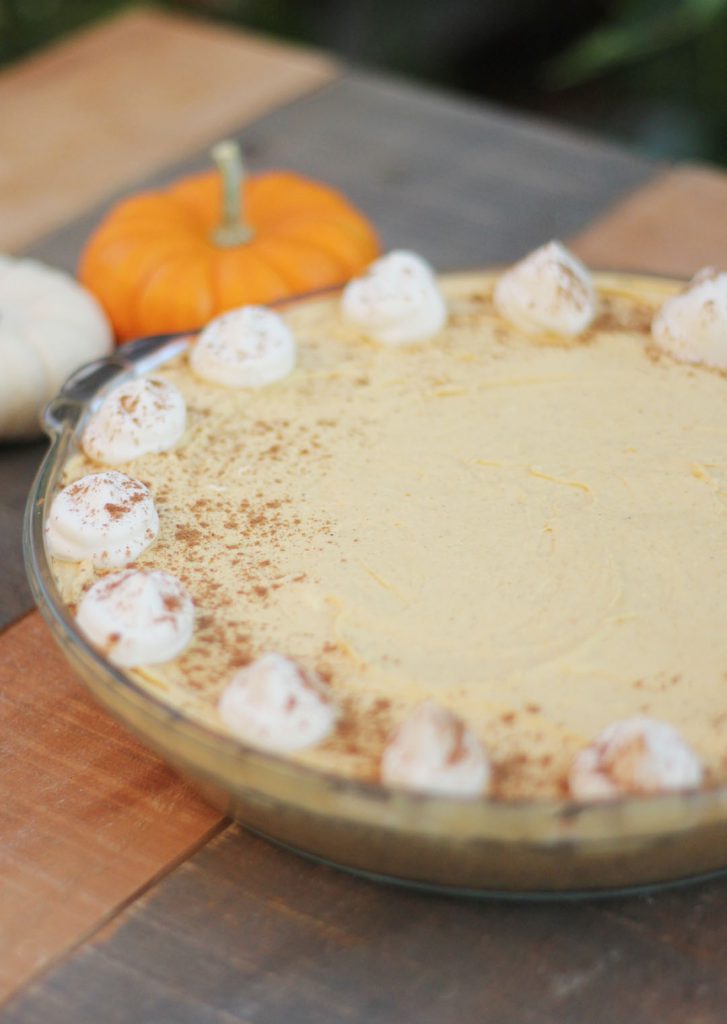 All Products Used and Loved by ME!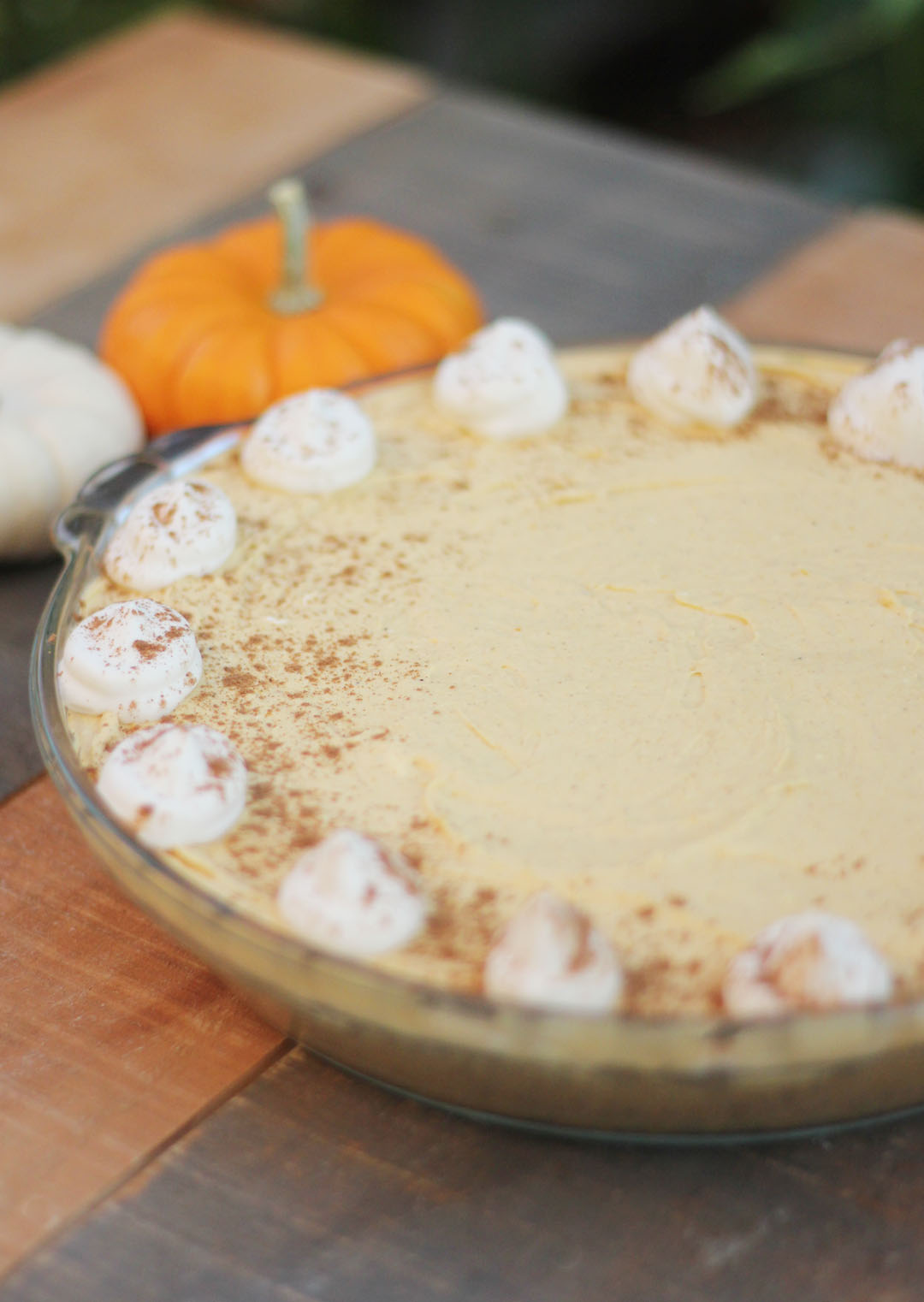 Print Recipe
Gluten Free Pumpkin Cream Pie
Ingredients
For the crust:

10.5 oz gluten free vanilla sandwich cookies (I used great value but Glutino makes some great ones too)

1/3 cup melted salted butter

½ tsp cinnamon

For the filling:

1 cup heavy whipping cream

½ cup brown sugar

1 TBS maple syrup

1 cup pumpkin puree(not pie filling. I used Libby)

8 oz cream cheese- softened

1 ½ tsp pumpkin pie spice (extra for topping the pie)
Instructions
1
Grease a 9-inch pie plate (I used a glass one) with butter. Put a metal mixing bowl of a stand mixer, or some other bowl if you are using a hand-held mixer in the refrigerator to get cold in preparation for whipping the cream.
2
Grind the sandwich cookies into crumbs in a food processor. Or if you are hulk like, by hand. They need to be very fine crumbs.
3
Mix with the melted butter and cinnamon.
4
Press into the 9 in pie plate, taking the crust crumbs about half way up the pie plate sides and place in the fridge for 25 minutes.
5
In the refrigerated bowl, whip the heavy cream, brown sugar and maple syrup until stiff peaks form with a whisk attachment on high. A few minutes should do it. Scrape the whipped cream out of the bowl and transfer to another bowl. Place into the refrigerator.
6
To the mixing bowl (it's fine if it has some whipped cream residue) add the pumpkin puree, softened cream cheese and 1 ½ tsp pumpkin pie spice. It will look kind of angry and need to be scraped down often. It will eventually combine. It takes about 5 minutes.
7
Take out the whipped cream and reserve ½ cup of it(this will be used for topping the pie).
8
Fold the remaining whipped cream into the combined pumpkin cream cheese mixture. Gently folding with a spatula until there are no more white streaks.
9
Remove the pie crust from the refrigerator and fill with the filling. It will go to about the top.
10
Next place the remaining ½ cup whipped cream into a piping bag and add dollops around the top of the pie. You could also use a Ziploc bag or simply spoon it on. However, you want to do it. Lightly sprinkle pumpkin pie spice on the tops of the dollops.
11
Refrigerate for at least 4 hours but best overnight. At 4 hours it will still be slightly soft but workable. The pic is of a 4 hour chill slice. Overnight gives you a beautiful firm texture.
Notes
This pie is a great make ahead! Will keep nicely in the fridge for 3 days.