Chocolate chip cookies are a big deal. They are traditionally what people go for when they have cookie options. So bright and shiny, all the hype and they taste good too. They are like the popular kids of cookies. Then you have your snickerdoodle, some kind of cranberry white chocolate concoction, somethings a double chocolate cookie and then there is oatmeal. I love Oatmeal Cookies. I really enjoy oatmeal, so putting it into a cookie is a logical step. The thing is, if I had to decide between a traditional chocolate chip cookie or an oatmeal, I would probably go for chocolate chip. I mean, chocolate. Am I right?
Oatmeal normally gets stuck with its kid sister… raisin. Raisins are not heinous to me. I can eat them and be relatively happy. Oatmeal raisin cookies are not despised. If done well and not dried out like the ground on Mars, they are very tasty. But why must oatmeal get the annoying kid sister only? What if we gave oatmeal the cool all-star to be buddies with? Why don't we not refer to ingredients as junior highers or wherever this analogy is going? Ahem. Okay. So I made Oatmeal Chocolate Chip Cookies the other day and gave them what they have been waiting for. The best of both worlds. There are ooey gooey, melted, sweet but not too sweet chocolate chips and there are tender, but not too chewy raisins with the right amount of texture and sugar. The great thing about these Oatmeal Chocolate Chip Cookies is that you can totally customize them. With gluten free baking it can be a little dicey to exchange out ingredients due to the temperamental nature of doughs and what not. But with these cookies, if you are in a total chocolate chip mood, just replace the called for raisins with more chocolate chips. If you are in a traditional eating cookies on the back porch with Old Yeller (before he got rabies and wanted to eat cookies and children) then go ahead and do all raisins. I like both. No, I love both. I think raisins and chocolate chips have been separated for far too long.
These Oatmeal Chocolate Chip Cookies have the perfect amount of spice added in too. Oatmeal on its own is umm…kind of … oaty. It is bland. But with a pinch of salt, some cinnamon, and brown sugar, those oats can be spectacular. The texture of these cookies is something that took me time to perfect. You don't want a doughy cookie, and you want the oats to soften enough but the worst thing in cookies is too hard nasty cookies. Maybe you are a crispy cookie lover, that is cool. We can still sit together at lunch. But these cookies should not be dried out from over baking. Or over mixing. Or by being left on Mars. These are butter based Oatmeal Chocolate Chip cookies, so they will spread. You must give them space. Like someone you are fighting with or impacted teeth. I did 6 on each pan and since they are large cookies, it was the right spacing. Parchment is my bff, so use it please. It just makes life easier. And safer. And it is satisfying to rip it. Let's go make some yummy gluten free Oatmeal Chocolate Chip Cookies, okay?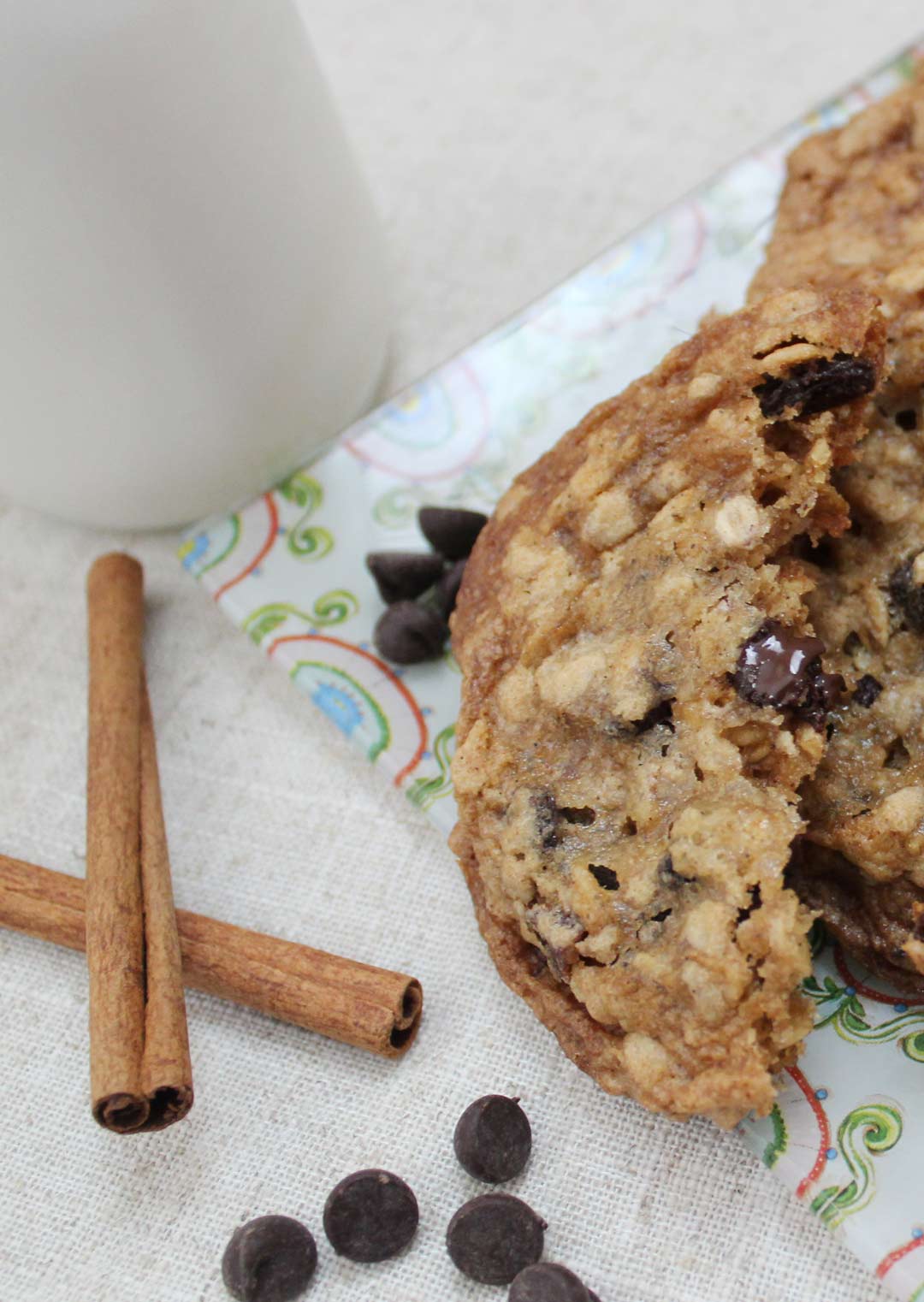 Print Recipe
Oatmeal Chocolate Chip Cookies by Gutsy Gluten Free Gal
Ingredients
¾ cup salted butter-softened

¾ cup granulated sugar

¾ cup packed brown sugar

2 eggs

1 tsp vanilla extract (I used McCormick)

2 ½ cups rolled old fashioned oats ( I used Trader Joe's) *

1 ¼ Pamela's Artisan All Purpose Gluten Free Flour*

1 tsp cinnamon

1 tsp baking soda

½ tsp salt

¼ tsp nutmeg

1/8 tsp xanthan gum

¾ cup semi-sweet chocolate chips ( I used Guitarrd, which are cheapest at Target)

½ cup raisins (I used Sun-Maid)
Instructions
1
Preheat oven to 375 degrees and line two large cookie sheets with parchment paper.
2
In the bowl of a mixer fitted with the paddle attachment, beat the butter on medium speed for 30 seconds. Add the granulated and brown sugar and mix on medium until smooth. About 1 minute. Add the eggs and vanilla and again mix until smooth.
3
In a separate bowl combine the oats, gluten free flour, cinnamon, salt, nutmeg, and xanthan gum. With the mixer on low, slowly add the oat mixture to the butter mixture. When combined and smooth add the chocolate chips and raisins to the bowl and mix until just evenly distributed.
4
Using a large cookie scoop (mine holds 1 ½ Tbsp.) place six mounds of cookie dough spaced apart on the parchment paper.
5
Bake for 12 minutes. The cookies should be golden brown but there should not be any smell of burning. They may seem not totally set but they will continue to set up on the pan.
6
Cool on pans for 5 minutes and then transfer to a wire rack to completely cool.
Notes
*Not all oats are gluten free. They can be contaminated. Check labels if cross contamination is an issue for you. * See my page on why I use Pamela's and how to measure Gluten Free flour properly. 