Gluten Free muffins. Just the sound of those three words can illicit terrifying images of crumbly bland baked goods that are more suitable to be hockey pucks or fertilizer. Before going gluten free, muffins were a favorite. I made all kinds and the kids would actually eat them. Now muffins are a bit carb heavy, so for a Type 1 diabetic like Man Boy  they needed to be balanced out with protein and made with less sugar. Once we went gluten free I started toying with the idea of a muffin that is so tasty it could be a dessert. Actually not full of junk so it could be a viable breakfast. And easy. Meaning you could make a ton of them and have them ready to go whenever. Folks, behold that muffin. The Gluten Free Mini Chocolate Chip Muffin that is.
I have seen a grown man…Boyband to be exact…pack away an inhuman amount of these. These Gluten Free Mini Chocolate Chip Muffins are his absolute favorite. I have witnessed a small Man Child, who though just a mere child with the soul of a sixty year old, take bite after bite with closed eyes and a smile spread across his mini chocolate chip smeared face. There is a little girl named Sparkle Princess who may or may not have been caught trying to serve them to her Bitty Baby Dolls because they are so good.
I am not going to use the word moist. I think most people would agree that word should just be thrown away into the terrible words bin of nothingness. But these muffins are not dry. They are not crumbly. They are not moisture deprived. The Greek yogurt adds creaminess to the batter, making it full of flavor and with added protein. Subbing out some of the granulated sugar for coconut sugar means these are better for the glycemic index and coconut sugar has a delicious caramel taste to it. If you don't have coconut sugar you may sub brown sugar. If you don't have Greek yogurt, you can sub sour cream. If you don't have chocolate chips. You can't make these.  Now I'm one of those people who in general thinks mini chocolate chips have little value. I mean they are very small and chocolate is best in large quantities but in this recipe because these are Gluten Free Mini Chocolate Chip Muffins after all, they work perfectly. There still manages to be a great amount of chocolate taste with the vanilla base. These are just our favorite muffins. Hope you get a big chocolate covered smile from them too.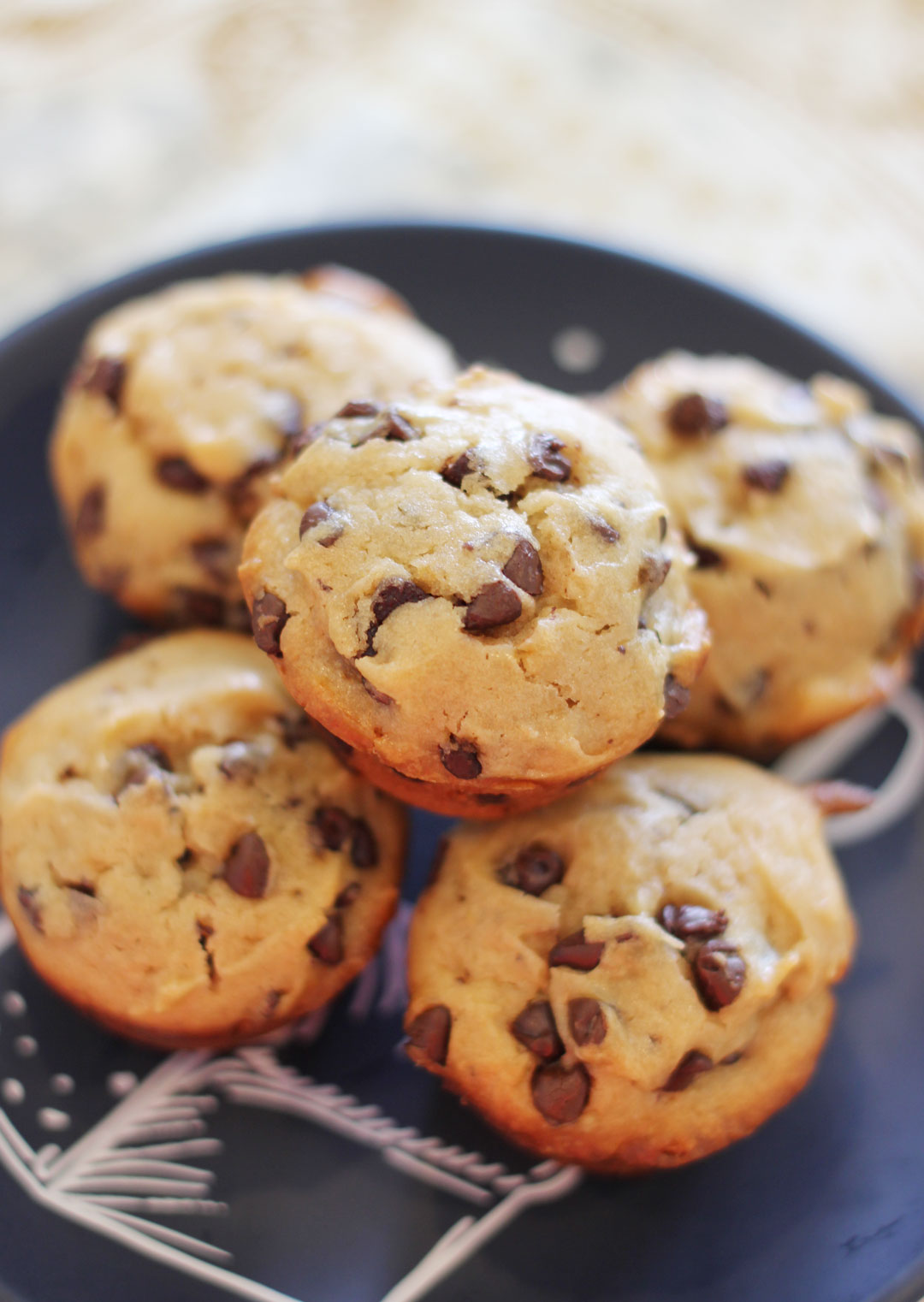 Print Recipe
Gluten Free Mini Chocolate Chip Muffins By Gutsy Gluten Free Gal
Ingredients
2/3 c white sugar

1/3 cup coconut sugar

1 egg- best if room temperature

½ cup vegetable oil

1/3 cup milk

1 tsp vanilla

¼ tsp xanthan gum

1 ¼ c Pamela's gluten free all-purpose artisan flour- measured the right way!

½ tsp salt

¼ tsp cinnamon

1 tsp baking powder

½ cup Greek Yogurt (I used coconut Chobani, you can use plain also)

1 cup Mini Semi-Sweet Chocolate Chips (I used Guittard)
Instructions
1
Preheat oven to 350 degrees
2
Spray a 24 count mini muffin tin with cooking spray such as coconut oil spray or Pam
3
In a large bowl mix together with a wooden spoon the sugars, egg, oil, milk and vanilla. Make it happy and smooth.
4
Add in the xanthan gum, flour, salt, baking powder and cinnamon. Stir until it is combined. This is going to be thick and sticky. Gluten free flour makes things stickier. It builds biceps. And then you can eat more baked goods from the calorie burn.
5
Add the Greek Yogurt and mix to combine.
6
Add the mini chocolate chips and mix just until they are distributed.
7
Fill the muffin tins to the top using a tablespoon or small cookie scoop.
8
Bake the muffins in the preheated oven for 18 minutes. I would check them at 17 minutes just to see if they are lightly golden and done. Every oven is different with its baking temperature. It's the world of oven differences that unite the kitchen appliance world.
9
When they are done and cooled for about five minutes, transfer to a cooling rack to finish their journey to room temperature.
10
These keep really well in an airtight container.
Notes
See my notes on Pamela's flour and measuring Gluten Free flour the right way. These can be frozen and reheated in the morning for when you are ready for them. I normally double the batch.