Does eating gluten free ever make you sad? I hope not. I kind of created this site so you wouldn't have to feel sad about not eating what your gluten ridden counterparts are noshing on. When we first learned about Celiacs and all that it entails I was overwhelmed but more than that I felt like treasured recipes were now going to be impossible to make because of their ingredients. I was sad. Like a frowny face emoji. But I dove head first into gluten free baking. First week into our new eating lifestyle and I had to wet my appetite for baking. It was February, which is pretty much the coldest time we see here in the armpit of Southern California. You must embrace it and bake. I tell myself that there are no calories in baked goods on rainy days since they are so rare here. If you live in a particularly rainy climate then you really can just eat whatever the heck you like, given my reasoning. You all are a permanent size perfect in my mind no matter what you do, though.
My culinary background is interesting. More self-taught from cooking shows and obsessively creating recipes than anything. I was enrolled in a cooking class at a park once when I was around ten and I remember making some kind of cookie pizza thing and I believe a chili. Kind of weird to teach ten year olds to make chili. Like we were in the Valley not out in the backwoods hunting squirrels. The fruit pizza was good though.
When I was very young most of my meals were prepared by one of my Grandmas. She was an interesting cook. She taught me to love peanut butter and mayonnaise sandwiches, braunshweiger (which I would rather lick a furry bulldog than eat now) and Jimmy Dean sausage links covered in syrup. I can't imagine why my girth tripled in size during those years. She had some recipes that were very yummy though and favorites of mine. She would make pumpkin bread that I always looked forward to. She shared it with the whole family and would bake it in those little foil loaf pans that are so cute. I could eat a whole loaf pans worth in one sitting. Ah, good times. It was so gooey and pumpkiny. I can still smell their little guest house full of baking goodness.
I took her recipe (remember that was one of the normal ones, don't be scared) and made it my own. I adjusted the flour, pumpkin and added my own blend of spices. The crumb is perfect. Not too dense but not dry at all. You would never know it is gluten free. It is pure comfort with a cup of coffee and slathered with butter. I just love butter so much. But seriously when I bite into it, I get this huge smile on my face as I think of her. My kids love this bread. They ask for it often. Watching their little faces chewing on something that is close to my heart from my Grandma is honestly a bit emotional for me. Often when we lose our grandparents early it can be hard to think of what their relationship would have been like with our own children or those we love who have come into our lives since their passing. I know all my Grandparents would have loved my littles. So make this bread, cuddle someone special and eat up in remembrance of someone you love. Grandma, this loaf is for you!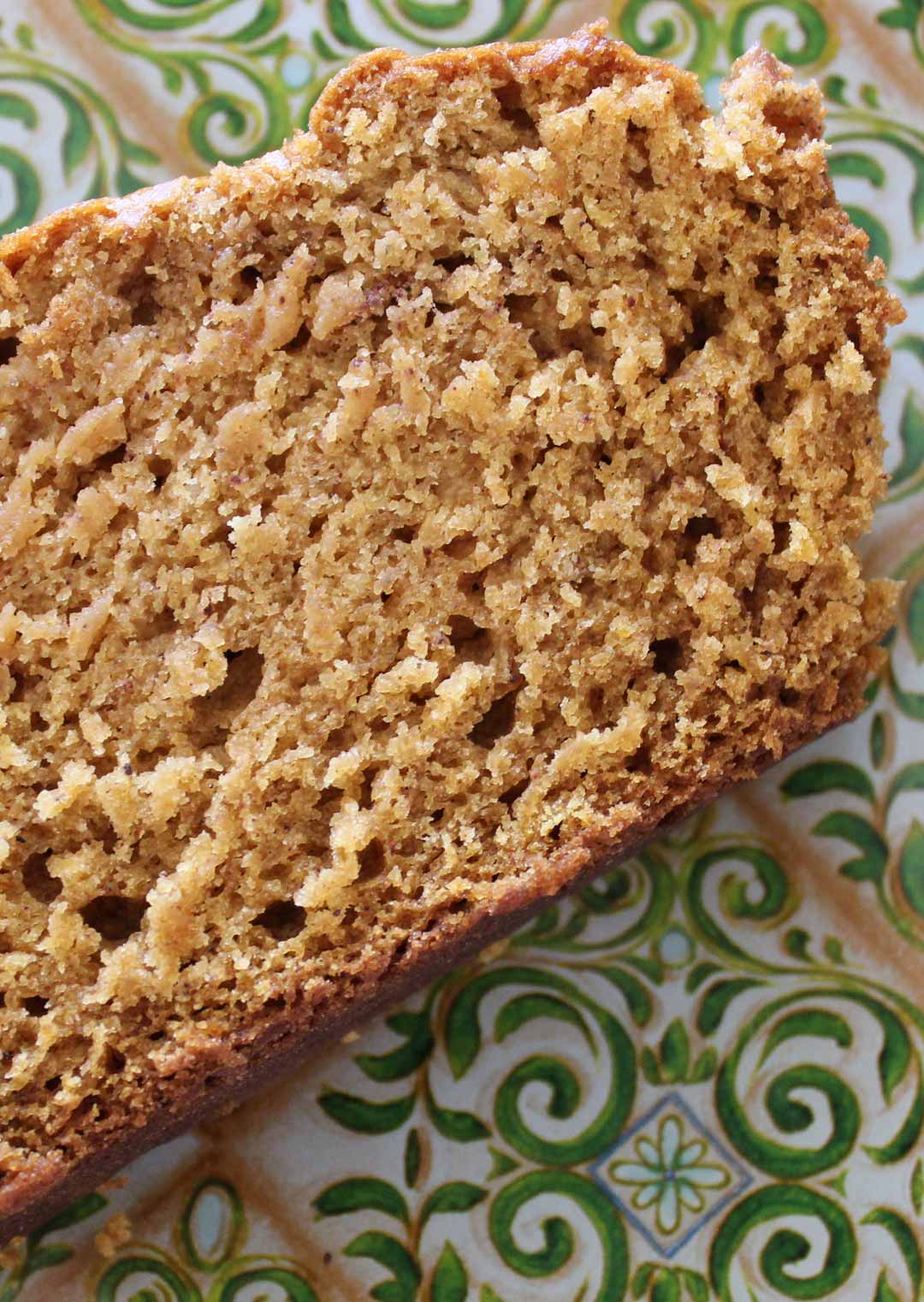 Print Recipe
Perfect Pumpkin Bread by Gutsty Gluten Free Gal
Ingredients
2 cups Granulated Sugar

1 cup coconut sugar (may sub brown sugar)

4 eggs (beaten before adding to the bowl)

1 cup pumpkin puree (Libby's is gluten free, see my note on the Sprouts brand)

1 cup vegetable oil

2/3 cup water

3 ½ cups Pamela's Artisan All Purpose Gluten Free Flour

¼ tsp xanthan gum

2 tsp cinnamon

½ tsp nutmeg

2 tsp baking soda

1 ½ tsp salt
Instructions
1
Preheat Oven to 350 degrees.
2
Line two 9 by 5 loaf pans with parchment paper for easy lifting or spray with cooking spray.
3
In a large mixing bowl combine sugars, eggs, pumpkin, oil and water with a wooden spoon or spatula until smooth.
4
Add in the flour, xanthan gum, cinnamon, nutmeg, baking soda and salt to the wet mixture. The batter will look a bit sticky.
5
Pour half of the batter into each loaf pan.
6
Bake at 350 degrees for 50 minutes or until a toothpick comes out clean from the center. Do not overbake!
7
Let cool on a wire rack until you are ready to devour it. We love it warm with butter.
8
Keeps well in an air tight container for 5 days. You can wrap the extra loaf in parchment or foil and put in a large Ziploc bag and it will freeze amazing. Keeps in freezer for a month.
Notes
A note on pumpkin purée. I have found that we can use the Sprouts brand pumpkin puree and not have a problem. The can shows that there could be cross contamination but we have never had an issue from it. In my research Libby's is a true gluten free non contaminated pumpkin brand. Another note, if you want to be fancy, add in a cup of chocolate chips. It is exceptional. http://www.gutsyglutenfreegal.com/pamelas-gluten-free-flours-and-how-to-measure-gf-flour/