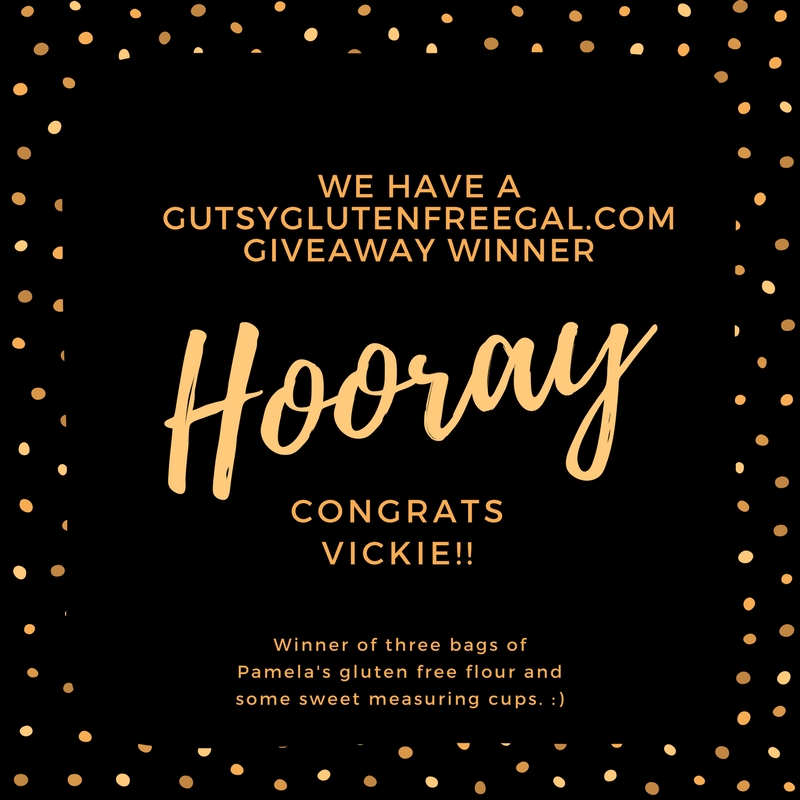 Hi Everybody!
So you know how I am obsessed with Pamela's Gluten Free Flour, right? Oh, some of you don't? Well, I am. I love it almost as much as chocolate and bacon. You know those are what make life go round.  Almost every baked good recipe of mine is based off of using their flour. It is always the one I recommend to use. It is so fine, there is no gritty mouth feel. And there is no strange aftertaste. It has been a lifesaver since we switched to Gluten Free. It is free of junk and most major allergens. They have several different flour blends to choose from as well. I have been able to easily substitute it cup for cup in non gluten free recipes. I have my gluten eating friends using it because they really like the taste and consistency. All this to say I am a major Pamela's Products groupie. I wanted to share what I consider to be one of the biggest lifesavers in my kitchen with you!
Pamela's loves you too and has teamed up with me to giveaway to one lucky winner some awesome flour. You will get (1) 4 lb bag of the All Purpose Flour, (2) 24 oz bags of All Purpose Flour and a set of Pamela's measuring cups. I'm going to admit that I wanted to keep the measuring cups but I looooove you, so they are included. Instead I will just write Pamela's on the handle of my current measuring cups with a sharpie. It should look really classy.
There are several ways you can win this awesome flour set. Signing up for our newsletter is the first way. Yup, we now have a newsletter that will be delivered each week to your inbox with featured recipes, some lifestyle tips and usually some sort of funny(I think!) quip. If you look at the giveaway box below, you can earn even more entries after signing up for the newsletter just by liking us on Facebook, following on Pinterest or Instagram or even commenting on a recipe. The entry period begins this morning and goes until Sunday February 26th, 2017 at midnight PST. Winner will be randomly selected and announced on Monday.  Again all you have to do to win the most amazing gluten free flour on the planet is to sign up to get delicious recipes emailed to you and share the love of gluten free.
Good luck and may the flour be with you!
Sign Up for the Newsletter Here!
Confirm Your Entry and Increase Your Chances to Win Below!
And in case you aren't the lucky winner, you can still be a winner in the kitchen and use Pamela's. You can buy it by clicking on the Amazon link. Whooo, I can just smell those cookies.

If you click on an above link and purchase through Amazon an item recommended on our site, the GutsyGlutenFreeGal receives a teeny tiny amount from that sale. Thank you for helping to keep this site going and keeping gluten free delicious. We heart you.
Shipping for continental United States only. 🙂