Are you a foodie? What does foodie even mean? I looked up a definition that came out of an Urban dictionary, so you know it is really legit. There were a number of unflattering descriptions of the term but this one struck me as funny.  Definition: A person who enjoys eating food, unlike everyone else, who hates food, thinks it's disgusting, and would never consider eating it.
Person #1: I'm a foodie, I love eating food!
Person #2: Wow, you're so unique. I hate food and wouldn't eat it even if I had to stay alive.
Now that was meant to be humorous…I hope, but I think foodie means different things to different people. I cook constantly but I don't know that I would consider myself a foodie. I don't research the latest and greatest chefs and restaurants. I appreciate a fine dining experience but also enjoy greasy tacos from a cart. There is no food snob in me. Except for maybe revolving conveyor belt sushi places. I just can't get behind warm sushi. That is supposed to be cold. And not served in a tiny baggage claim apparatus. I do feel however, when you use lobster it is a real foodie ingredient. Like I should change my name to Fiona and wear a mink coat, which would actually be fake fur and most likely made out of shed bulldog hair. This post has, like many before it, taken a disturbing turn. Let's talk about the food here, shall we?
Lobster is an ingredient that is highbrow. Because it has delicate flavor but also because it comes with high dollar signs. While I actually prefer crab meat and scallops to lobster if I'm going to spend big at the fish market, I can see why so many people love it. I wanted to make a light and refreshing salad that used lobster but that wasn't going to break the bank. I'm also not going to waste lobster meat on a subpar gluten free bun. And I was feeling bloated and didn't want more carbs. That is usually the underlying reason to cutting out my breads. I had made my delicious Caprese Lobster Pasta and had some langostino lobster meat left. You can read that recipe for an explanation of the origin of langostino lobster. Hint: the name means tiny lobster.
I had been to a restaurant in our town that makes a delicious lobster roll. On gluten ladled bread of course. As I saw someone devouring it like a monkey getting a banana for the first time, I thought about how a lobster roll could totally be a salad. Just make a mayonnaise based dressing of sorts to put the tender lobster in and then put in on fresh greens. And top it with bacon for crunch. Because bacon. So I did exactly that. I made a light mayonnaise based sauce that has citrus, garlic and a pinch of heat. And some very finely diced red bell pepper for sweetness and green onion for a little bite. The flavors can't be too over the top because you want to taste and appreciate the lobster. This was a great lunch that filled us up from the protein of the lobster but Boyband and I didn't feel stuffed. We had it with some tomato basil soup from Whole Foods and it was a really nice fast meal! We were like total foodies. Except I don't think foodies eat premade soup. Maybe they do if the ingredients are exotic enough. Whether you are a foodie, just like food times a million like me or eat to live, this is for you. Let's go make a beautiful and fresh (and gluten free of course!) Creamy Lobster Salad.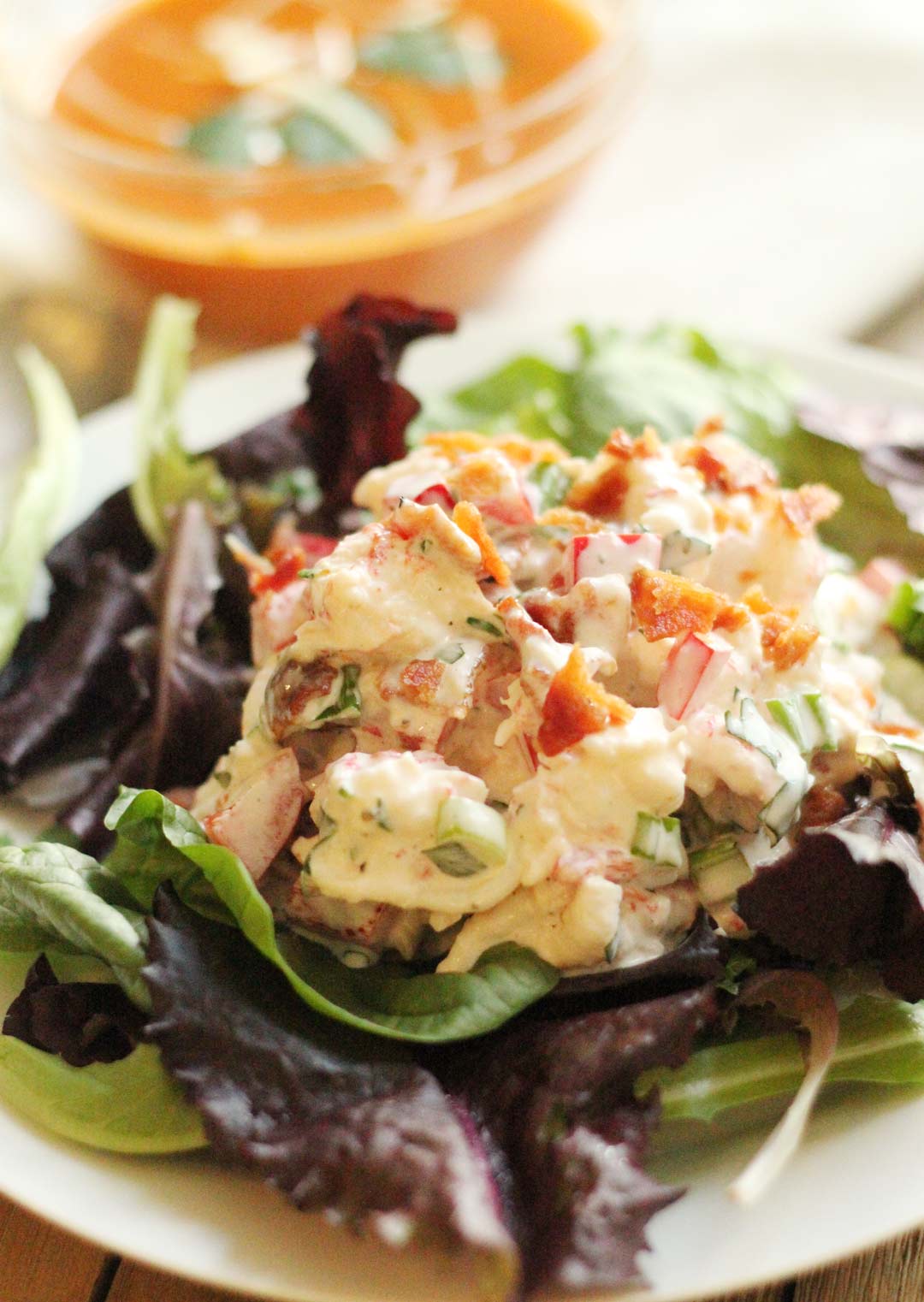 Print Recipe
Creamy Lobster Salad by Gutsy Gluten Free Gal
Ingredients
6 oz cooked Langostino lobster or lobster tail meat (mine was from Trader Joes)

2/3 cup mayonnaise (I used Best Foods)

½ tbsp. lemon juice

½ tsp honey

1 TB chopped flat leaf Italian parsley

½ tsp garlic powder

¼ tsp cayenne pepper

Salt and pepper to taste

2 green onions- white part removed, greens thinly sliced

1/3 cup finely diced red bell pepper

4 strips of cooked bacon- crumbled

4 cups mixed greens or butter lettuce

Optional: lemon wedges for serving
Instructions
1
Rough chop the lobster into large chunks. Make sure the lobster is dry. Pat with a paper towel if not.
2
In a bowl mix the mayonnaise, lemon juice, honey, parsley, garlic powder, cayenne, salt and pepper.
3
Add the onions and red bell pepper and mix together.
4
Gently fold in the lobster meat. You don't want to break it up. Just coat it with the wet ingredients.
5
Put two cups of lettuce on a plate and top with half the lobster mixture and half of the bacon.
6
Serve with lemon wedges for squeezing over the salad if you like.
Recipe Tools used and Products We Love from Gutsy!

If you click on an above link and purchase through Amazon an item recommended on our site, the GutsyGlutenFreeGal receives a teeny tiny amount from that sale. Thank you for helping to keep this site going and keeping gluten free delicious. We heart you.