Have you ever had a cookie make your face look crazy? Yes, keep reading. Like you ate a cookie and it was so delicious that you couldn't help but be transported to a world where you were floating on a cloud of butter? And your face looked blissful yet terrified because you knew the bites of cookie would end and the butter cloud would melt? Maybe I shouldn't write these posts when I'm tired. Or trying to exercise self-control with eating cookies. Notice I said exercise self-control, not actually exercise. People, someone needs to send me a fit bit, a treadmill and some super glue to attach my hands to the handles. I need to be forced to work out right now. When it is cold I turn into a bear. I want to add extra padding, I get grumpy if I'm awoken out of my cave and I love Charmin commercials. Back to cookies, these cookies will make your face have a party. They just will. You may even do a dance while you eat them.
One of my first successful gluten free baking attempts was for a monkey bread coffee cake. I have since lost the recipe and really should try to recreate it but I remember part of what made that coffee cake so moist was that it had dry pudding in the batter. I am not a fan of prepared pudding. It lacks substance and I eat the entire amount that it makes because I don't feel satisfied. Then I just feel gelatinous. But dry pudding can liven up baked goods. Before we went gluten free my father-in-law would make this pistachio cake that had pistachio pudding in it. I can remember the days of sitting down and eating that and wondering why pistachios weren't pictured on more t-shirts. They were wonderful and deserved recognition. And the key to that cake was the pudding. It just made it so soft and almost like a tres leche cake. But green.
These cookies have pudding in them. And they are worthy of much recognition. I use Jell-O instant vanilla pudding. It is gluten free but does not mention manufacturing processes. I cannot vouch for other brands or flavors. So pudding in cookies is awesome. What about the other goodies in this cookie? I really don't want you to count these out because they have dried cranberries in them. Dried cranberries in and of themselves may not be pleasing to the palate, but in these cookies they add a sweet and tart flavor that balances the other ingredients well. Like apples and peanut butter or kettle corn. I don't know, they just work and yes I think they are essential and yes if you don't like them you could just sub more chocolate. I don't ever judge for subbing MORE chocolate. A typical way of making cranberry containing cookies is to mix them with overly sweet white chocolate. I talk in my bundt cake recipe about my loathing of white chocolate. It is true. It is not my favorite, but yes because it is a yin to the cranberry yang, it works. BUT I added a ton of dark chocolate chunks too.
See, it is all about cookie add ons of all different walks of life coming together to make a difference. In a world of dry crumbly substandard not fit for a monkey gluten free cookies, these cookies bring about a taste bud revolution. Gluten Free cookies can be delicious. They can taste absolutely nothing like gluten free cookies of yester year. They can be worthy of taking to functions and selling at bake sales. These cookies are good enough to have a diamond ring hidden in them and used to propose. And they have a lot of butter in them which you know makes them delicious. Now because they are gluten free and contain butter and not shortening they will need to set up in the refrigerator. I hate to do that to you. I know you want instant cookies. But really you need to have them in the fridge for at least a few hours. Overnight if you can. Like my chocolate chip cookies, they take a little time to firm up but are so worth it. Now let's go make some incredible cookies! My sister-in-law had these and called them amazing. She also subsequently bugged me asking when I would post the recipe for her, so the name is homage to her. And her demanding need for cookies. Now let's go make some incredible cookies!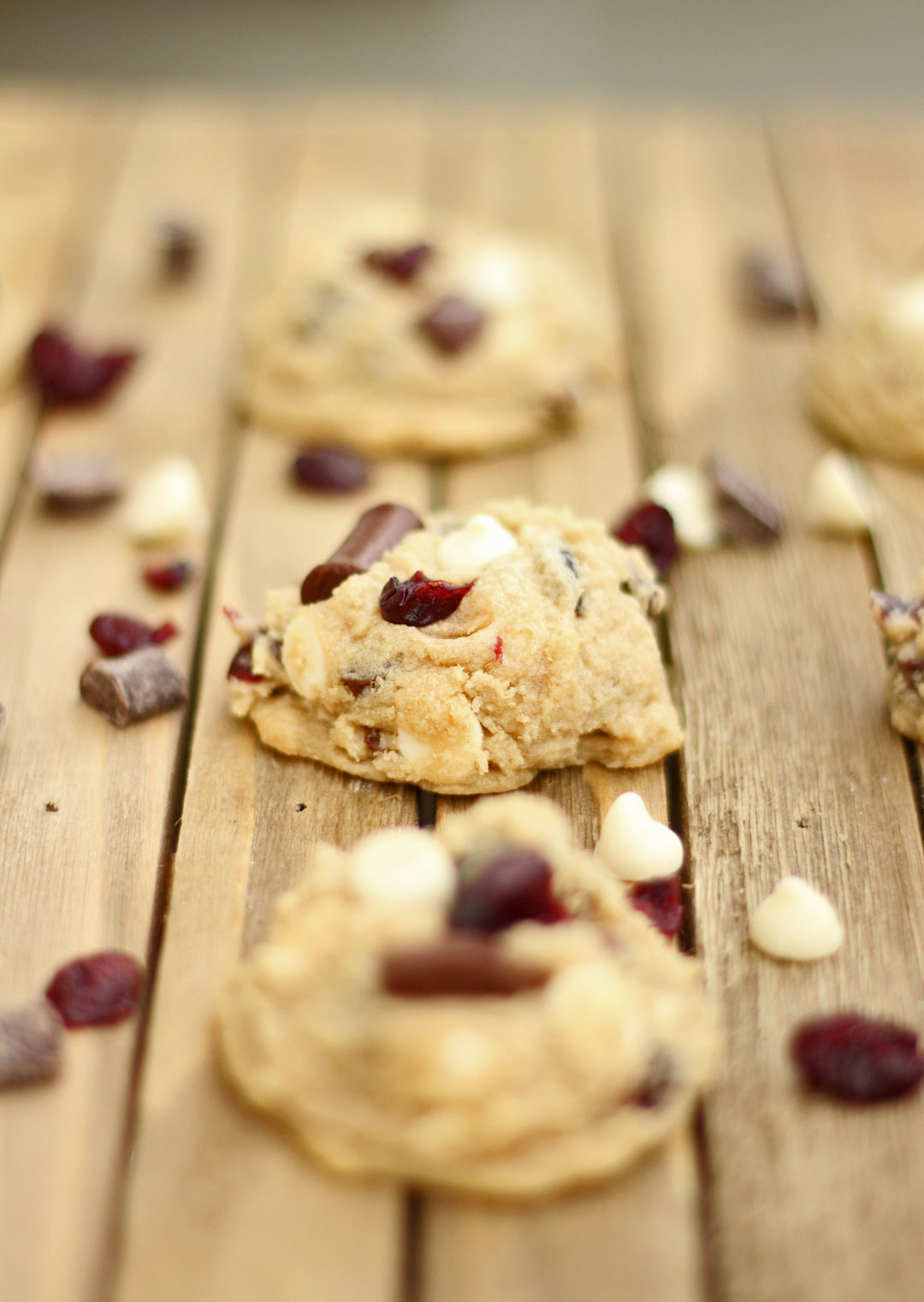 Print Recipe
The Amazing Chocolate and Cranberry Cookie
Ingredients
1 stick salted butter (8 TBS) -softened

½ cup brown sugar

¼ cup granulated sugar

1 egg – best at room temperature

2 tsp vanilla (I used McCormick)

1 ¼ cup Gluten Free Flour- (I always use Pamela's All Purpose)

¼ tsp xanthan gum

½ tsp cinnamon

1 tsp salt

½ tsp baking soda

¼ cup Jell-O instant vanilla pudding (make sure yours is gluten free if using another brand)

2/3 cup dark chocolate or semi sweet chunks (I used Enjoy Life)

2/3 cup white chocolate chips (I used Guittard)*

2/3 cup dried cranberries (I used Ocean Spray)
Instructions
1
Remember you are not preheating an oven right now. These need to be refrigerated for at least a few hours first. Sorry.
2
Line two large sheet pans with parchment paper.
3
In a large bowl combine the gluten free flour, xanthan gum, cinnamon, salt, baking soda and powdered dry pudding.
4
In another bowl with an electric mixer, cream together the butter and two sugars. Once combined and fluffy add the egg and vanilla. Mix on medium until all incorporated.
5
Add the bowl of dry flour ingredients to the wet ingredients and mix on medium/low until combined. About a minute.
6
Next add the two types of chocolate chips and the cranberries. Mix on low just until they are evenly distributed.
7
Drop tablespoon sized cookies onto the parchment paper. You may choose to add additional chocolate chunks or cranberries on top. That way people know more of what is to be expected in the cookie and because additional chocolate is always applauded. Give them plenty of room. My cookie sheet is 18 by 13 and I got 12 cookies on each sheet. Cover and refrigerate for a few hours or even overnight. I left mine overnight. It was a difficult sacrifice.
8
When ready to bake place in an oven that has been preheated to 350 degrees. Bake for 10 minutes or until just set. You don't want to overbake.
9
Let cool on pan for 15 minutes before transferring to a rack to cool completely or to store in an airtight container. Or to eat and feel ridiculously happy.
Notes
Cookies stay fresh in an air tight container for several days. *Some white chocolate has gluten in it. Always read the label.
Recipe Tools used and Products We Love from Gutsy!

If you click on an above link and purchase through Amazon an item recommended on our site, the GutsyGlutenFreeGal receives a teeny tiny amount from that sale. Thank you for helping to keep this site going and keeping gluten free delicious. We heart you.