Everything is cuter when it is small. Puppies. Babies. Love Handles. Mini Coopers. They just ooze cuteness. I for one am not impressed when my food is small. I mean, yes it could be considered adorable to have a stack of tiny silver dollar pancakes. But it is only adorable to my mind. My stomach thinks it looks ridiculous. So I was hesitant to call these Mini Wedge Salads. Each salad is actually a good size, it just so happens they are smaller than a traditional huge head of lettuce wedge salad. And yes, gosh darn it, these are in the same category as baby chicks… super cute.
These are perfect for appetizers, because you could even cut these up in half again, so they are more small bite sized. They aren't heavy but the flavor of bacon and blue cheese is classic. I almost called these California Wedge Salads because of the avocado. We here in on the West Coast add avocado to everything. I know if you live in other states, avocado might be scarce. And I'm sorry about that. I will try to pool my money together to send you some. Not to rub it in but avocado is one of my most favorite ingredients. It is so creamy, full of healthy fat, and brightens up any dish. Avocado and bacon, goes together like blue cheese and bacon. Thus making x +y = m. Pretty much all three ingredients go together well.
Iceberg lettuce can get a bad rap. It isn't the most nutritional of the lettuces, so it has been overlooked more in recent years. But it is so crunchy and cool! I say make iceberg popular again. It really does still lay its claim to Wedge Salads. I've made wedges with romaine. It just didn't seem right. Like a dog wearing bunny ears. Something was just off. So we have the cool lettuce, creamy avocado, ripe sweet tomato and the dressing. Oh my word the dressing!
Homemade blue cheese dressing is spectacular. The bottled stuff just can't even compare. Ever. I'm sorry. I have to just hold tight to that belief. Dressings can be gluten traps anyway. Bottled dressing is often laced with msg and preservatives. I want fresh from the fridge creamy blue cheese dressing. I mean would you want to eat fermented cheese that has been sitting in preserved soybean oil in a store for a year? No. You deserve more. You deserve this dressing. Now if you don't like blue cheese, I will once again pool my money and send you to a taste bud rehabilitation center. I'm not saying I don't understand it. I was six once and didn't like blue cheese. This is not a hit you over the top of the head blue cheese recipe, but the tanginess is still there. The nutty flavor still comes through. Freshly crumbled blue cheese is a totally different character than pre crumbled. You can use either though. I use what is on sale. J And gluten free.
Some Celiacs will not eat blue cheese. The belief being that the way they used to get the blue (mold, sorry) to the cheese is by starting it on bread. Hence gluten. The amount of gluten that you would be ingesting that way is below the limit of criteria for a food to be considered to be containing gluten though. I mean we are talking microscopic but still it would have had contact. But that way is not the most economical way to make blue cheese anyhow, so most US manufactures do not use any gluten in their blue cheese making. I got mine at Sprouts and it was gluten free. Always check ingredients. If you don't feel safe doing it, then don't. Always trust your gut. Haha. This dressing is actually fabulous if you want to make it as is and sub chunks of another cheese. Havarti or fontina would be great. It won't have quite the same bite to it, but it will still be delicious.
These salads are a great first course but we eat them as dinner. We just eat multiple mini salads. I feel so fancy eating dinner that way. These are great with some garlic bread (recipe coming soon!) or on the side of protein. I mean steak and wedge salads just kind of go together. I have made these for parties and people go wild for them. I mean overlooking Spinach Artichoke dip kind of love here. Let's make them now, shall we? Okay.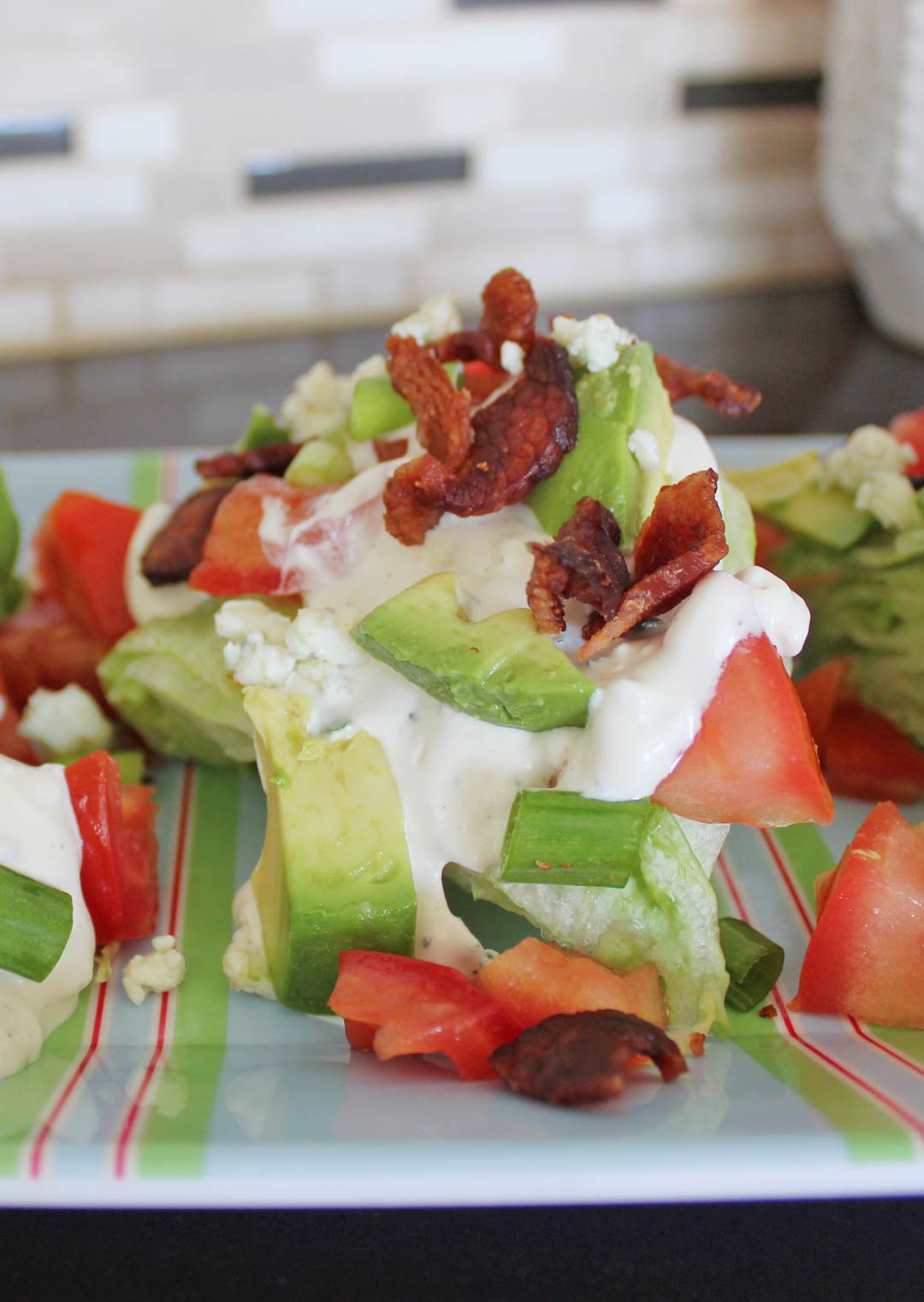 Print Recipe
Mini Wedge Salads with Homemade Blue Cheese Dressing by Gutsy Gluten Free Gal
Ingredients
For the Dressing:

Yields 1 ½ cups of dressing

2 tsp water

½ tsp Dijon mustard (I used Grey Poupon)

1 TB Chopped Italian Parsley

¾ cup sour cream (light is okay)( I used Daisy)

½ cup mayonnaise (I used Best Foods)

½ tsp garlic powder

½ tsp salt

½ tsp black pepper

1 tsp honey

2 oz crumbled blue cheese or gorgonzola

For the Salad:

1 head iceberg lettuce

2 Tomatoes- chopped

2 Green Onions- chopped

1 avocado- diced

½ lb thick cut bacon (I used Farmer John Black Label)

1 oz Blue Cheese or Gorgonzola- crumbled

Salt

Pepper
Instructions
1
In a bowl combine all the dressing ingredients except the 2 oz. blue cheese. Once everything is together well(you may whisk it if easier) add the blue cheese and gently fold it into the dressing. Place in the fridge. This dressing tastes best if it has had a chance to sit for an hour or so. If you don't have time, no biggie though.
2
Cut the iceberg into small wedges. Do this by cutting it in half. Then those halves in half and then all the halves again. Make sure the head or stem part is removed and not part of the salad.
3
Cook up your bacon. I like to use a bacon tray that I won in an White Elephant gift exchange. It is seriously the best tool! It cooks it so fast and there is less grease. Crispy perfect bacon every time. There is a link for one at the bottom of the page if you want yummy bacon too. Cook the bacon how you prefer. And then crumble into large pieces.
4
When the bacon is cooled you are ready to assemble the sandwiches. I like to line the mini wedges of lettuce up on a serving platter. Then top with the tomato, green onion, avocado and bacon. Just distribute it all evenly. Now sprinkle each wedge with a dash of salt and pepper. It just amps up the flavor. Now put a hearty spoonful of the dressing on top of each wedge. Follow that up with the remaining 1 oz. of blue cheese. Yes, blue cheese on top of blue cheese dressing. It is proof that life is great.
5
Appreciate the cuteness and dig in.
Recipe Tools used and Products We Love from Gutsy!

If you click on an above link and purchase through Amazon an item recommended on our site, the GutsyGlutenFreeGal receives a teeny tiny amount from that sale. Thank you for helping to keep this site going and keeping gluten free delicious. We heart you.