Do you like nachos? You probably do if you are looking at this page. Or you are bored. Either way, let's discuss nachos! They are the ultimate flexible appetizer. You can dress them up, dress them down, and pretty much layer whatever you want on them. You can use tortilla chips, cauliflower, apple slices, or potatoes as the base. The world is your oyster. Heck, maybe you could use oysters. Might be a little smelly. And small. Nachos are super simple. And easy to make gluten free.
As a rule gluten free tortilla chips are easy to find. I mean, why would there be gluten if they are made from corn tortillas and oil? Well, the contamination is usually the issue. So if you have Celiac Disease make sure you read those labels. It may be gluten free by nature but they threw them around in a flour factory or something. There is always an or something. How gluten gets everywhere is mind boggling. I used On the Border chips for these. I also love Late July tortilla chips. They have a great crunch and are made with healthful ingredients.
Have you made my Hawaiian Pulled Pork yet? You should. I have great recipes for using it. This is one way I use it. It makes the best nacho topping. It is simple because you cook the meat in the Crock Pot or Instant Pot and then it is ready for use in a myriad of other dishes. It is savory and tender. Juicy and flavorful. Easy and Peasy.
I will admit, this was our dinner along with some fruit after a very late soccer game. Perhaps not the healthiest thing that has ever flown out of my kitchen, but since the meat had cooked all day and I had prepped the pico de gallo ahead of time, it came together in minutes. Also why the photos lack a little somethin' somethin'. But I wanted you to see how good it looked! And I was starving! Forgive me! The timeliness of this dish is also why it is the perfect appetizer because you can focus on your guests and not the food prep. You could do a recipe for the meat and use half to make sliders and the other half to make nachos. That is what I'm going to be doing this weekend.
Now a word about guacamole. You can buy guacamole. But really it is so simple to make your own at home and it is delicious. I know avocados may not be readily available, so buying it pre made isan  option. Costco, Trader Joes, and Aldi are great places to buy it more inexpensively. If you can't find it, then leave it out. I would sub in some more fresh pico de gallo(salsa) and sour cream in its place. This pico de gallo is so basic, you would wonder how just a few simple ingredients can make such an impact. So we have tasty tender pork, cool sour cream, fresh pico de gallo and creamy guacamole. Layer it with chips, beans and a mountain of cheese and that sounds like the making of a pretty great gluten free appetize… or fast dinner. Don't be ashamed!
Let's go make some amazing nachos.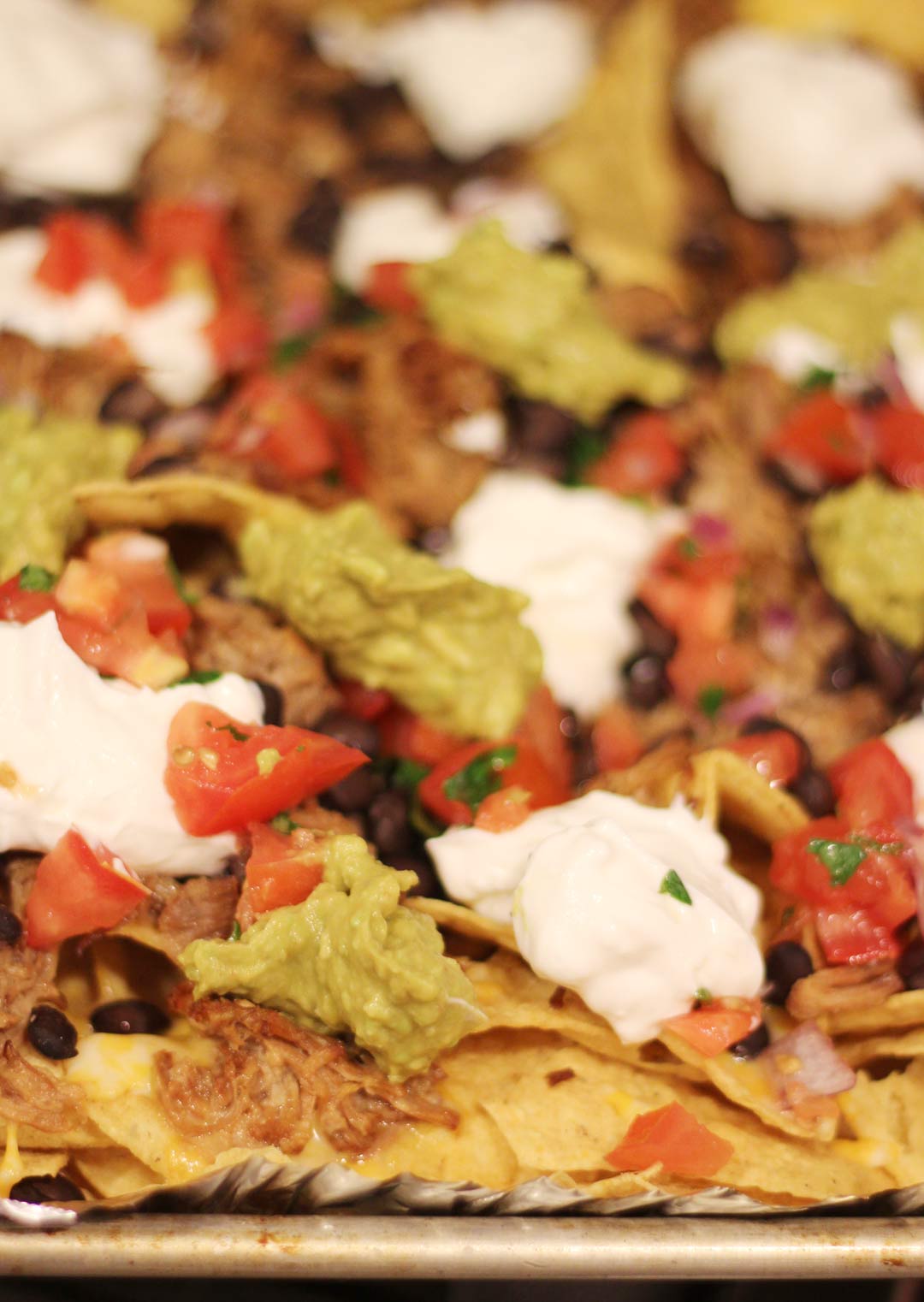 Print Recipe
Cheesy Loaded Nachos by Gutsy Gluten Free Gal
Ingredients
2 cups Hawaiian Shredded Pork

1 bag or about 8 cups Tortilla Chips (make sure gluten free)

1 can black beans- drained and rinsed (I used Bush's)

3 cups shredded cheddar cheese (if not shredding your own, make sure it is gluten free)

1 16 oz container Sour Cream (I used light Daisy)

For the Guacamole:

3 medium ripe avocados-peeled and cubed

¼ cup chopped cilantro

1 finely chopped tomato

2 chopped green onions

1 garlic clove minced

1 tsp Mexican seasoning

1 tsp honey (I'm serious)

Salt and pepper to taste

For the Pico De Gallo:

4 tomatoes chopped very small (I used romas)

½ sweet onion- chopped

¼ cup chopped cilantro

Juice of 1 lime

1 finely chopped serrano chili- seeds and ribbing removed

1 tsp honey (I'm serious)

Salt and pepper to taste
Instructions
1
Preheat oven to 350 degrees.
2
In a bowl combine all the pico de gallo ingredients. Stir with a spoon and let the flavors come together. I like to make it ahead of time and let it sit for an hour, but no biggie if you don't have the time. Just give it as long as possible the day you are going to make it.
3
On a large baking sheet lined with parchment paper. I adore my large baking sheets because they have lids, so I can transport stuff like these nachos really easy. Ahem, any who. Line that pan please and then layer the tortilla chips. Next cover the chips with 2 cups of the cheese. If you have overlapping chips, make sure you are sticking some cheese in between them. Once the cheese is added, then sprinkle the black beans over the top. Try to evenly distribute. Next cover the chips with the pulled pork, again getting it on all the chips. Finally sprinkle the remaining 1 cup of cheese on top of the pork and beans. Bake in the oven for 10 minutes.
4
While baking, make the guacamole. In a bowl mix together all the guacamole ingredients. Now how chunky this is will depend on your preference. I wanted a smoother guacamole for our nachos, so that is what I did. I made sure to smash the avocado with a fork as I stirred it. IF you want chunky, then gently fold ingredients together until it is creamy but not too smooth.
5
When nachos are done, remove from oven and top with dollops of sour cream, guacamole, and pico de gallo. Serve immediately. These are soooo good.
Recipe Tools used and Products We Love from Gutsy!

If you click on an above link and purchase through Amazon an item recommended on our site, the GutsyGlutenFreeGal receives a teeny tiny amount from that sale. Thank you for helping to keep this site going and keeping gluten free delicious. We heart you.