I have a love/hate relationship with bananas. I will only eat them when they are on the precipice of ripeness. Basically green. I eat green bananas, okay? I know that is distasteful to some, but I can't bear the texture of a mushy smushy banana. I just gagged typing that sentence. If a banana is firm and not too sweet, then I am all about it. Good nutrients, great taste. Yum. Once it metamorphoses into possibly having either brown gooey spots or a real banana smell, I take a pass. I have made Man Child the same way. He has a banana mush phobia.
BUT, what is crazy is that I always have over ripe brown bananas in my pantry. Why would I do that if that is my fruit nightmare, you ask? Well, over ripe funky bananas can make some of the best desserts in the world. Banana bread. Banana smoothies. Banana ice cream. Banana bars. Like these bars. When they are super sweet and soft, bananas become a whole new ingredient for baking with. In these bars, you get the depth and richness of peanut butter and chocolate chips. Perfect combo. But you also get the natural sweetness and moisture from the bananas.
I have a problem with these bars. I am unstoppable when it comes to eating them. The batch that is pictured was supposed to be for some friends we had over. I did serve them to friends. But they got like a third of the amount they should have. I may have asked Boyband to physically remove them from me. Oh my word they are delicious. Perfect crumb. Not overly sweet. A bit healthy ingredient wise and they smell so good. When these are baking you are going to want to glue the tip of your nose to the oven. I mean don't, that would be weird. But you will want to. The kids go crazy for these. They don't have an overwhelming peanut butter flavor. They are the flavor of nose and taste bud happiness. There is not yet a word to describe that dimension of euphoria. I would happily sit in the dark in my closet and eat this whole pan. Mom break. You deserve a break too. Let's go make these.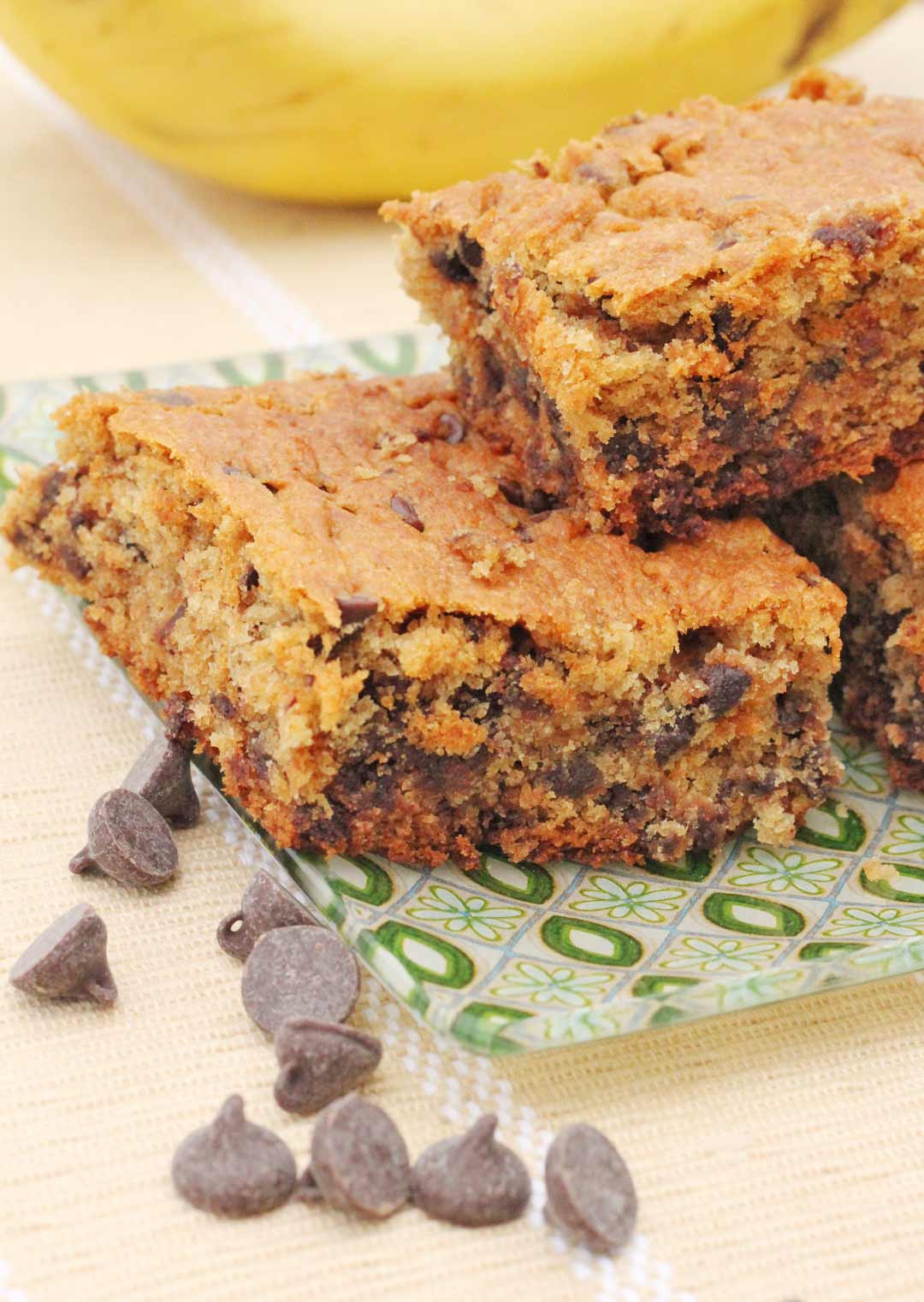 Print Recipe
Peanut Butter Banana Bars by Gutsy Gluten Free Gal
Ingredients
2 cups Gluten Free Flour ( I always use Pamela's Products Gluten Free Artisan Flour Blend)

1 teaspoon baking powder

¾ tsp salt

¼ tsp cinnamon

1 cup butter (2 sticks softened)

1 cup sugar

4 TBS peanut butter (I used creamy Laura Scudders)

1 egg

2 tsp vanilla

1 cup banana- smashed (about 3 super ripe small bananas)

12 oz mini chocolate chips (could use regular sized too)
Instructions
1
Preheat oven to 350 degrees. Line a 9 by 13 baking pan with foil and spray with nonstick spray or coconut oil.
2
In a small bowl mix together the gluten free flour, baking powder, salt and cinnamon.
3
In the bowl of mixer with a paddle attachment cream together the butter and sugar until smooth. About 2 minutes on medium speed.
4
Now add the peanut butter and really mix in.
5
Next add the egg and vanilla. Mix until combined.
6
Now add the banana and mix.
7
Add the bowl of dry ingredients and mix until all incorporated.
8
Add chocolate chips. Mix just until combined. Don't over do it.
9
Pour evenly into the 9 by 13 pan.
10
Bake for 25 minutes. Checking that they don't over bake. You want these to be just set and just getting golden brown. They will firm up in the pan. Let set for an hour. These are even better the next day. Just store in an airtight container.
Notes
These keep beautifully in an air tight container for several days.
Recipe Tools used and Products We Love from Gutsy!

If you click on an above link and purchase through Amazon an item recommended on our site, the GutsyGlutenFreeGal receives a teeny tiny amount from that sale. Thank you for helping to keep this site going and keeping gluten free delicious. We heart you.