I believe there are few notorious foods that while we are in our childhood, become absolutely terrifying. Brussel sprouts. Green beans. Blue Cheese. Spinach. Onions. And meatloaf. That was a small list. Insert whatever food made you want to spit it in a napkin and throw it away later in the bathroom. Since I was an odd child, I really didn't have any foods I wouldn't eat. Maybe blue cheese for a while. But then someone gave me a wedge salad and I repented of my ways. More than not though, if you mention meatloaf, people will turn their noses up at it. But I'm also one of those people who orders meatloaf at a restaurant if it is gluten free. Before we went gluten free, I used to order it all the time. I get the feeling not a lot of people do because the conversation goes like this as I'm talking to the waiter. "I'll have the meatloaf, please." "The rib eye?" "No the meatloaf. You know meat that is in the shape of a rectangular box?" "Are you sure? Did you see the specials?" "Yup, raw sea bass sounds awesomesauce, but I'll have the meatloaf." "Okay, do you have a strong stomach? You better eat the potatoes first as a cushion." Okay, so maybe that hasn't really happened, but the wait staff can be taken aback when you go for the big loaf.
I love it. My dad is a meatloaf fanatic. Meatloaf was and is one of the few entrees my mother will make. I have fond memories of meat, ketchup, Lawry's seasoning and lots of onions cooking away in the oven at home. Oh and then meatloaf sandwiches. Those are even better. I grew up thinking meatloaf was the greatest. And then I met Boyband. And I mentioned it and he made a face. And then I made it once and he made a face. And then we ate it at some other people's house and he made a face. It was one of his foods he didn't like. But I love a challenge. Tell me I can't do something and it makes me crave doing it.  Squeezing into pleather jeggings is an example of that.
So I set out to make a meatloaf that Boyband would eat. And I did it. Then we had Man Child and he loved meatloaf right out the gate. Such a smart boy. And then Celiacs punched us in our gluten and meatloaf was sad again. One of my favorite parts of meatloaf is the bread crumbs that go in it. I liked the consistency like that. Well, I tinkered again and by George I did it! By Diesel too. I created a meatloaf that the kids love, has lots of veggies in it, has smoky delicious flavor and drum roll please…Boy Band really enjoys! No, "It's good for meatloaf" comments. Sweet!
This starts with, well meat, ground beef to be exact.  Then I add sautéed veggies, a smoky easy BBQ sauce, gluten free bread crumbs and wait for it… cheese. Who needs gluten to hold stuff together when you could just use cheese as the glue? Oh and the leftovers for sandwiches are delicious! Whip up some garlic mayo and serve it on toasted bread with a slice of cheese melted on top…maybe some mixed greens. Okay, I need a minute. My meatloaf meter is all a tingle. I hope this makes you 1. Love meatloaf if you didn't in the first place. 2. Enjoy meatloaf again even though it is gluten free 3. Not get annoyed with useless numbering.
Let's go make it!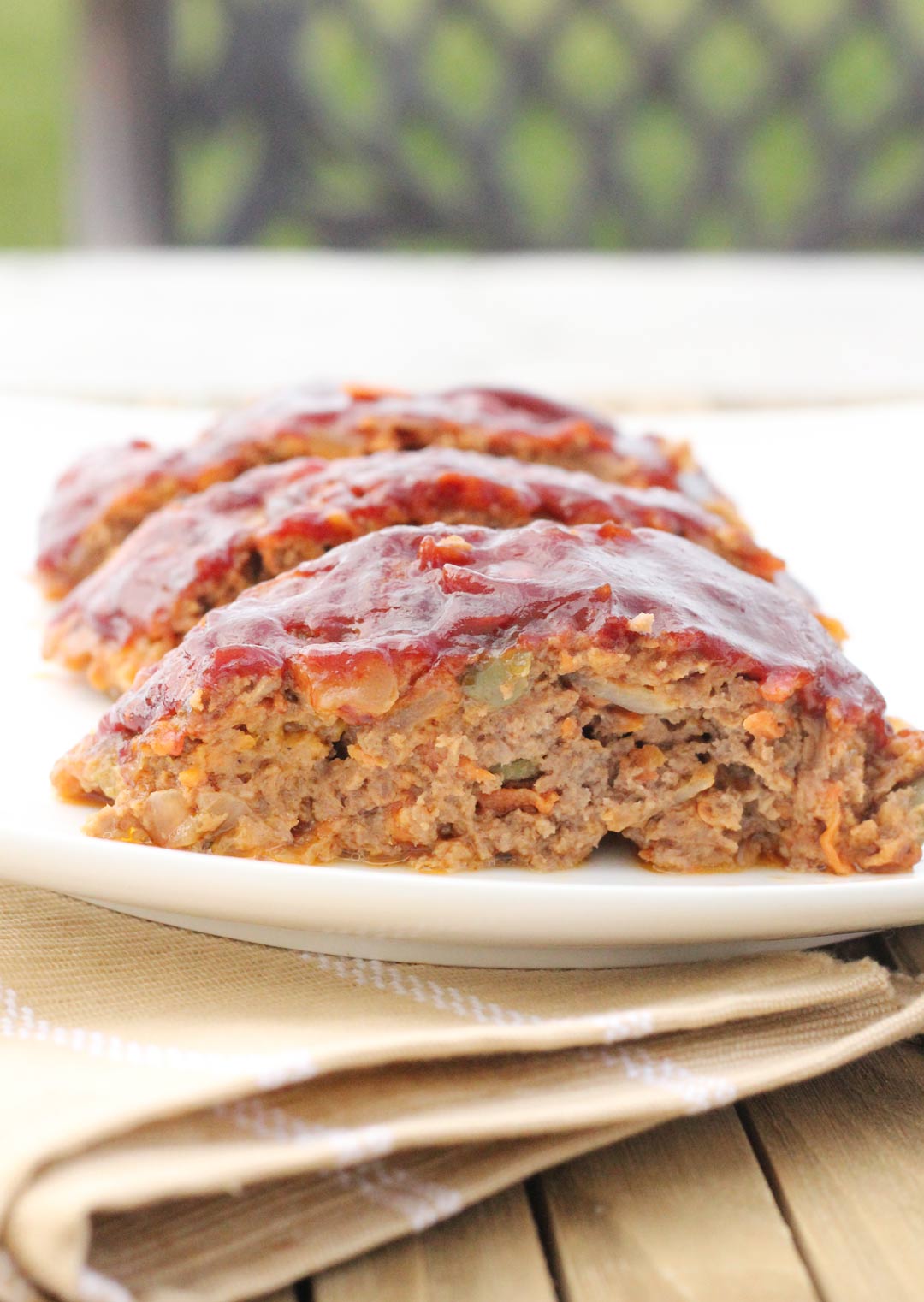 Print Recipe
Ingredients
1 TBS olive oil

1 green bell pepper- finely chopped

1 onion- finely chopped

1 TBS parsley- chopped

2 garlic cloves- minced

¾ cup BBQ sauce (I used Kinder's, just make sure what you use is gluten free)

¾ cup Ketchup (I used Hunts)

1 ½ lb ground beef (I used 15% fat)

1 cup shredded carrots (that was 3 carrots for me)

1 ½ cup shredded cheddar cheese (can sub pepper jack too)

1 TB Worcestershire sauce ( I used Lea and Perrins)

1 & ½ tsp salt

½ tsp pepper

1 egg

2 TBS gluten free breadcrumbs (I used Shar)
Instructions
1
Preheat your oven to 350 degrees.
2
Line a 9 by 13 pan with foil.
3
Heat 1 TBS olive oil in a skillet over medium heat. When heated add bell pepper, onion, parsley and garlic. Sauté until soft (about 5 minutes). When done set aside to cool.
4
In a small bowl mix together the BBQ sauce and ketchup.
5
To a large bowl add meat, carrots, cheese, Worcestershire sauce, salt, pepper, egg and breadcrumbs. Add to that ½ cup of the BBQ ketchup, reserving the rest. Then add the sautéed veggies. Mix well. I use my hands. It is easiest. Remove rings though. Ground beef diamonds were so last year.
6
Pour the mixed meat mixture into the foil lined pan and form it into a loaf shape in the middle of the pan having it reach from one end to the other lengthwise. This is going to let the fat flow off to the sides and make for easier serving and clean up.
7
Once it is all shaped, spread ½ cup of the BBQ ketchup mixture on the top.
8
Bake for 60 minutes. When done, remove from oven and pour the remaining ½ cup of BBQ ketchup on the top. Let is rest for 10 minutes then cut into slices. Voila! Some super tasty meat.